SO MUCH OF WHAT MANY CHRISTIANS SINCERELY BELIEVE IS BASED IN IGNORANCE
OF HISTORY & THE LACK OF ABILITY TO "WALK IN ANOTHER'S SHOES."
Nancy B. Detweiler, M.Ed., M.Div.
 This video is an excellent example. Yes, Christians have been persecuted in the past and today, as recent cases in Pakistan have illustrated. Jews and Muslims have likewise been persecuted. Palestinian Christians and Muslims are to this day being slaughtered because they live in their native land.
What President Obama says in this video is true! He is not persecuting Christians; he is stating fact.
On Easter, President Obama called Christians "less-than-loving." With Christians around the globe dying for their faith, his comments were wrong and hurtful.

Posted by Jay Sekulow on Wednesday, April 8, 2015
Love, as a quality to be found among Christians, can often be very difficult to perceive. Ask any gay person … ask any African American … ask any female who gets pregnant out of wedlock … ask any woman who needs an abortion ……… on and on goes the list of cruel responses by Christians toward others.
The characteristic best describing treatment of those with whom Christians disagree is Cruelty. (This may be true of other religions too, but President Obama is speaking of Christians and is being unjustly and publicly accused of persecuting them.)
Read a short history of the Klu Klux Klan at: http://www.history.com/topics/ku-klux-klan To quote a few sentences: "After a period of decline, white Protestant nativist groups revived the Klan in the early 20th century, burning crosses and staging rallies, parades and marches denouncing immigrants, Catholics, Jews, blacks and organized labor. The civil rights movement of the 1960s also saw a surge of Ku Klux Klan activity, including bombings of black schools and churches and violence against black and white activists in the South."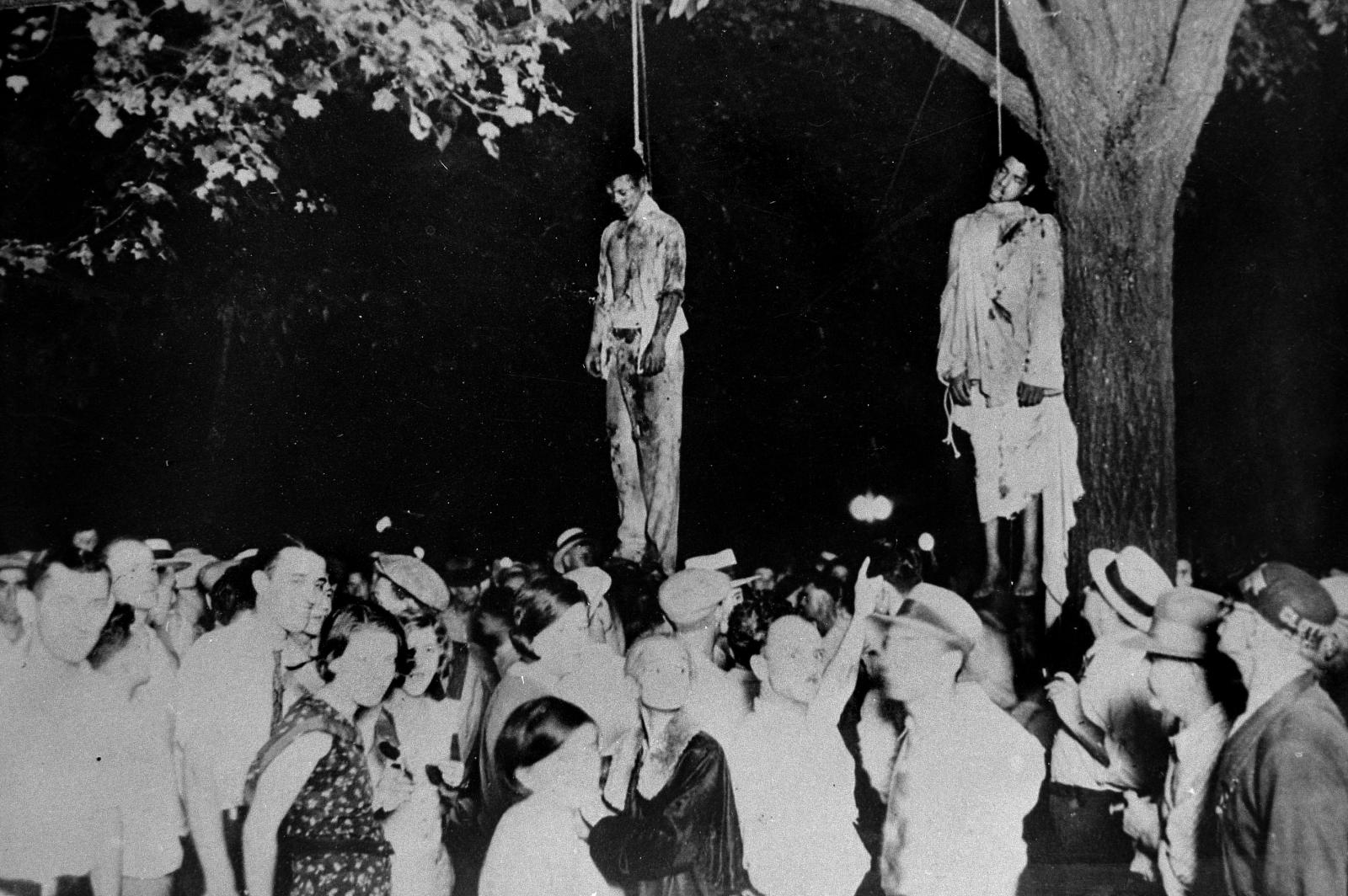 African Americans were/are terrorized by the KKK
 Read about the Crusades of the Middle Ages: "The idea of the crusade corresponds to a political conception which was realized in Christendom only from the eleventh to the fifteenth century; this supposes a union of all peoples and sovereigns under the direction of the popes. All crusades were announced by preaching. After pronouncing a solemn vow, each warrior received a cross from the hands of the pope or his legates, and was thenceforth considered a soldier of the Church. Crusaders were also granted indulgences and temporal privileges, such as exemption from civil jurisdiction, inviolability of persons or lands, etc." http://www.newadvent.org/cathen/04543c.htm
Some images illustrating the Crusades: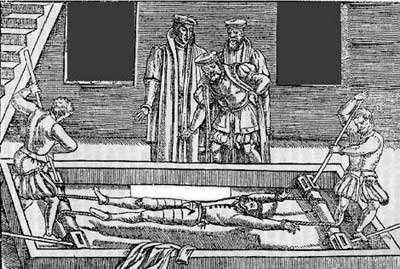 An individual refusing to follow Christian orthodoxy would be placed on the The Rack and pulled at both ends—tearing muscles and tendons—until he recanted of his/her heretical/unorthodox beliefs. There were many other forms of torture used for this same reason, including burning alive and beheading.
 A major tenet of Christianity is a lie – that our Loving Mother/Father God deliberately sent Jesus to die via torture on a cross. Christians have created for themselves a God guilty of child sacrifice and sought to convince people it was an act of love.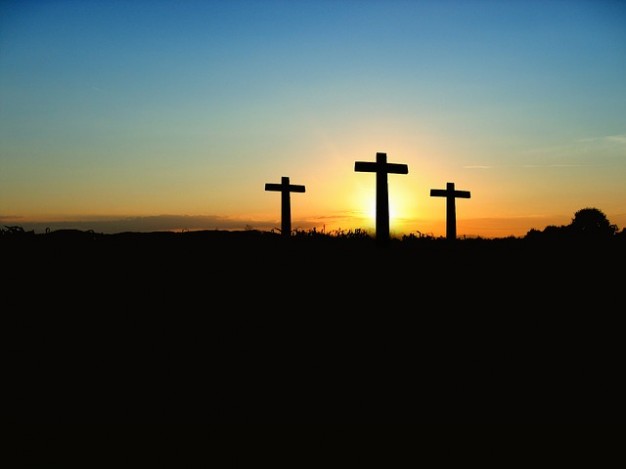 Although there is tremendous esoteric meaning in the life of Jesus and the above 3 crosses, it has absolutely nothing to do with an unforgiving God who required child sacrifice via torture. How many Christians listened to a Lent/Easter sermon in 2015 describing in gross detail the horrors of torture by crucifixion? These details are used to make you feel guilty and filled with sin, as a very devious form of mind control.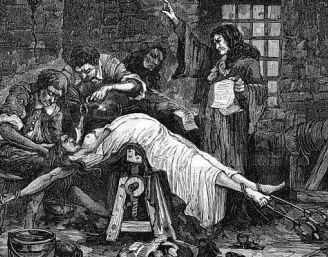 Torturing A Witch
Read a history of the Christian Witch Hunting
http://www.positiveatheism.org/hist/ellerbe1.htm
 My article is barely 2 pages long and yet, it easily proves that President Obama is stating truth, not persecuting Christians. Sadly, far too many American Christians are easily pulled into a mob frenzy due to their own ignorance and seemingly inability to "walk in the shoes of another" with compassion.
Jesus incarnated to show the Way of Love; but sadly many Christians have not yet learned the meaning of LOVE—PURE, UNCONDITIONAL, EGOLESS LOVE!
Even more sadly, many Christians have been taught that "Jesus paid it all," leaving some with the idea they don't need to do anything else to evolve into one who more closely exhibits the Christed Consciousness. I recently listened to a devout Christian woman respond to a statement about our individual ascension process with a huge smile, "I don't have anything to worry over because I'm saved." Her openness to the ascension process—achieving the Christed Consciousness–has shut down based on a Christian teaching.