THE CAUDLES OF ANSON COUNTY, NORTH CAROLINA
CHAPTER 11
JAMES CARSON CAUDLE
FATHER: WILLIAM HARRISON CAUDLE
MOTHER: SARAH ROSA MOORE
JAMES CARSON CAUDLE:
Born: 3/1/1872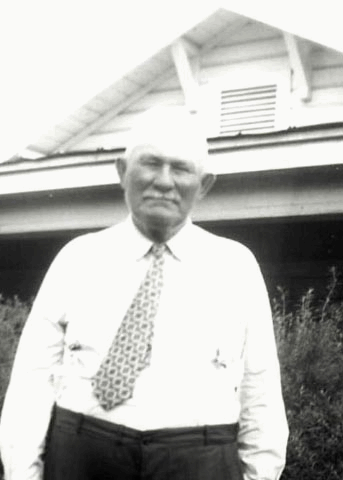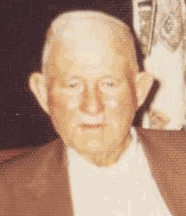 Married: Sarah Ellen Phifer on July 17, 1895
Died: 11/7/1959 in Lanesboro, N.C.
Buried: Caudle-Covington Cemetery on Polkton/Peachland Road, Anson County, N.C.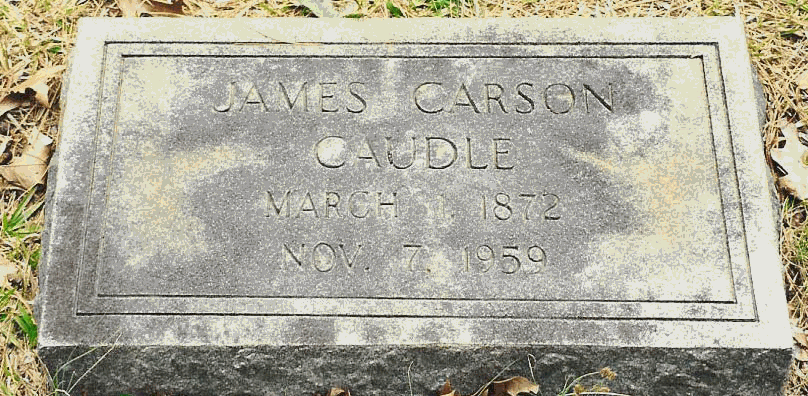 The 1880 Census for Lanesboro, Anson County – verifies James C. Caudle as the son of William H. Caudle and that he was 8 years old in 1880. This certificate from the Bureau of Census (U.S. Dept. of Commerce) is often used in lieu of a birth certificate.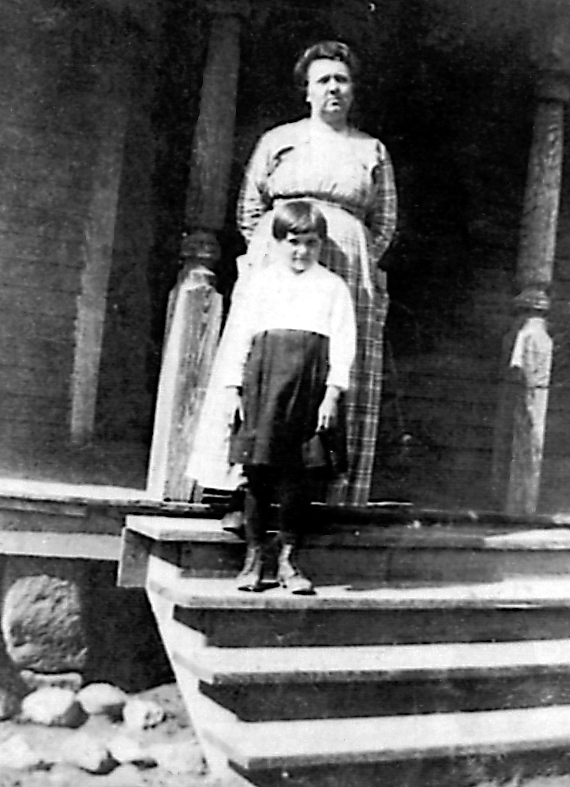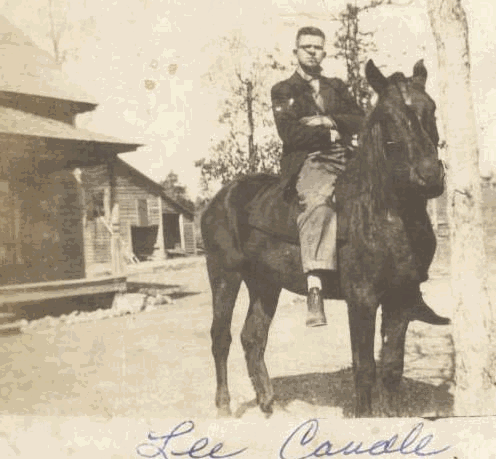 House & barn
Original home place – burned in January 1934
(Sarah Ellen Phifer Caudle & daughter, Ruby Evelyn Caudle in the above photo of home place.)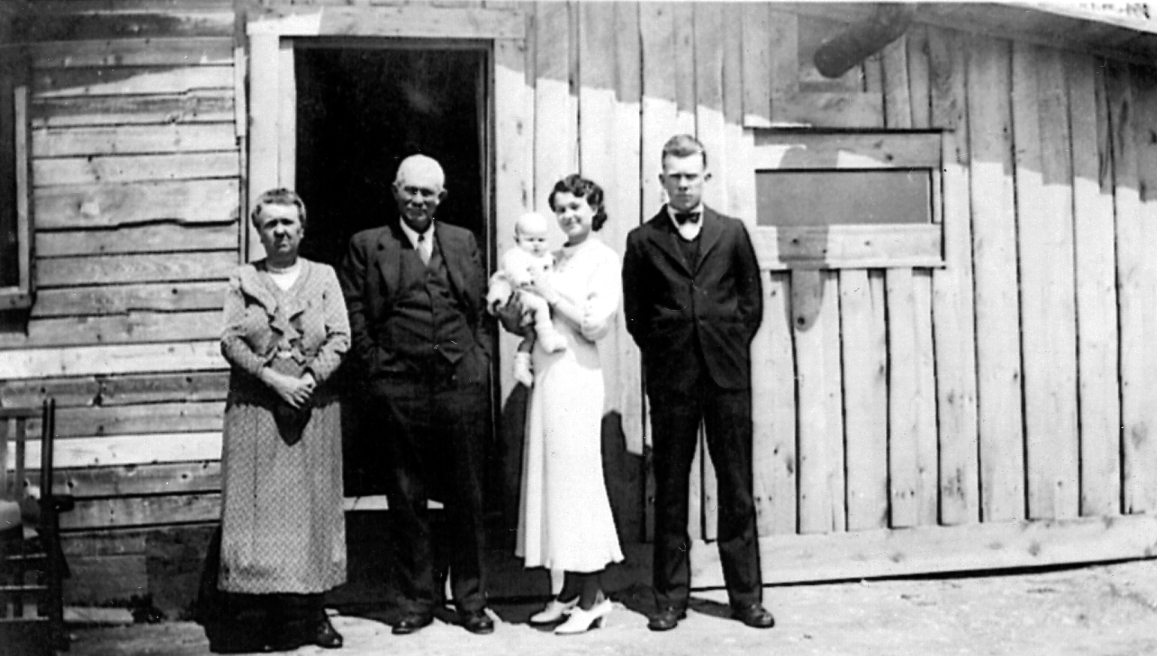 The family converted the barn into a home while James and his sons, Lee & Ashe,
built their new home. Sally & Jim Caudle, Ruby holding Annette, & Ashe.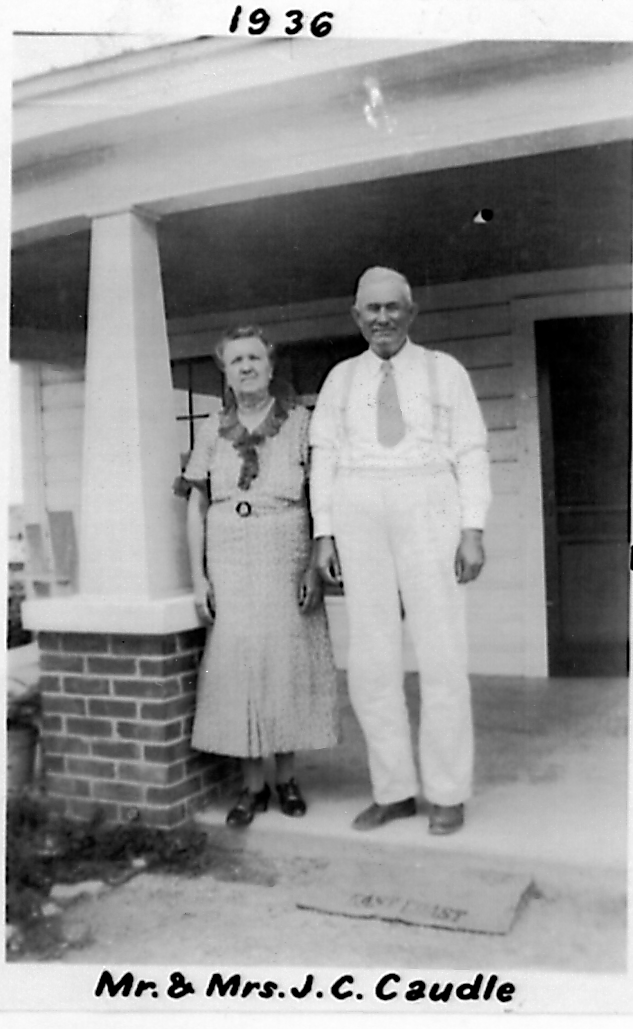 The new home place.
This house still stands on Highway 74 West between Peachland and Polkton. It was moved and turned to one side by the Highway Department several decades later.
James' father, William Harrison Caudle, died in 1882. James was 10 years old. Evidently his mother, Sarah Rosa Moore, was already ill at the time of her husband's death. James' sister, Margaret Ann (Bratty), was four years older than James; she helped care for him for a short time. A few months after his father's death, his mother died. On June 23, 1883, his half-uncle, Darling Russell Moore, was given custody of James & Margaret (Bratty). James' younger sisters, Lucy & Frances, are also deceased by this time.
The 1880 U. S. Federal Census lists William Harrison Caudle's household:
William H. – Head of Household – age 32 – farmer
Sarah R. – wife – age 33
Margaret A. – daughter – age 12
James C. – son – age 8
Lucy C. – daughter – age 6
Frances – daughter – age 4
Thus within an approximate three year period, James experienced the death of both parents and two siblings.
James' paternal grandfather, Richard Caudle, preceded his wife in death. He returned to spirit before the 1870 census. Margaret Catherine White Caudle, wife of Richard, was still living in1870. James' parents and older sister are living in the home with her. The year of her death is unknown—sometime between 1870–1880.
James' maternal grandmother, name unknown, died around 1845—perhaps in childbirth with Sarah Rosa. James' step-grandmother, Lucy Ann Russell Moore, lived in Lanesboro Township, Anson County. The 1880 U.S. Census lists Darling and his wife, Mary Elizabeth Pope Moore, living with his mother, Lucy, on the family farm in Lanesboro, N.C. According to the 1880 U.S. Federal Census, the Moore household contained:
Lucy A. Moore – widow & head of household
Leora J. [James Leard] Moore – son – age 31 – carpenter, single
John B. [Joseph D.] Moore – son – age 28 – farmer, single
Darling R. Moore – son – age 26 – farmer - married
Colon (Colina) T. Moore – daughter – age 24 – single
Mary E. Moore – daughter-in-law – age 20, Darling's wife
Jesse G. Moore – grandson – age 1 month
Jacob Henry – farm laborer – age 20
Holden Henry – farm laborer – age 18
In America, during the 1700 and 1800s, children were often bound out to another family when both parents died. Jacob and Holden Henry are living within the household and working on the farm. They may have been orphans bound out to the Moore family before the death of James' parents in 1882-3 – or – they may have been former slaves, now a part of the family.
It is believed there were problems within the Moore family over James living with them. His maternal grandfather, James Moore, died in 1857, leaving his 2nd wife, Lucy Ann Russell Moore, with both sets of children to raise, in addition to managing a cotton farm. It is said that Lucy ruled the household and farm with an iron hand. During the years preceding, during, and following the Civil War, managing the enormous responsibilities left to her by her husband's death would require an iron hand. Since her husband died without a will, the court sold 6 slaves—Moriah, Isaac, Stephen, Urssay, Gussee, and Joseph—to pay off debt. This left Lucy with 6 fewer farm laborers and very likely tore slave families apart.
Source: Anson County Court Minutes for 1/13/1858
Whatever the circumstances within the Moore home, James ended up working in Great Falls Cotton Mill in Rockingham, North Carolina, approximately 30 miles distance from Peachland. Work in Rockingham would have required that James Carson move to Richmond County. By age 12, James had lost both parents, two younger sisters—Lucy and Frances, the care of his older sister Margaret, been required to move from his maternal step-grandmother Moore's home, and brought to Rockingham to become a child laborer in a cotton mill where children were required to work 12 hours daily, 6 days a week. It is not known with whom James lived in Rockingham. It is known that cotton mills often had their own community of mill houses for employees. Life in these mill communities was often under the absolute control of the mill management.

Great Falls Cotton Mill – Rockingham, N.C.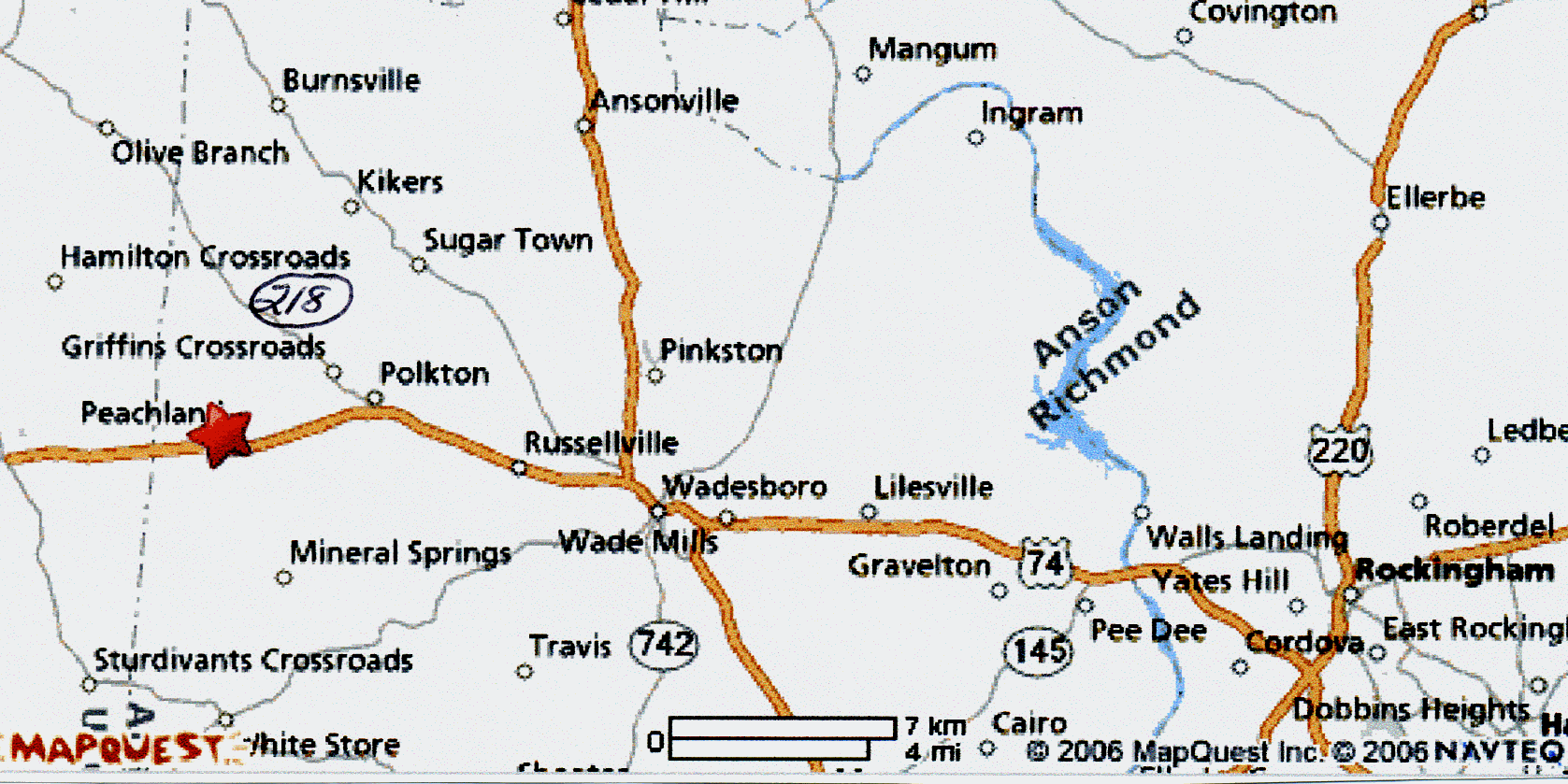 Historical Note: During this period, an adult working in a mill or manufacturing company earned around $20 monthly; children, as little as $5 monthly. The story is told of one girl, working at the Singleton Silk Manufacturing Company in Wadesboro, being required to drag a heavy fire hose around all day to spray the fiber of the silk to keep it moist and pliable. (Anson County, North Carolina: 1750-1976, page 137). It was not until 1938 that the United States Courts upheld the Federal Fair Labor Standards Act. This Act established the 8 hour work day and greatly restricted the employment of children under age 18 in manufacturing jobs.
In 1908, "Lewis W. Hine … was employed by the National Child Labor Committee to investigate child labor conditions …. He went to Charlotte, North Carolina, the center of the cotton mill region of the South…. Mr. Hine visited 19 mill villages and investigated 17 mills, taking 230 photographs of the conditions he discovered." The report is contained in Child Labor in the Carolinas, by Alexander Jeffrey McKelway, 1866 – 1918. The information and photos contained therein are regulated by a copyright stating: "This work is the property of the University of North Carolina at Chapel Hill. It may be used freely by individuals for research, teaching, and personal use as long as this statement of availability is included in the text." I wrote the University of N.C. Library at Chapel Hill for permission to publish excerpts from this work. Since the official school library website states that all e-mail requiring a response will be answered immediately, I am assuming this copyright statement is all that is needed for publication (May 2007).
Quotes From "Child Labor in the Carolinas"
"The children work twelve hours on a night shift and say that they have
no special time off for lunch, that they 'eat-a-workin.'" (page 8)
"After a twelve hour day … the lint on the caps and clothes of these boys indicates the character of the atmosphere which they breathe." (page 8)
"The president of this mill said very frankly that the North Carolina child labor law was violated by practically all of the mills." (page 8)
"One of the smallest boys said he had been in the mill two or three years. He is now twelve years old." (page 9)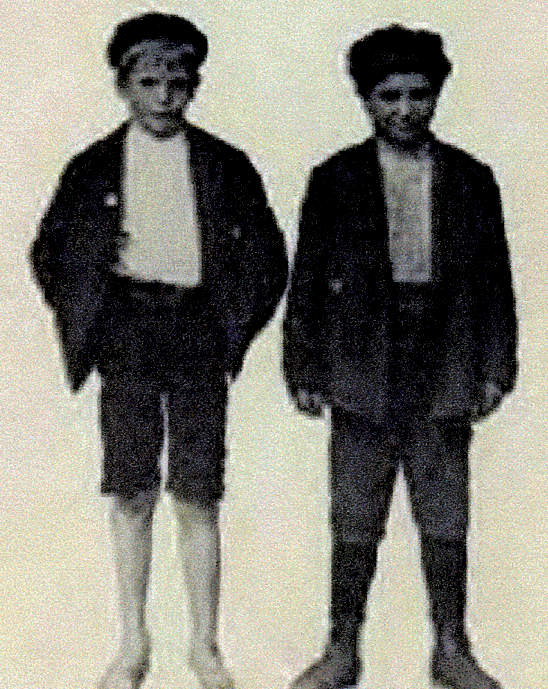 Boy on right is 10 yrs. old and has worked 3 yrs. in the mill.
Boy on left is 12 yrs. old and has worked 2 ¾ yrs, 9 months of which were at night.
"Work below the age of twelve years in factories, even as apprentices, is illegal. Work at night is illegal before the fourteenth birthday." (page 9)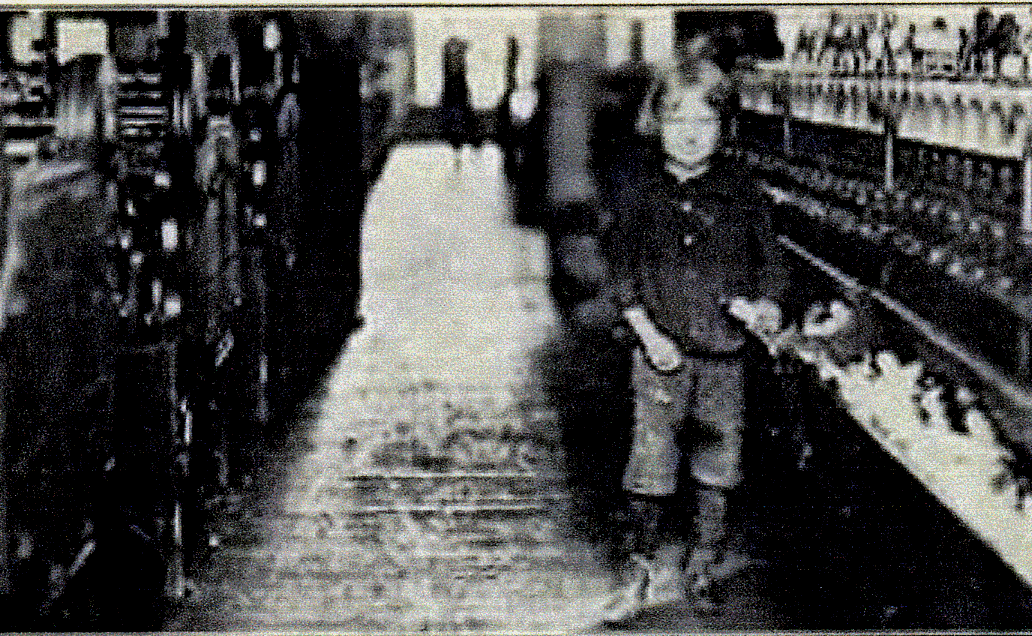 6 yr. old boy "stays all day in the mill where his mother and sister work.
He is beginning to "help" a little and will probably soon be regularly at work,
though his name may not appear on the payroll." (page 9)
The education of these children was not a concern to the mill officials; although during the latter 1800s, children living in mill villages can be seen attending school. As one of the many children forced to work in the mills, James Carson's education was dependent upon his own initiative. He became an avid reader, especially of the Bible. One of my cherished memories is of the built-in bookshelves in the living room, filled with National Geographic Magazines and books, including my paternal grandfather's book, A History of Rocky River Baptist Church, by Rev. E. M. Brooks. There were few bookstores in the early 1930s, yet James Carson had bookshelves built in his living room and den. In striking contrast to the picture of an uneducated child laborer, James Carson was largely self-educated and "pulled himself up by his bootstraps."
******
Historical Note: Anson County's first public library was established in Wadesboro in 1905. In 1923, the present library got its start, but by 1931 it looked as if the library would close. The efforts of a dedicated few kept the doors open and by 1936, a salaried librarian was hired. (Source: Medlin, Anson County History, page 223.)
During the years of struggle to keep the public library open, James Carson was building a new home with bookshelves in both den and living room. His love of books and reading seems incongruent with the times and his formative adolescent years in the cotton mill. An innate love of learning is present within James Carson.
******
Although young children were required to work on the family farm, working with one's family at home would be much different from working for an employer interested in making a profit for himself and the company. Children who worked on the farm alongside their family members relate happy memories of those days (as evidenced in the stories found in the Hometown Memories book on Anson County---Mules, Mud, & Homemade Soap).
James Carson's older sister, Margaret Ann (Bratty), continued in relationship with the Moore family. In fact, the 1900 U.S. Federal Census lists Bratty and her two children by her 1st husband, James T. Harrington, once more living in the Moore household. James T. must have died a few years after their marriage in 1894. She re-married in 1910 to J.P. Billingsley, who died three years later.
James seems not to have been reunited with the Moore family. He directed his attention to building a loving home for his wife, Sally, their children, and grandchildren. By all accounts, James was a loving husband, father, and grandfather. He was a pensive man, a thinker of deep thoughts who set high standards of conduct for his family.
One of James' granddaughters, Eva Hammond, fondly remembers the times she and her younger sister, Judy, combed Grandpa Jim's hair. In their eyes, he reminded them of Santa Claus with his white hair and red cheeks. Looking back on his childhood, deprived of maternal care at such a vulnerable age, Grandpa Jim must have loved those moments of sitting still while his two granddaughters joyfully combed his hair and teased by calling him "Santa Claus."
Another granddaughter, Nancy, cherishes the memories of walking the land with Grandpa Jim. We talked very little; instead, we silently enjoyed the sounds of nature, the sights and smells of farm animals, and walking on land farmed by the Caudle family for over 100 years. Because I grew up in the city, I loved spending a portion of my summer vacations on the farm in Peachland. One summer Grandpa Jim decided I was growing up (around age 14) and needed to start acting like it. He said, "Nancy, it is time for you to stop whistling. It is not lady-like." Although I loved to whistle, I obeyed. Thereafter, I wondered why it was okay for boys to whistle, but not lady-like for girls to do so.
Anita remembers her great grandparents, Jim & Sally Caudle. Her grandparents, Ashe & Eula Belle Caudle, lived next door to James Carson; her parents, Annette & Haskell Tarlton, lived next door to Ashe & Eula Belle. Anita and her parents often visited Ashe & Eula Belle at night. Anita, under age 4, would ask to walk on to Grandpa Jim's house. Eula Belle would give her a flashlight and Anita would walk the short distance between houses, thinking she was doing so alone and feeling she was "hot stuff." Years later Anita learned that Annette and Eula Belle had always followed her to be sure she made it safely.
One Easter, Anita decorated Easter eggs at Eula Belle's. Anita thought the eggs were so pretty that she wanted to show them to Grandpa Jim and Grandma Sally. Off she went to their house, with a basket of eggs on each arm. It was daylight, so no one followed her. She got to the top of the steps only to find she could not hold both baskets and open the door. So she stood outside and hollered! Grandpa Jim opened the door and made a huge fuss over her … over how pretty the eggs were … and how glad he was she brought them to show Sally and him. Grandma Sally gave her one of her delicious biscuits—one thing all of her grandchildren remember! Both great-grandparents had returned to spirit by the time Anita turned 5 yrs. of age.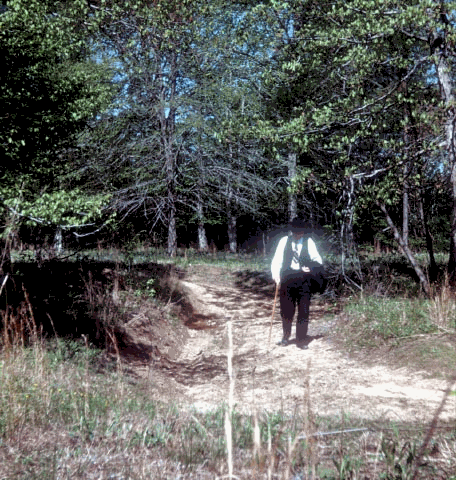 Grandpa Jim walking his land along Swan's Branch

Following his retirement from farming, James walked each weekday morning from his home on Highway 74 to downtown Peachland, a distance of one mile. He visited with a group of elderly retired men discussing politics and religion. He walked home for lunch and returned to Peachland for the afternoon—a total of 4 miles daily. His evening reading included the Bible. On Saturday evening he read the Sunday School lesson for the following Sunday morning. Grandpa Jim was a man actively seeking intellectual stimulation and spiritual understanding.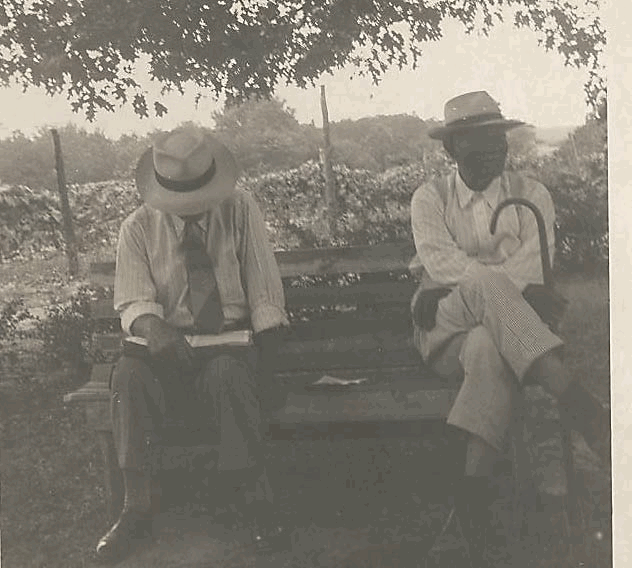 Ernest W. Caudle & James Carson Caudle
Uncle Ernest is reading the Bible while Grandpa Jim listens and twirls his cane.
Both men were avid Bible readers.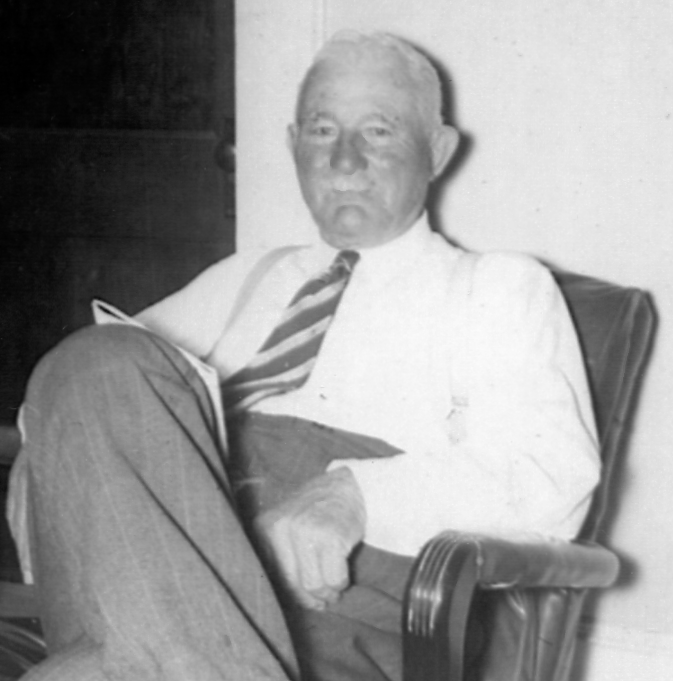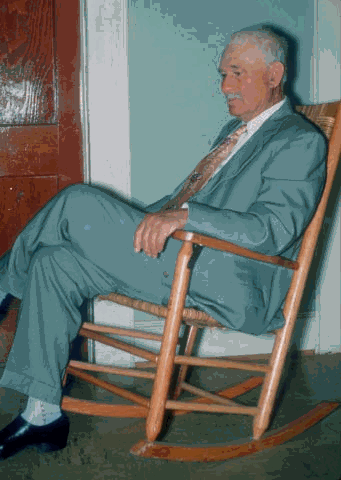 Grandpa Jim reading his Sunday School Lesson Grandpa pondering
The rocking chair was "Grandpa's chair." Whenever Grandpa was around, the grandchildren knew not to sit in his chair. Not that he objected if we did … it was just a family custom to allow him to have the chair whenever he was at home. He spent many hours reading in his chair.
Grandpa Jim was very active in Peachland Baptist Church. For several years, Rev. E. M. Brooks was minister at Peachland Baptist. It is here that Ruby Evelyn Caudle (James' daughter) and Julian Allen Brooks (Rev. Brooks' son) met and eventually married.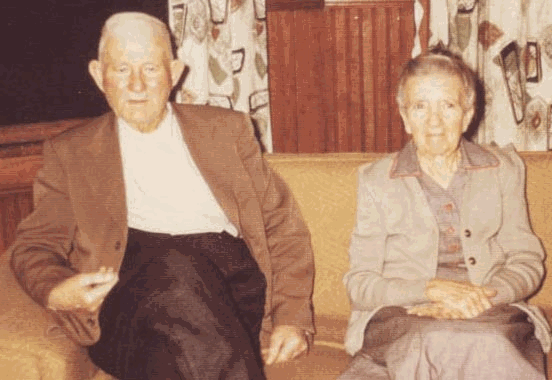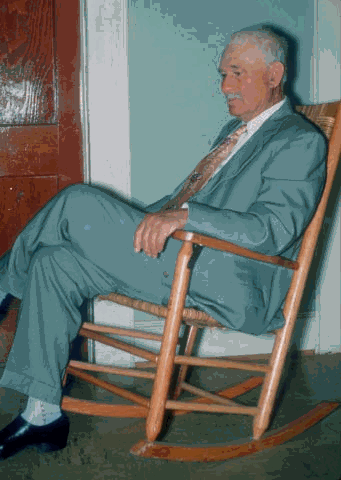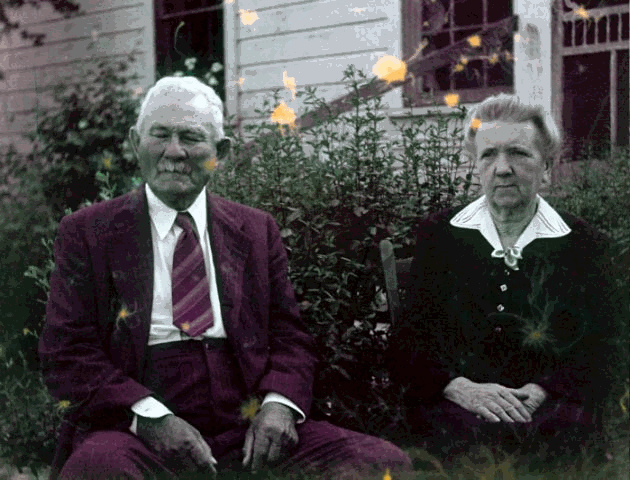 Grandpa Jim loved color as evidenced in the variety of colored suits he wore.
SARAH ELLEN PHIFER
Born: 1/18/1877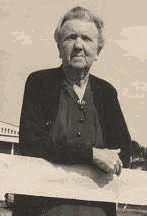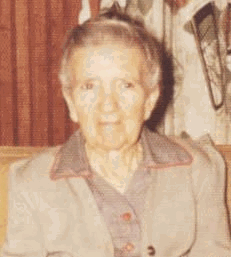 Died: 4/25/1961 in Anson County, N.C.
Buried: Caudle-Covington Cemetery on Polkton/Peachland Road, Anson County, N.C.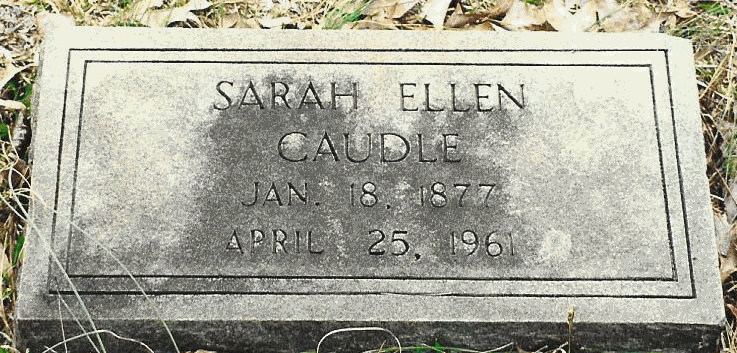 Daughter of Cornelius Ramsey (Dock) Phifer and Margaret E. Griffin Phifer. Verified by Census of 1800 for New Salem township, Union County, North Carolina. Census of 1800 also verifies that Sarah Ellen (Sally) is age 5 in 1800—this in lieu of a birth certificate.
Cornelius Ramsey (Dock) Phifer is the son of Milas Phifer and Penelope Caudle. Penelope is the daughter of Jesse Caudle—son of Absalom Caudle, Sr. and brother to Richard Caudle (James Carson's grandfather).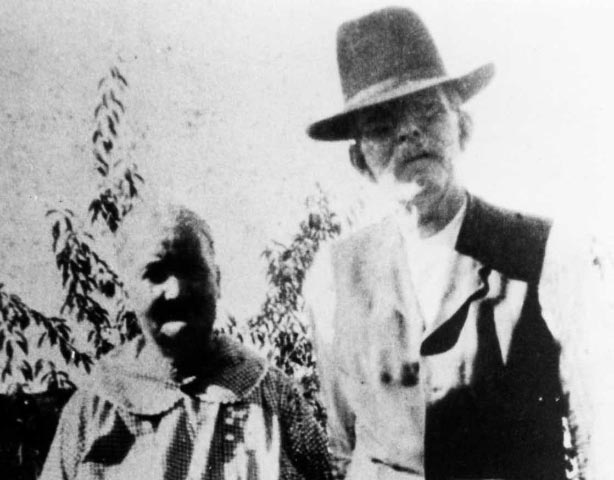 Margaret Griffin & Cornelius Ramsey Phifer
The only photo we have of Grandma Sally's parents – the rest burned in the
1934 house fire.
Sally was very shy. Her grandchildren remember that she always decorated the dining room table with a vase of whatever from nature was in season—flowers, leaves, small pine limbs. She wore cotton stockings everyday, even during the summer. Her hair was long and worn in a bun at the back of her head. During my summer vacations on the farm, I watched Grandma Sally comb her hair, churn butter, make biscuits, feed the chickens, and prepare her delicious fried chicken or chicken and dumplings. I remember standing beside Grandma Sally as she de-feathered a chicken, made a blackberry pie with berries we had picked, or rolled out her heavenly biscuits. I asked innumerable questions and she answered patiently. I must have been in her way … standing so close beside her … but she never asked me to move away. I loved to be in her calm, loving presence.
Eva Hammond and Judy Huntley recall fond memories of Grandma Sally. Eva Hammond, Judy, and Nancy are the only 1st generation grandchildren who never lived in Peachland. Our memories of Grandma Sally are therefore more connected with being a guest in her home. We tended to savor every minute we shared with our grandparents. Eva Hammond and Judy remember especially her homemade biscuits eaten with molasses and honey. They also remember the delicious meals she and Eula Belle prepared every day. Eva Hammond tells how Grandma Sally was always careful to watch her grandchildren to see that they did not swing too high in the front porch swing. We spent hours swinging. The railroad track ran along the opposite side of Highway 74 from the house. Whenever the train passed during the day, we ran outside to wave to the conductor and the man in the red caboose. They always waved back. We thought that was grand stuff!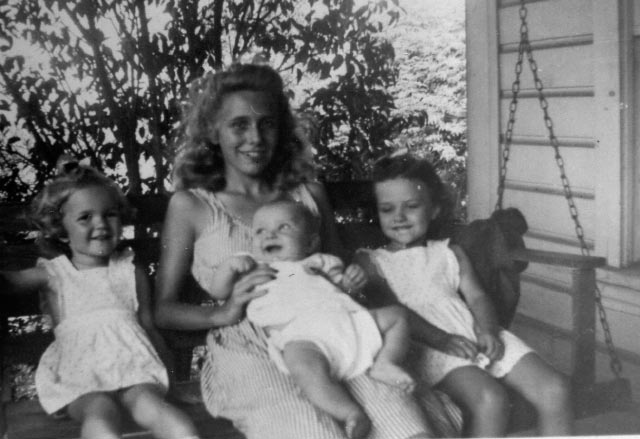 Grandpa Jim's front porch swing – one of our favorite places!
Left to right: Ruby Evelyn Brooks (named after her mother, Ruby Caudle), Eva Hammond Huntley holding her sister, Judith (Judy) Ellen Huntley, & Nancy Lee Brooks (named after her Uncle Lee Caudle).
Grandma Sally was surely impacted by the death of her son, Elmer, as a result of complications from appendicitis at age 22. She worried that Ruby, her youngest child, would get hurt playing basketball. I remember her worrying over my safety while I visited her, especially when Annette and I went swimming. She warned me not to go into the water over my knees. I would laughingly ask her, "How can I swim in water that shallow?" She was a gentle soul and simply smiled. I knew I had not convinced her to change her mind.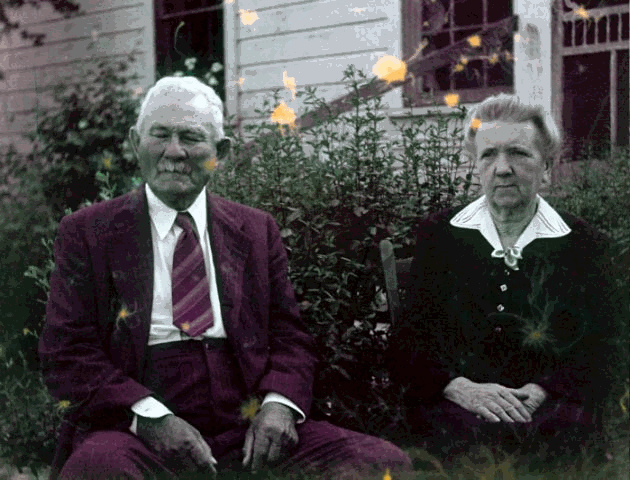 James Carson & Sarah Ellen Phifer Caudle
In their side yard.
Jim & Sally kept a beautiful yard with roses, flowering bushes, and a mimosa tree in addition to pine and hardwood trees. The front porch was lovely with the handcrafted swing we all enjoyed, handcrafted tables for potted plants, and additional potted plants on the floor. Much to our distress, when Highway 74 was widened, the house had to be turned and the landscaping was torn asunder. It was never again the same—the love our grandparents had bestowed on their home and yard was ripped out with a bulldozer. Thankfully, they did not live to see their home treated with so little concern for the family memories and loving attention it had received.
THE WAY THINGS USE TO LOOK ON THE JIM CAUDLE FARM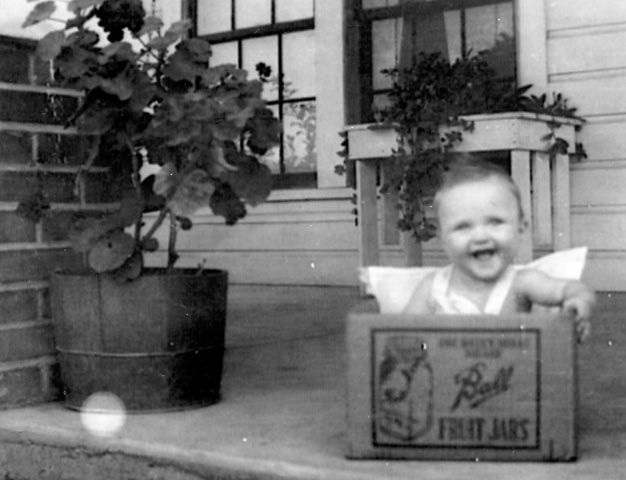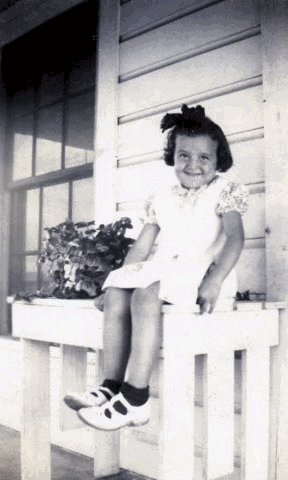 Nancy Lee Brooks Sarah Ellen Griffin
On Grandma Sally's front porch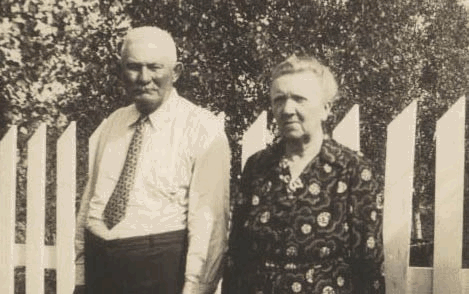 The white picket fence was on the side yard.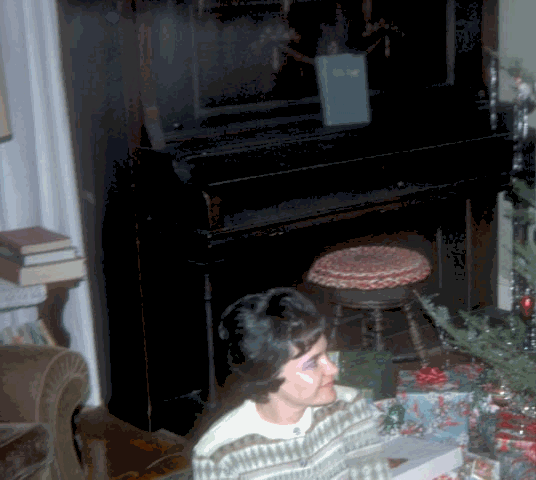 Piano in the home place living room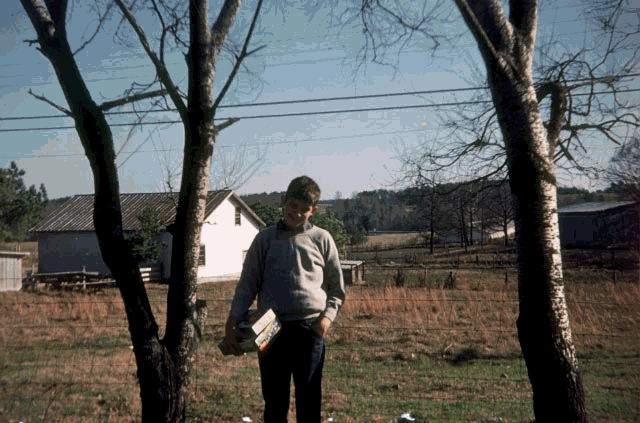 Ronnie Gulledge on Grandpa Jim & Ashe's farm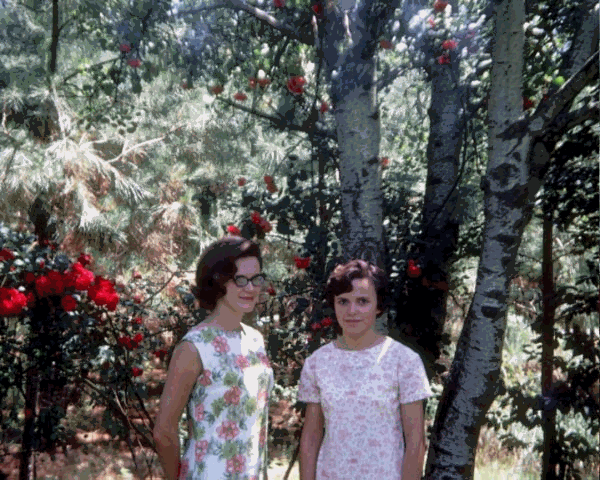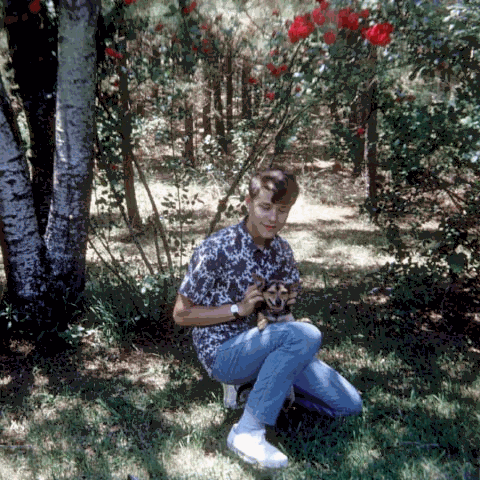 Evelyn & Joyce Brooks Allen Brooks, Jr. & his dog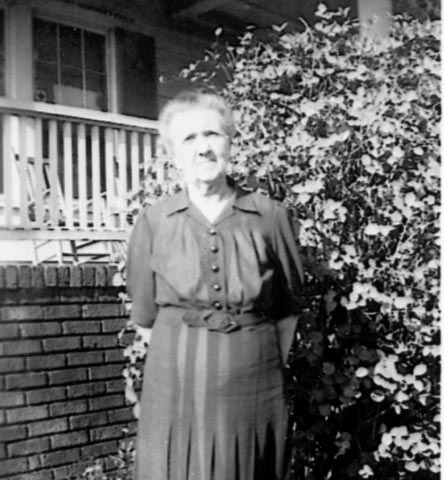 Grandma Sally visiting Ruby and family in Charlotte, N.C.
Periodically, Grandma Sally rode the train to Charlotte to visit us. Grandpa Jim could not convince himself to leave his farm animals, although his sons—Lee and Ashe—lived on either side of him and could have cared for them.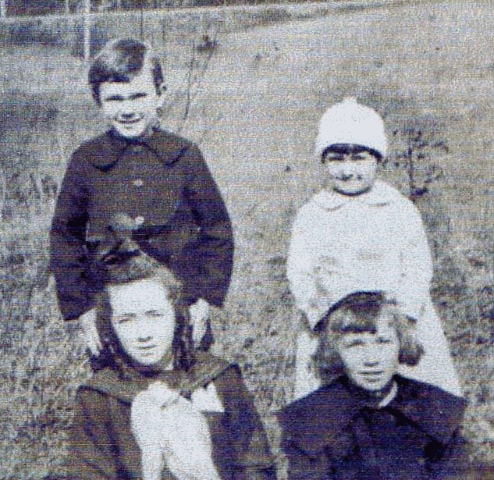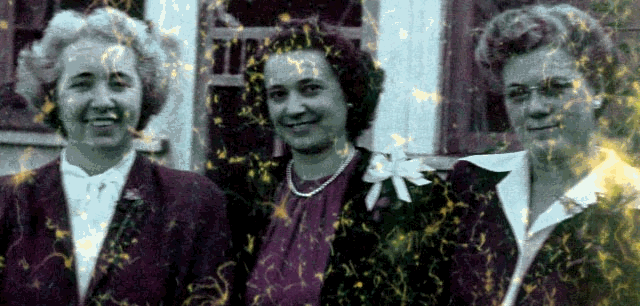 Left to right: Bertha Ruby Mae
Ashe, Ruby, Bertha, & Eva
CHILDREN OF JAMES & SARAH ELLEN (SALLY) CAUDLE
I. FANNIE MAE CAUDLE: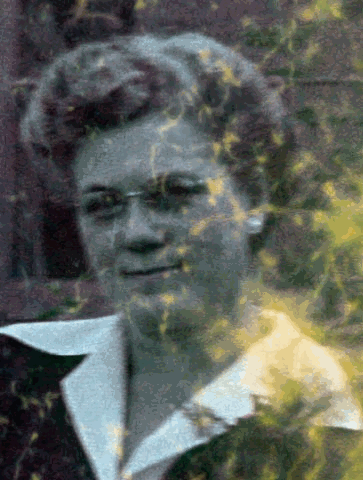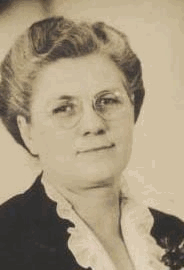 Born: 7/15/1897
Married: 8/24/1918 to Ernest Willie Caudle (born: 4/28/1898, died: 11/29/1977) – son of James Edmund "Tug" Caudle. They were married for 59 years.
Died: 9/3/1984
Buried: Peachland Cemetery, Peachland, N.C.
ERNEST WILLIE CAUDLE
Born: 4/28/1898
Profession: General Store Owner, farmer (dairy farm at one time)
Died: 11/29/1977
Buried: Peachland Cemetery
Fannie Mae & Ernest Willie Caudle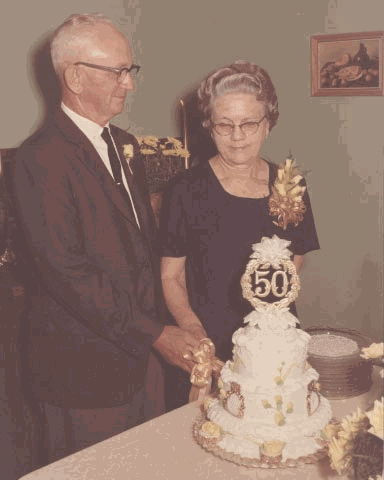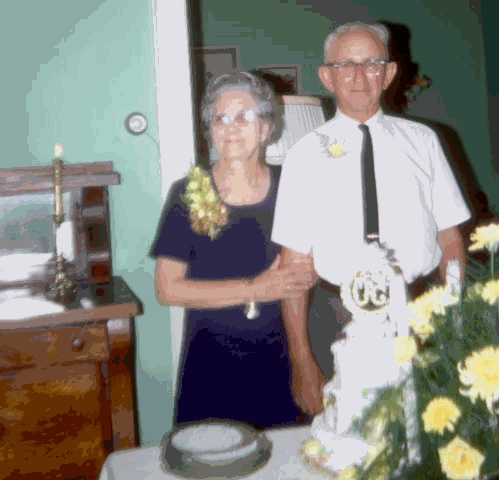 Mae & Ernest – 50th Wedding Anniversary
Ernest ran a general store in Peachland for some years. I have very fond memories of going to this store with my father, Julian Allen Brooks. Uncle Ernest would give me a stick of candy from the candy jar sitting on the counter. I joined the men sitting around the pot-bellied stove in the center of the store and listened to many a discussion on politics—a favorite topic among men during the 19th and 20th centuries. (These were intellectual discussions in contrast to our present emotional, fear-laden avoidance of "talking politics.") The mixed fragrances of cigar smoke, fire crackling in the stove, and sacks of chicken feed piled nearby remains with me decades later. My sister Evelyn and I wore many dresses made from the plaid fabrics of the chicken feed sacks. Actually, the brightly colored fabrics were quite pretty and Mother was an excellent seamstress. We were proud to wear "our chicken feed sack dresses."
Ernest & Mae's home
The Ernest Caudle Family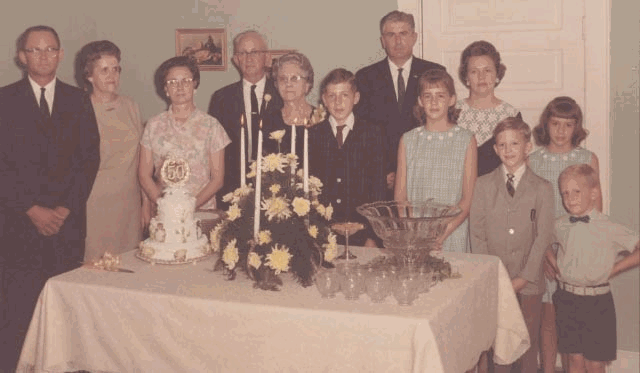 Left to right: Bill & Gladys, Jean, Ernest & Mae, Alvin, Charles & Betty,
Brenda, Mike, Linda, and Ernie

Jean, Bill, Mike, Gladys, Betty, Ernie, & Charles
Children of Mae & Ernest Caudle
1. LEXIE VIRGINIA (JEAN) CAUDLE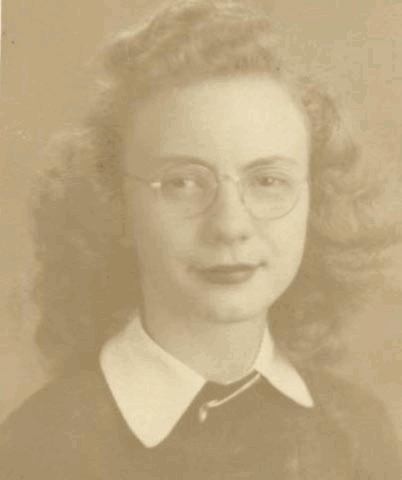 Born 1/13/1924
Married: Never married
Education: B.S. in Pharmacy from UNC-Chapel Hill
Profession: Pharmacy
Died: 3/28/2004 – in an automobile accident.
Buried: Peachland Cemetery
Jean graduated from the University of North Carolina's School of Pharmacy in Chapel Hill, N.C. She had the honor of being the 1st female pharmacist from Anson County and was highly respected in her profession. Her career spanned many years. She worked at North Carolina Baptist Hospital, City Hospital, and Forsyth Memorial Hospital, all located in Winston-Salem, North Carolina. She retired to take care of her elderly parents. She never married, but had numerous friends. She loved to travel, attend cultural events, and to share quality time with others. Jean suffered from rheumatoid arthritis for most of her very productive life.
I (Nancy) lived with Jean for about a year following my graduation from Wake Forest University. For several years thereafter, Jean and I enjoyed living in the same city. Jean and Linda (one of Betty's twins) and Julia (my daughter) and I use to participate in outings together. Linda and Julia were about the same age. When Jean decided to move back to Peachland, Julia and I felt an emptiness whenever we approached the neighborhood where Jean had lived. She was a strong, thoughtful presence in the lives of those who knew her. Years later when I moved to Richmond, Virginia, I ended up in the same church as one of Jean's closest friends, Wanda Spivey. I officiated at the wedding of Wanda's daughter, Eda.
Wherever she lived, Jean was active in the Methodist church. Upon her return to Peachland, she contributed the funds for a new organ for Peachland Methodist Church. The organ serves as a memorial to Jean's giving spirit.
Jean is listed as a Pharmacy School Donor in the Wingate University School of Pharmacy newsletter. The School of Pharmacy opened its doors in 2002.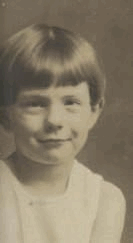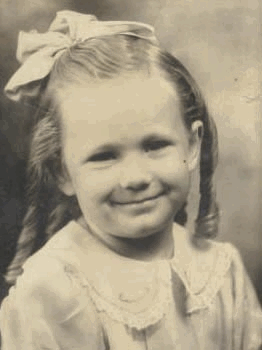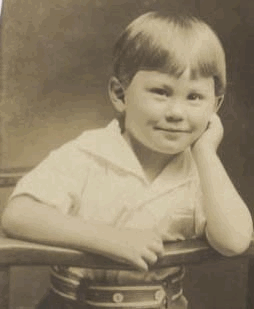 Jean Betty Bill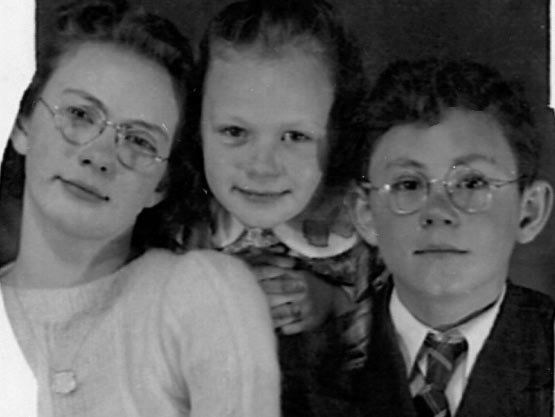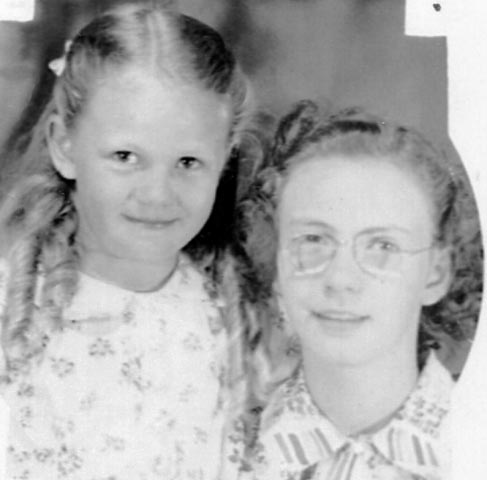 Jean, Betty, & Bill Betty & Jean
2. WILLIAM BOYCE CAUDLE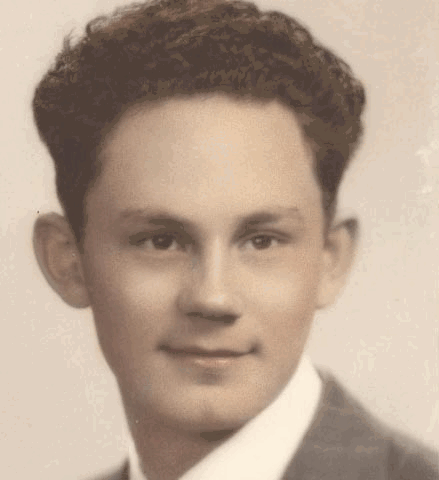 Married: Gladys Hope Curlee on 12/21/1947.
Education: High School, Carolina Business School in Charlotte. Bill lived with
Ruby & Allen while attending Business School. World War II
interrupted his studies.
Served in the Army during World War II. Bill was stationed in Germany,
France, and Lunenburg and served from 7/19/1944 to 7/6/1946.
Profession: Eastern Airlines Mechanic for 26 years.
GLADYS CURLEE CAUDLE
Education: High School, Charlotte Beauty School
Profession: Gladys ran a popular beauty salon in her home for years. The last 20 years of her career, she worked up from a teller and customer service representative to manager of the Bank in Peachland. According to the History of Peachland, North Carolina, "under her direction, the bank enjoyed growth of customers and services."
Gladys is the daughter of Edd & Corrie Hill Curlee. According to the 1930 U.S. Federal Census, Gladys is listed as living with her parents and two sisters, Rachel and Louise, in Burnsville, N.C..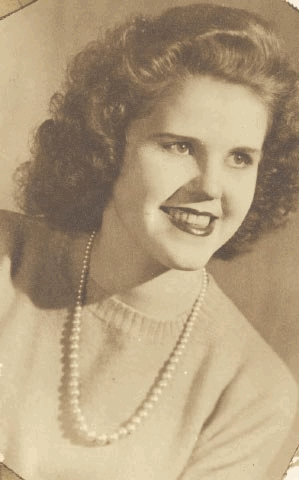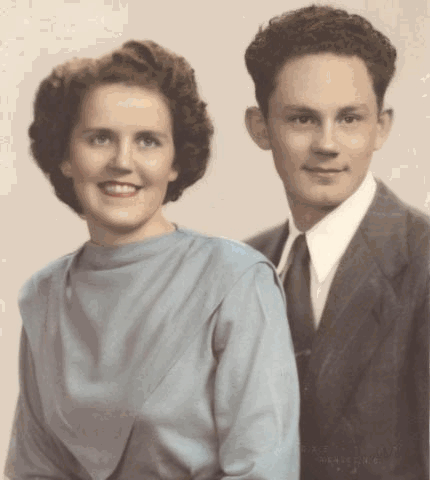 Gladys Gladys & Bill Caudle


3. BETTY LOUISE CAUDLE
Education: Associate Degree – Pheiffer College, Misenheimer, N.C.
Married: Charles Alfred Nance on 10/11/1952 in Peachland Methodist Church.
Profession: Homemaker
Betty possesses a lovely voice for singing. Many Sundays the family gathered at Aunt Mae's to enjoy her delicious cooking, then adjourn to the living room and listen to Betty sing. During her teens, she had problems that demanded she rest her voice for several years. She is now recovered and sings in her church.

CHARLES ALFRED NANCE
Profession: Mechanic and Mechanics Supervision over 3 counties: Anson, Union, and Stanly with the North Carolina Department of Transportation. Charles retired after 37 years with NCDOT.
Family home of Charles & Betty Nance
This is the home we built after we were married October 11, 1952. We moved in during June 1953 and are still enjoying it after 54 years. We are located in the community of Charles' boyhood—a simple rural area of country people.
The Charles & Betty Nance Family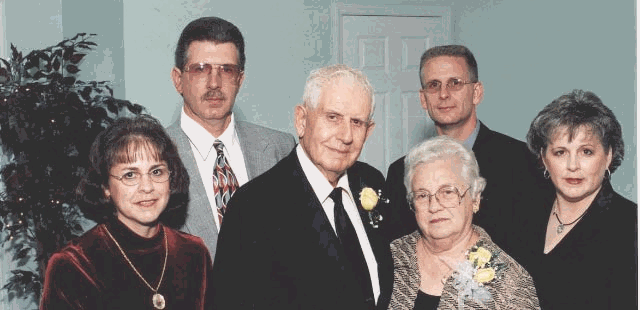 Left to Right: Linda & Alvin, Charles & Betty, Ernie & Brenda
Betty & Charles' Retirement Years
In Betty's words.
Christmas at the Nances: Our family gathers on Christmas Eve each year for this special family time. We always read the Scripture from Matthew and Luke, with the children participating, followed by prayer and the blessing of the food. The children bring some of their favorite dishes to supplement Grandma's cooking. After the "feast," we eagerly open the presents that the young children distribute and then we have a glorious and sometimes hilarious time playing table games.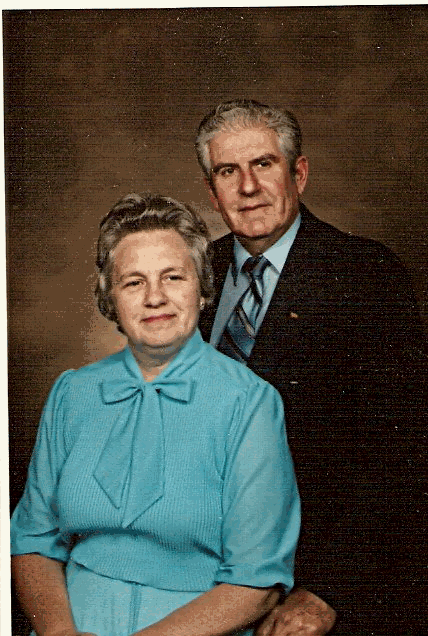 Betty & Charles 50th Anniversary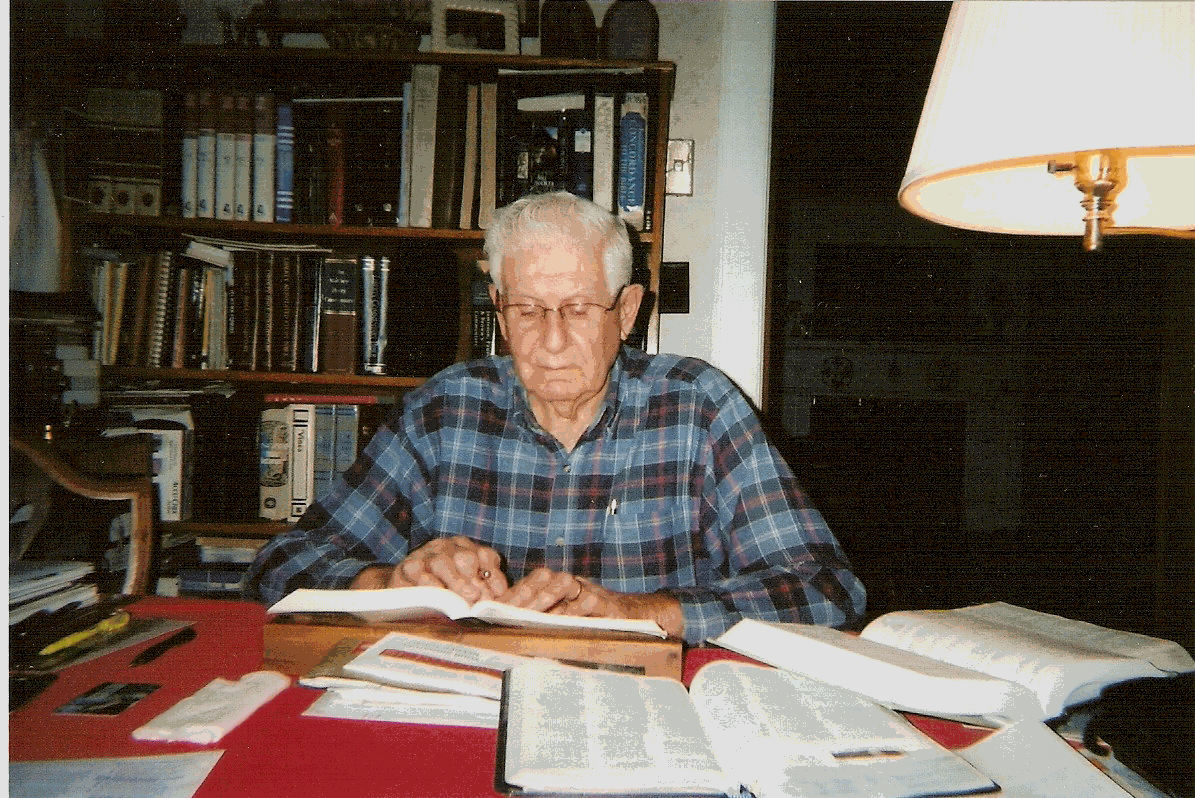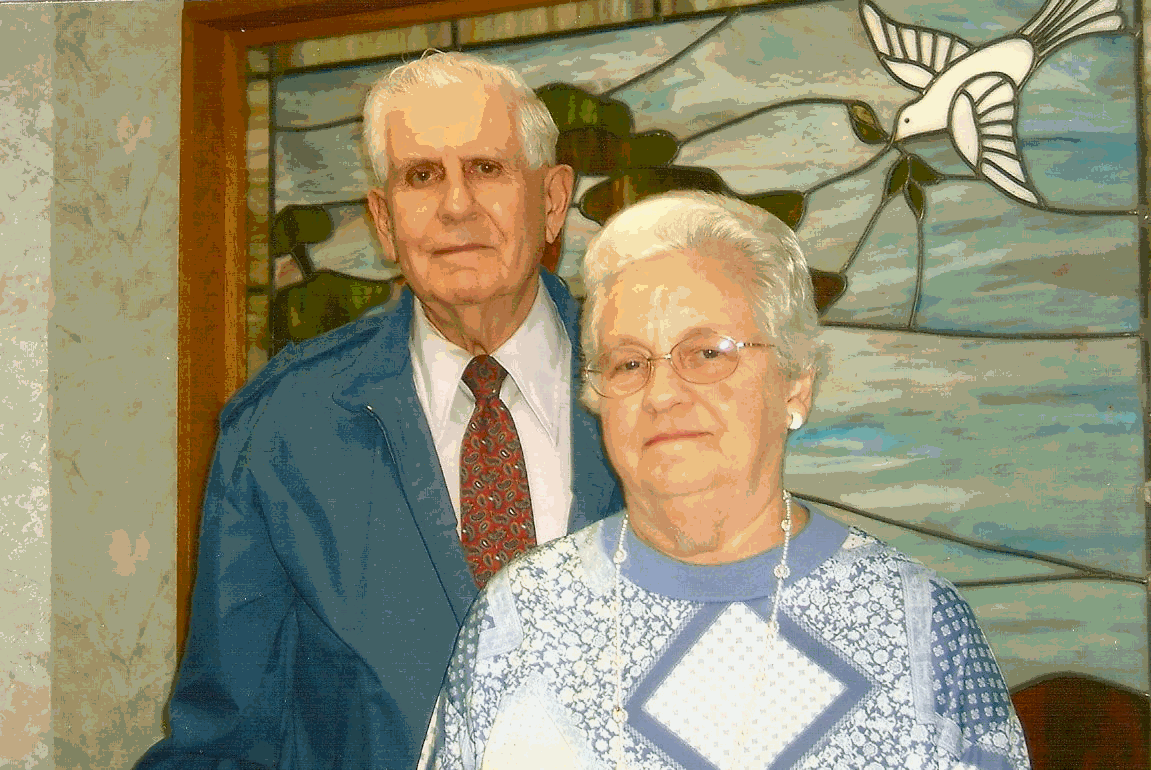 This photo is special to me because it shows Charles in his daily routine of Bible study that he enjoys so much. I am so thankful for the 55 years we have had together. The Lord has blessed us!
This photo (with the stained glass window) was made at Autumn Care Nursing Home in Marshville, N.C. Charles and I have conducted worship services each Saturday for approximately 15 years with various preachers helping. In April 2007, we delegated this weekly program to one of our young preachers. We became very attached to the dear people and saw many go home to be with the Lord. We look forward to meeting them again some day!
II. CALVIN LEE CAUDLE: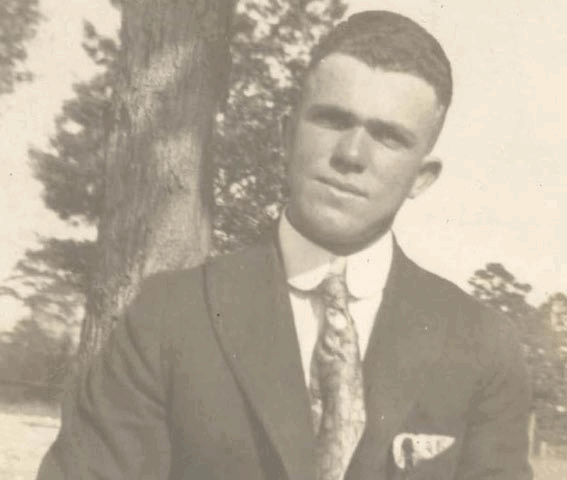 Born: 4/19/1900
Married: Lula Belle Caudle in 1919 in Union County, N.C.
Profession: Farmer/N.C. Transportation Department
Died: 7/13/1966 in Mecklenburg County, N.C.
LULA BELLE CAUDLE
Born: 9/2/1900 in Anson County. Lula's father died of malaria one month before her birth; her mother died of malaria two months after giving birth to Lula. She was reared by grandparents and uncles. Lula and Ernest, Fannie Mae's husband, were siblings. Ernest was age 2 when their parents died; their older sister Letchie was 3 yrs. old.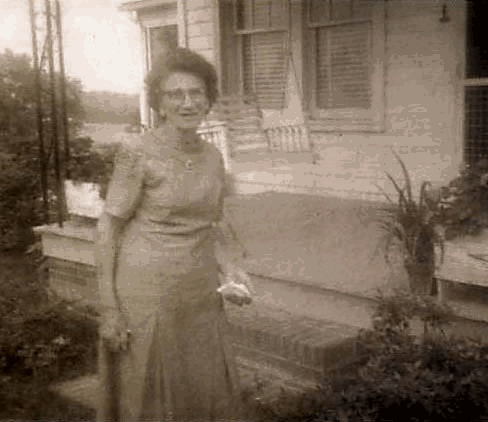 Lula – her front porch always had flowers growing on it.
Profession: Homemaker
Died: 11/11/1982 in Mecklenburg County, N.C.
Source: Family Bible
Lula's daughter, Margaret, praises her for being such a good mother after having grown up in a household of men. Lula was a talented cook, handcrafter, and green thumb. She was the person we (Ruby and her children) consulted about various plants. I remember sitting in her kitchen while Lula canned pickles and other vegetables/fruits. The dining room of her home had windows across two sides and faced the back yard. We could enjoy her delicious cooking while being surrounded by nature. One of the first questions we asked upon entering the house was, "What have you made lately?" Lula always had a handcrafted piece for us to admire.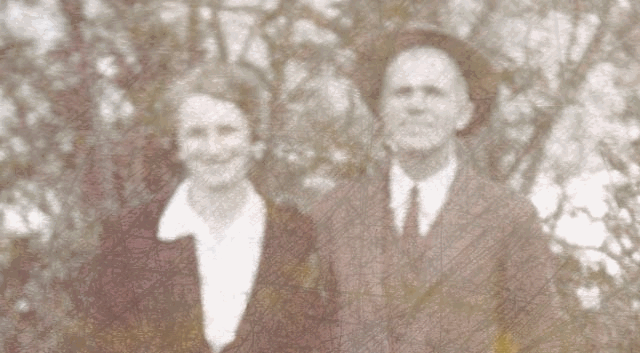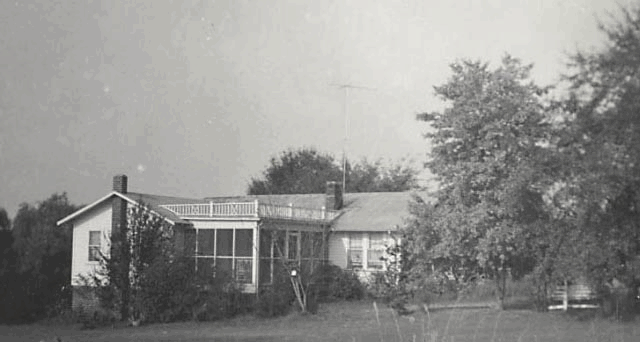 Lula & Lee Caudle Lee & Lula's home place
Lee and Lula lived on one side of Grandpa Jim, while Ashe and Eula Belle Caudle lived on the other side. Lee's house still stands on Highway 74 West. It remains in the Caudle family and is rented out. Annette and Haskell Tarlton live on the other side of Ashe and Eula Belle, so at one time four Caudle families lived in a row.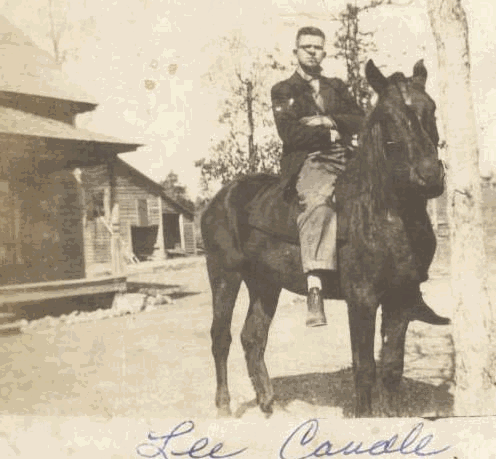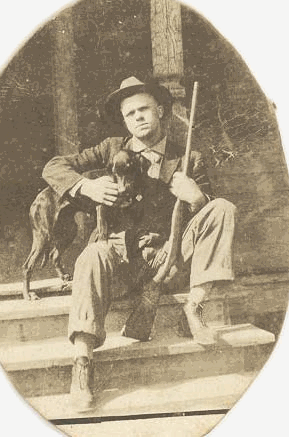 Lee
The old home place and barn in the background.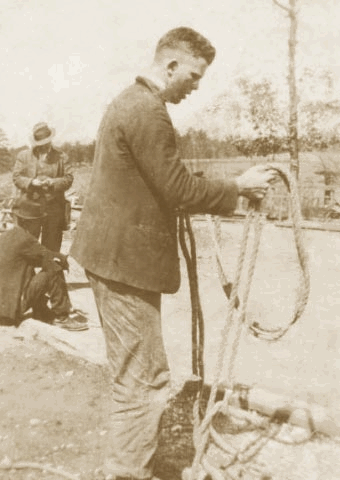 Lee - Near downtown Peachland – perhaps at the horse trading site.
Children of Lee & Lula Caudle
1. JAMES EDMUND (TOM) CAUDLE
Born: 2/21/1921 in Anson County, N.C.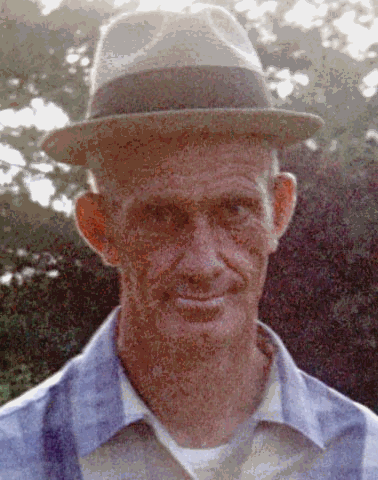 Profession: Farmer, General Store owner
Died: June 19, 1978
Buried: Peachland Cemetery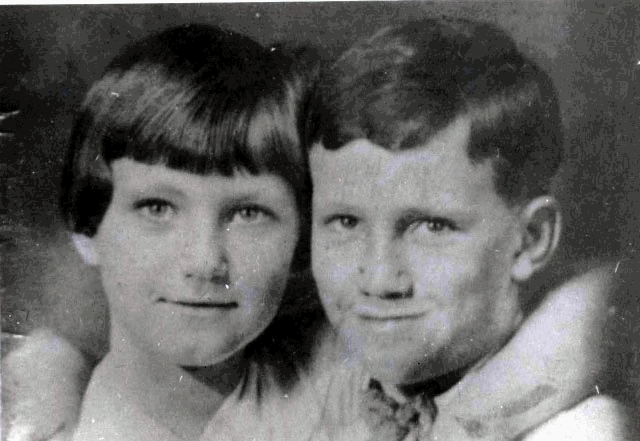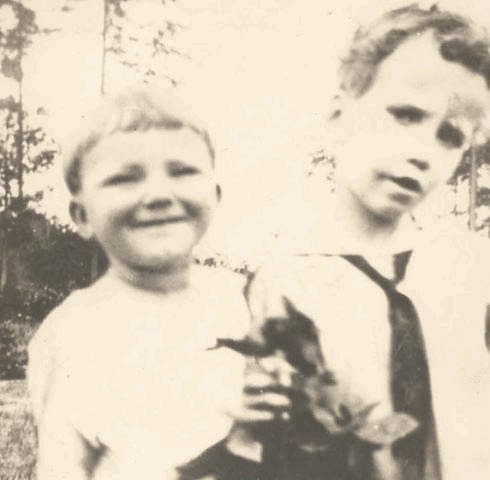 Margaret & Tom Caudle Margaret & Tom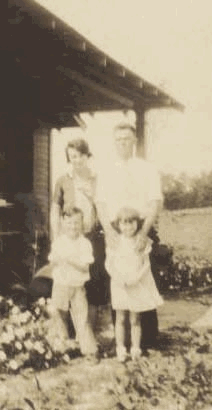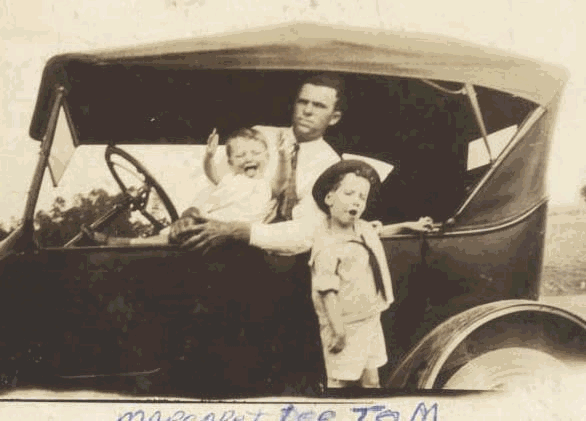 The Lee Caudle Family Margaret, Lee, & Tom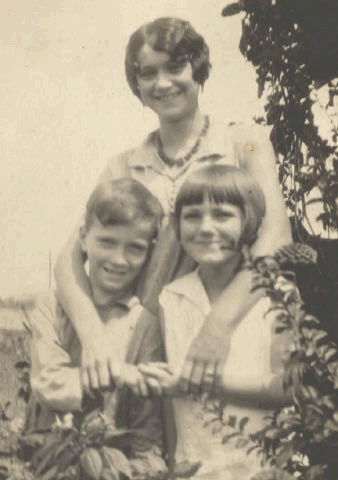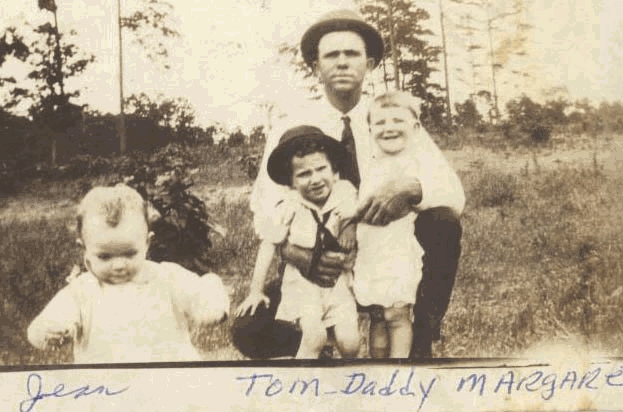 Jean Caudle Tom, Lee, & Margaret Ruby, Tom, & Margaret
Tom was named after his maternal grandfather, James Edmund "Tug" Caudle.
Although Tom was physically challenged, he loved helping his father on the farm. At one point, Tom ran a general store in downtown Peachland. The store was located in the building that formerly held Hill's Grocery Store and was diagonally across from Peachland Baptist Church. Ruby's son, Allen, use to help out in the store, so the timing of this store had to be in the 1960s. During his off time, Tom loved to visit family and friends.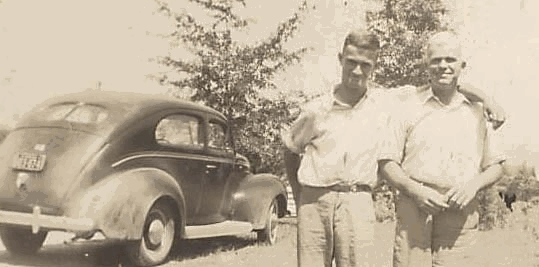 Tom & Lee Caudle
2. MARGARET CAUDLE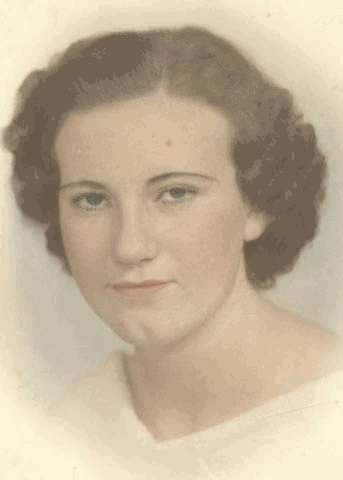 Education: Pheiffer Junior College in Misenheimer, N.C.
Married: Edward Lee Gulledge
Profession: Homemaker, Managed a Tall Girls' Dress Shop in Charlotte, N.C.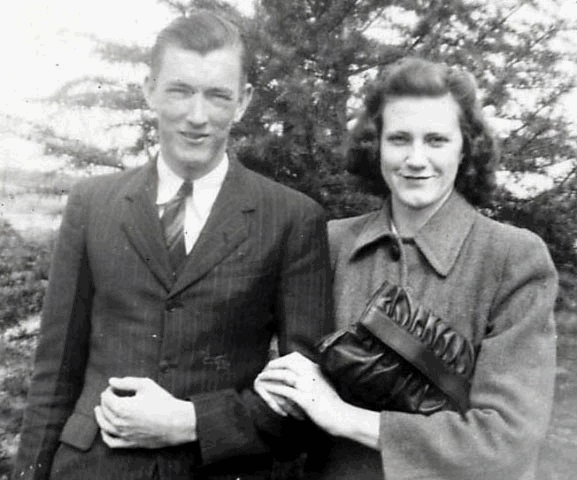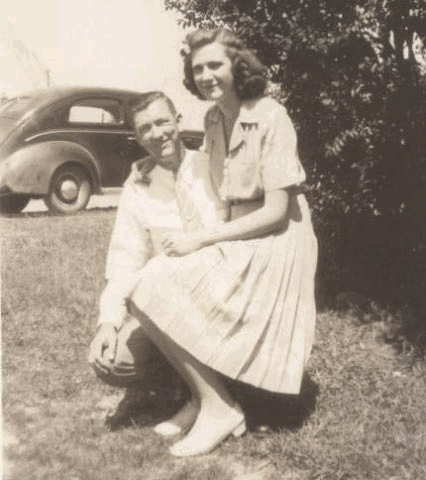 Ed & Margaret Gulledge Ed & Margaret Gulledge
EDWARD LEE GULLEDGE
Born: 5/27/1920
Education: Associate's Degree – Mars Hill Junior College, Mars Hill, N.C.
Died: 9/12/1966
Buried: Sharon Memorial Park, Charlotte, N.C.
Ed's degree was in accounting from the School of Business at Mars Hill. While a student there, Ed was a member of the Honor-Scholarship Club and held several leadership positions. At the time of his marriage, he was employed as a cotton quota clerk by the Anson County Agricultural Conservation Association.
Later, Ed joined Allen Brooks at Grinnell. Ed was a sales representative for Grinnell Company in Charlotte, N.C., selling automatic sprinklers for fire extinguishing. He and Allen worked together and played together. Ed, Margaret, Allen, and Ruby were great friends. The foursome used white powered chalk to map out a tennis court in the side yard of the apartment building where Allen & Ruby lived. They spent many happy hours playing doubles. Making homemade ice cream in a hand-turned churn was another favorite pastime.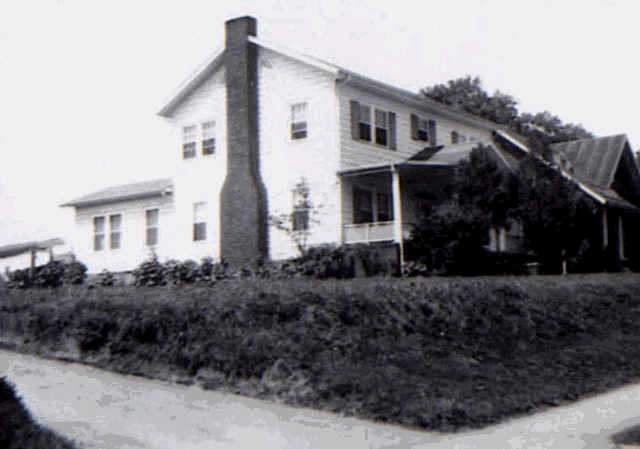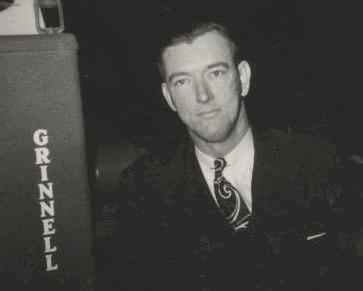 Side yard at Ruby & Allen's Ed Gulledge
apartment building in Charlotte, N.C.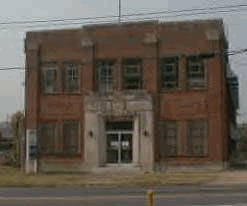 The original building
Grinnell/General Fire Extinguisher Company
1400 block of Morehead Street
Charlotte, N.C.
Ed Gulledge & Allen Brooks (husband of Ruby Caudle Brooks) worked for Grinnell in this building during World War II. Allen drew blueprints for installing automatic fire extinguishers (called grinnells) into buildings/ships and Ed was a sales representative. Grinnell was founded in 1892 by engineer and inventor, Frederick Grinnell. The original building shown above is listed on the North Carolina Register of Historical Places.
Source: "The Early History of Grinnell Corporation & the Fire Extinguisher Industry," compiled by Jerome S. Pepi.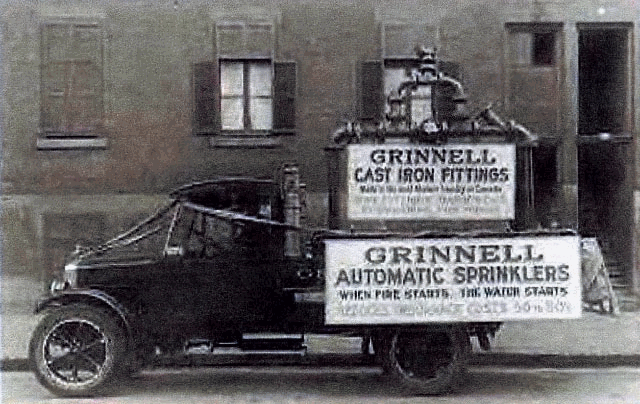 A fun photo!
Ed & Allen did not drive such a car.
At least, I don't think Ed did!
III. JAMES ELMER CAUDLE:

Born: 5/2/1902
Died: 8/16/1924 at age 22 of complications with appendicitis.
Buried: Caudle-Covington Cemetery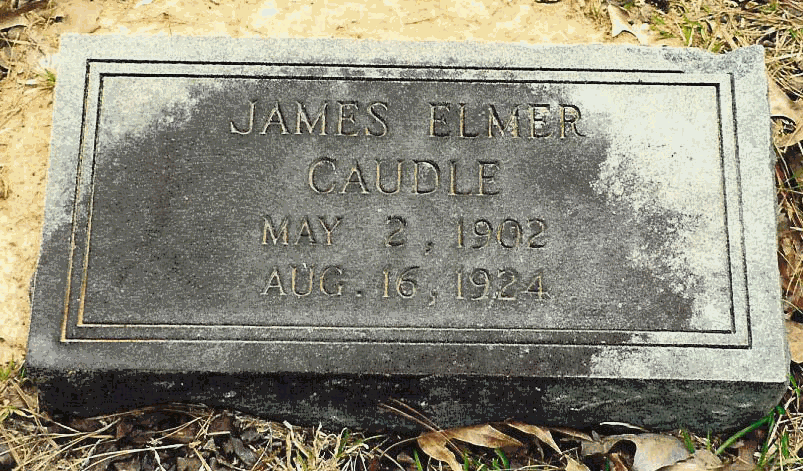 Elmer was a beloved member of the family. Aunt Eva and Mother (Ruby) told their children about him, always mentioning how much they loved him. Ruby, ten years younger than Elmer, adored being with him. When Elmer went to Peachland, he often brought home an apple for Ruby. In Ruby's words, "That was the grandest thing."
According to Uncle Ashe, Elmer whistled most of his waking moments.

1910 U.S. Federal Census listing Elmer Caudle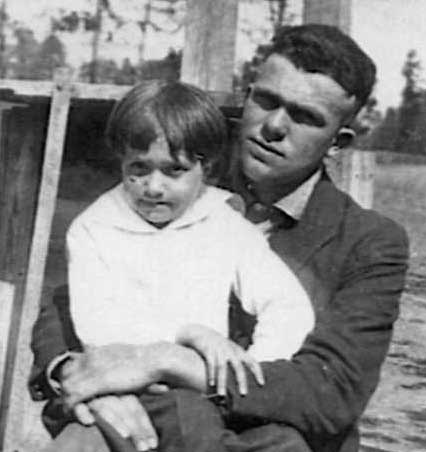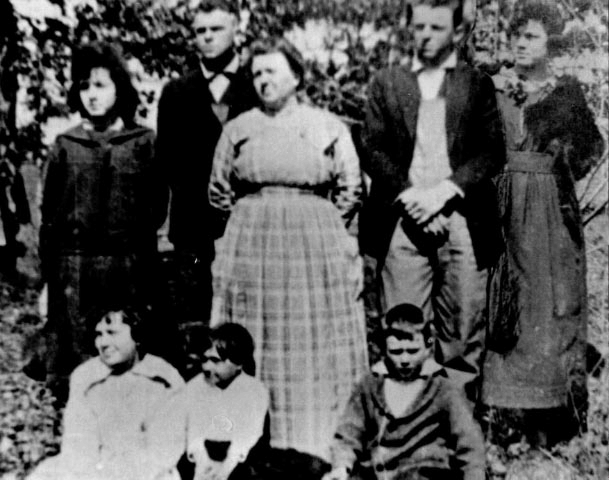 Elmer & Ruby – 1922 The Jim Caudle Family - 1922
Left to right, back row: Bertha, Lee, Grandma Sally, Elmer, Mae. First row: Eva, Ruby, Ashe

Elmer on his horse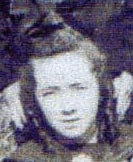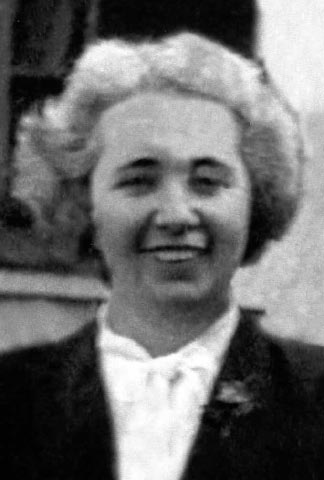 IV. BERTHA THELMA CAUDLE: Bertha as child
Born: 11/6/1904 in Peachland, N.C.
Married: Fred Houston Griffin
Profession: Homemaker
Died: 12/3/1993
Buried: Peachland Cemetery
FRED HOUSTON GRIFFIN
Born: 8/23/1904 in Peachland, N.C.
Profession: Farmer of various types. At one time, Fred was a diary
farmer, later a poultry farmer with his son, Frederick.
Died: 8/22/1979
Buried: Peachland Cemetery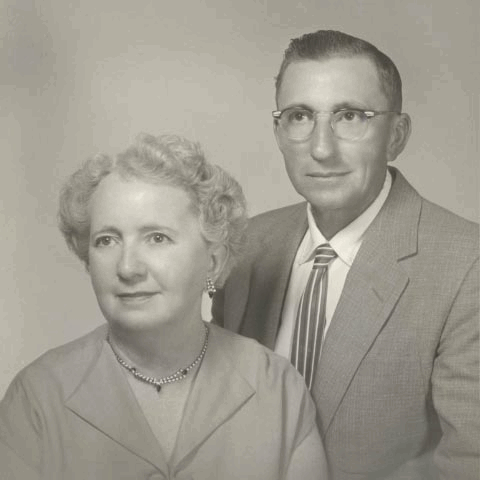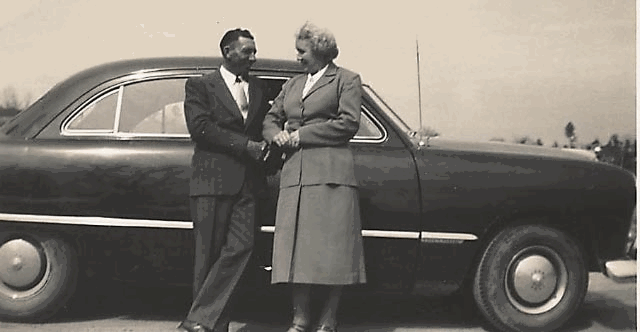 Bertha & Fred Griffin It's love, folks!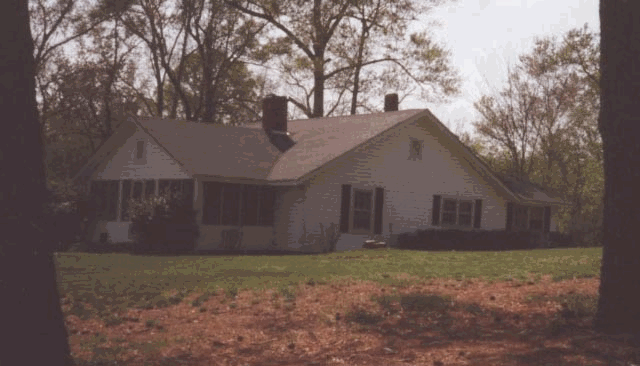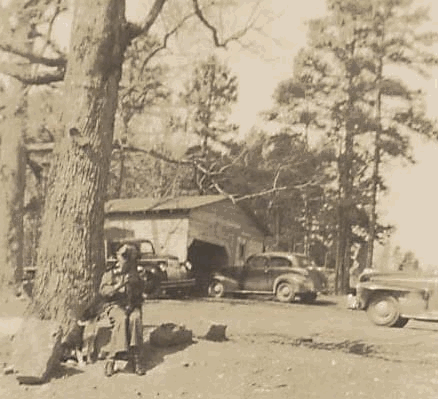 Fred & Bertha Griffin's Home Griffin Garage/Barn
"The Griffin boys loved their cars!
I was lucky enough to have whooping cough that lasted six weeks! Lucky because I got to stay with Aunt Bertha and Uncle Fred for the duration. Mother gave birth to my sister, Joyce, at the same time and we did not want to expose a newborn to the whooping cough. Decades later, I look at this house and feel the love that permeated it.
Aunt Bertha and Uncle Fred were a marvel to me. They raised four children without ever spanking them. Me? I seemed barely able to escape an infrequent day without a spanking. Not that spankings did any permanent damage to my psyche. I just could not fathom how Frederick, Bobby, Sarah Ellen, and Francis could be so good.
Those six weeks are among the most treasured of my life. They were the only time I got to live on a farm. City life could not compare with the excitement of a calf being born. Francis and I tried to turn the calf into our pet, but it had different plans.
The house was located on a dirt road. We knew when a car was coming by the clouds of yellowish-brown dust that bellowed above the road. Someone would cry out, "Car coming" and we would all rush to close the windows so the dust would not settle in the house. Living on a dirt road meant dusting everyday during the warm months anyway—without having cars add to the ever-collecting dust.
In the late 1940s, there were no phone lines in the rural areas. Each night Sarah Ellen washed and put on fresh clothes, then we sat on the front porch and waited to see if she would have a male visitor. That's the way they dated then. Frederick and Bobby were dating too, but they drove to their girlfriends' homes. Once in awhile, Frederick brought Frances to Aunt Bertha's. I would stare at Frances in amazement that anyone could be so beautiful. When Frederick married girl Frances, boy Francis had to be called "Little Francis" so we could tell them apart.
On Sunday afternoon, rural folks hold visiting hours. Aunt Bertha was an excellent cook (the entire Caudle family was). She was known in my family for her delicious cakes. Often she churned a freezer of ice cream and we sat on the front porch enjoying its refreshing coolness.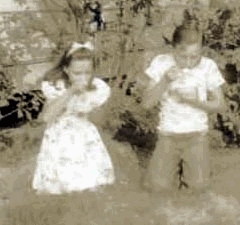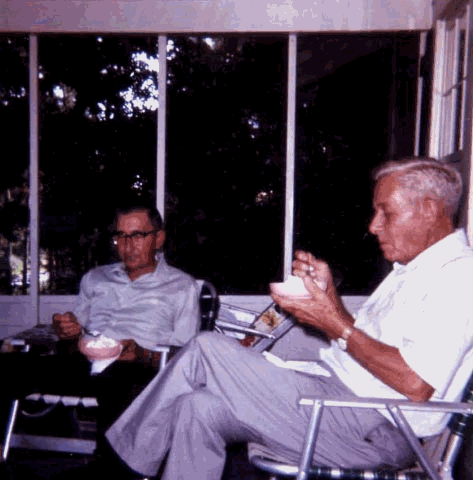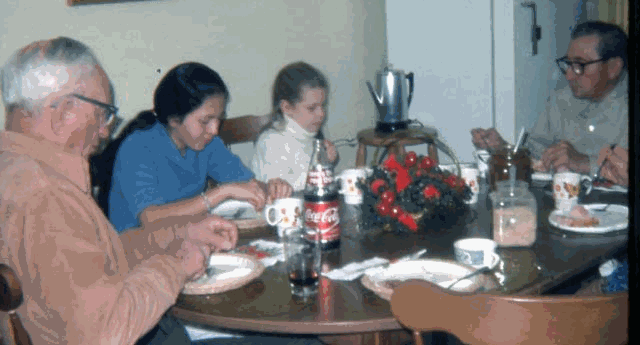 Nancy & Francis eating Hammond & Fred Ernest, Julia, Amy, & Fred
ice cream eating ice cream enjoying Aunt Bertha's
Christmas cake.
Aunt Bertha was a regular member of the Brooks girls' sewing activities. Grandma Sally had a huge, heavy dinner room table on which all types of hobbies were enjoyed. Ruby, along with three of her children—Evelyn, Joyce, and Allen—lived in her parents' home for several years after Grandma Sally's death. When the sewing started, we called Aunt Bertha to join us.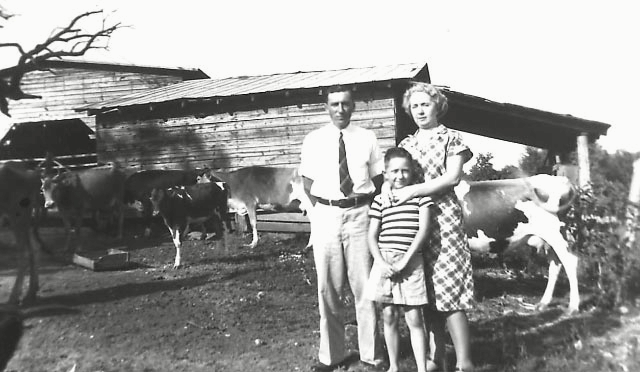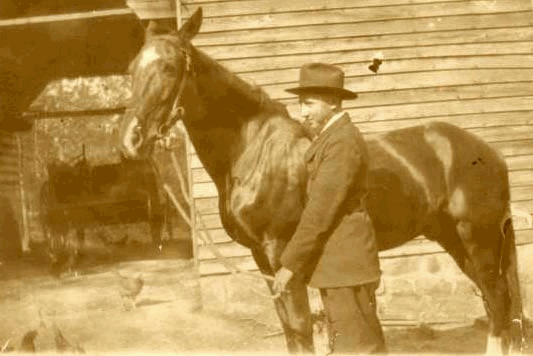 Fred, Bertha, & Francis Fred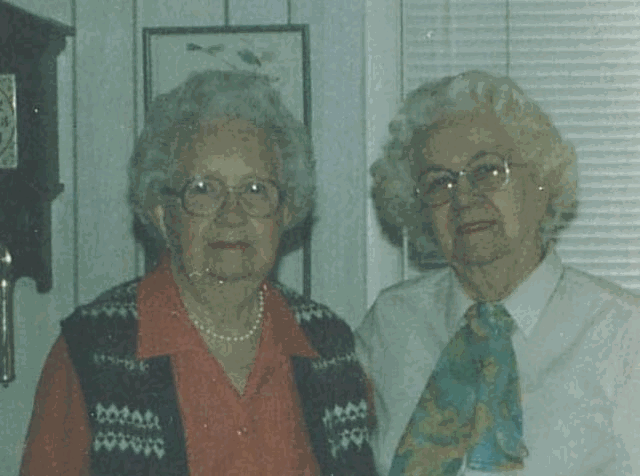 Bertha & Eva – no doubting they were sisters!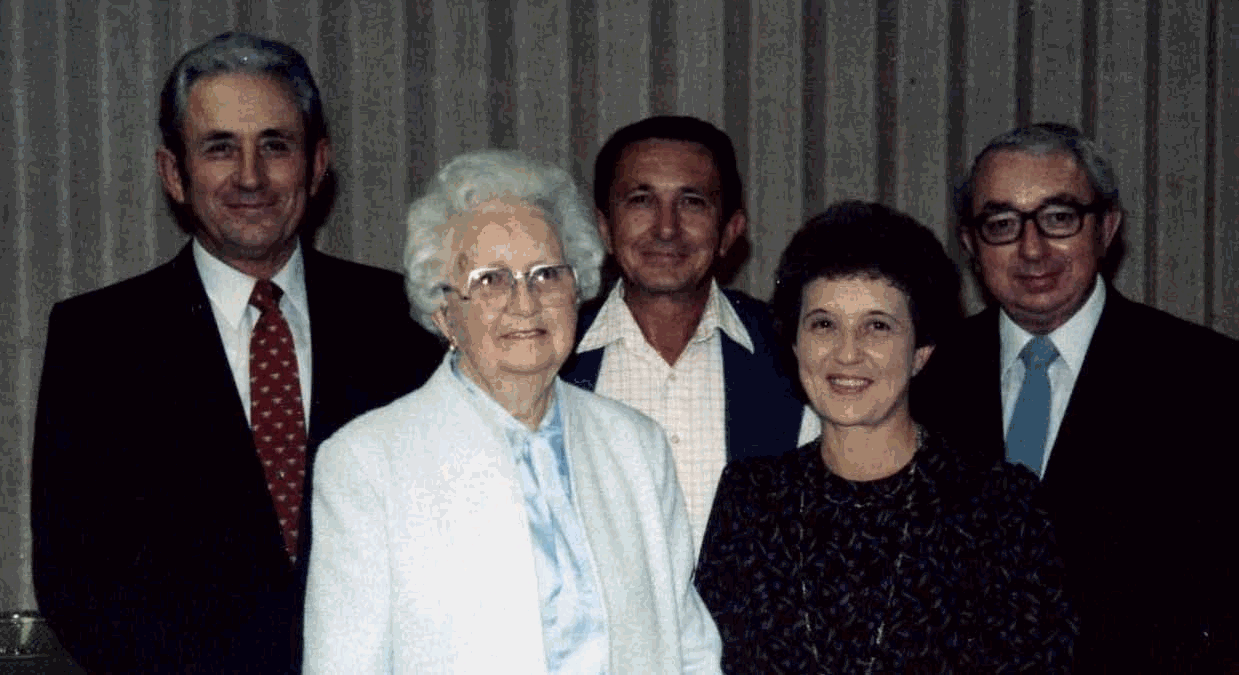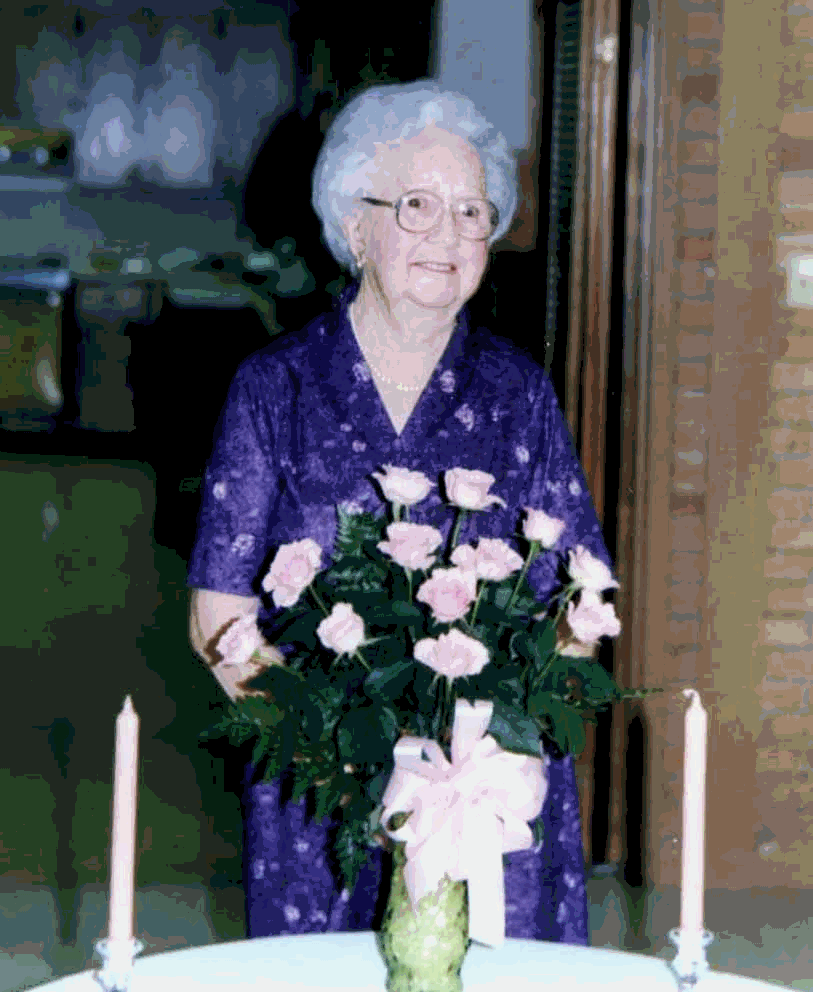 Frederick, Bertha, Francis, Sarah, & Bobby Bertha's 82nd birthday
Bertha's 79th birthday – 1983 1986
Children of Bertha & Fred Griffin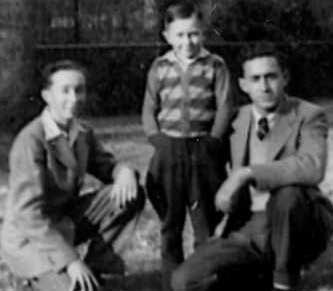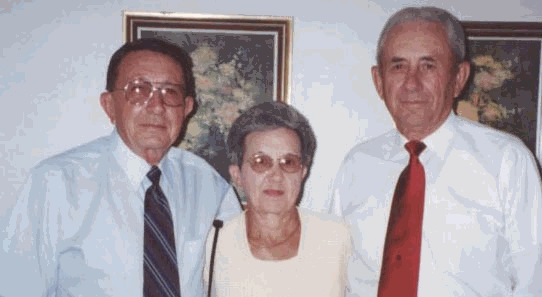 Bobby, Francis, & Frederick Francis, Sarah Ellen, & Frederick
1. FREDERICK HOUSTON GRIFFIN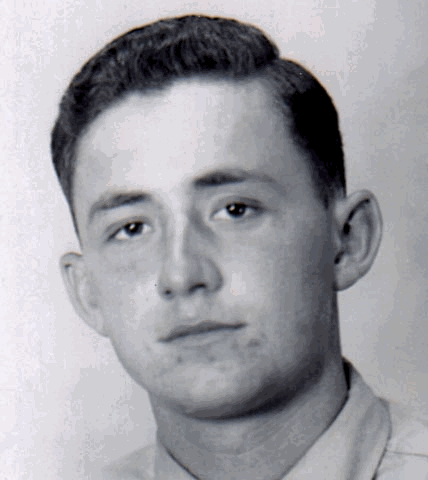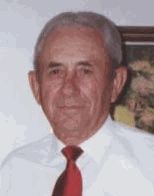 Education: Peachland High School
Married: Frances Cornelia Tucker on 8/18/1948 in New Home Baptist Church
in Anson County, N.C.
Military Service: Frederick served in the Army during World War II. He was
stationed in Saipan. Saipan is part of a chain of islands in the
North Pacific Ocean.
Profession: Frederick worked in partnership with his father, Fred, on the family
poultry farm. He continued on the farm following his father's
death, working it until his retirement.
FRANCES CORNELIA TUCKER

Education: High School
Profession: Homemaker, Retired from Union County Clerk of Court's
Office.
Frances is the daughter of H.N.& Lois Tucker of Anson County.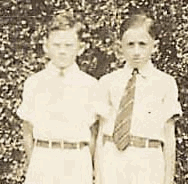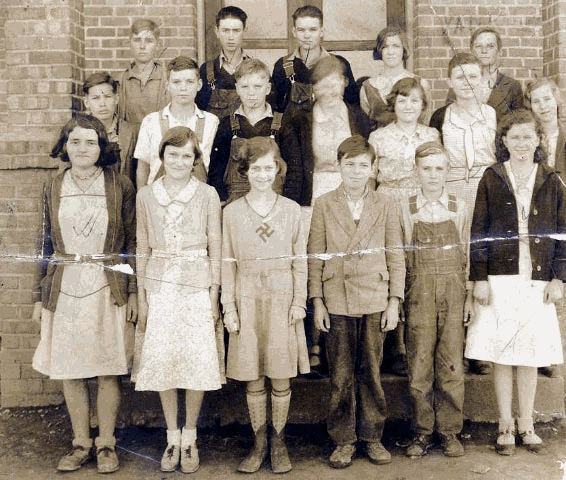 Bill & Frederick Front row: Frederick & Bill – Peachland School
2nd row, 2nd from right – Louise Lowery - Don Smith's mother.
Frederick and Bill are like brothers. They attended school and served in the military at the same time. After both married, the foursome lived together for a time in downtown Peachland. From outside looking in, theirs has been a rich, rewarding lifelong relationship. Throughout the years, Bill & Gladys and Frederick & Frances have taken turns attending out-of-town family events as representatives of the Caudle family. We all appreciate their attentiveness to extended family.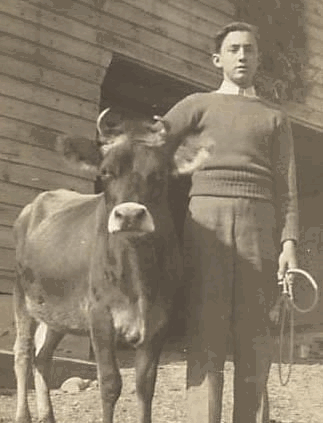 Frederick with heifer
2. ROBERT "BOBBY" CAUDLE GRIFFIN

Born: 12/22/1929 in Anson County, N.C.
Served in the Air Force 1947-1952 and 1955-1961.
Married: Betty Grey Harrington on 8/6/1955 in Wadesboro Baptist Church in
Wadesboro, North Carolina.
Profession: USDA Food Inspector
Died: 6/24/1990 Bobby died in Charlotte, N.C. awaiting a heart transplant.
Buried: Lakeland Memorial Cemetery in Monroe, N.C.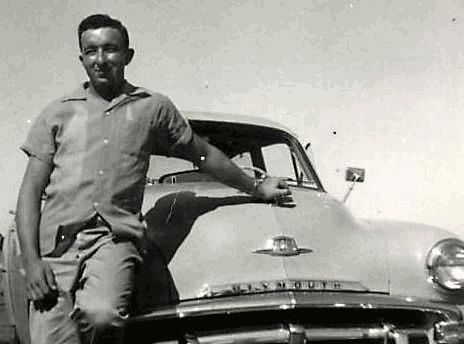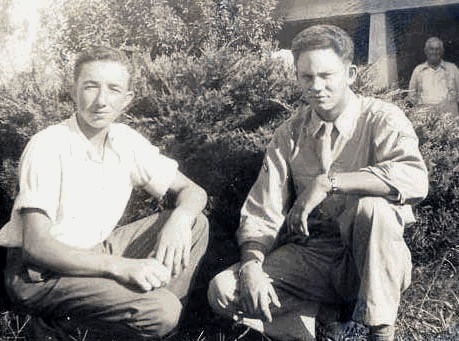 Bobby with his car Bobby & Bill at Grandpa Jim's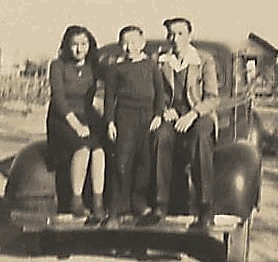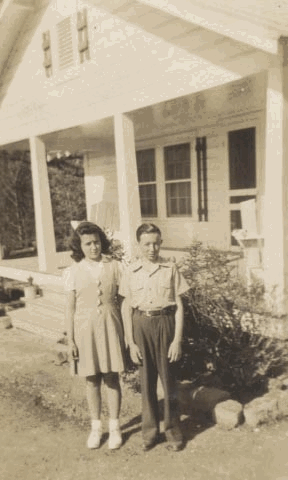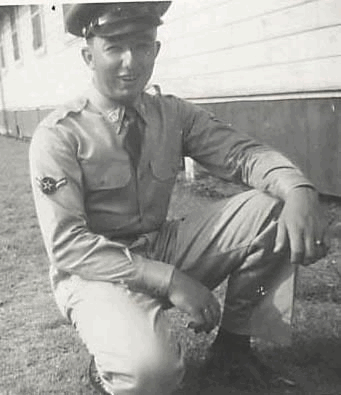 Sarah Ellen, Francis, & Sarah Ellen & Bobby Bobby in Alaska
Bobby in front of their home
BETTY GREY HARRINGTON GRIFFIN
Education: B.S. degree – Women's College in Greensboro (UNC-G)
Profession: Homemaker, Teacher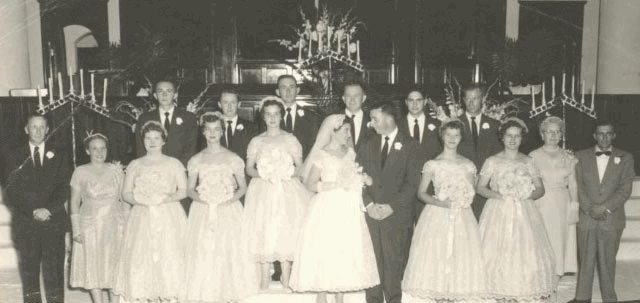 Betty & Bobby's Wedding – August 6, 1955
Bobby was stationed in Alaska for several years. Betty Grey went with him; one
son was born in Anchorage, Alaska.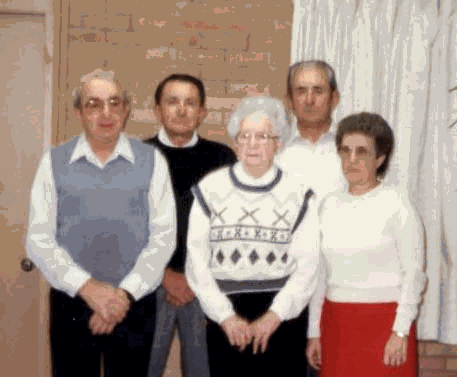 Betty & Bobby Bobby, Francis, Bertha, Frederick, & Sarah Ellen
Betty is listed as a Pharmacy School Donor in the Wingate University School of Pharmacy newsletter. The School of Pharmacy opened its doors in 2002. She is now retired and spends her time with church, volunteer work, bridge, and reading. Her grandchildren are the joy of her life.
3. SARAH ELLEN GRIFFIN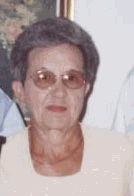 Married: Hoover Ross on 6/20/1952 in Peachland Baptist Church.
Profession: Homemaker, Retired from Union County District Attorney's Office in May 1995.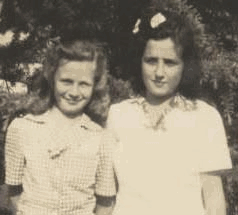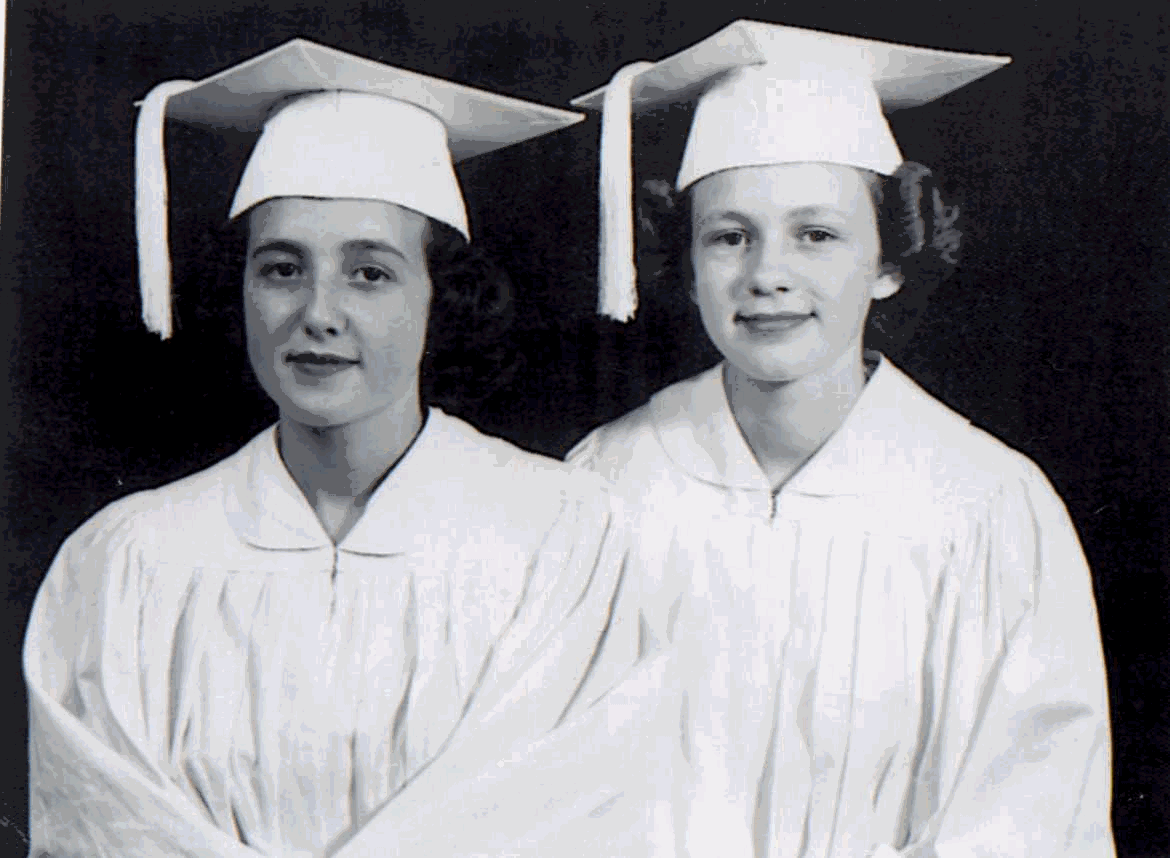 Betty & Sarah Ellen Sarah Ellen & Betty - High School Graduation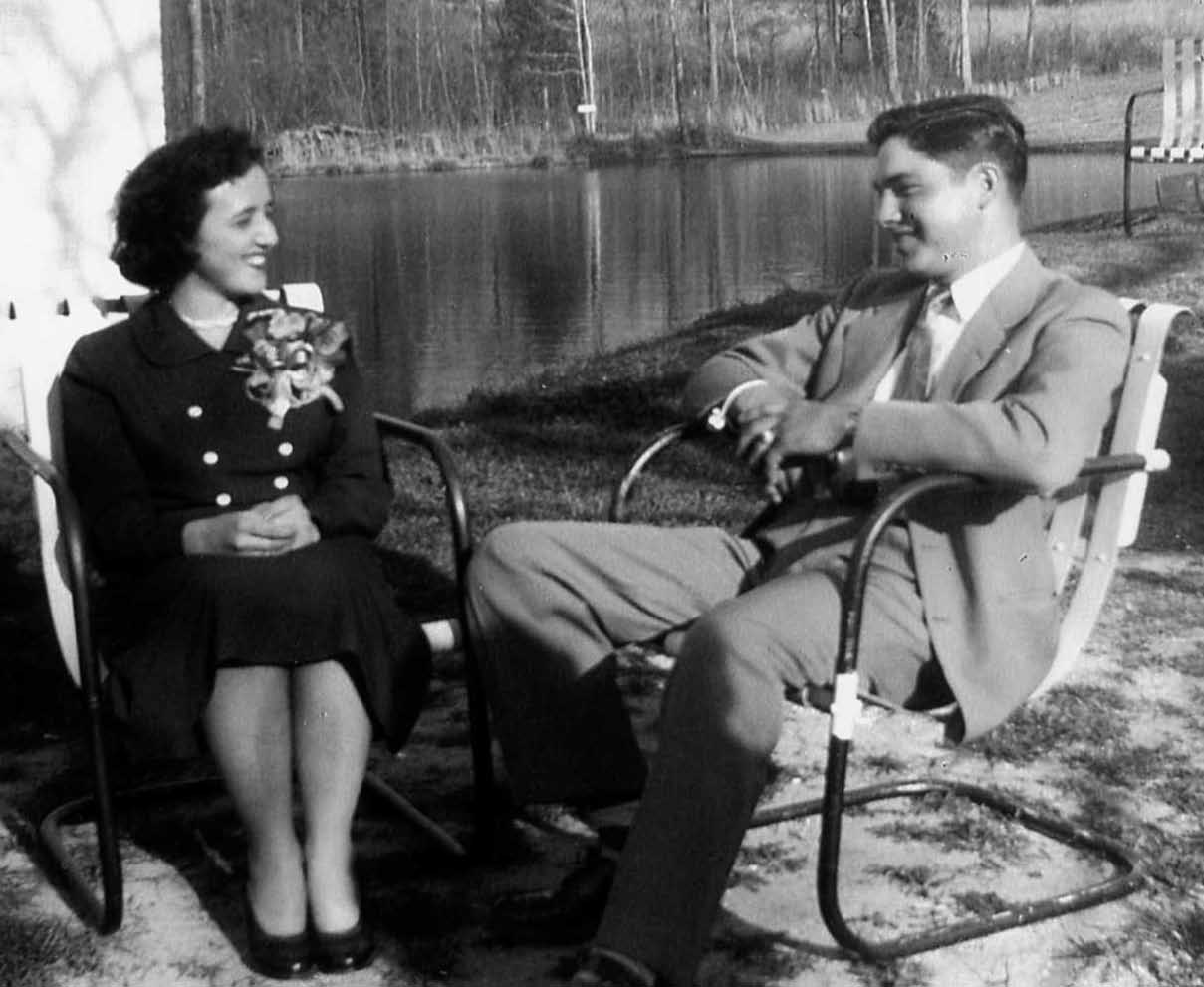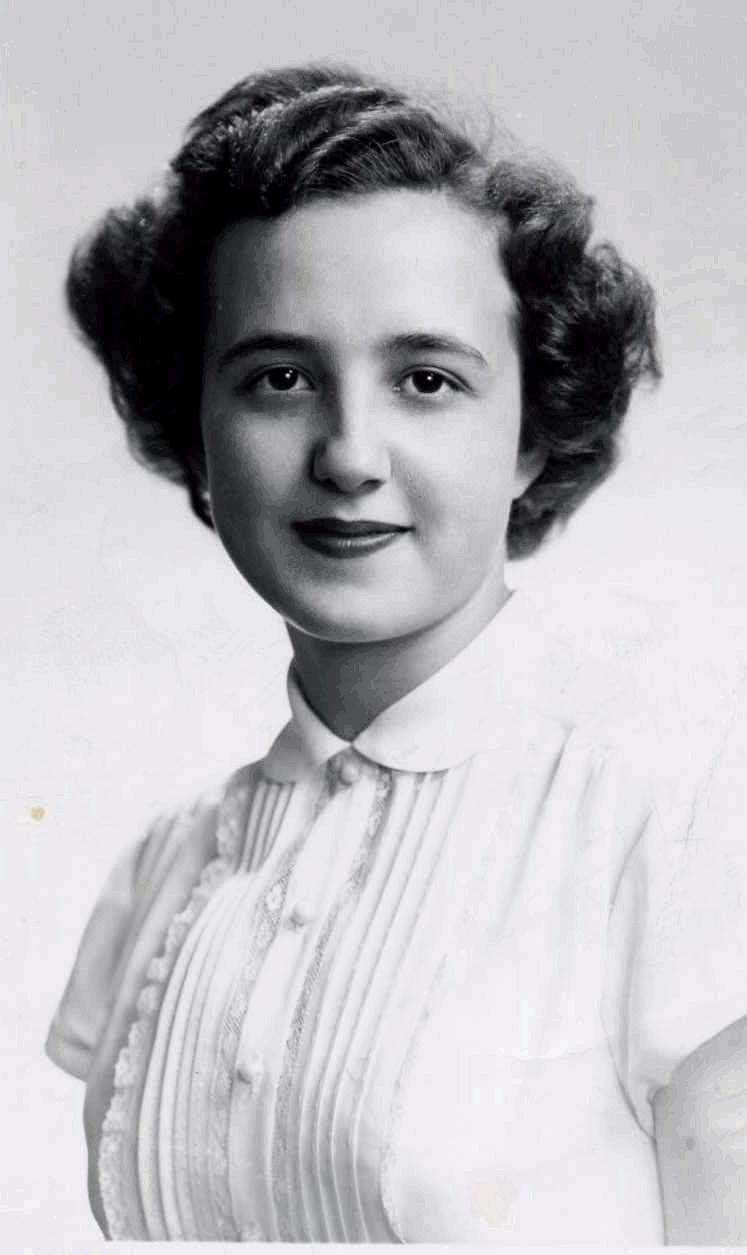 Easter 1950 – Looks like love! Sarah Ellen's Engagement Photo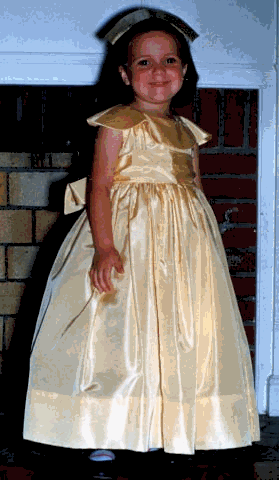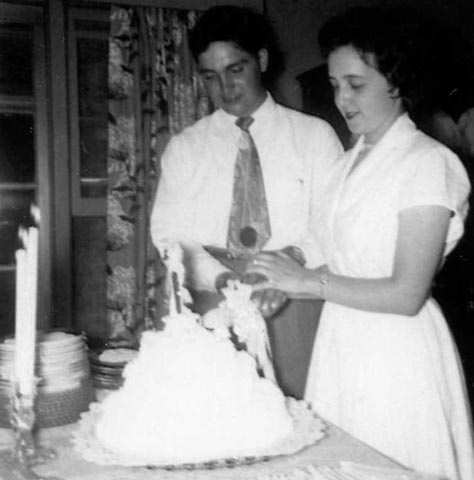 Joyce Elaine Brooks Hoover & Sarah Ellen's
Flower Girl for both Wedding Reception
Sarah Ellen & Betty June 20, 1952
in 1952
HOOVER ROSS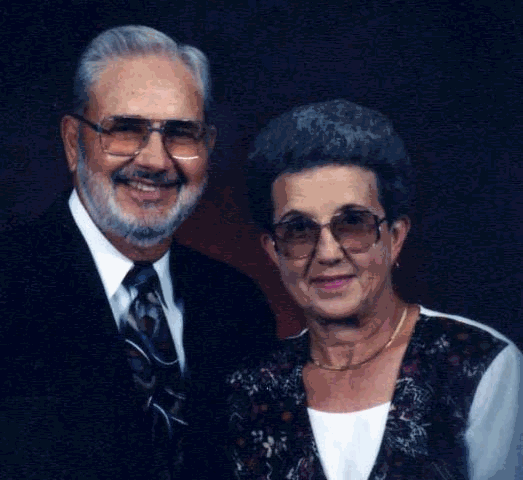 Son of Charlie Preston & Addie Caudle Ross.
Military Service: Army during the Korean War
Profession: Retired Poultry Farmer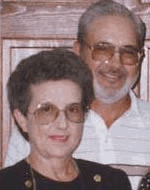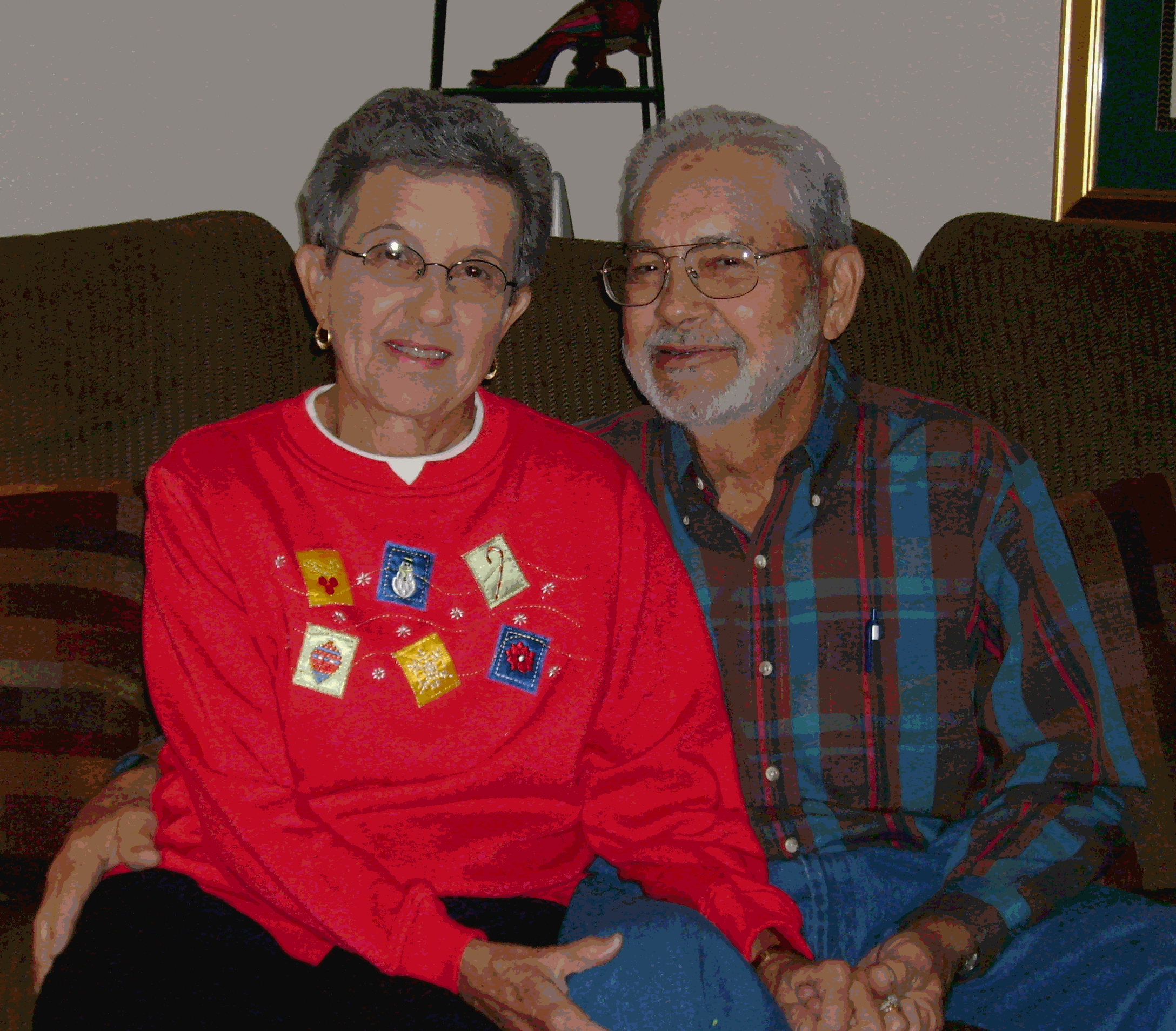 Sarah Ellen & Hoover Ross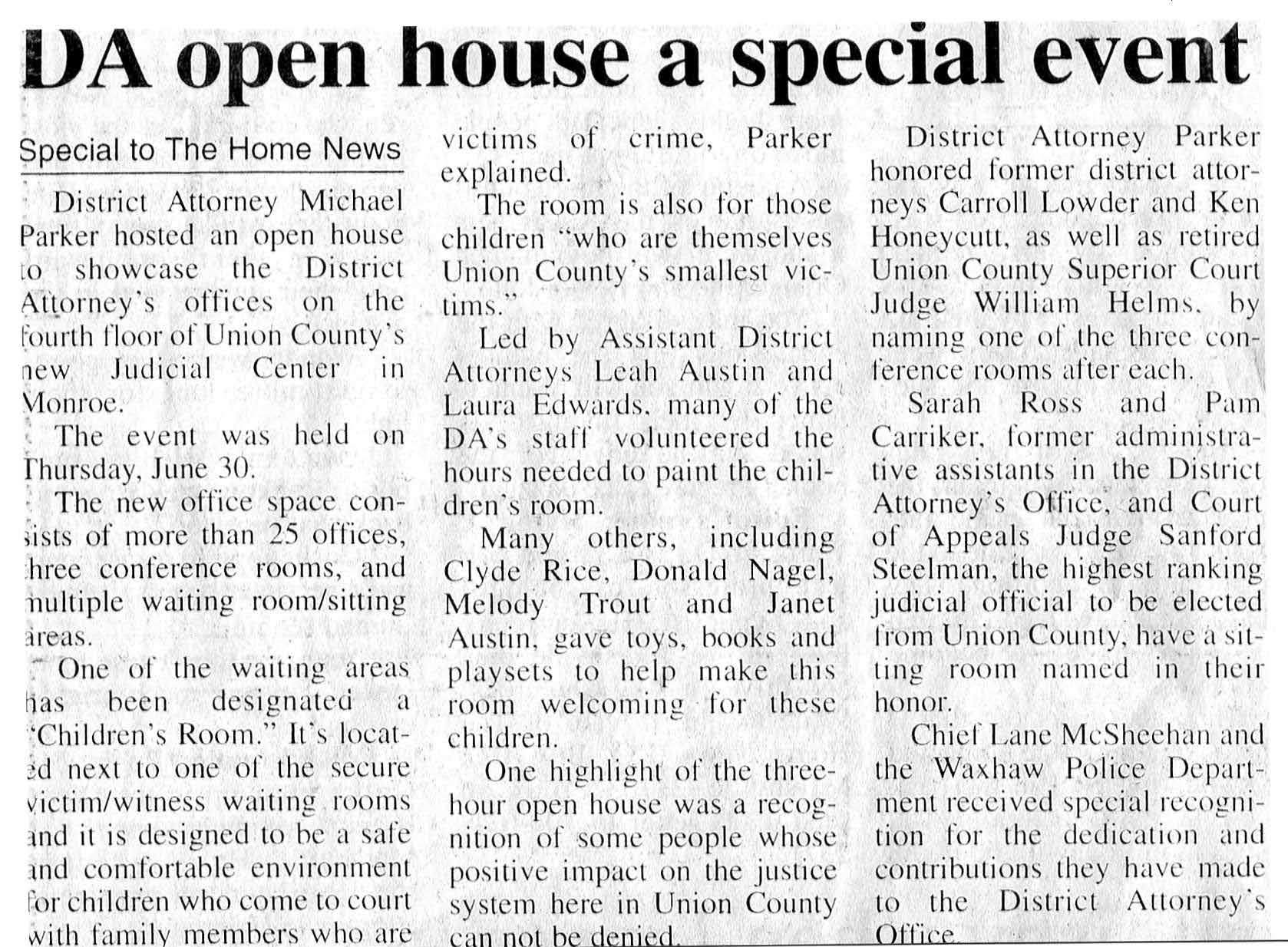 2005 – Union County District Attorney's sitting room named in Sarah Ellen's honor.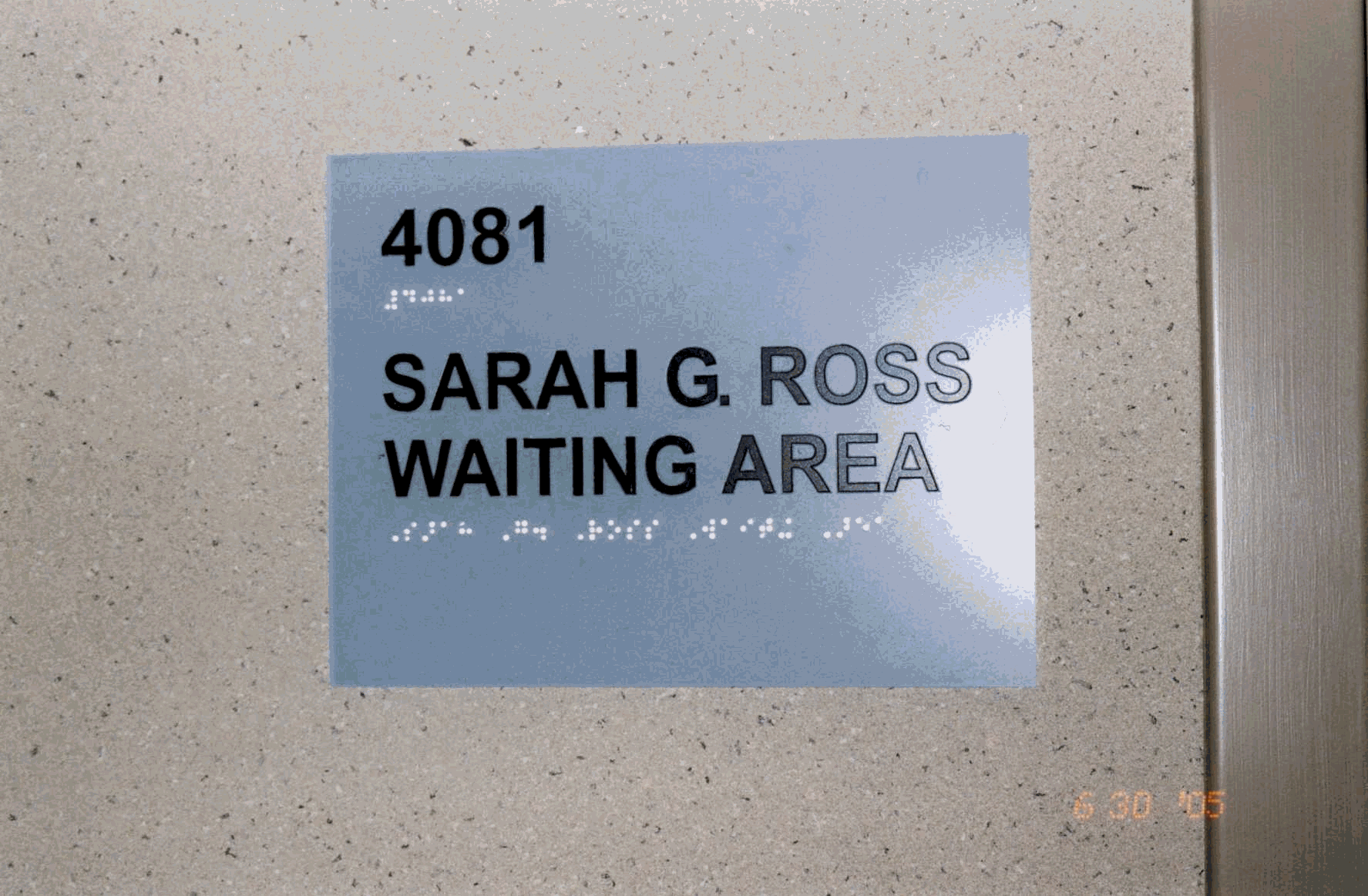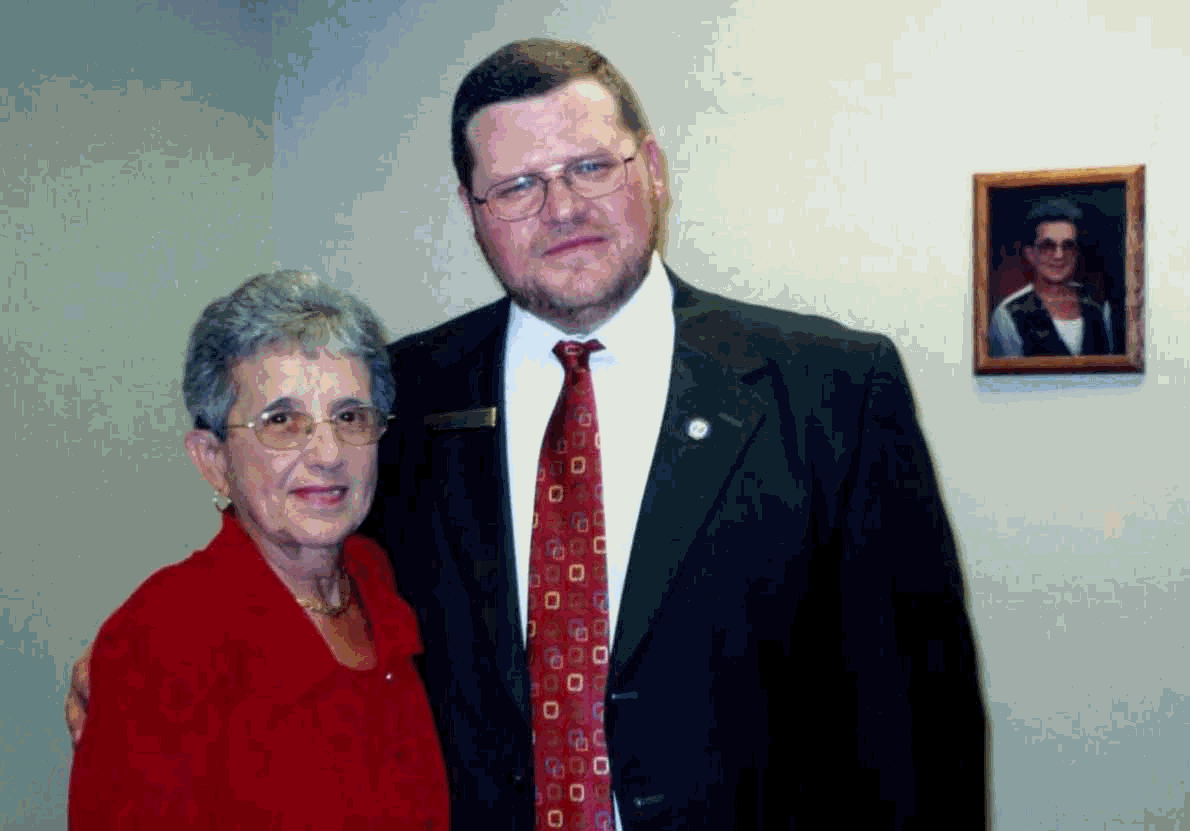 Sarah Ellen & Michael Parker, Union County, N.C. District Attorney
4. JIMMY FRANCIS GRIFFIN
1945 – age 7
Married: Patsy Nash Griffin
Profession: Retired Federal Inspector for Poultry Company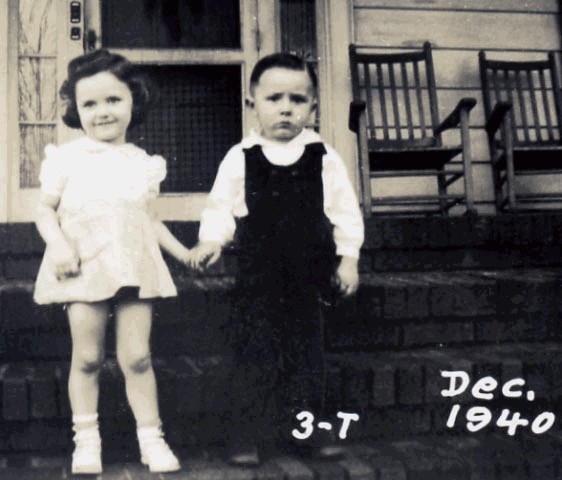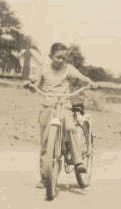 Nancy & Francis in Charlotte, N.C. Francis
December 1940 - 6 months apart in age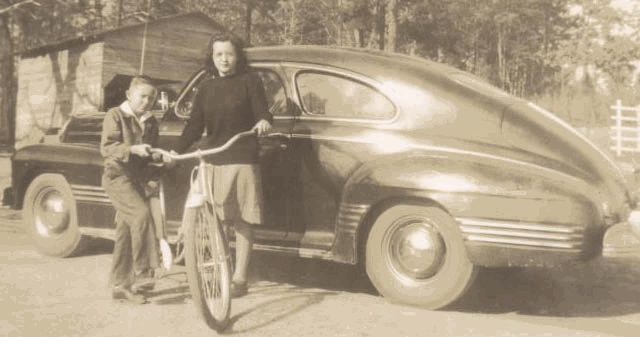 Francis & Sarah Ellen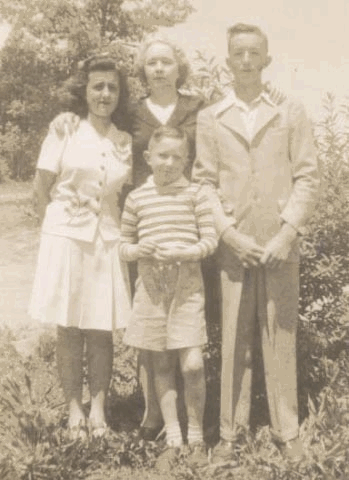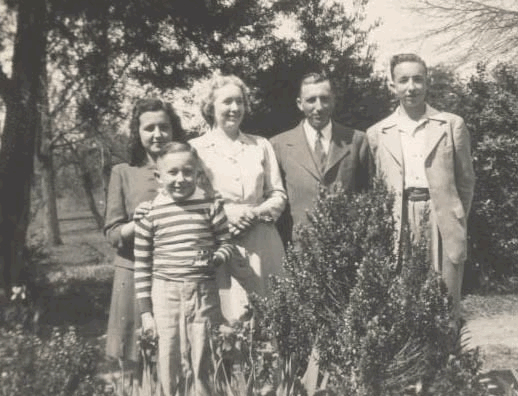 Sarah Ellen, Bertha, Francis Sarah Ellen, Francis, Bertha, Fred,
& Bobby Griffin & Bobby Griffin
#5. EVA PAULINE CAUDLE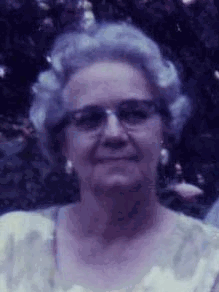 Born: 4/2/1907 in Polkton, N.C.
Married: William Hammond Huntley of Wadesboro in Anson County, N.C.
on 8/12/1928.
Profession: Homemaker
Died: 6/5/2006
Buried: Jacksonville Memory Gardens, Orange Park, Florida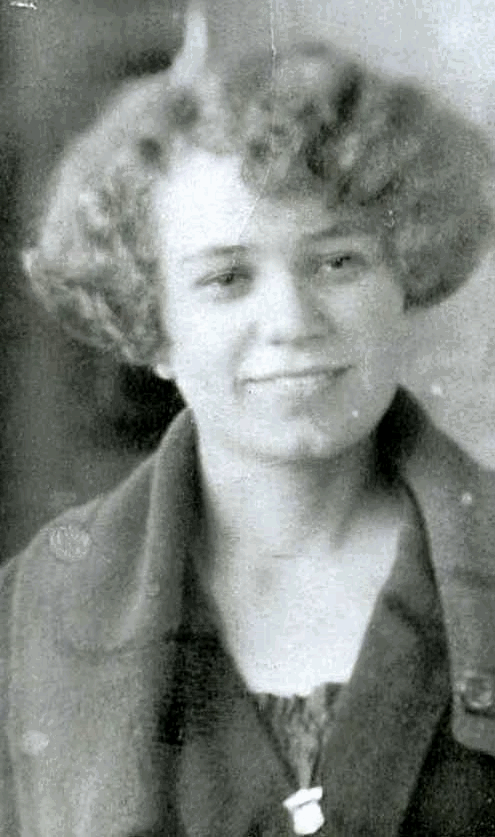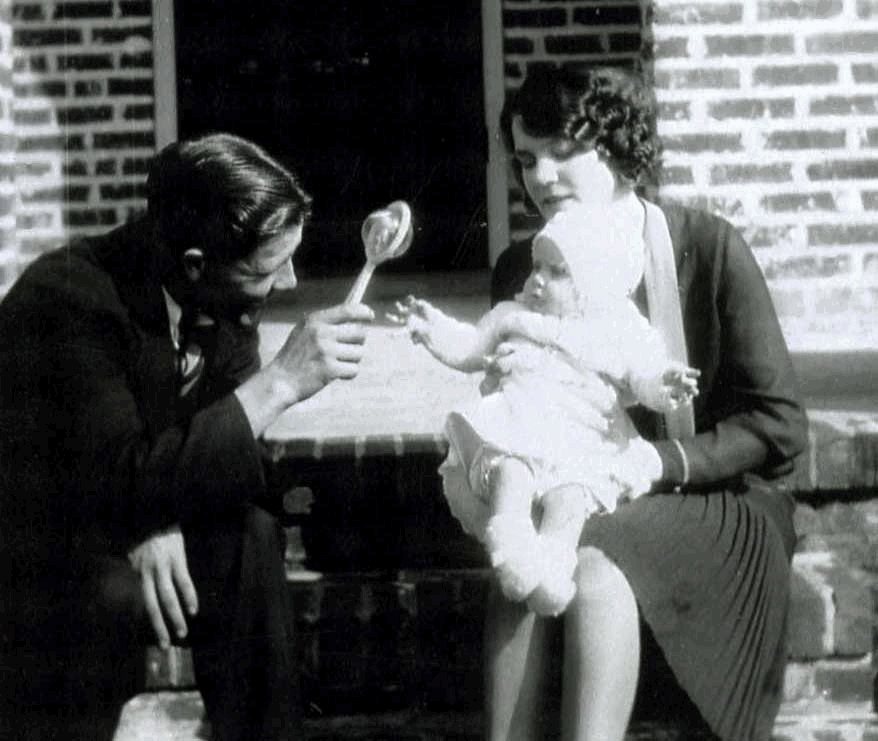 Eva at age 18 Hammond, Eva, & Eva Hammond Huntley - 1930
Hammond's entire face smiled … the above photo allows you to see his eyes smiling as he played with Eva Hammond. He was a gentle, kind man who adored the three women in his life: Eva, Eva Hammond, and Judy. Hammond was the son of F. T. Huntley and Rosa M. Boggan of Wadesboro, N.C.
WILLIAM HAMMOND HUNTLEY
Born: 7/14/1902 in Wadesboro, N.C.
Profession: Grocery store owner
Died: 3/16/1986 in Orange Park, Florida at age 84
Eva was a vibrant individual with the ability to converse intelligently with all she met. Her mind remained alert until her death at age 99. She played the piano and painted with oils. Eva was an avid reader. She and Hammond moved to Florida after their marriage. In Orange Park, they were active members of the Methodist church, in the business community with Hammond's grocery store, and in community activities.
After Hammond sold his grocery store, he worked in the Jiffy Stores until he retired completely.
Whenever the news came that Eva & Hammond were coming to Peachland, it traveled like lightning throughout the Caudle family. We all looked forward to their visit. They brought with them a freshness and a sense of faraway places, even though the Caudle family regularly visited with them in Florida. Some of our most memorable vacations were the times we traveled to Florida.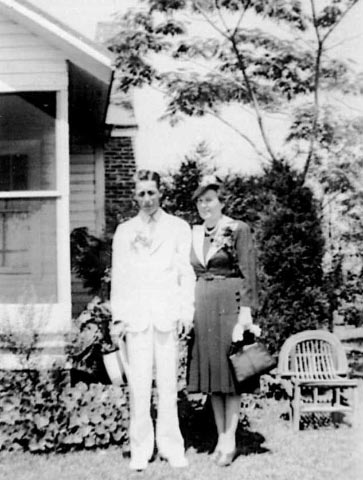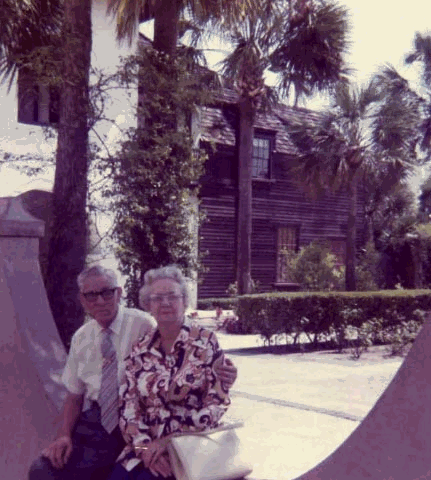 Eva & Hammond in Florida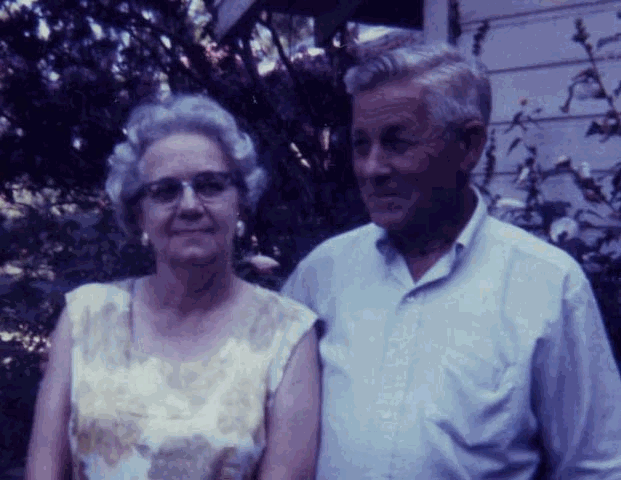 Eva & Hammond in Peachland

One of Eva & Hammond's first homes in Florida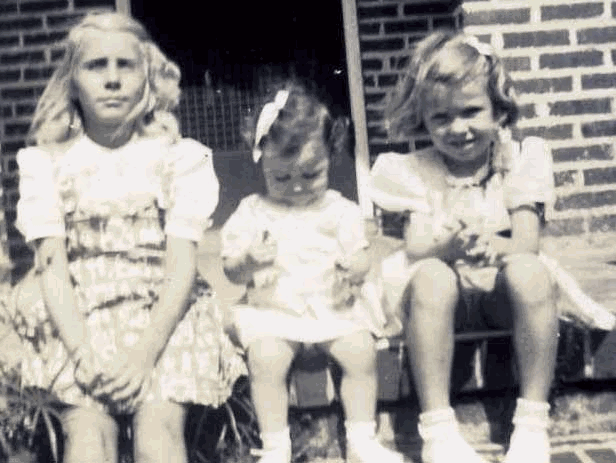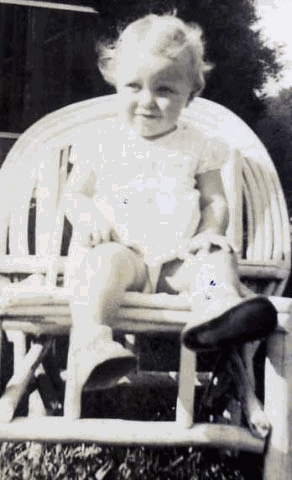 Eva Hammond, Nancy, & Annette Judy in Florida
on Eva & Hammond's front porch.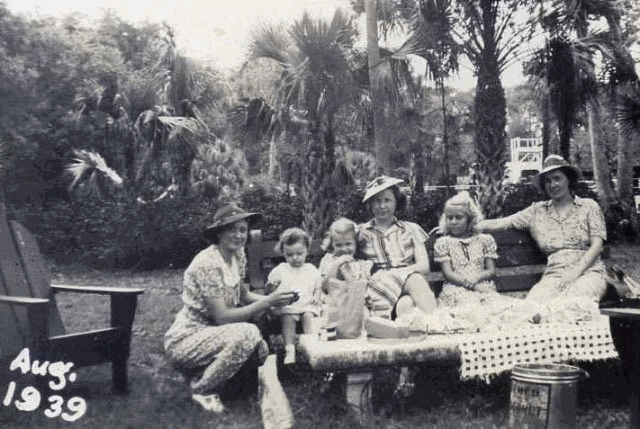 Family picnic in St. Augustine, Florida
Left to right: Ruby, Nancy, Annette, Eula Belle, Eva Hammond, & Eva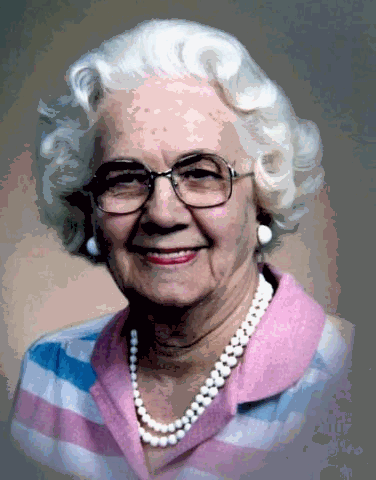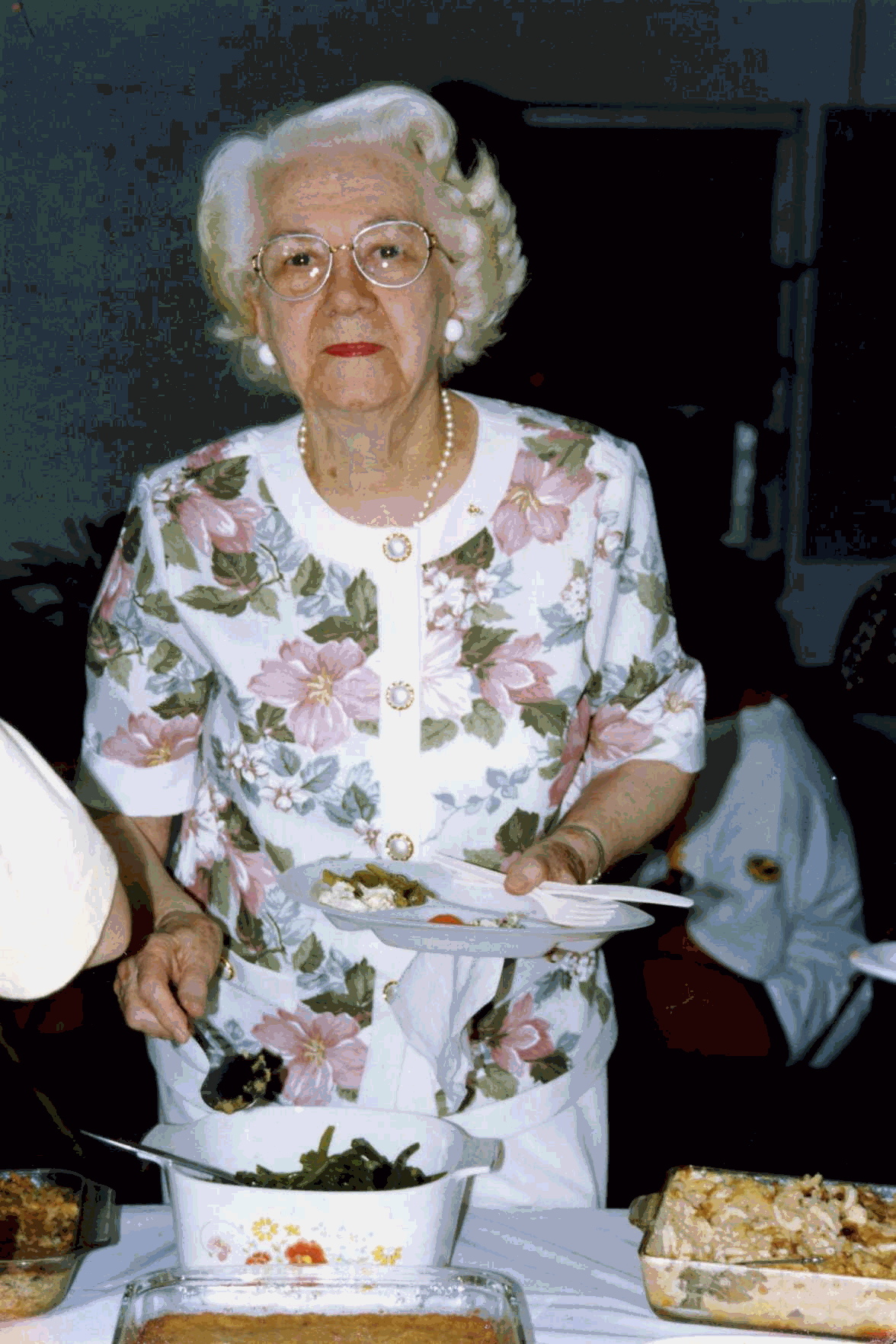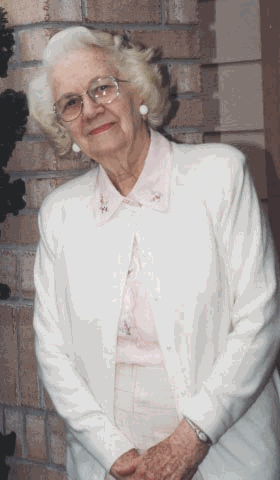 Eva – age 80 Eva – age 87 Ever the lovely one!
Children of Eva & Hammond Huntley
1. EVA HAMMOND HUNTLEY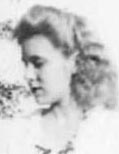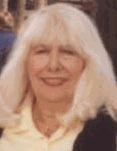 Education: High School
Profession: 7 ½ years at Diabetics Care Center in Baptist Hospital, Miami. Worked for
many years in insurance. Now retired.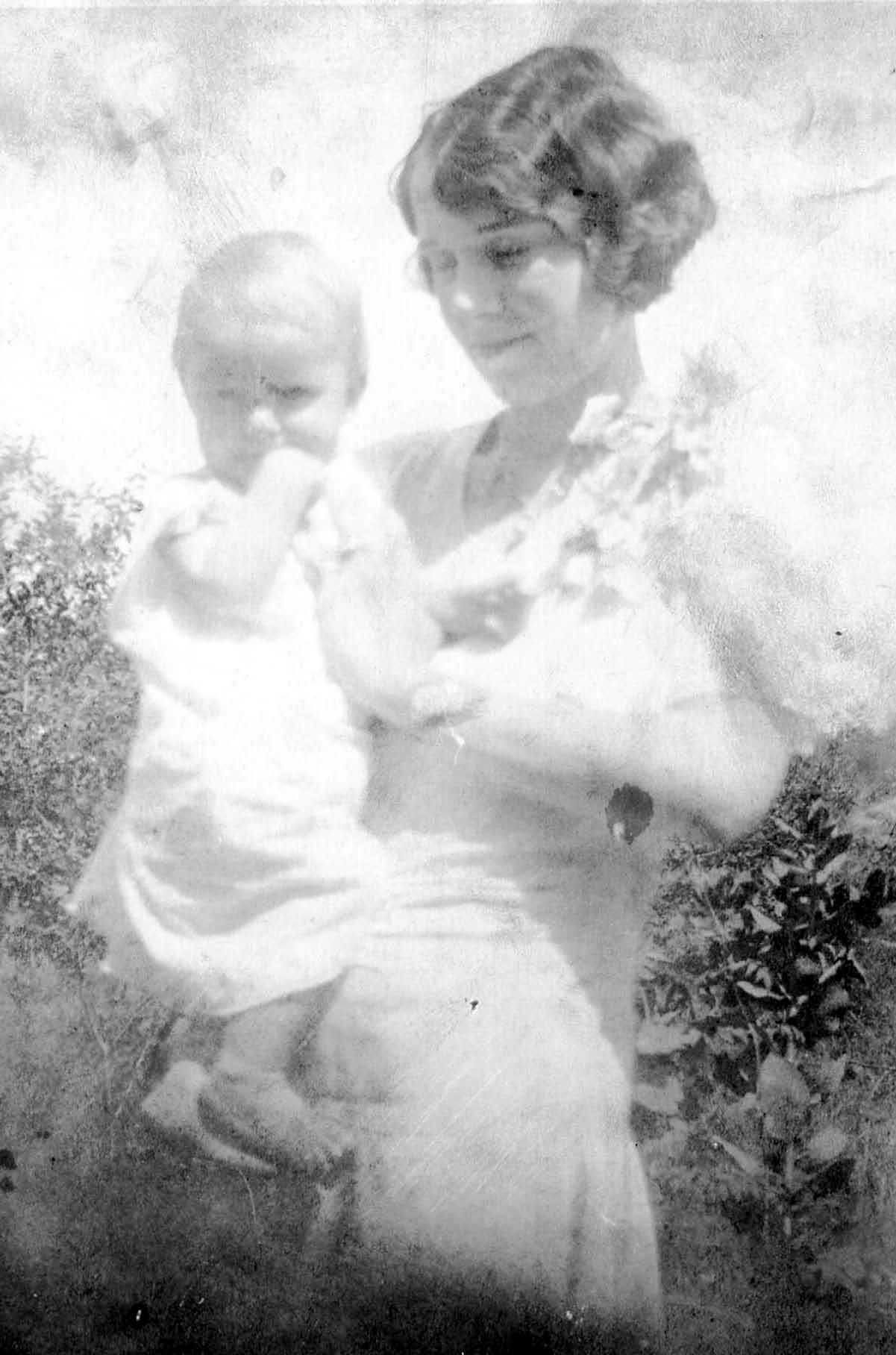 Eva & Eva Hammond - 1930
Eva Hammond is a sweetheart. Although we have lived states apart, she plays an active role in the Caudle family life. During our trips to Honduras to visit with Julia's family, we stopped in Miami and spent time with Eva Hammond. She is such a gracious host and cousin. Evelyn stopped in Miami on her way to Chile in 1993.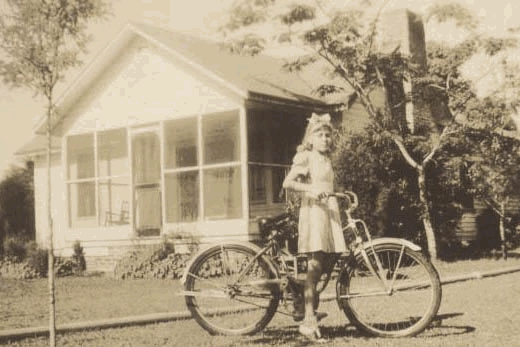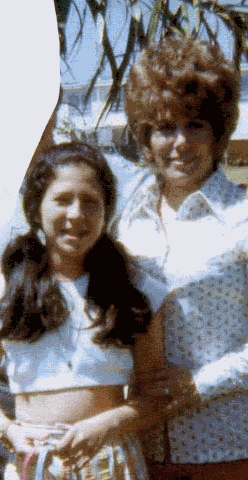 Eva Hammond in front of their home Julia Brooks & Eva Hammond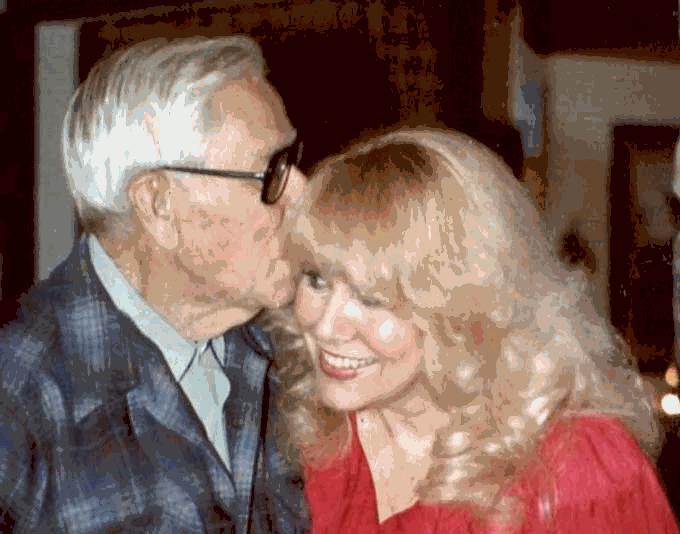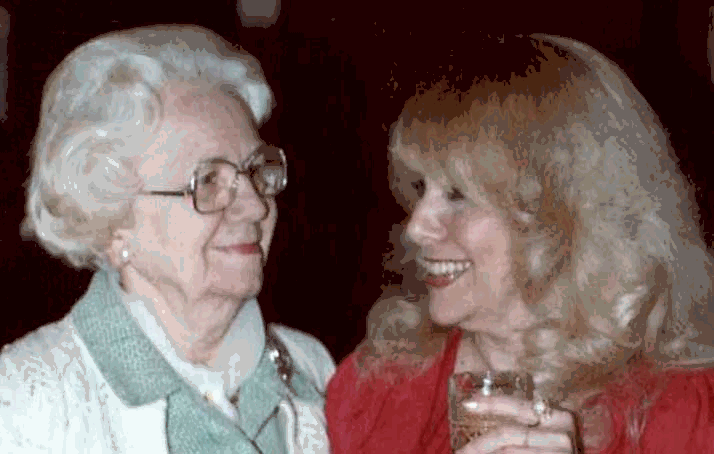 Hammond & Eva Hammond Eva & Eva Hammond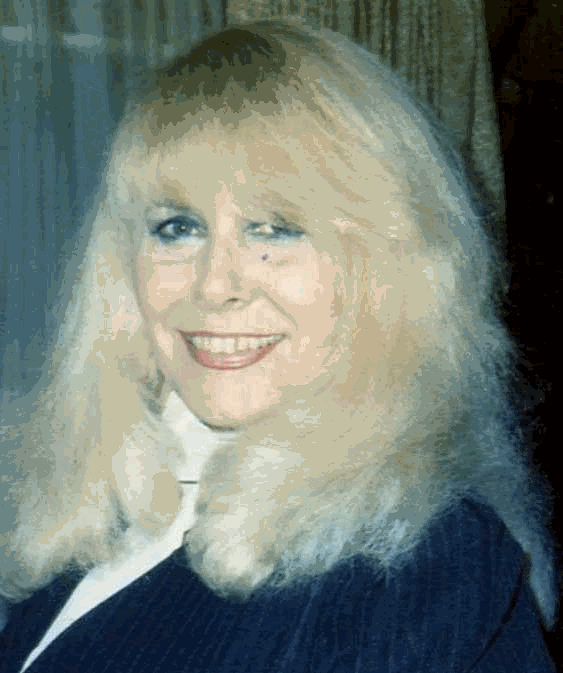 Eva Hammond – 1989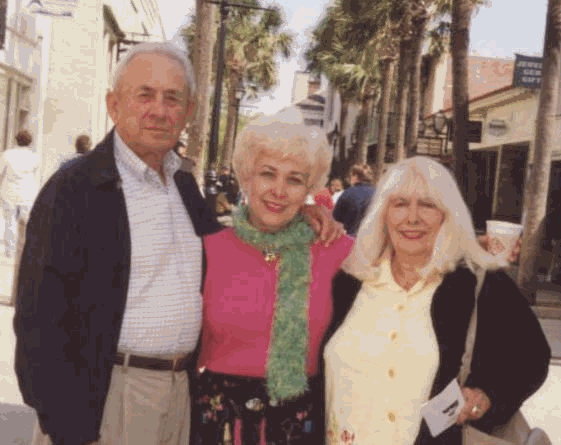 Frederick, Judy, & Eva Hammond – 2006
In Jacksonville, Florida for Aunt Eva's funeral.
2. JUDITH (JUDY) ELLEN HUNTLEY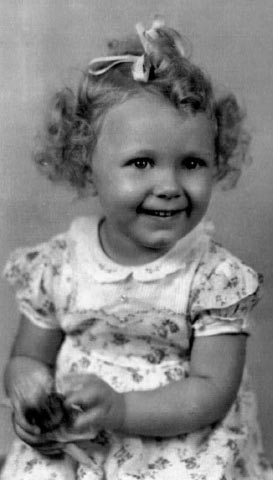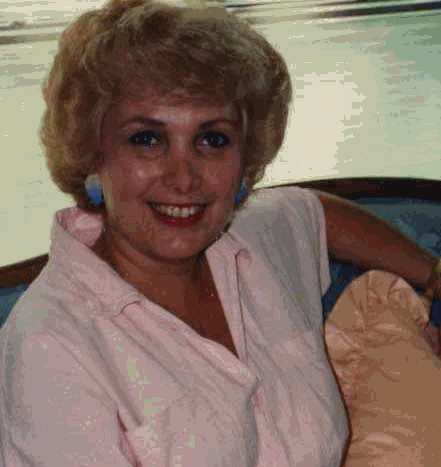 Education: High School
Married: Melvyn Arnold Bryan on 11/28/1963, divorced.
Profession: Assistant to Ophthalmologist
Judy is the outstanding beauty in the Caudle family—radiant beauty that extends from within outward as a friendly, thoughtful nature.
Each summer the entire family looked forward to Aunt Eva's visit to Peachland. Judy, Eva Hammond, and Uncle Hammond came with her. Hammond was from Wadesboro and must have visited his family while they were in N.C. For the cousins, being with Judy and Eva Hammond each summer was a treat.
The family traveled to Florida to visit Eva & family on an amazingly regular basis considering it was a very long drive with the older cars.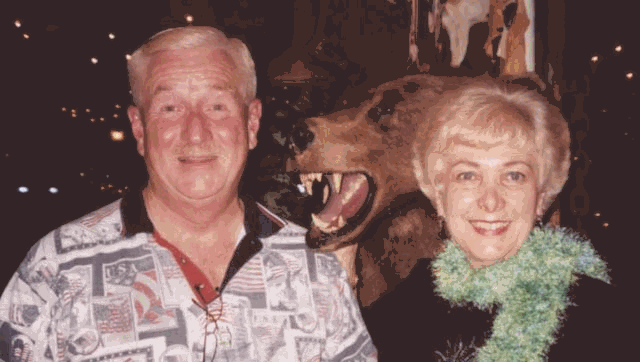 Judy Bryan & Ron Smith – Life Partners
VI. WILLIAM ASHE CAUDLE: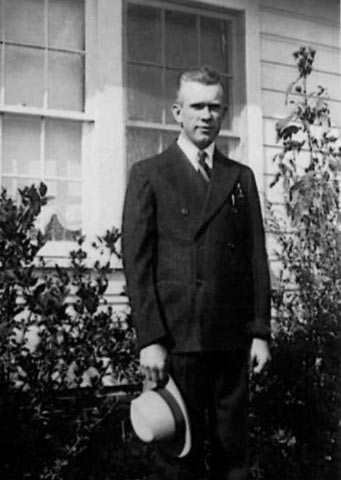 Born: 2/15/1910
Education: Self-educated Ashe in side yard of home
Married: Eula Belle Faulkner place he, Lee, and their
Died: 3/17/2000 father built to replace the
Buried: Peachland Cemetery house that burned in 1934.
Uncle Ashe was such a strong force for good in our family. Memories of his kindness to others fill my mind. Even as a child, I was impressed by the way he treated the tenants living on the land. "Mr. Ashe" they called him as they spoke words of thanks.
Uncle Ashe was "there for them" as he was for the entire family.
I remember hot summer days when Uncle Ashe would pick a watermelon from the field … cut it … and call the family to the feast. After a hog killing, Uncle Ashe made his way up the path to Grandpa's house with delicious portions of fresh sausage. My mouth waters just thinking of the fresh sausage, scrambled eggs from chickens that roamed the land, and biscuits with home churned butter Grandma Sally and Mother would prepare.
Uncle Ashe enjoyed meeting people from all over world. A seminary friend from Japan, Sadaka, visited us in the home place in Peachland several times while she studied in the States. In 1970, I brought a 10 year old girl from Honduras to the States and eventually adopted her. Uncle Ashe frequently stopped by to visit with Sadaka and my daughter, Julia.
I know that Uncle Ashe was an astute businessman, but I remember his friendly, kind nature. Mother use to say Ashe got mad at his teacher in elementary school … went home and never returned to school. Instead, he educated himself—following in his father's footsteps. He became a well respected, successful businessman … "doing it his way" as Frank Sinatra use to sing. It was Uncle Ashe that gave Grandpa Jim the subscriptions to National Geographic Magazine. Both were avid seekers and learners on their own terms.
Ashe was very active in Peachland Baptist Church and served a term on the Anson County School Board. During his professional career, he farmed the land, owned a lumber company in downtown Peachland, ran a turkey farm, and owned rental houses in Peachland and at the beach.
Ashe's turkey farm located on the hill near the pond
Aerial view of Ashe's lumber mill/yard in downtown Peachland
It burned and Uncle Ashe chose not to replace it.
EULA BELLE FAULKER
Born to George Mattie and Emma Austin Faulkner.
George Mattie Faulkner was Constable for the Peachland area. He was the "1st Anson County officer to fall in the line of duty. A bootlegger killed him in 1926…. Constable M.G. Faulkner is listed on the National Law Enforcement Officers Memorial in Washington, D.C."
Source: History of Peachland, N.C.
Education: High School
Profession: Homemaker, operated her own florist for several years—located in her home. Eula Belle grew the gladiolus she used in flower arranging in the field between Grandpa Jim and Ashe's houses. Her vegetable garden was located behind her home. Many times I remember arriving in Peachland to see Eula Belle in her vegetable garden. She loves working with plants. (Her grape vine use to be one of my favorite places!) Eula Belle not only sold her flower arrangements, she contributed many to church and other family/community functions. She was always willing to share her expertise as hostess.
Eula Belle Caudle
Because Eula Belle and Ashe lived beside Grandpa Jim, their home held a special place in the life of Ruby Caudle Brooks and her children. We were in and out of Eula Belle's home all day. Often there was cake or pie to enjoy while chatting in the kitchen.
Ashe & Eula Belle's home on Highway 74
Eula Belle & Ashe Annette's birthday Annette & Nancy
Ashley (Buck), Nancy, & Evelyn Nancy & Ashley – 1951
Uncle Ashe would allow us to drive the jeep around the farm. It was great fun to drive to the outskirts of the woods and find a Christmas tree.
Pathway between Grandpa Jim & Uncle Ashe

The old well brick cover is behind the stairway.
Eula Belle & Ashe Caudle Eula Belle & Ashe's 50th Anniversary
Children of Ashe & Eula Belle Caudle
1. ANNETTE CAUDLE
Education: B.A. degree in Business Education, Meredith College, Raleigh, N.C.
Married: Charles Haskell Tarlton
Profession: Business Education Teacher at Anson High School for 30 years.
Retired in 1989.
Annette has been very active at Peachland Baptist Church. She served as Children's Department pianist and teacher, as church pianist, Treasurer of the Board, and Bible School Director. She is a member of Delta Kappa Gamma.
Annette
Annette was Mother's (Ruby Caudle Brooks) "heart daughter." Annette was a baby when the old home place burned. At the time, Ashe, Eula Belle, Ruby, and Annette were living with Jim and Sally Caudle. After the fire, Mother cared for Annette while the rest of the family worked to rebuild their lives. As a result, Mother shared those early years of emotional bonding with Annette. She told us numerous times through the years, "Annette is like my own daughter."
Although Annette was five years older than me, I remember the many times she played with me. In Grandma's backyard, we would collect broken pieces of dishware and arrange them like rooms in a house, then play house. She would allow me to go swimming with her. Sometimes, when my family was visiting in Peachland, I spent the night with Annette. I spent a weekend at Meredith College with her. Talk about feeling grand! I loved that experience! She stayed with us in Greenville, S.C. while Mother was in the hospital having Allen and shortly thereafter, surgery. In later years, she taught Evelyn, Don, and Joyce at Anson High School.
I loved listening to Annette play the piano. As far as I was concerned, she could play forever … I would sit and listen. My favorite piece was Debussy's "Claire de Lune." Years later, I used "Claire de Lune" as background music for meditations held as part of my classes. To me, the notes sound like water sprites dancing in the mist from a waterfall.
Ashe & Annette Annette
CHARLES HASKELL TARLTON
Education: Attended Wingate College
Military Service: Haskell served in U.S. Air Force during the Korean War,
1951-1955.
Profession: Poultry Farmer. He retired in 1999.
Haskell is the son of William Kemp & Alene Grant Tarlton. His mother died 10 days after his birth. Kemp's 2nd marriage was to Louise Hayes; she raised Haskell and his brother, Bill.
Haskell is an active member of Peachland Baptist Church. He as served as a deacon, General Secretary for the Board, choir member, and member of N.C. Baptist
Men.
2. WILLIAM ASHLEY CAUDLE
Born: 8/20/1942
Education: Bachelor's degree – Wingate University, Wingate, N.C.
Ph.D. in Veterinary Medicine from the University of Georgia,
School of Veterinary Medicine
Married: Suzanne Grogan of Atlanta, Georgia. Suzanne graduated from the
University of Georgia with a degree in Business.
Profession: Veterinarian
Died: 2/17/2007 in Charlotte, N.C.
Buried: Forest Lawn East Cemetery, Matthews, N.C.
Suzanne & Ashley The William Ashley Caudle Family
2006 Ashley, Suzanne, Abigail, Emily, Ashley, & Amy
Following graduation from the School of Veterinary Medicine, Ashley moved to Charlotte, N.C. and established his veterinary clinic. He was an active member of Carmel Baptist Church and North Carolina Baptist Men.
After his retirement, Ashley and Suzanne participated in several foreign mission trips. He made frequent trips to Honduras, Cuba, and Dominica to assist in building churches and to present goats to hungry families. "He was blessed with the ability to heal those in pain both physically and emotionally. His compassion, generosity, and calming nature will be forever remembered." (Source: Obituary in The Charlotte Observer)
Ashley, Eula Belle, & Ashe Caudle Mae, Ashley, Ernest Caudle
Mae & Ernest's 50th Wedding Anniversary
Some of the 1st Cousins
Left to Right: Joyce, Nancy, Sarah Ellen, Evelyn, Jean, Betty, Annette, & Margaret
VII. RUBY EVELYN CAUDLE:
Born: October 2, 1912
Education: High School
Married: Julian Allen Brooks, son of The Reverend E.M. & Emma Brooks
Died: 3/15/1998
Buried: Cremated and her ashes allowed to blow free in the wind.
JULIAN ALLEN BROOKS
Born: 5/15/1911
Education: Attended University of North Carolina in Chapel Hill for 4 yrs.
Disagreed with the professor of one class and dropped the course. Refused to take it over just to get his degree.
Profession: Mechanical Engineer

Died: 5/10/1980

Buried: Roselawn Memorial Gardens in Spartanburg, S.C.

Eula Belle is 1st on left … Ruby is 2nd from right

Peachland High School Girls Basketball Team

Ruby loved basketball and played for a short time on the Peachland High School Girls Basketball Team. Grandpa Jim thought it unladylike for his daughter to play basketball in front of an audience, so Ruby had to drop the team. Had she lived in a time when women could become professional basketball players, I do believe that would have been her goal. Her four children grew up hearing her talk about her love for the game. Once television was available and she could watch the games, it was the only thing that could keep her awake for hours at a time. We use to laugh at her as she stood in front of the TV and told the players how to play. Her favorite team? North Carolina State.

Peachland High School, at the time Ruby graduated, meant 11 grades instead of the soon to come 12 years of education.

High School Graduation – 1931 Ruby – Front Porch of Home Place

Age 19 in the background – 1936

The Reverend E. M. Brooks served as minister to Peachland Baptist Church during the 1930s. Ruby met his son, Julian Allen, at church. They "courted" (as it was called then) for seven years and were married on April 10, 1937 by Rev. Brooks.

Source: Marriage Certificate

Likely 1930 – High School Days – 1930 Allen & Ruby

Allen was a serious amateur photographer. I grew up perusing the photography magazines to which Allen subscribed. He started out with a boxer camera, but graduated to the more complex cameras as they were placed on the market. He had a screen and slide projector. We use to make a freezer of hand-churned ice cream, invite friends over, and have a slide show. Back then, people were eager to see the slides because first of all, they were beautiful and second, entertainment was limited. Either way, the slide shows and homemade ice cream were popular.

Allen played on the tennis team at UNC-CH. Ruby was a frustrated athlete and the two of them became quite good at playing doubles, often with Margaret and Ed. I had my first tennis racket at age 3, but preferred photography and reading. Allen encouraged his children to read; Ruby taught us handcrafts, cooking, and sewing. Both Allen and Ruby loved to travel and we did lots of it. While Nancy & Evelyn were children, Ruby & Allen co-taught a young adult Sunday School Class. They took the class to Sunday School Week at Ridgecrest National Baptist Assembly Grounds at least once that I remember, more likely yearly. Allen's father was very active within the North Carolina Baptist Convention. In his love of the church and his avid Bible study, Allen followed the example of his father. However, his outstanding talent was in engineering.

Obviously Ruby enjoyed being a model for Allen to photograph.

1934

1936

Ruby Brooks – early 1990s

Children of Ruby & Allen Brooks

Evelyn, Allen, & Joyce – 2006 Evelyn, Allen, & Nancy – 2006

1. NANCY LEE BROOKS

Education: B.A. in Sociology/Social Studies from Wake Forest University

2 yrs. in Masters of Divinity – Southeastern Baptist Seminary

M.Ed. in Counseling Education from UNC-Greensboro

Masters of Divinity from Union Theological Seminary-Richmond, 4 yr.

Program.

Married: John Milton Detweiler on 9/17/1988 in Richmond, Virginia.

Profession: Social Worker, Vocational Rehabilitation Counselor, Private Practice

as Holistic Counselor/Teacher, Minister, Author of 3 books—A New

Age Christian: My Spiritual Journey, Where Are You, God? A

Metaphysical Interpretation of Job, and The Caudle Family of Anson

County, N.C., plus an internet ministry at www.pathwaytoascension.com.

Listed in the 1980-81 Who's Who In The South & Southwest.

Nancy & Julia – Honduras Lake Yojoa, Honduras

Ready to fly to the States Site of Baptist Campgrounds

The Rev. Grady Nowell and his wife Barbara were responsible for getting Julia to

the States. In the photo, Grady is rowing the boat … Julia and Grady's four children are riding.

In 1970, I flew to Honduras to bring back a 10 year old Honduran child whose Mother had died when she was 6 years old. Julia was living with her aunt and grandmother at the time, but kept begging to come to the United States and "get a good education." Her grandmother asked a missionary friend of mine, Barbara Nowell, if she knew of a woman who would take Julia to the States. The vision of little girl with black hair and dark brown eyes had hovered in my mind for years. I knew she would move into my life eventually. She did in 1970! What a joy and privilege to be a mother and grandmother! And what marvelous assurance that "all things are possible with God."

JOHN MILTON DETWEILER

Born: 1/31/1925 in Northampton County, Pennsylvania (birth certificate)

Education: B.S. degree in Accounting from Rider College in Trenton, N.J.

Profession: Tax Accountant

Died: 11/12/1991

Buried: Westhampton Memorial Park, Richmond, Virginia

John's parents were Kinsey Stoneback & Mae Henzleman Detweiler. He grew up in Easton, Pennsylvania. His 1st wife, Inez, was from Virginia, so they spent the majority of their marriage in Richmond, Virginia. Inez died in 1987. John had two children and four grandchildren. His ancestors immigrated to the States from Germany.

John died three years and two months after we married following surgery for brain cancer. The cause of death was a heart attack. Because John was 13 years older than me, he said during our engagement, "We will have about three years together." We packed more fun into those three years than many people have during a lifetime. Our most memorable adventure was a trip to the Middle East and Europe.

Nancy, Julia, & John – our Boating with friends Hiking in the mountains

wedding reception with friends

Overlooking Tiberias, Israel with the Sea of Galilee in the background.

2. RUBY EVELYN BROOKS

Education: Attended Wingate University and Pembroke University.

Married: Henry Donnell Smith of White Store, N.C.

For Ruby & Allen, there was Nancy; then, there was Evelyn—a unique mixture of sensitivity to the world around her, mischievousness, and companionability.

Evelyn & Nancy

Men cannot resist teasing a little girl and Evelyn was the perfect target because she would react. In the photo above, our male friend teased Evelyn, saying, "Nancy is my sister, not yours." Evelyn responds by hugging Nancy and saying, "No, my sister."

Don & Evelyn on belated honeymoon. Evelyn in Idaho

Profession: Homemaker – this term does not give Evelyn credit for the 10 years she cared for Don after he developed Lou Gehrigs' disease. She literally became an extension of Don, going to work with him, and acting as his hands while he instructed her. Evelyn's tender, loving care of Don allowed him to live years beyond the average life expectation of a patient with his condition, as well as for Canal Wood and North Carolina State University's Forestry Department to profit from his brilliant mind far longer than expected. For Don? His motivation for living was to know his beloved daughter, Amy Laura, graduated from college. The morning after Amy's graduation, Don released his hold on the physical plane and returned to spirit.

Don (after losing most of the use of his arms) and Evelyn.

If ever I have known a "married" couple, it would be Evelyn & Don.

Don collected plants of all varieties and filled his yard with them. Walking around their back yard was like taking a botanical garden tour. Even after Don became unable to care for his plants, Evelyn continued to do so. She had one wall of their den covered with a mirror, so Don could sit in his recliner, look through the sliding glass doors on the opposite wall, and keep watch over his cherished plants.

HENRY DONNELL SMITH

Born: 4/28/1941 in Anson County to Henry Wallace & Louise Lowery Smith.

Education: B.S. and Ph.D. in Forestry & Economics at North Carolina State

University.

Died: 5/13/1991 in Lumberton, N.C.

Buried: Cremated and his ashes allowed to go free over the Atlantic Ocean, where he loved to go boating. It was a nerve-wracking experience to ride with Don on the ocean, but he had an absolute ball flying over the waves.

Don loved his siblings and the family he created with Evelyn. He could be at home with international forestry specialists and in the U.S. Congress where he gave forestry reports, then come home and play with the children in our family. Wherever Don went, people laughed. And if you were lucky enough to eat his cooking, you did not soon forget it. He was a gourmet chef.

Don, Amy, and Evelyn Julia, Don, & Amy watching TV

Don dancing with Julia Don, Amy, & Julia

A quick way to dry clothes? Hang them on the mantel behind the stove!

Christmas in the James Carson Caudle Home Place

One of the family's favorite pastimes was to go with Don to the woods, allow him to point out the huge variety of plants to be found there, and to explain them. Don is an eternal teacher and we learned much from him. He was an amateur photographer.

Evelyn on the Oregon coast

As a North Carolina Forestry Foundation Scholarship Donor, Evelyn received the following from the N.C. State University Development & College Relations Department.

"Dr. H. Don Smith, a native of Anson County, is the son of the late Wallace and Louisa Smith. Dr. Smith served in the U.S. Marine Corps and received an undergraduate degree in Forestry and Ph.D. in Forestry and Economics from NC State University. During his career he was employed by the NC Forest Service; NC State University where he worked with Dr. Bruce Zobel in establishing a co-op that produced genetically superior pine trees, which are today known as Super Pines by the Forest Industry; Potlatch Corporation of Lewiston, Idaho, as the chief forest economist in charge of the United State's largest forest harvesting operation; and since 1980 has been a Vice-President and Operations Manager for Canal Wood Corporation of Lumberton, N.C. where he organized many new forestry programs and received many honors. He was an adjunct Professor with NC State University, a much sought-after speaker on all phrases of economics and active in many professional activities.

The H. Don Smith Scholarship Fund was set up at North Carolina State University recognizing in perpetuity his significant contributions through the professional accomplishments and personal lives of the young men and women who study at North Carolina University."

JAMES (JIM) PRIDGEN

Bogey, Jim, & Evelyn Evelyn's life mission has been to love and care for two very outstanding men. Don and Jim were like brothers as they worked together at Canal Wood. Jim and Evelyn are now life partners, with Bogey supervising.

Evelyn in Las Vegas Evelyn in Chile, South America

Attending a Forestry Convention

Again, I quote from NC State University's Development & College Relations Department. Jim is also a NC Forestry Foundation Scholarship Donor.
"Jim graduated in 1960 from NC State in Forest Management. He lives in Lumberton, N.C. and is President and CEO of Canal Wood, L.L.C.
Jim has served the forest industry for more than forty years. He has been associated with Canal Wood since 1972. Prior to that, he worked with Sinclair Lumber Company of Laurinburg, N.C. for eleven years.
Mr. Pridgen currently serves on the Board of Directors of the Forest Resources Association, Inc. and the N.C. Forestry Foundation. He was president of the latter for several years. He has also served as Chairman and Vice-Chairman of the Appalachian Society of American Foresters. Prior to becoming President of the North Carolina Forestry Association in 1991, he served on their Executive Committee for three years and has been a member of the Board since 1973. He was honored as the recipient of the North Carolina Forestry Association's Distinguished Service to Forestry Award in 1995. He has served as Treasurer and as Trustee of the North Carolina Forestry Association's Self-Insurers Fund. He is a member of the Governor's Advisory Committee on Agriculture, Forestry, and Seafood Industry and the Governor's Coastal Land Water Management Task Force. He served as Vice-Chairman of the Governor's Advisory Task Force on Small Woodlot Management. He was also director of the Cape Fear Council of Boy Scouts of America. In addition, Mr. Pridgen is a member of Advocates for Forestry in North Carolina, the American Forest and Paper Association, the Wildlife Federation, and Ducks Unlimited. He serves on the Board of BB&T Bank. He is a registered and certified Forester and is listed in Who's Who in U.S. Executives. He belongs to the Chancellor's Circle at NC State University."
I'm sure Don and Jim would list Evelyn in the Who's Who in Loving Support.
Evelyn is known among her family and friends as the author of the yearly Christmas poem (framed in many homes, even in England) and the craftswoman who sells out of her crafts before they reach the table at the yearly Hospice Christmas Bizarre. If time allowed, Evelyn could be an accomplished poet and doll craftswoman. Her talent in interior design is amazing in that she can walk into a room and change its appearance just by moving a few pieces around. Her only problem is that there are not enough hours in the day to use all of her talent.
3. JOYCE ELAINE BROOKS
Married: Roger McCollum on 12/27/1967 in Peachland Baptist Church.
Education:
BA - Christian Education from Wheaton College in Wheaton, Illinois.

MA - Missions & Intercultural Studies from Wheaton College

Master's Certification in TESL/TEFL (Teaching English as a Second Language.
Recognitions:
Eta Beta Ruo National Honor Society for Achievement in Hebrew

Awarded the National Christian Education Award for potential in ministry.

Profession: Executive Assistant to the President of WorldVenture, a missionary sending agency whose mission is to see people of all nations transformed by the power of Jesus Christ in partnership with His church.
Birth Announcement Ruby & Joyce Evelyn & Joyce
As Joyce's birth announcement shows, calligraphy was another of Allen's hobbies. He spent hours creating this newspaper birth announcement, then photographed it and used it for our family announcement of Joyce's birth. Note the crocheted scarf beneath the lamp. It illustrates an all but lost art—hand crocheted doilies. One of the Caudle women crocheted this one. While Ruby was pregnant, she crocheted the pink booties, cap, and sweater Joyce is wearing above. Allen & Ruby had waited 8 yrs. to have their 3rd child.
Joyce & Daddy's trick Joyce learning to walk Evelyn & Joyce playing paper dolls
In the eyes of her two older sisters, Joyce was our doll. We spent many hours playing house with her as our child. When she learned to dress a paper doll, she was ecstatic. Little did we know that this excitement was the prelude to her becoming an out-standing seamstress. As a teenager, Joyce participated in 4-H and won many ribbons for her talent as a seamstress and placed 1st in the coat division of the N.C. State 4-H Sewing Competition. The winning coat was of red wool with an obvious grain. Every seam was matched perfectly, a difficult task that revealed her skill as organizing and managing details.
Nancy, Joyce, & Evelyn Joyce & Nancy
When Joyce was small, car seats for children and seat belts were unheard of. The family traveled with Nancy & Evelyn taking turns holding Joyce in the back seat. Or we could play in the back seat floor. No one ever got hurt. When Allen came along, we simply added him to the back seat crowd.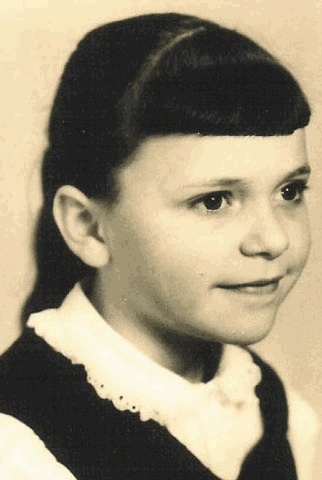 Flower Girl Joyce – in 4th grade
1952 was Joyce's year to be the Caudle flower girl. She was in both Betty's and Sarah Ellen's wedding.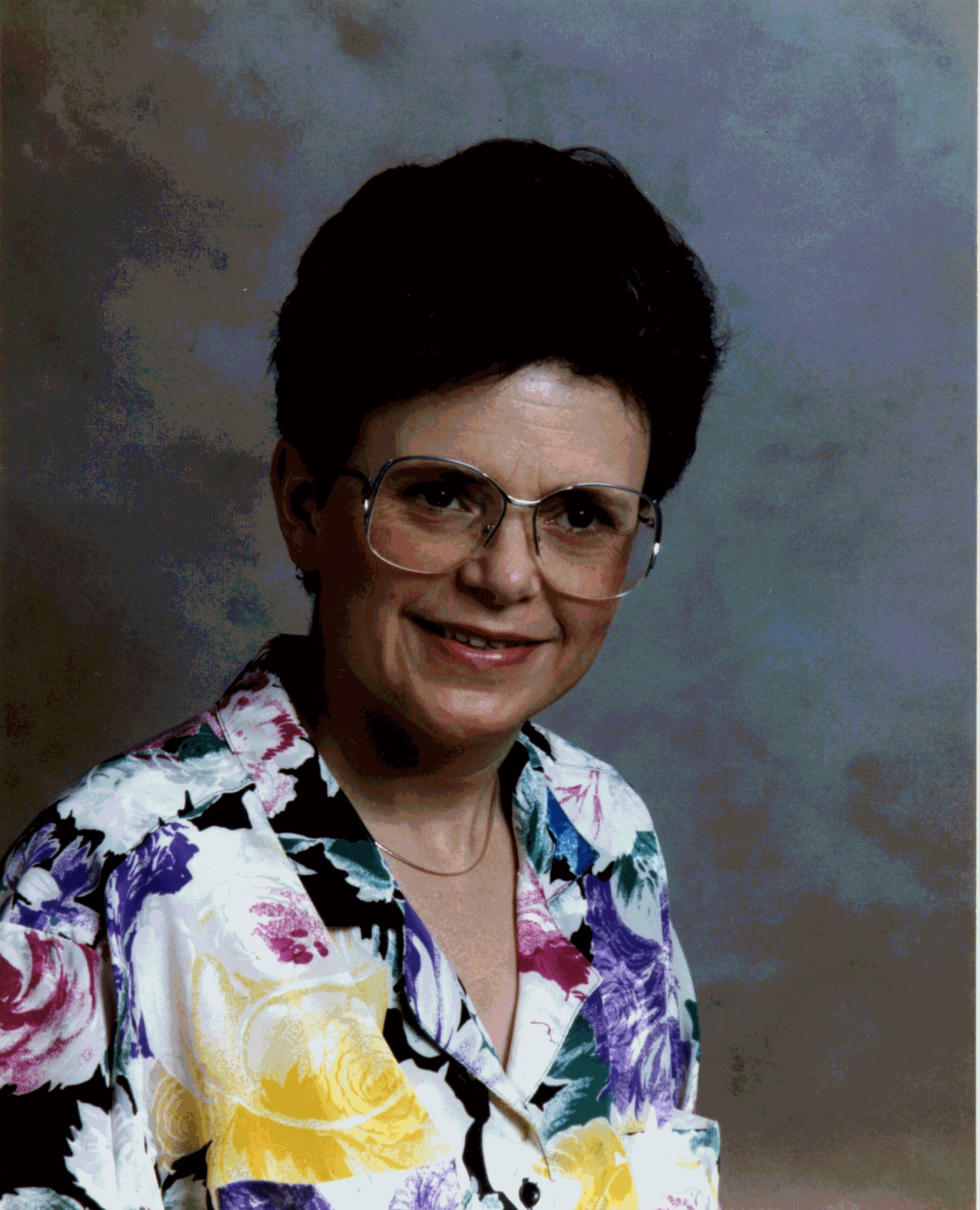 Joyce has excellent administrative skills and the ability to organize many details into a coherent whole. During her years of working at the International Mission Board of the Southern Baptist Convention in Richmond, Virginia, she helped establish and manage the donor relations office, and helped with the design of the donor relations computer program that the agency used for nearly two decades.
Joyce has used her skills to further the cause of Christ through several Christian agencies. For over five years, she taught English as a Second Language to refugees and immigrants from all over the world as a staff member for World Relief. While in school, she also worked in the curriculum area of Scripture Press. In 1996, she joined World Venture as Executive Assistant to the President where she serves the Office of the President and the Board of Directors. World Venture has over 500 missionaries around the world and ministers in the areas of church planting, evangelism, compassion and care, leadership training, and multiplication of missions-minded, national churches. She has visited ministry sites in Brazil, Hong Kong, Japan, Macau and Taiwan, and will be going to Thailand in March 2008.
As a single parent since 1978, Joyce has experienced God's grace and provision in ways that no one could deny. She and her two children, Brian and Michelle, are dedicated to a life of ministry to family, friends, and those who are suffering. Joyce's current ministry outside of World Venture involves discipleship of younger women and ministry to women who are in transition.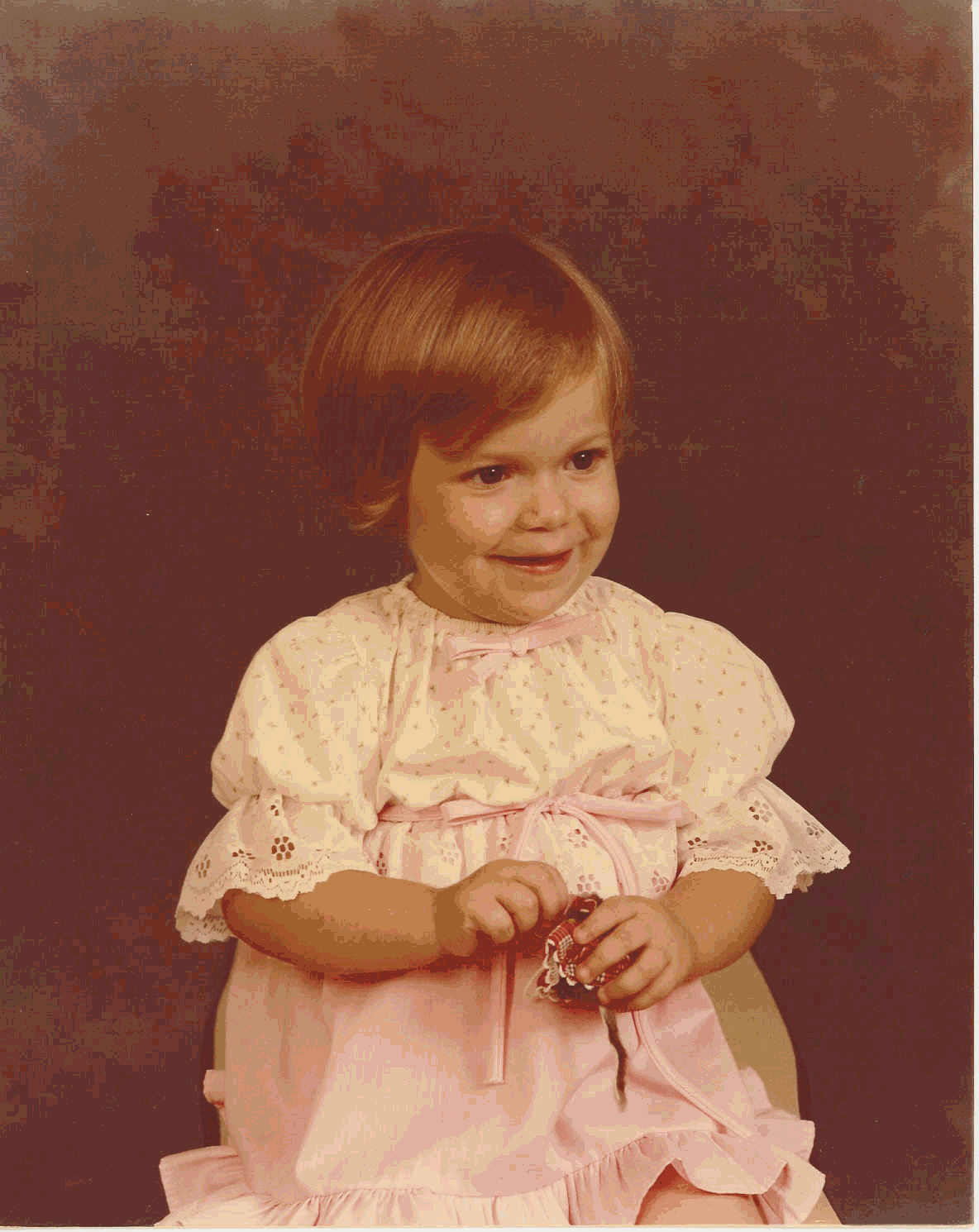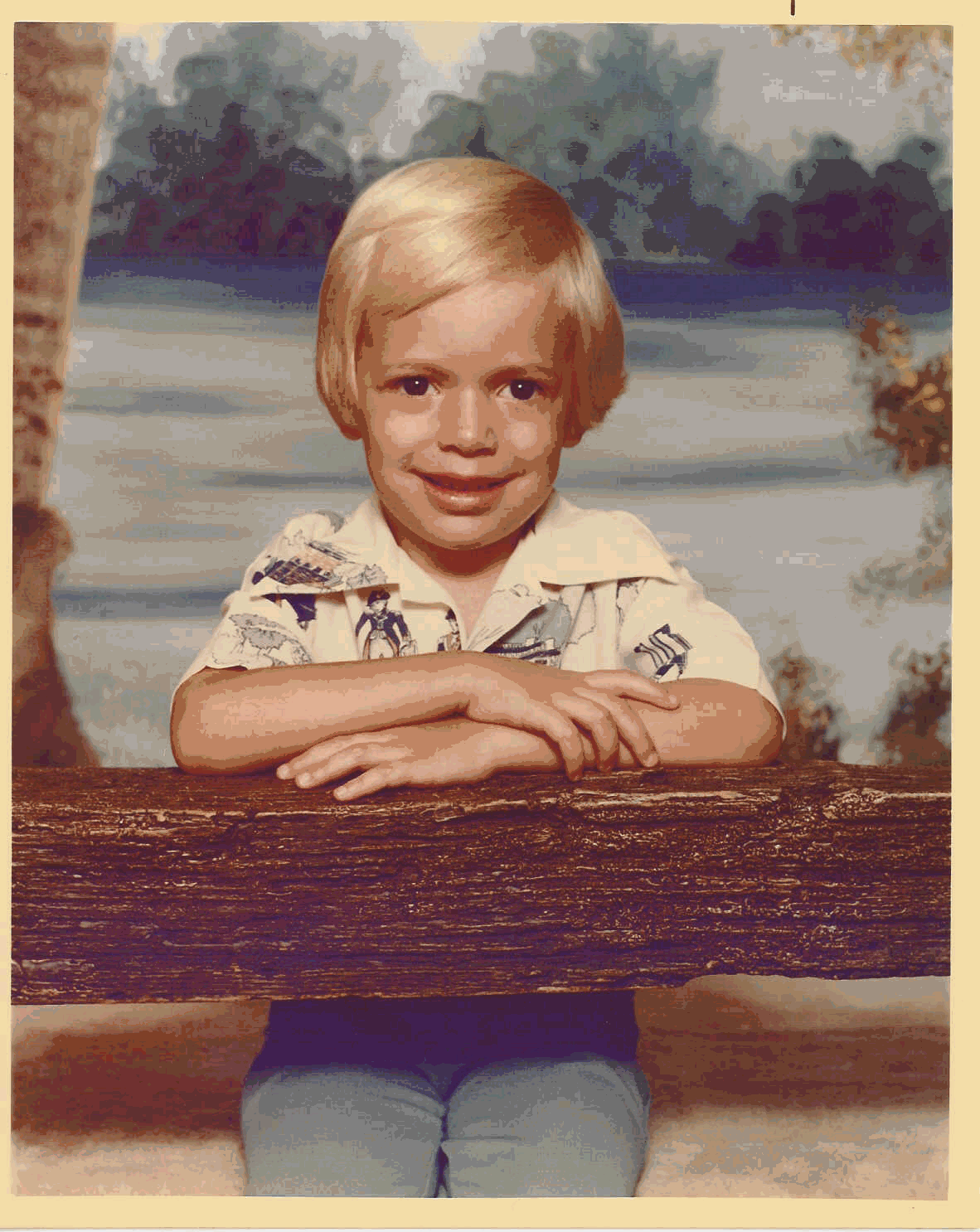 Michelle and Brian – 1979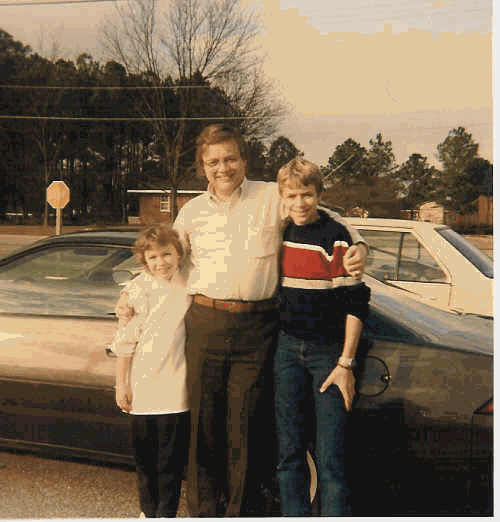 ROGER DALE McCOLLUM –

Born: 1/2/1947 in Anson Country to Frank M.

and Betty Smith McCollum

Education: Graduate of the College of Pharmacy, Medical University of South Carolina, Charleston, S.C.

Profession: Retired Pharmacist
Joyce is now the proud grandparent of four grandchildren.
4. JULIAN ALLEN BROOKS, JR.
Education: Bachelor's degree in Chemical Engineering from North Carolina State
University. He was a member of the Tau Beta Pi Engineers Honor
Society.
2006-8 – Graduate Student/Teacher Assistant in mathematics.
Off to explore These plants came I don't know Anyway, I particularly like
Growing up with three older sisters had to be difficult for Allen. If one was not kidding him, another was. To Evelyn and Nancy, Joyce and Allen were dolls with whom we loved to play. A member of the family rocked both of them to sleep every night for the first couple of years of their lives. Actually, all four of us were rocked to sleep nightly. We use to sing while we rocked. Daddy's favorite song was "On the Road to Mandalay." I still remember the night I was rocking my little brother when he said, "Nancy, no sing." Singing is not one of my talents. I could still rock him!
Joyce & Allen Joyce & Allen – playing blocks Joyce is showing her doll what she
Allen is age 1. created with the blocks; I'm
watching from a safe distance.
I must be very careful. "Mr. Brooks" Nancy, Allen, & Joyce
Must be Allen's senior year!
Allen and one of his Allen and his red Volkswagon Allen & his curly hair
beloved dogs
During the years I worked in Charlotte, I came home to Peachland many weekends. Mother, Joyce, Allen, and I traveled to many of the sites to which Daddy had taken us when Evelyn and I were young. Once Allen got his driving license and a car, he and Mother traveled frequently to the mountains and elsewhere.
Then came the military draft call.
Military Service: Allen served four years in the Army during the Vietnam War, stationed
in Okinawa as a Communications Specialist.
Profession: Allen worked in chemical engineering with a major oil company for several
years, living in New Orleans and Denver. He worked for the Federal
Government manning an airplane pilot simulator at Jackson Air Force
Base, in the computer technology field, and as a math/computer professor
at Carteret Community College in Morehead City, N.C.
He is now a Graduate Assistant teaching math while studying for his Master's degree in mathematics. Allen inherited Allen, Sr.'s brilliant mind. Like his Uncle Cullen Brooks, who spent his entire career teaching mathematics at Hargrave Military Academy in Chatham, Virginia, Allen is beloved by his students. He is one of few who can make mathematics funny.
James Carson Caudle's Family Bible
This Bible was the only thing the family recovered from their burning house.
The story is told that Aunt Lula (Lee's wife) held Annette in her arms, crying as they watched their home disappearing in the flames, "This baby doesn't even have a sock for both feet."
Published in 1869
Grandpa's handwriting in the Family Bible
ILLUSTRATIONS OF DOWER DEEDS
DOWER: "That portion of a deceased husband's real property that a widow is legally entitled to use during her lifetime to support herself and their children. Where it still exists, the dower right attaches to the land as soon as it comes into the husband's possession; for that reason it cannot be defeated by a conveyance of the land by the husband in his lifetime unless his wife joins in the deed.
Source: The Columbia Encyclopedia, Sixth Edition 2006