THE CAUDLES OF ANSON COUNTY, NORTH CAROLINA
CHAPTER 7
WILLIAM HARRISON CAUDLE
JAMES CARSON CAUDLE'S FATHER
WILLIAM HARRISON CAUDLE:
Born: 1846
Married: Sarah Rosa Moore around 1867
Died: 1882
Buried: James Moore Cemetery, near Polkton, N.C.
William Harrison was the son of Richard & Margaret Catherine White. He lived with his parents at the Caudle home place, even after his marriage. The 1850 U.S. Federal Census lists William living with his parents and 8 of his siblings. Two other siblings, Edmund D. and Joshua, are not listed although they are included in the 1860 census. This is just one example of the errors that are found in the census reports. Omissions of persons and misspelling of names presents the constant need for verification.
| | |
| --- | --- |
| James Carson's wife, Sallie, and his daughter, Ruby. | The Caudle Home Place before it burned in 1934. |
The home was rebuilt on the right side of the barn and a little farther away from it.
Ashe Caudle built his house on the old home place site.
In 1862 at age 19, William Harrison enlisted to fight beside his brothers and cousins in the Civil War.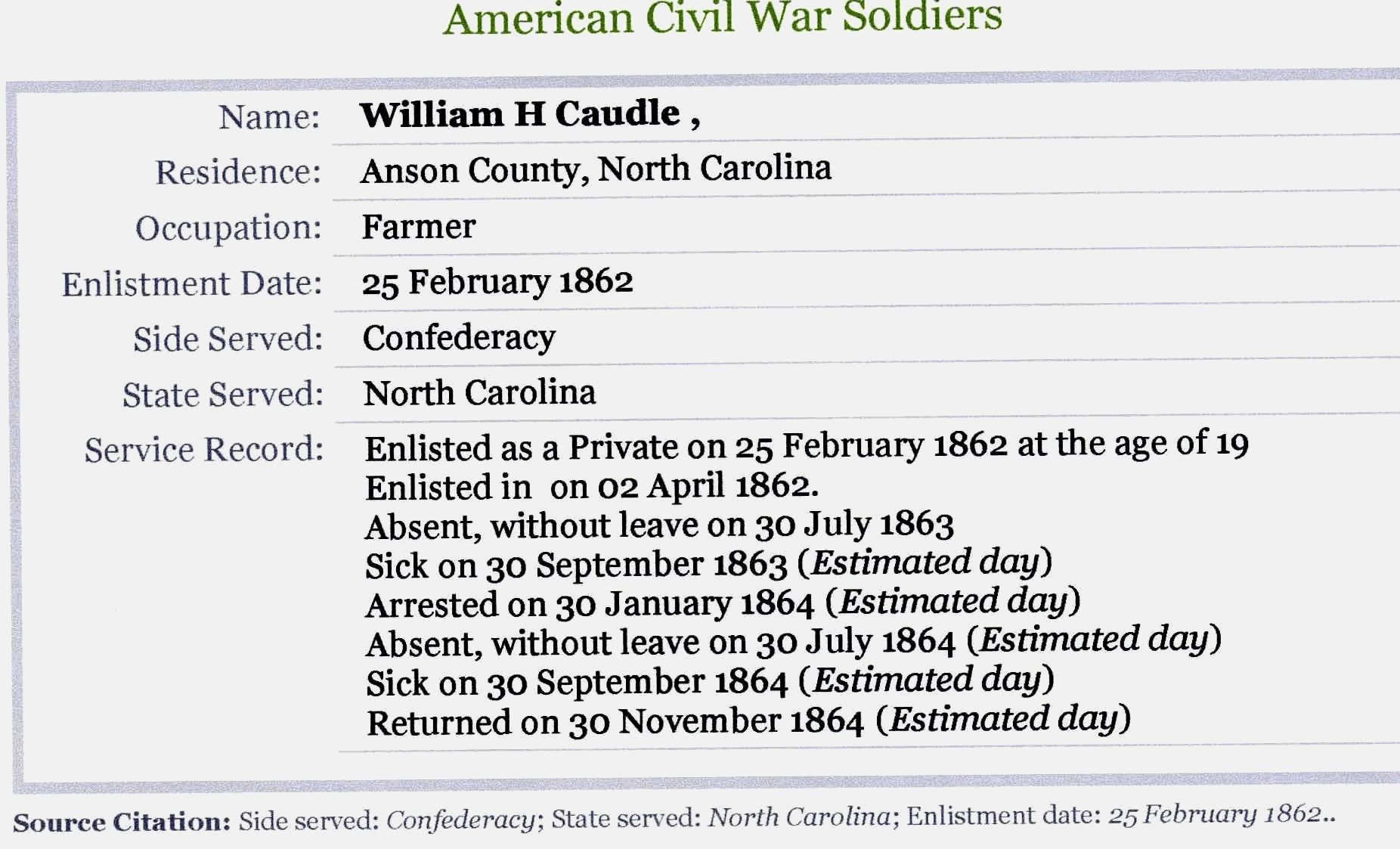 Life for those fighting in the war and for those who remained at home was filled with hardship. Soon after the war, a severe drought rendered the situation even worse. The April 3, 1867 issue of The Petersburg Index (Petersburg, Virginia) described the situation in Anson County: "There is but one portion of North Carolina destitute of food, viz. Union, Stanly, and Anson Counties. In these counties, the people must have relief or starve."
Earlier, before the effects of a drought had devastated this 3 county area, the December 8, 1864 issue of N.C. Argus had reported: "We are informed that Mrs. Mary Belk and her 2 daughters, living on Beaver Dam Creek in Union County, made 540 bushels of corn, besides wheat, peas, oats, potatoes, etc. Mrs. Belk is a widow and lost her 2 sons in the war. She is aged 50 years and her daughters about 20 & 24 years. Their crop shows what may be done by industry and energy. All honor to these noble women." This article also appeared in the Charlotte Democrat.
In the words of Mary L. Medley in her book entitled Anson County, N.C. 1750 – 1976: "Men who left homes of plenty and comfort would return to want and desolation. Those who lost arms and legs, who knew illness and imprisonment, were but shadows of the fine, brave, youthful men who left Anson with the Guards four years before. Some walked home from battle. Others did not return." (pg. 124)
Following his release from military service, William came home to a very different Anson County. Destruction of physical property was widespread. Houses and barns, bridges and public buildings were burned. The plank roads had been torn up and used as firewood in the Army camps. Anson County Courthouse was burned, taking with it many of the public records. A once prosperous county, Anson had to rebuild— personal lives, interracial relationships, infrastructure, and physical facilities.
Although the Caudle family appears to have owned very few slaves, life was different for everyone. Slaves were now free with no prior preparation for living independently. Some migrated North and West. Many remained in Anson County and became tenant farmers. Others continued to live with the families to which they had formerly belonged as slaves. The 1870 U.S. Census reveals an elderly Colonel Joseph White sharing his home with a black family, most likely his former slaves, now called "servants."

1870 U.S. Federal Census
Before the war, most Anson County white men had lived comfortable lives, with a planter-type background (pg. 109, Medley). During the war the women took over managing the farms and large families. The 1870 U.S. Federal Census shown below reveals two of the women who are managing large farms and families: Lucy Ann Moore, James Carson's step-grandmother, and Jane Covington.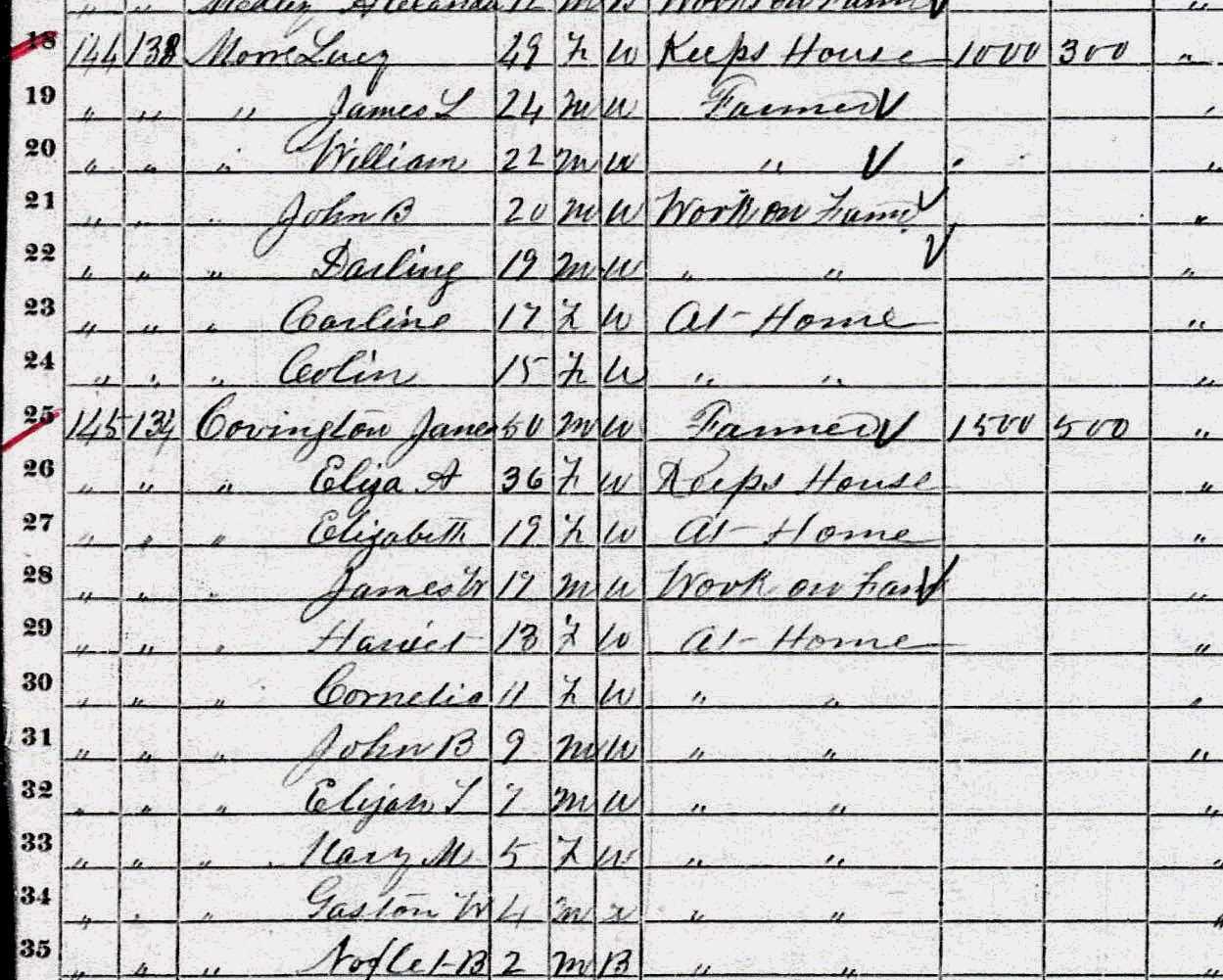 1870 U.S. Federal Census
Anson County managed to avoid having the Klu Klux Klan by making the conscious effort to create peaceful relationships between blacks and whites. Two leading planters/businessmen, James D. Horne and James A. Leak, made an agreement with a respected black man, Rembert Beverly. Horne and Leak would work to prevent trouble among whites, if Beverly would do the same with blacks. According to Medley, descendants of these men confirm that the plan worked. Beverly was rewarded for his efforts, becoming a large land holder. (Medley, pg. 129)
Another example of Anson County residents' intentional efforts toward peaceful racial relationships happened before the Civil War. Elder Ralf Freeman, a slave, wanted to answer the call to preach. At that time blacks and whites attended the same churches. His fellow church members at Rocky River Baptist Church purchased his freedom. Ralf became an evangelist and became a supply preacher at Rocky River while the minister, John Culpepper, served the county as congressman. (Medley, pgs. 100-101)
Slaves who belonged to the Ralf's family were given an education and several became outstanding preachers. Years later, during his ministry at Rocky River Baptist Church, Rev. E.M. Brooks (father-in-law of Ruby Caudle Brooks, James Carson's daughter) wrote to Dr. W.M. Ratliff, great-grandfather of Ralf Freeman and a member of the Baptist Interracial Committee and to Doctor E.W. Sikes, president of Clemson College, suggesting that Elder Ralf and the Ratliff preachers be incorporated into church history with the goal of inspiring better race relations. (Medley, pgs. 213-14)
As part of the reconstruction effort, the Baptist churches took the lead in promoting schools in Anson County. By 1899, 50 schools for whites and 37 schools for blacks were operating in Anson County. (Medley, pg. 189) When the public school program took precedence in 1900, Anson County still had several private schools: Pee Dee Baptist Institute, Anson Institute, Polkton High School, Morven Academy, Peachland High School, Ansonville High School, White Store Academy, and Cedar Hill Academy. (Medley, pg. 188) Prior to the Civil War, Wadesboro had enjoyed classical school advantages that far exceeded those found in many other communities. (Medley, pg. 185)
The 1880s marked the advent of cotton mills in the South. With them came the practice of child labor that will be discussed in more detail in the chapters entitled "James Carson Caudle" and "The Phifer Family."
It is within this milieu of devastation and rebuilding that William Harrison Caudle arrived home from war and started his own family. The 1870 census indicates that William returned to his parents' home where he lived out his short life, dying at age 36 during a flu epidemic.
The 1870 U.S. Federal Census reveals the following:

William's father, Richard, had returned to spirit by 1870. John C. and William are farming the Richard Caudle farm. William is married to Rosa and has a two year old daughter, Margaret. His younger sister, Margaret, remains in the home too. She married J.F. Mullis on 6/19/1871.
By 1880, many changes have occurred. William and Rosa remain in the home place with their four children. William's sister, Margaret, has married and lives elsewhere.

1880 U.S. Federal Census
The information on this 1880 Census is shown clearly below.

Deed Book 22, Page 2 dated March 17, 1871 indicates the sale of lands owned by Richard Caudle to John C. Caudle. The transaction is conducted by Issac M. Williams and involves 121 ½ acres on Spring Branch, Caudle's branch, and adjacent to land owned by Alfred Caudle, William Sinclair, and others. Registered on 2/4/1882.
According to the 1880 U.S. Federal Census, John C. has married, has four children and lives with his family in Burnsville, N.C.

SARAH ROSA MOORE
Born: 1845 to James Moore and his 1st wife, name unknown.
Died: 1883
Buried: James Moore Cemetery, near Polkton, N.C.
Mystery surrounds the lives of William Harrison Caudle and his wife, Sarah Rosa Moore. James Moore's 1st wife was Sarah Rosa's birth mother. Her name is unknown. Sarah Rosa was raised by her step-mother, James' 2nd wife, Lucy Ann Russell Moore.
Lucy was the granddaughter of Richard Russell, Sr. and his wife, Rosannah. Richard's Will is listed in Book B, Page 34 of the Anson County Wills. Dated 1/2/1834, Richard's sons are listed as: John F. and Richard Russell. Daughters are listed as: Catherine Culpepper … single daughters – Nancy and Lucy … and another married daughter, Elizabeth Bell and her children: Lucy, Lant, William, and Catherine Bell. Additional married daughters are Mary Treadgill and Martha Benton.
Sources: Will Book B, Anson County Heritage
Lucy would have been the daughter of either John F. or Richard Russell; however, her father's identity has not yet been determined. More research is needed.
Both William Harrison and Sarah Rosa died within months of each other during a flu epidemic, leaving Margaret (Bratty) and James (Jim) alone. Between the 1880 census and June of 1883, their two younger children, Lucy and Fannie, also died. On June 23, 1883, the Anson County Court gave custody of Margaret and Jim to their mother's half-brother, Darling Russell Moore. The children moved to the James Moore home place.
Margaret (Bratty) must have gotten along well in the Moore home because she and her two children returned to the family after the death of her 1st husband, James T. Harrington, prior to 1900.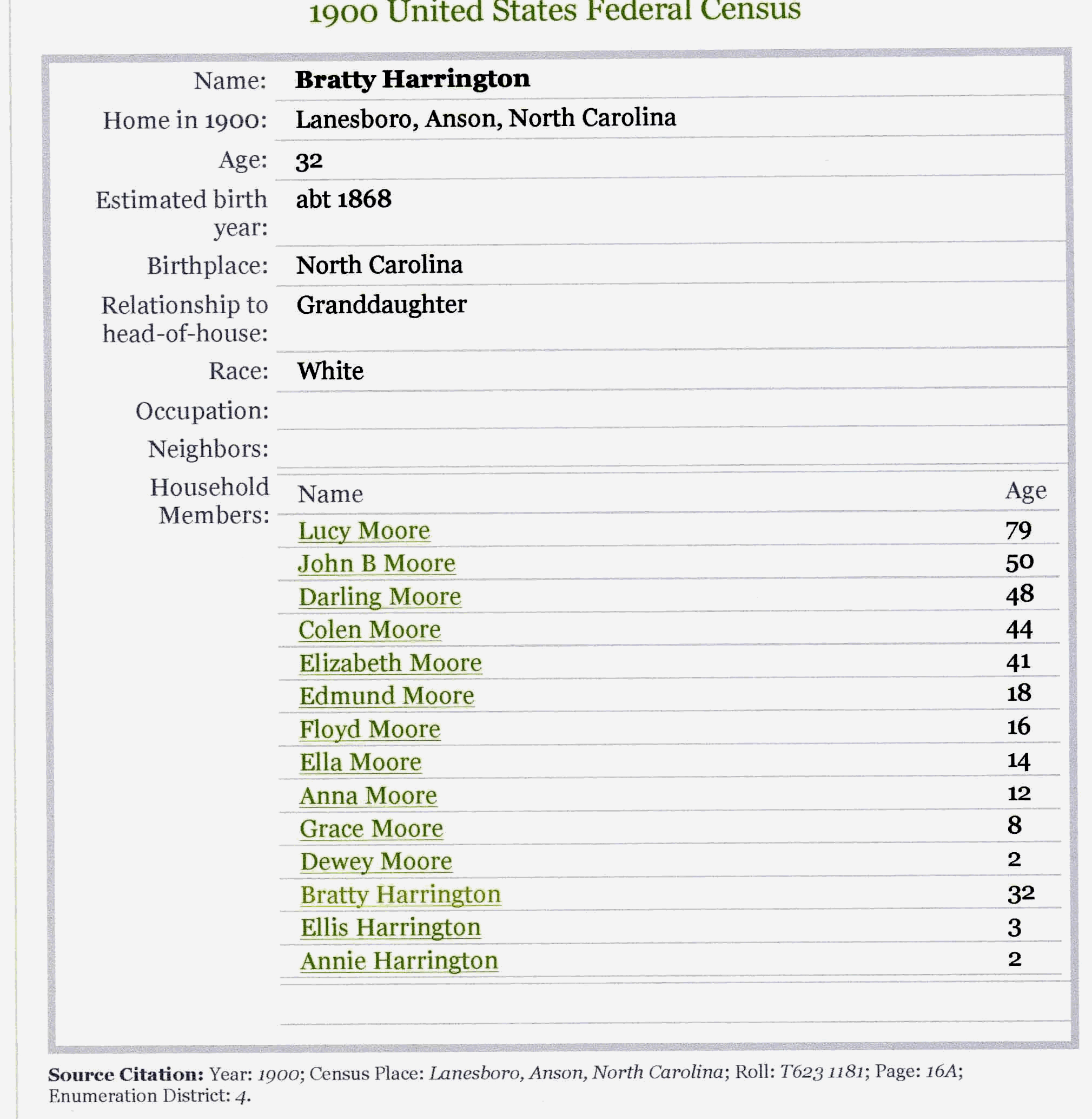 1900 U. S. Federal Census
Jim, on the other hand, was a child laborer in Great Falls Cotton Mill, in Rockingham, N.C. by the age of 12 years. Living family members know only that there was friction between Jim and the Moore family that resulted in his removal from the home. According to James Carson's granddaughter, who grew up living next door to Grandpa Jim, he and his sister never reunited. James said only that all his family died when he was young. This granddaughter had never heard Grandpa Jim mention a nephew and niece. For whatever reason, James and Margaret lived their entire lives in Lanesboro, with James showing no sign that he knew of Margaret's existence. Did Margaret also not know that her brother was still alive? What was she told about James leaving the Moore home? Margaret had been old enough to care for James while their mother was ill. James remembered his sister caring for him and told his children.
Both Margaret and James could read and write. Margaret demonstrated a refined dignity in her personal presentation—as evidenced in the photo below. James displayed a level of refinement in the design of his new 1934 home, the way in which he seemed always to have on a dress shirt and tie (except for working in the fields), and in the way in which he related to the women of his own family that is not expected of a child laborer in a cotton mill. Obviously both children attended school at some point in time. Their paternal grandmother, Margaret Catherine White came from a family that was highly educated in Scotland and whose professions had been minister and educator in the old country and in America. Her grandfather, Joseph White, Sr., was an attorney. William Harrison lived with his mother until her death and would have been strongly influenced by her heritage. He very likely instilled this same refined dignity in his children.
See chapter entitled "Richard Caudle" for details on Margaret Catherine White's heritage.
It is a mystery as to who influenced and cared for James while he lived in Rockingham. The 1900 census reports of the Pee Dee Mill Village do reveal children under 12 attended school; however James was 12 when he began working in Rockingham. Copies of the few fragments of the 1890 census report for North Carolina (not burned in the 1921 fire at the U.S. Commerce Department) do not include Richmond County. Thus no 1890 census search for James in Rockingham is possible. He was married and living in Anson County by the 1900 census. What we know, and experienced as family members, is that there was within James the natural urge toward a dignified, cultured life—regardless of the curve balls life threw him.
Several major mysteries wait to be solved:
#1. Why was Jim sent to Rockingham and with whom did he live?
#2. Why did Caudle family members not take care of Jim? Or, did they?
#3. Who was Jim's maternal grandmother, the 1st wife of James Moore and mother of Sarah Rosa? Where was her family when Jim was orphaned?
#4. Why was Jim put to work as a child laborer when both the Caudle and Moore families owned substantial land, farmed, and surely could have cared for one more family member? Child labor was a cruel experience as we see in the report found in James Carson Caudle's chapter.
#5. How did Jim end up back in the Richard Caudle home place where he lived as a child with his parents and grandmother until their death?
CHILDREN OF WILLIAM & ROSA CAUDLE
I. MARGARET ANN "BRATTY" CAUDLE

Born: 1868 Bratty at age 41
Married: 1st - 12/26/1894 to James T. Harrington
Margaret & James T. Harrington had two children: William Ellis Harrington & J. Louanna (Annie) Harrington. James T. Harrington was born in 1857 to Thomas B. & Louisa Boggan Harrington. James died before 1900, when we find Margaret and the children back at the Moore family home.
2nd – 3/4/1910 to John P. Billingsley (son of David P. & Martha Allen Carpenter Billingsley). Bratty must have married John P. more as the father she lost than a husband. According to the 1870 census, John P. would have been 76 when he married Bratty in 1910; she was 42. He died three years later in 1913.

1870 U.S. Census showing J.P. with his 1st wife, Fanny

1910 U.S. Federal Census - Lanesboro
The 1910 U.S. Federal Census lists Margaret as John P.'s wife with the two children, William Ellis and Louanna Harrington. This census lists John P. as being 71 years of age, with Margaret, age 42.

1920 U.S. Federal Census – Lanesboro – page 10, District 7
In 1920, Bratty is living with her son, Ellis, his wife and young child. Ellis is listed as farmer and Bratty, at age 52, is listed as a laborer on the farm. Willie keeps house and cares for Ruby.
Bratty does not appear in the 1930 Census for either district of Lanesboro. She died on 6/13/1933 in Anson County.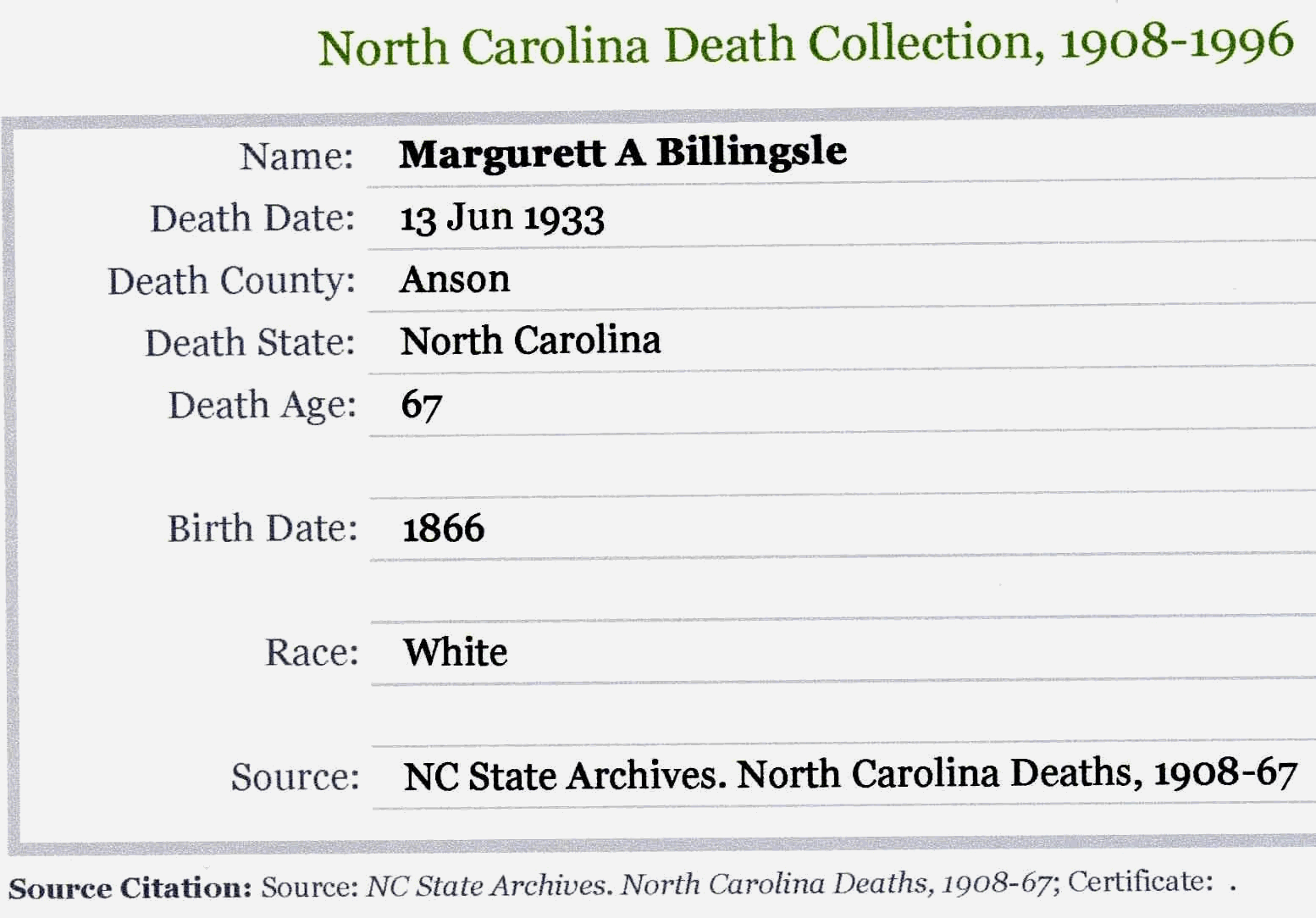 Children of Margaret Ann (Bratty) & James T. Harrington
1. William Ellis Harrington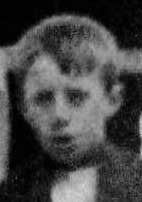 Ellis at age 13
Born: 5/11/1896 in Anson County, N.C.
Married: Willie _______
Military Service: Below is Ellis' World War I Registration Card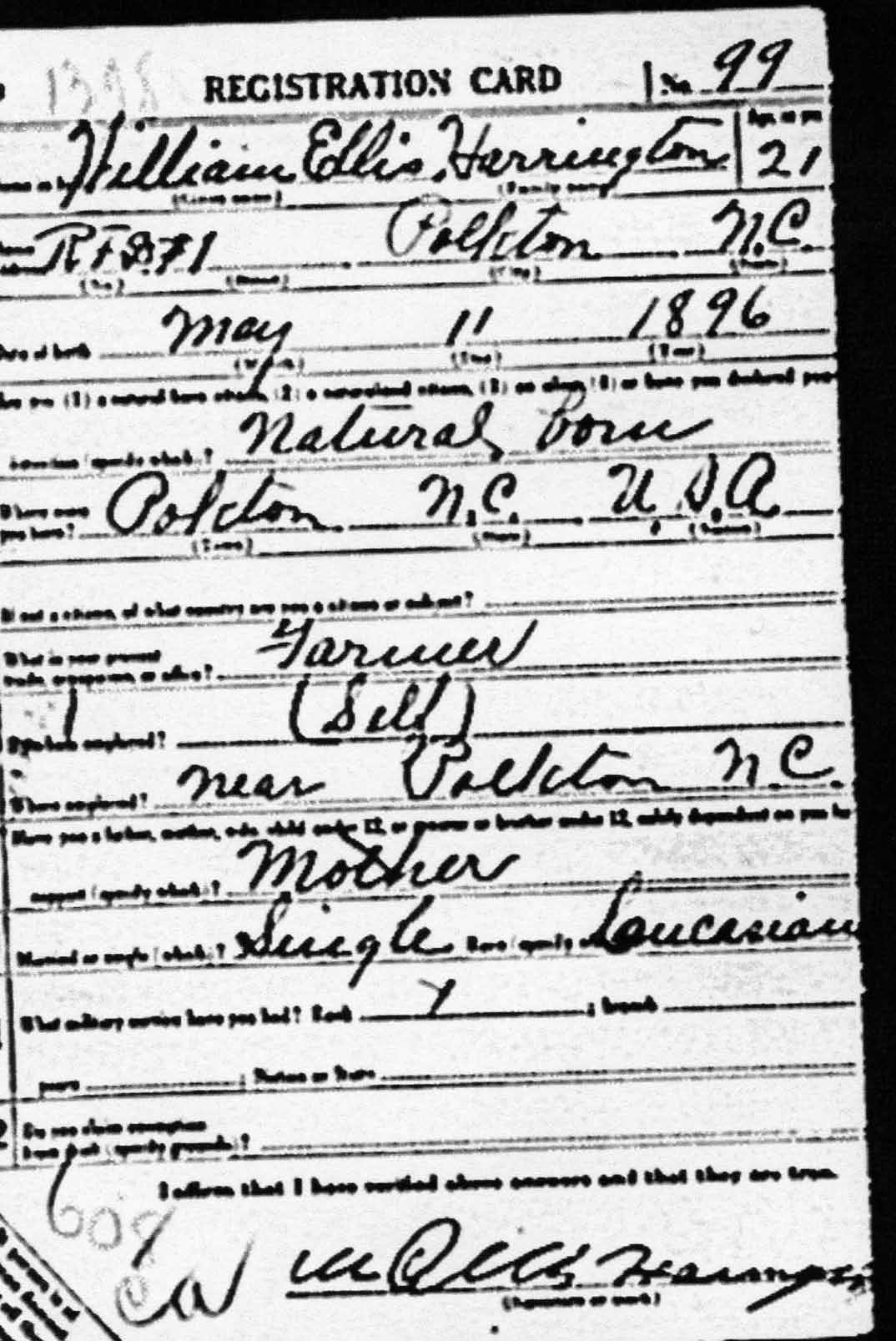 Ellis stated on the back of his registration card that he had light blue eyes and brown hair.
The 1930 U.S. Federal Census lists Ellis as married with 5 children. He is a farmer in Lanesboro. He lived to be 88 years old.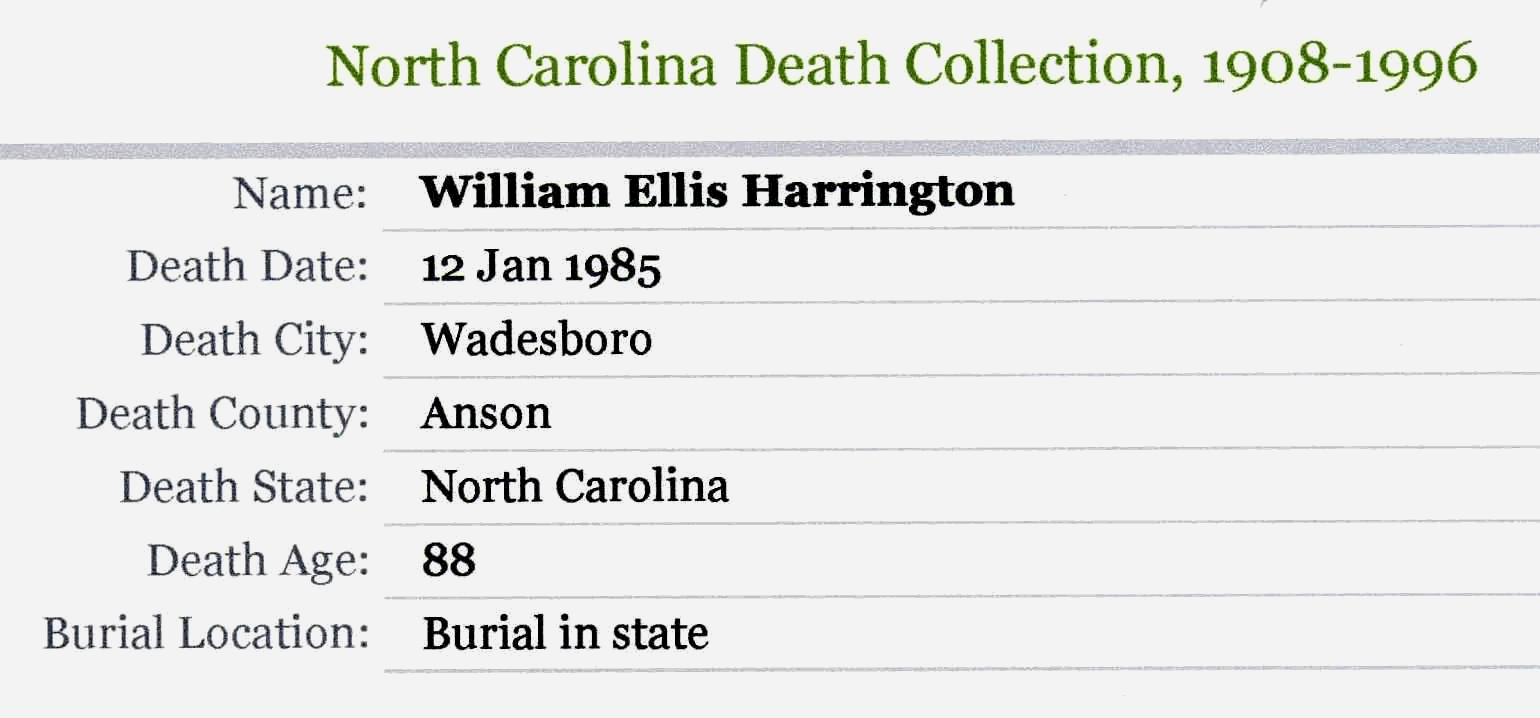 2. J. Louanna (Annie) Caudle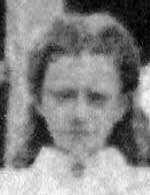 Annie at age 11
Born: 6/15/1898
Married: William M. Tyson around 1915
Died: June 1973
I have taken the close-up photos of Bratty, Ellis, and Annie from the Moore family photo made in 1909 and published in Jane Austin's The Moore Families of Anson & Union Counties, N.C. and used them with Jane's permission via phone call on 5/24/2007. Bratty lived with the Moore family following the death of her first husband and is listed in the 1900 census (shown above) as the only Margaret Harrington living in the household. Her name is listed under the photo as Margaret Harrington Moore, but I believe "Moore" is an oversight. Ellis and Annie are also shown in the photo.

1920 U.S. Federal Census listing Annie, her husband, and two children. William is listed as a general farmer in Lanesboro.

1930 U.S. Federal Census reveals one more daughter born to William & Annie Tyson. They continue to live in Lanesboro.

***

II. JAMES CARSON CAUDLE:

Born: 3/1/1872

Married: Sarah Ellen Phifer on 7/17/1895 – daughter of Cornelius Ramsey (Dock) &

Margaret Phifer.

Died: 11/7/1959 in Lanesboro, N.C.

Buried: Caudle-Covington Cemetery, Polkton/Peachland Road, Anson County, N.C.

For more information on James Carson, go to the chapter entitled "James Carson Caudle."

III. LUCY C. CAUDLE:

Born: 1874

Died: between 1880-1883

Buried: Moore Family Cemetery

IV. FRANCES C. CAUDLE:

Born: 1879

Died: between 1880-1883

Buried: Moore Family Cemetery

******

Deed Book 70, Page 294 - Margaret A. Billingsley to D.R. Moore

STATE OF NORTH CAROLINA, ANSON COUNTY.

This deed, made this 28th day of September A.D. 1920 by Margaret A. Billingsley, party of the first part of Anson County, and State of North Carolina to D.R. Moore party of the second part, of Anson County, and State of North Carolina.

WITNESSETH: That said party of the first part, in consideration of Ten Dollars, to her paid by the party of the second part, the receipt of which is hereby acknowledged, has bargained and sold, and by these presents does bargain, sell and convey to said party of the second part and his heirs, all her right title and interest in and to the Dower of Lucy Moore, dec'd. The said party of the first part being a grandchild of the said Lucy Moore.

TO HAVE AND TO HOLD the aforesaid interest to Dower and all privileges and appurtenances thereto belonging to the said party of the second part heirs and assigns, to their only use and behoof.

And the said party of the first part covenants that she seized of said premises in fee and has the right to convey the same in fee simple, and that the same is free from all encumbrances, and that she will warrant and defend the said title to the same against the claims of all persons whatsoever.

IN TESTIMONY WHEREOF the said party of the first part has hereunto set her hand seal the day and year first above written.

her

Margaret A. X Billingsley (Seal)

mark

Attest:

J.F. Ross

NORTH CAROLINA, ANSON COUNTY

The execution of the foregoing instrument was this day proven before me by oath and examination of J.F. Ross, the subscribing witness thereto.

This 24th day of December 1921

T.R. Troutman, Notary Public