"If Jesus Is A Wayshower, What Did He Show Us?"
Nancy Detweiler, M.Ed., M.Div.
Revised 2005

Part 9 of Series
"Why Reincarnation?"
Throughout Old Testament times, God—channeled by the prophets—is depicted as pleading with the Israelites to remain faithful to Him. (Israelites, according to Fillmore's metaphysical interpretation of the Bible, symbolize those who seek the Lord.) God promised repeatedly to lead the people into a "land filled with milk and honey," if only they would follow Him. However, the world and its ways proved to be too much for the Israelites. They had forgotten who they were and seemed unable to remain persistent in their search for God and their true identities.
Although the arrangement of the Hebrew Bible differs, the Christian Old Testament concludes with the book of Malachi. The prophet Malachi channeled God's pledge to his unfaithful people. Before the end of time on 3rd dimensional planet Earth, God would send the prophet Elijah to transform their hearts. "Lo, I will send you the prophet Elijah before the great and terrible day of the Lord comes. He will turn the hearts of parents to their children and the hearts of children to their parents, so that I will not come and strike the land with a curse." (Malachi 4:5) Malachi wrote this assurance, of the prophet's return to Earth, hundreds of years after Elijah had ascended to heaven in a whirlwind of fire. (II Kings 2:11 – This whirlwind of fire is likely one of several biblical references to a space ship. This space ship beamed up Elijah. There is no death—only departure to another realm of existence.) Thus, the last of the Old Testament promises of God involved the physical re-incarnation of Elijah. This Old Testament theme of reincarnation set the stage for the events depicted in the New Testament.
The New Testament opens with the announcement of Jesus' forthcoming birth. According to the Cayce readings, the soul of Jesus had been present throughout Old Testament times, as the personalities named Adam, Melchizedek, Enoch, Joseph, Joshua, Asaph, and Jeshua. Within the divine plan, the ministry of Jesus was to play a major role in our planetary evolution. During times of great planetary transition, an entire group of advanced souls enter together. Thus, we see Jesus accompanied by: his earthly father, Joseph (now the Ascended Master St. Germain), his earthly mother, Mary (now the Ascended Lady Master Mary), his earthly cousin, John the Baptist (now the Ascended Master Elijah), and his twin flame, Mary of Magdala (now the Ascended Lady Master Nada).
We see this same pattern occur during the 19th and 20th centuries as the New Thought Movement emerged. Charles Fillmore, the founder of Unity, knew himself to be the reincarnation of the Apostle Paul. Paul wrote several books in the New Testament. Edgar Cayce knew himself to be the reincarnation of Lucas, the writer of the gospel of Luke and the book of Acts. Fillmore and Cayce were contemporaries and knew of each other. In prior lifetimes, the two of them had been contemporaries and wrote much of the New Testament. They reincarnated to unveil the deeper levels symbolically embedded within their writings—Fillmore, through his metaphysical interpretation of the Bible and Cayce, through his intuitive readings.
As we view these patterns, we learn much about the unfolding of the divine Plan, both for our planet and for each member of the human family. Life on this planet is never static. Life builds upon itself. Life moves ever forward, regardless of how many times we stumble, even when we destroy huge chucks of what humanity has accomplished. On the other hand, Ecclesiastes 3:15 reminds us, "That which is, already has been; that which is to be, already is." Underlying all the hustle and bustle of earth plane life is the ultimate reality of unity, tranquility, and love in which all things are already present. So even though, from a cosmic point of view, our comparatively short physical plane lives are much ado about nothing, the goal of reincarnation on this plane is to continue the work we began eons ago.
From the allegorical Garden of Eden, we set out to experience life on the plane of duality. We experimented and gained knowledge of good and evil (evil meaning living with our backs to God). We tested universal laws and discovered that we reap what we sow. In the process, we accumulated karmic debts stemming from the mistakes we made. We also created mansions in heaven filled with the treasures of good we have done. Reincarnation takes on significance when we view the unfolding of our lives as a continuous process in which we transmute the karmic debts and fill our heavenly storehouses with Good. At some point in time, we succeed in transmuting 51% of our negative karma. Light supersedes the darkness within our lower bodies and our karmic obligations are dissolved. Like Jesus, and the other Ascended Masters, we can then step off the wheel of physical rebirth and ascend to higher dimensions of existence, as an Ascended Master. Meanwhile, we need to take advantage of all the opportunities for learning that physical plane living gives to us. Growth is accelerated on the physical plane; that's why our souls yearn to incarnate here.
Life on the physical plane is for our own soul's growth. With our gift of freewill, we make the choices as to how quickly we will progress. We can choose to meander through life. Or, we can choose to embark—with clarity of intention—on the narrow Path that Jesus walked. Walking the narrow Path entails concentrated efforts toward spiritual growth. It means taking responsibility for our lives and for our spiritual progress. Because our planet is in the midst of ascending into higher dimensions of consciousness, all of us have the chance to ascend with it. In order to ascend at the end of this lifetime, we must make three major accomplishments: transmute 51% of our negative karma, fulfill our soul's mission for this incarnation, and reunite with our Christ Self.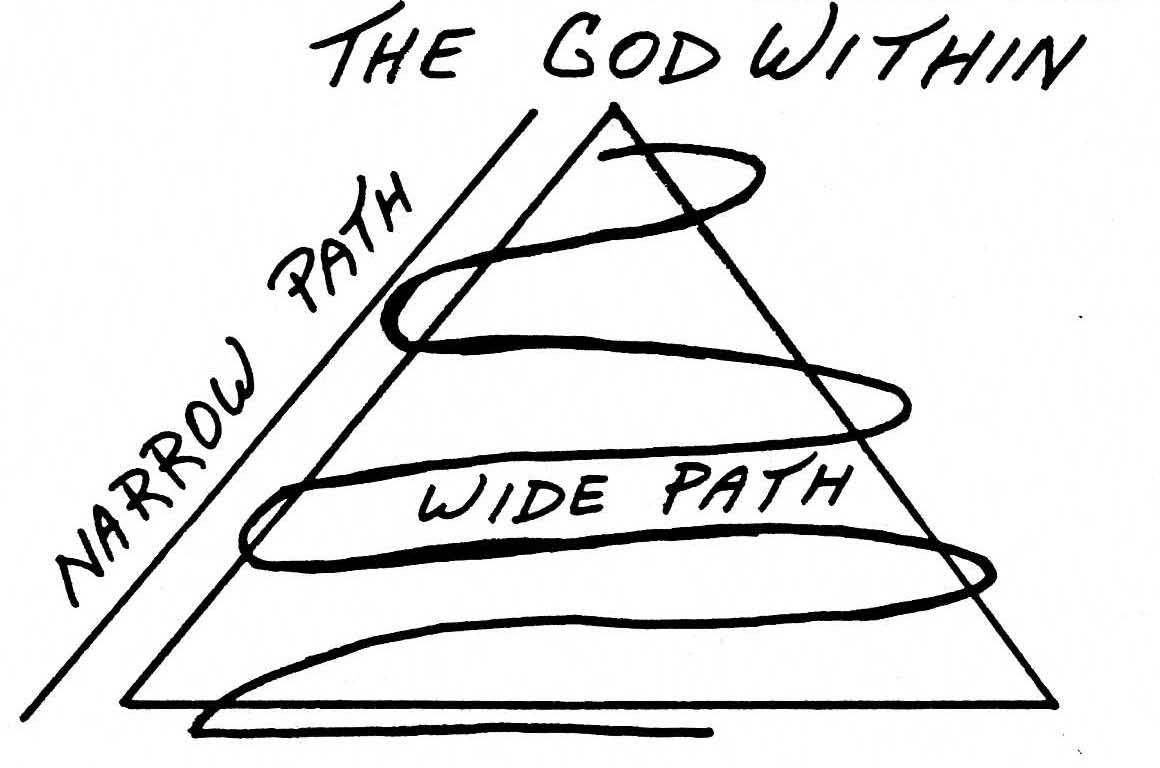 The gift of freewill gives us the choice–climb straight up the mountain (the narrow path of concentrated effort) OR meander up the mountain (taking as long as we choose).
To merge with our Christ Self means to live from the soul-centered level with the mind that was in Jesus the Christ. We achieve the Christed Mind by integrating Jesus' teachings into our lifestyle. Remember, most of humanity categorizes Jesus as belonging only to the Christian religion.  Instead, Jesus, as one of the  Sons of God, came to show all of humanity the way back home. From God's point of view, religion has nothing to do with Jesus. Religion belongs to earth plane, not the spiritual realms. So, when metaphysicians speak of achieving the Mind that was in Jesus the Christ, we are referring to a qualification that applies to all human beings. The Christ is a cosmic energy. We develop the Christed Mind via the intentional choice to live our lives in accordance with the universal laws and in full awareness of our true identity as a Daughter or Son of God. Reincarnation allows us ample time in which to achieve this goal.
We, as a planetary society, stand at a crossroads. Do we choose to take advantage of this opportunity for accelerated growth?  Or, do we choose to remain asleep to the true nature of our being? If we choose to move forward, we need to view the events in our lives through the lens of reincarnation. Mistakes, made during our sojourn on Earth, must be resolved on the physical plane. We can speed up the process by consciously resolving the issues that present themselves to us. Those persons who play major roles in our lives are the souls with whom we contracted to incarnate as a group. Within our group, each individual agreed to play a particular role as it relates to the resolution of our individual karma and mission. Consider your own family unit. Each member of our family-of-origin and the family we create, as adults, incarnated as our teacher, our companion, or both teacher and companion.
We may experience our teachers within compatible or difficult relationships. As we observe the dynamics within each of our major relationships, we can discern the lesson each agreed to teach us. Some lessons may be painful. Know that each lesson remains in our lives only as long as it takes us to successfully learn it. Forgiveness for the difficult situations comes easier when we remember that every person involved agreed to be our teacher. The lesson may be one of learning to stand alone, to be whole within Self. The teacher for this lesson may be a parent who dies or deserts us, or a spouse who abuses us. Either way, we are forced to cope with life on our own. To do so constructively is to learn intentionally the lesson. Example: Jane's parents were both abusive alcoholics. Jane's sister chose to engage in similar behavior and ended up dropping out of high school. Jane chose to stand apart, to be active in a church youth group, and to complete her education. Eventually, Jane was invited to move in with a caring family, where she lived until she married a ministerial student. Jane, by her intentional choices, stood alone and removed herself from an abusive home, to a caring home, then into her own home with a loving husband, with whom she had incarnated for the purpose of companionship. She and her husband have spent decades ministering to others through the church setting. Her sister wandered through life, from one trauma to another. Both made their freewill choices: one with a sense of positive direction, the other by allowing life to happen to her.
The more consciously we intend spiritual growth, the more quickly we achieve union with our Christ Self. Regular use of the Purple Transmuting Flame assists greatly in dissolving 51% of our karma. Release to the flame all negative emotions, such as anger, resentment, jealousy, envy, and failure to forgive self and others. Then ask to be filled with the love of God. Viewing life through the lens of reincarnation reminds us to respond to the major events in our lives with a sense of purpose and to use them as stepping stones to a closer relationship with our Christ Self and I AM PRESENCE. All of creation moves naturally toward resolution, toward healing, toward wholeness. Know that "all things work together for good for those who love the Lord"—in other words, those who love and abide by universal law. (Romans 8:28)
Service to others is another marvelous way to balance our karmic debts. Often, the situations in our lives requiring us to serve—while asking nothing in return—indicate our soul's choice for balancing karmic debts. The universal law of giving & receiving is exact. We can spend entire lifetimes learning to balance the two energies. It is important to our soul's growth that we learn to give and to receive. Both ends of the equation—"give and you shall receive"—must be experienced with equal ease. "Give and it will be given to you. A good measure, pressed down, shaken together, running over, will be put into your lap; for the measure you give will be the measure you get back." (Luke 6:38)
Reincarnation offers us the chance to fulfill our soul's mission. This mission is selected very carefully. Our soul plans a mission for each incarnation that will enhance its own growth into wholeness. We can attune to this mission via listening closely to ourselves and to the dreams that have been with us for a lifetime. Each zodiac sun sign possesses a basic mission. The numerical vibrations of our names reveal a mission. "A mission" means whatever it takes to lead our souls into a sense of wholeness. To fulfill our mission, we must learn to live a soul-centered life. A soul-centered life leads to the mind that was in Jesus the Christ. It means surrendering our personal wills to Divine Will and adhering to universal laws in such a way as to live life as Jesus lived it.
Reincarnation is God's grace giving us repeated opportunities to awaken and to return to the "land filled with milk and honey"—The Promised Land of full consciousness. Our true home is to be found on the 5th dimension where Truth, in its entirety, can be known, where we know we are truly Sons & Daughters of Mother/Father God—thus, gods in the making.
May you be blessed as you journey on your Path to the Promised Land.
UNITY'S PRAYER OF PROTECTION
The Light of God surrounds me,
The Love of God enfolds me,
The Power of God protects me,
The Presence of God watches over me.
Wherever I am, God is.
And, all is well.
BENEDICTION
"As they were coming down the mountain [of Transfiguration], … the disciples asked him, 'Why do the scribes say that Elijah must come first?' He replied, 'Elijah is indeed coming and will restore all things; but I tell you that Elijah has already come, and they did not recognize him, but they did to him whatever they pleased.' … Then the disciples understood that he was speaking to them about John the Baptist." (Matthew 17:9-13)
ADDENDUM – CLUES TO YOUR SOUL MISSION GRANTED BY:
YOUR ASTROLOGICAL SUN SIGN:  http://pathwaytoascension.com/astrology/index.htm – click on your Sun Sign.  (If you do not know your Sun Sign, click on each sign until you see the span of dates that includes your date of birth listed just under the name of the sign.)     
YOUR DESTINY NUMBER:  http://pathwaytoascension.com/numerology.html  – instructions for figuring your destiny number by using your name are here.
YOUR RAY:  http://pathwaytoascension.com/sevenrays.html – If you do not know your Ascendant, simply use your Sun Sign to learn on which of the 7 Rays you are functioning.
We are all unique individuals and will tend to unconsciously use more of one energy than another; however, you should basically see that your Sun Sign, Destiny Number, and Ray indicate in general your Soul mission.  For example:  My Sun Sign is Aquarius, my Destiny Number is 8, including my married name of Detweiler, and my Ray is the 5th.  I can see the story of my life as I look at the 3 indicators. 
You should resonant to each indicator and to the Whole formed by functioning on the 3 Parts (or indicators).