"THE KINGDOM OF GOD IS INSIDE OF YOU."
LUKE17:21
Nancy B. Detweiler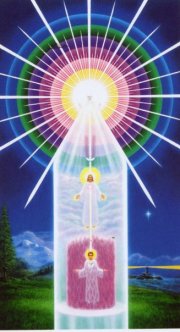 The Divine Self (Elizabeth Claire Prophet)
One of the most difficult concepts to grasp is Jesus' teaching: "The kingdom of God is inside of you." For that reason I am posting this Divine Self Illustration ... the most comforting and enlightening depiction of this teaching I have seen.

This all important teaching---that the kingdom of God is inside of you---holds the capacity to transform your entire life. We have been taught that God is separate from us, which leaves us feeling alone and helpless, especially when life seems to have turned us upside down with its traumas. The Greek word "entos" means both "inside" and "among." Therefore, the kingdom of God---or God---is both inside of us and among us. This concept is illustrated by the white light in which you are standing, with another stream of white light flowing down into your heart from above. The purple light surrounding you represents the grace of God transmuting and cleansing you at your request. No negativity within you need be a permanent quality. God's grace is always available.

For clarity, the three parts of yourself are displayed vertically ... in reality, they are interpenetrated. The middle figure represents the mediator between your physical self and your indwelling God presence (the spark of divinity inside of you). This mediator is your Intuitive (or Higher) Mind through which you receive guidance from God ... or for Christians, also from Jesus.

The top figure represents the "the kingdom of God inside of you" that is always present as a part of who you are. The circles of color represent "the treasures you have laid up in heaven." See Matthew 6:19-21, in which Jesus taught: "For where your treasure is, there your heart will be also." The treasures you have laid up in heaven are a permanent part of you.

Meditating on this illustration of your Divine Self on a daily basis reminds you that you are truly God's child and walk through life with your Heavenly Father's loving white light enfolding you and permeating your being. As the Apostle Paul taught in Acts 17:28 -- "For in Him we live and move and have our being."

God is always inside of us and among (or surrounding) us! Let's use this Lenten Season to firmly anchor this Truth within our conscious awareness. It can be a source of great comfort during the chaotic days ahead--as the old passes away and a "new Earth is born."