THE CAUDLES OF ANSON COUNTY, NORTH CAROLINA
CHAPTER 13
THIRD WORLD VISITS
BY
JAMES CARSON CAUDLE
FAMILY MEMBERS
All of humanity belongs to the One Family of God.
All were created by the same God of love.
May the photos and stories that follow inspire all of us
to do whatever we can to assist our brothers
and sisters on this planet.
BRAZIL
ASIA
GHANA
SWAZILAND, AFRICA
HONDURAS
MEXICO
VENEZUELA
BRAZIL, SOUTH AMERICA
Joyce Elaine Brooks McCollum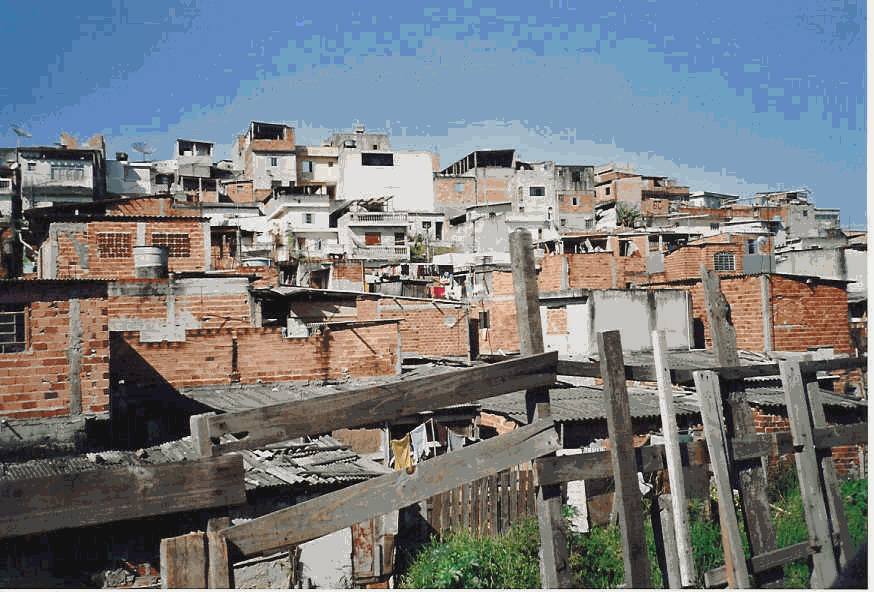 Joyce travels with WorldVenture, a missionary sending agency with ministries in over 65 world areas. Please visit the ministry website at www.worldventure.com to get more information and find ways you can participate in the ministry of transformation through Christ.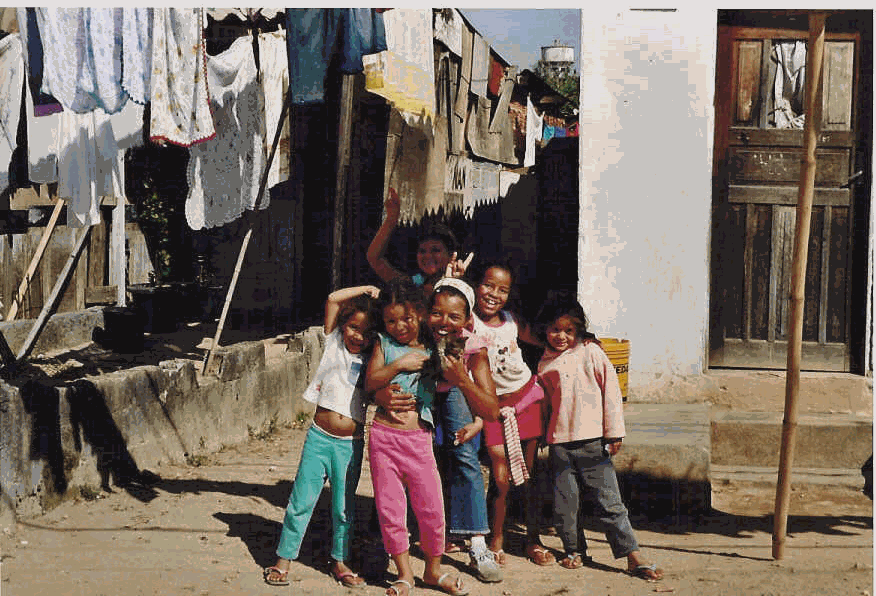 There are over 2,000 favelas (slums) in Sao Paulo, Brazil. The children who live there are in constant danger of being murdered, raped, or used in drug trafficking. When Joyce was there, the team had to secure the permission of the drug lords to enter the favelas where Restoration Ministries works. The team also had to be transported in the ministry bus, so that the drug lords would not think the team was invading their territory. When crimes occur, the police are not called since the police themselves are under the rule of the drug lords. In spite of the danger, Restoration Ministries runs four day centers in these slums and some of the ministry leaders themselves are residents there. The lady pictured with Joyce runs one of those day centers, which started in her garage and has now expanded into two rooms of her house. This picture was taken inside her garage.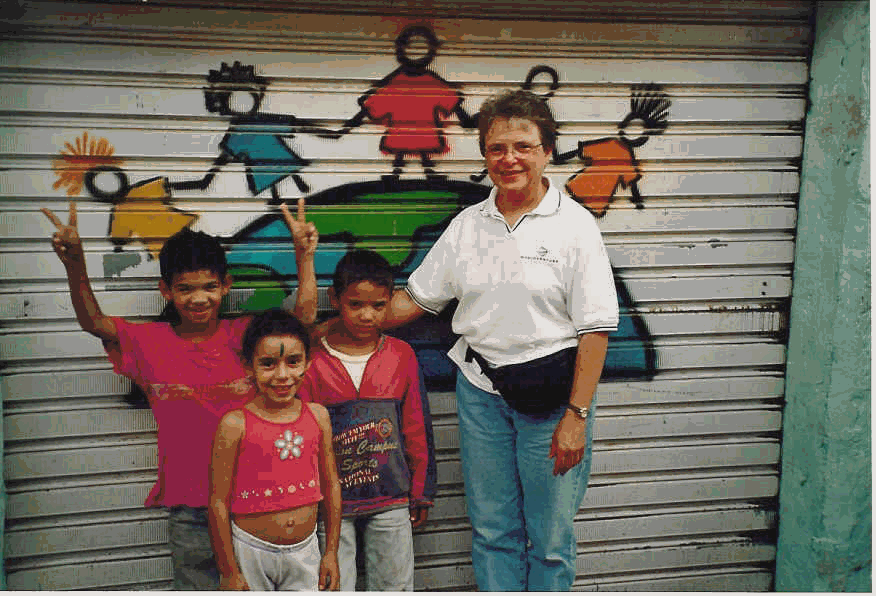 This photo was taken outside one of the
Restoration Ministries Day Centers, where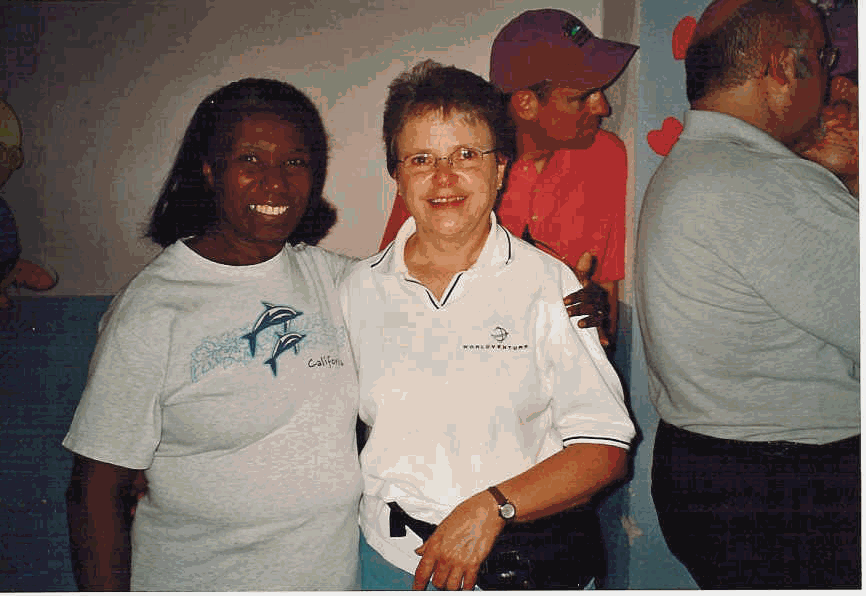 the kids are taught English, music and art,
as well as how to deal with the violence and
other traumatic events of their lives. These
centers also provide places where the kids
can be kids and have fun.
ASIA
Joyce Elaine Brooks McCollum
In 2002, Joyce visited a number of ministry sites in Hong Kong, Japan, Taiwan and Macau. During those visits, she worked with English language groups, gave her testimony in two churches, participated in a ladies Bible study, and encouraged the WorldVenture missionaries just by her presence.
HONG KONG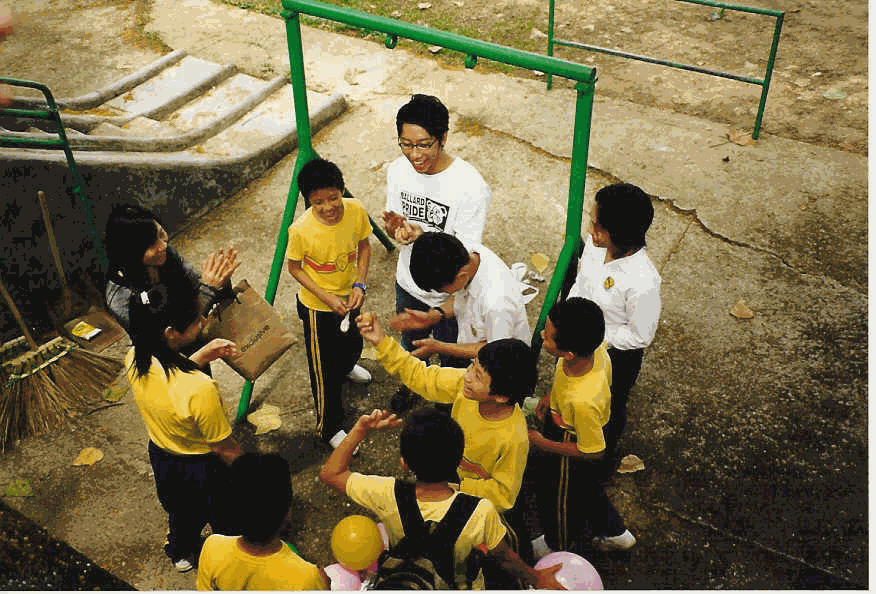 These kids are "new arrivals" from mainland China. This is outside their school where we were playing a game with raw eggs! Students must learn some English before formerly attending the schools in Hong Kong.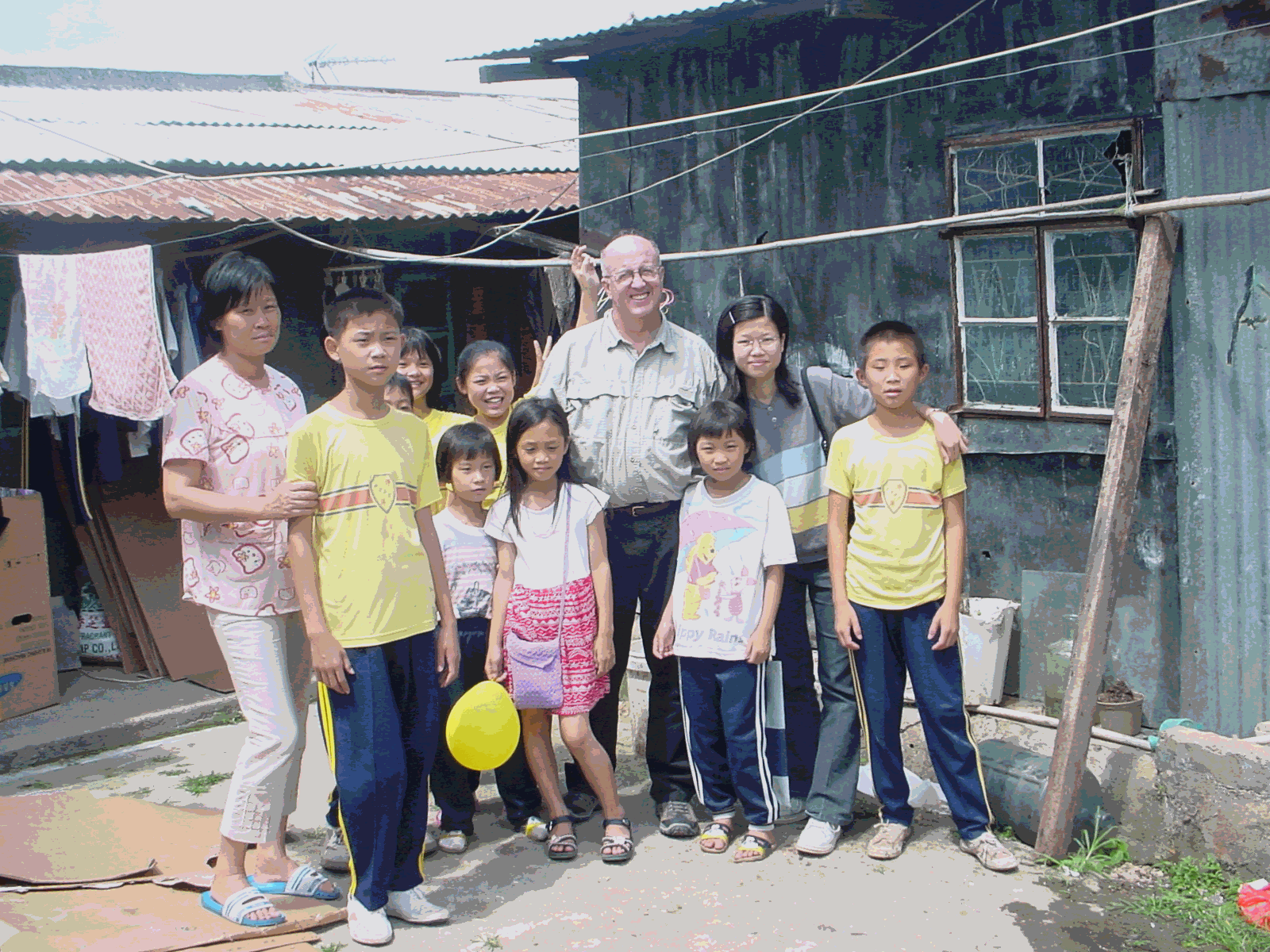 One of these students invited us to his home. In order to avoid the pig pen, he took us on a 3-mile route through the fields of Hong Kong. This is a picture of his three-room house, where he and six other siblings, his mom and his dad live. A couple of neighbor kids are also in this picture, along with a missionary.
JAPAN
Japan is animistic and Buddhism is the religion of the government. It is a very clean and beautiful country, since taking care of the environment is part of the religion. One can be on the platform with hundreds of other people awaiting a train and only hear people whispering. The men work very long hours, so for the most part, the women are single moms. Children are disciplined in school since it is very hard to move into the better school systems or to continue beyond high school, due to the level of competition. Kids wear uniforms to school and even study on the buses as they return home from school. Joyce's visit included the Asakusa Temple (Buddhist) and the Meiji Shrine (Animistic). At the Meiji Shrine, drums are used to awake the gods for worship.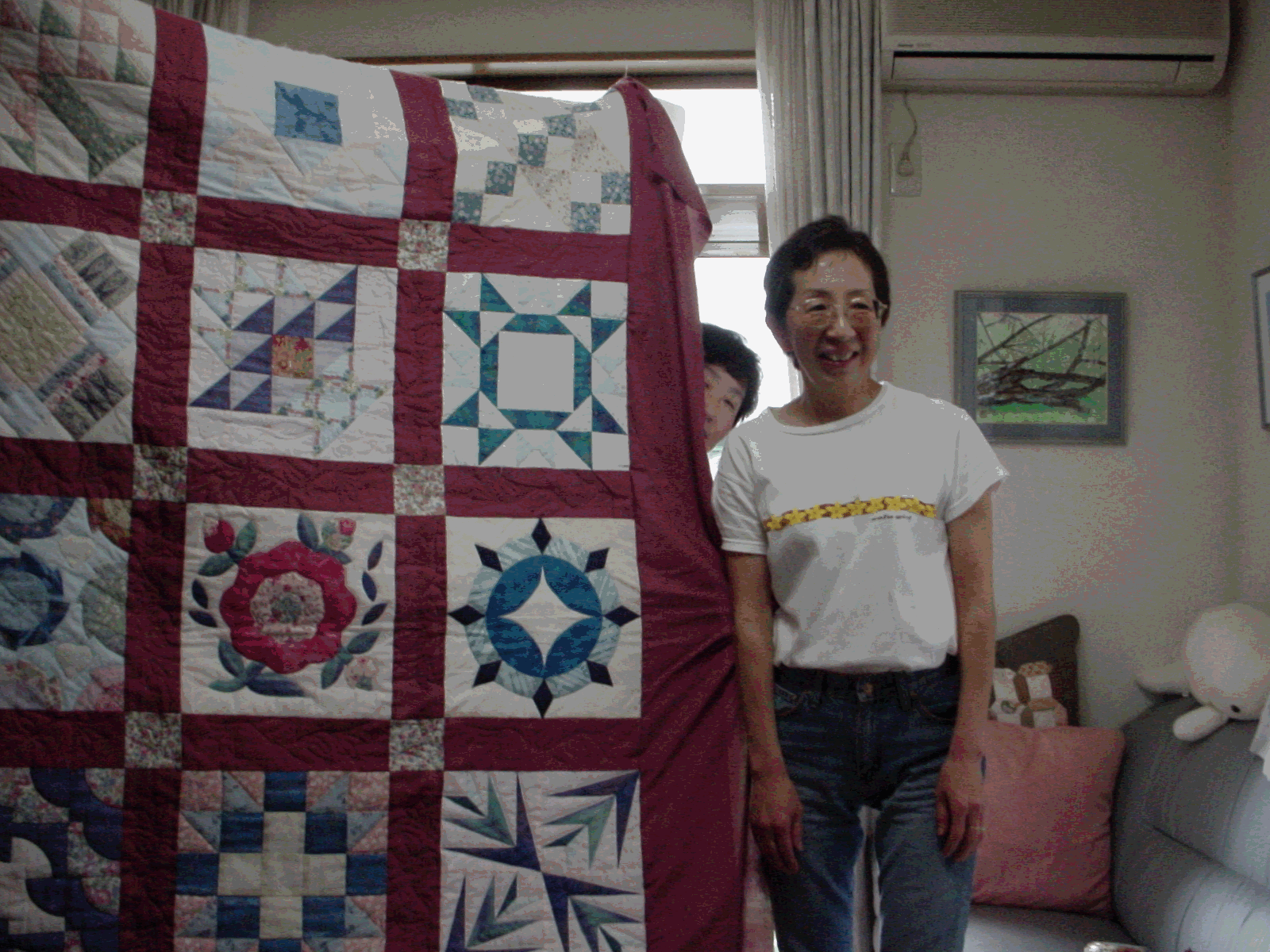 WorldVenture ministries in Japan include quilting classes for women. Each square of the quilt pictured here represents a Bible story that the ladies have learned.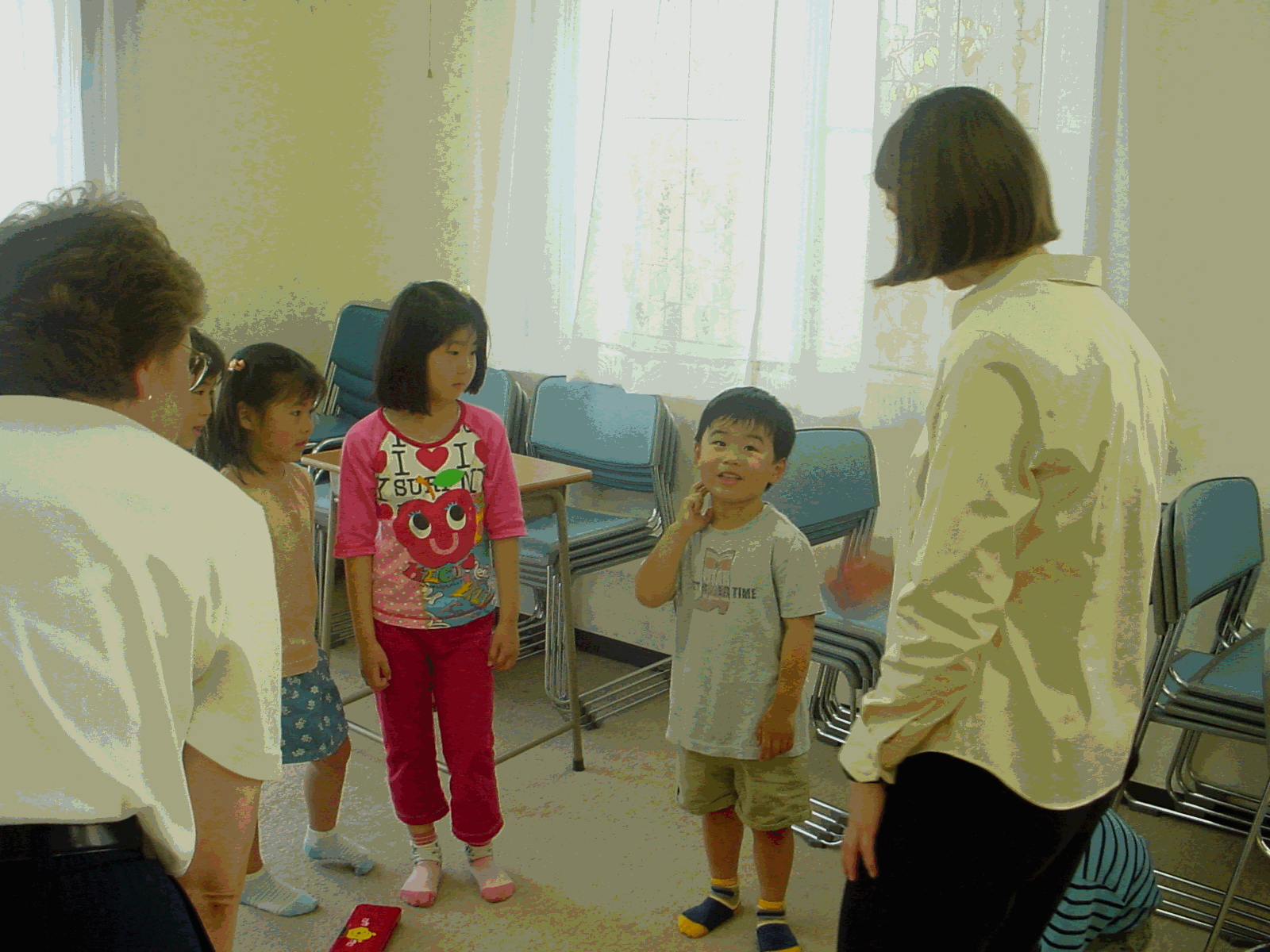 Joyce participating in a children's English class in Japan. In this same church, they hold choir practice for the Black Gospel Choir, a ministry of WorldVenture missionaries.
MACAU
Macau is considered the gambling capitol of Asia. There are many high-rise buildings with shanty towns build in between the buildings. Great Wall Ministries of WorldVenture has started four churches there that include ministry to students, the poor, and mainland Chinese who come to Macau for work.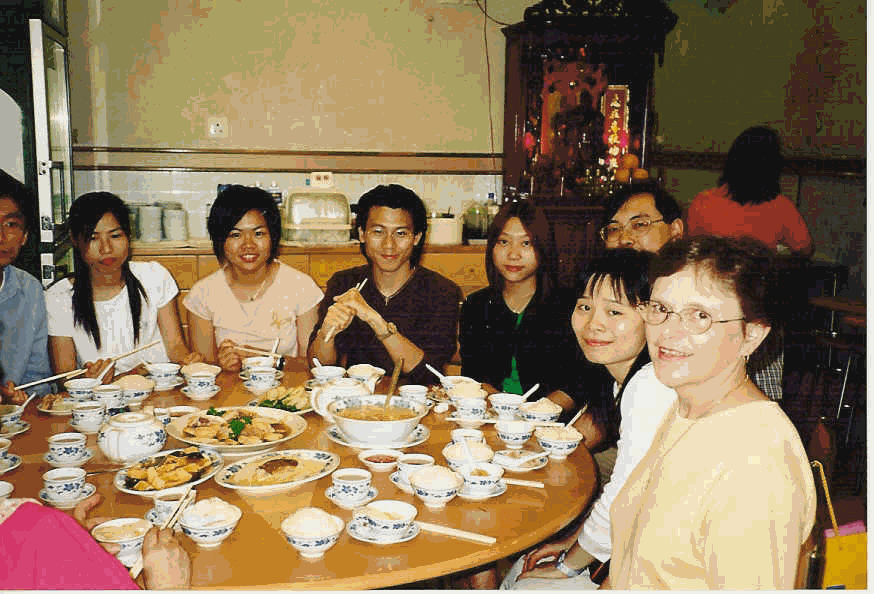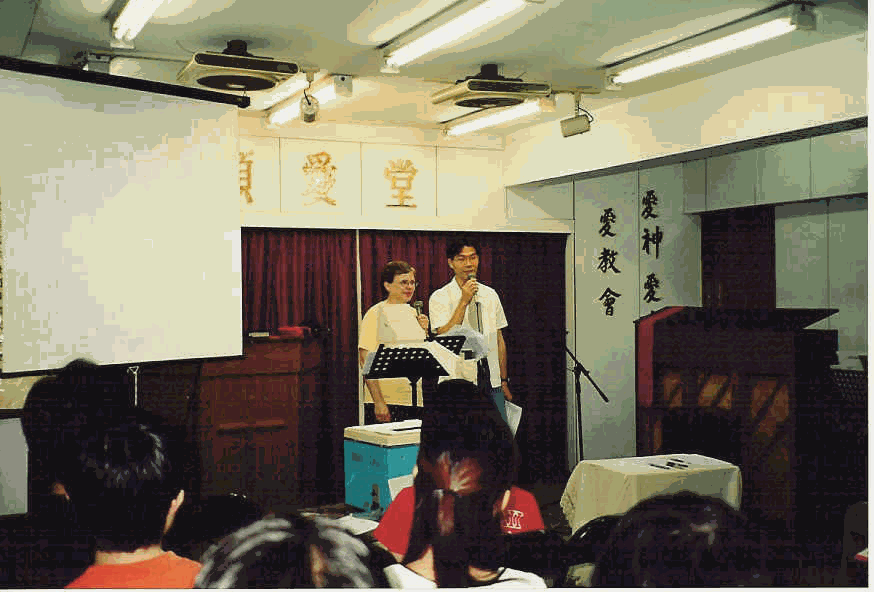 Joyce giving her testimony at church A great lunch with students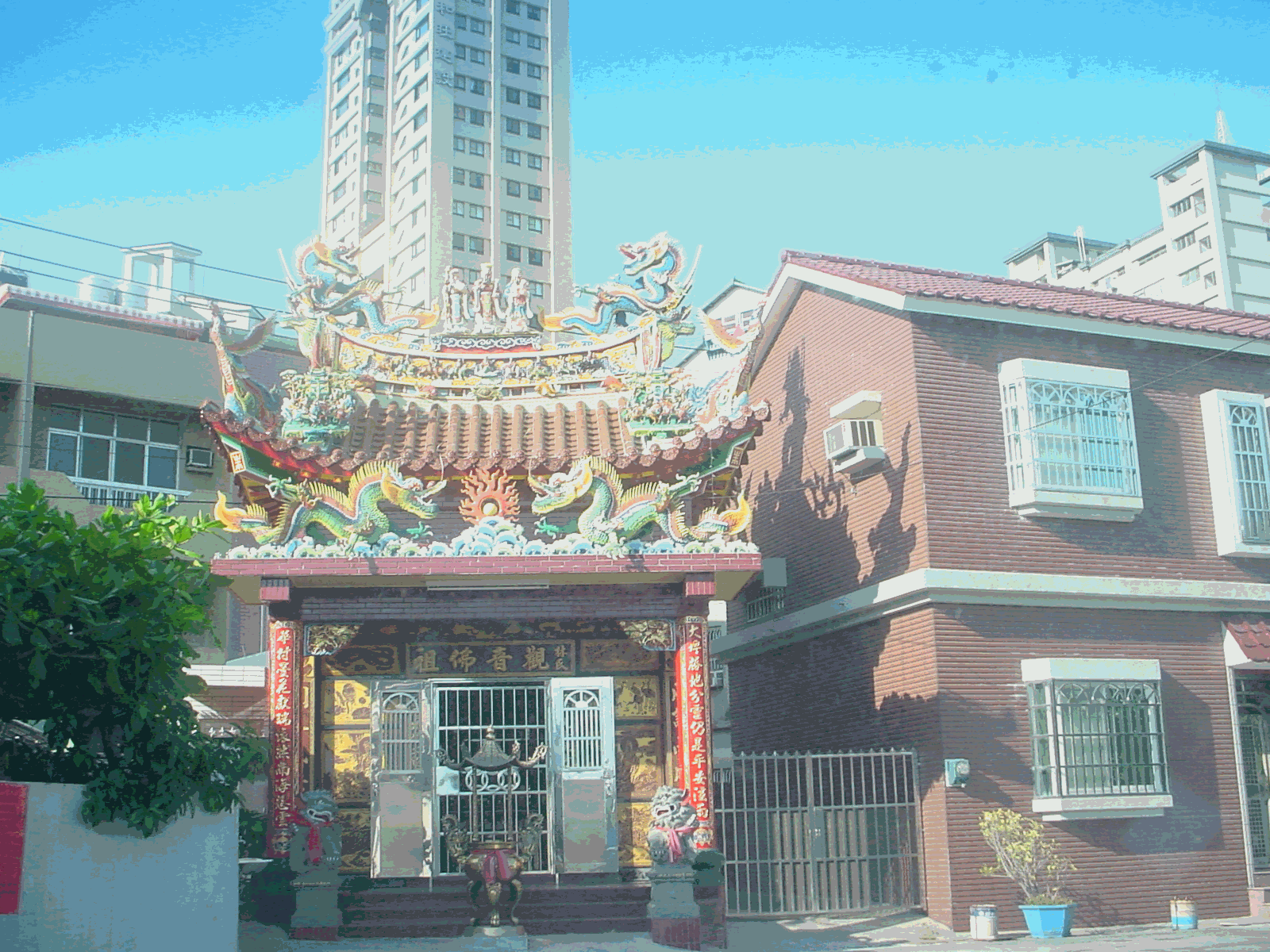 TAIWAN
Taiwan is a culture desperately in need of Christ. Many of the communities have their own shrine like the one shown here. We visited a temple that was under construction. It had very detailed wood carving, bright colors, and elaborate gold leafing over much of the woodwork and the statues of the gods.
This is a group of women who have just finished a Bible study. Joyce attended this study and enjoyed the fellowship and the great food. On one occasion, Joyce was able to encourage some of the ladies in positive ways to parent their kids when the husband is working most of the time.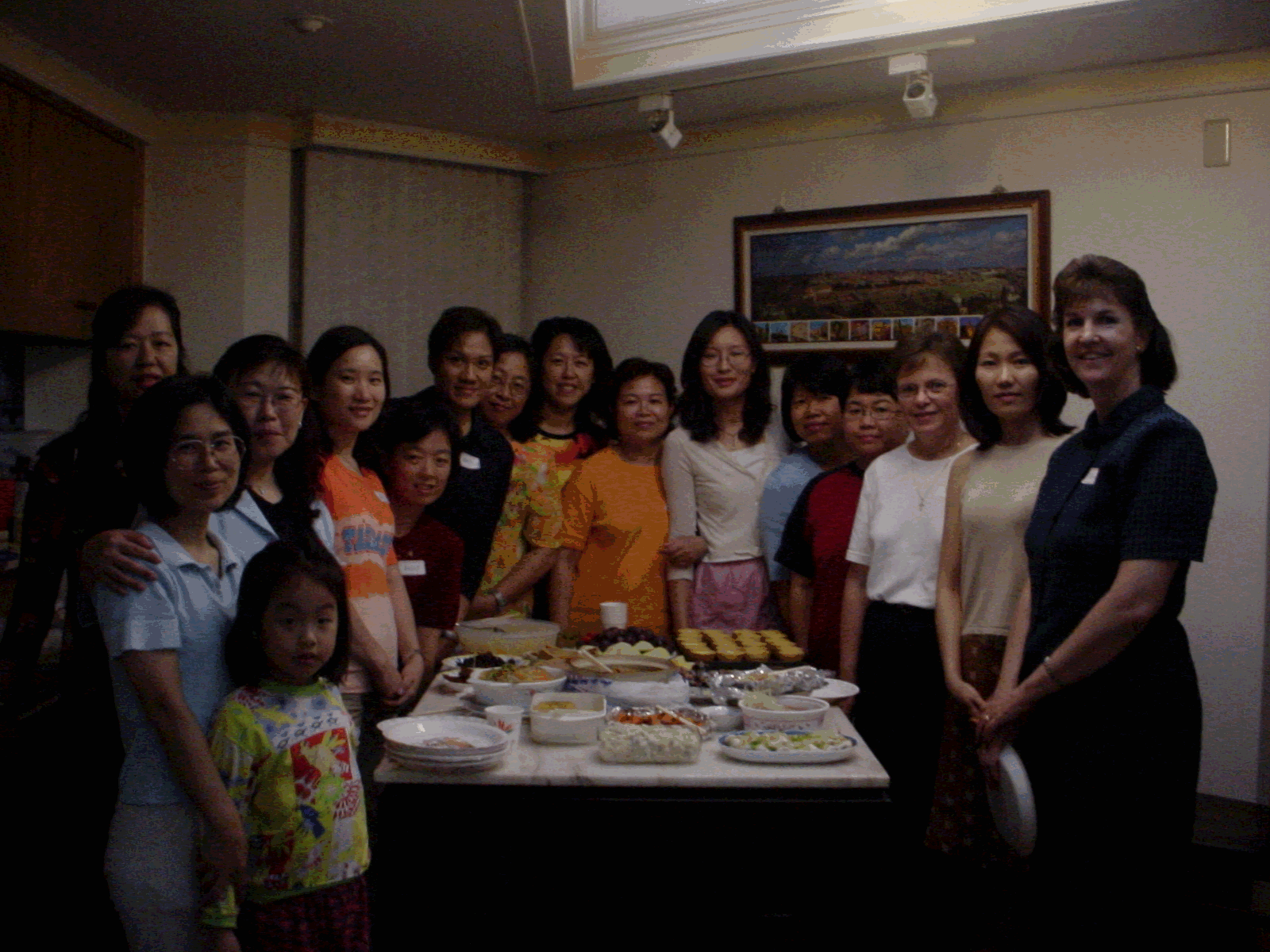 The main barriers to the gospel in Taiwan are trust in self, financial success, and family pressure. Ancestor worship is very strong and the oldest son is expected to worship the parents when they die. If they become Christians they are told that there will be no one to worship them so the parents will become ghosts and wander around in the spirit world for all eternity.
While in Taiwan, Joyce also visited Morrison Academy in Koahsiung and the CB Seminary in Hsilo where a number of WorldVenture missionaries have a ministry of education for the children and adults of Taiwan.
Please visit us at www.worldventure.com to hear more exciting stories of ministry around the world. Donations are appreciated.
GHANA, AFRICA
Anita Tarlton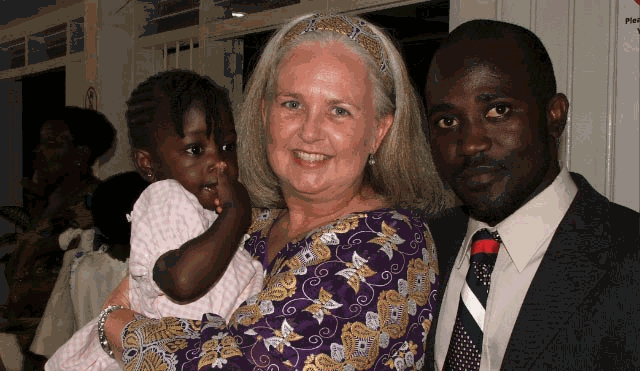 Anita & her "heart son," Richard, with little Anita.
"Heart son or daughter" = adoption into my heart.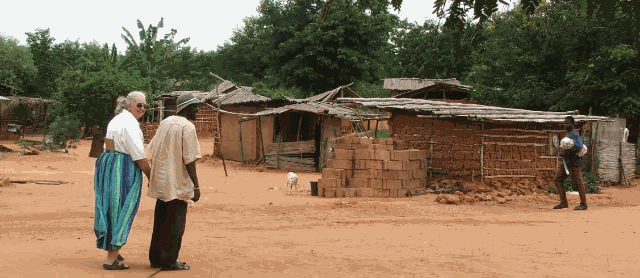 Anita & Richard in Greater Downtown Devemen, Ghana
Christ Harvests the Nations organization now has a vocational school in Devemen that teaches batik and sewing. Batik is similar to tie dying.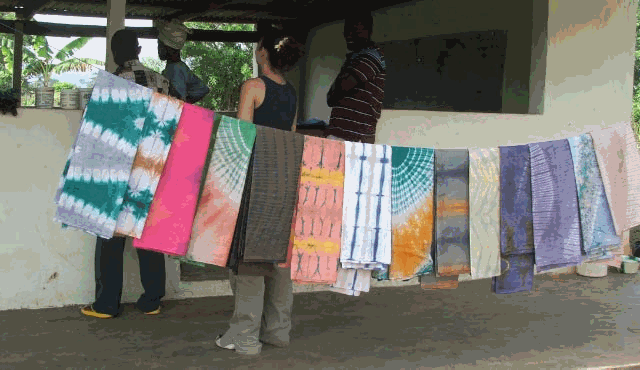 The process of batik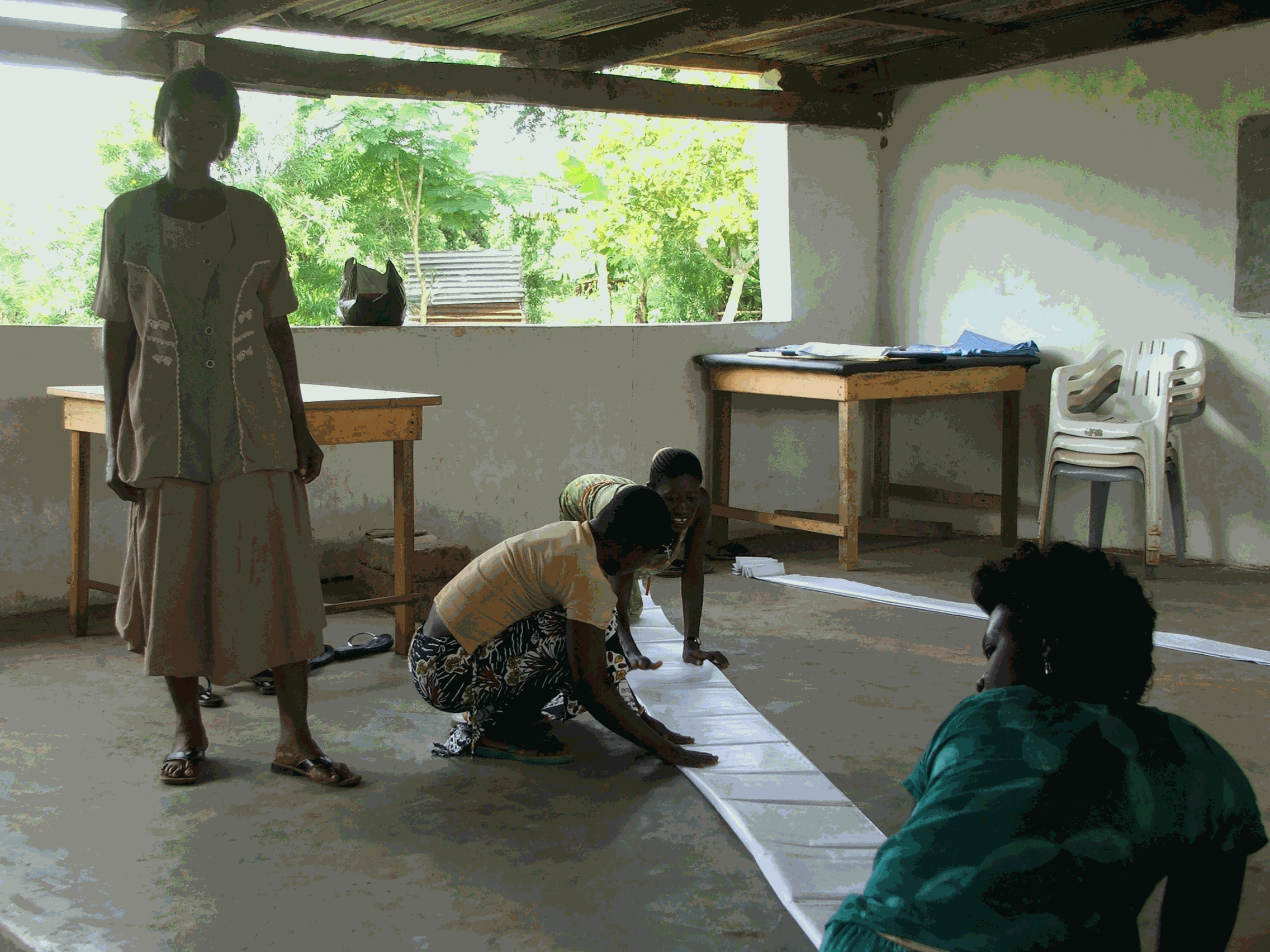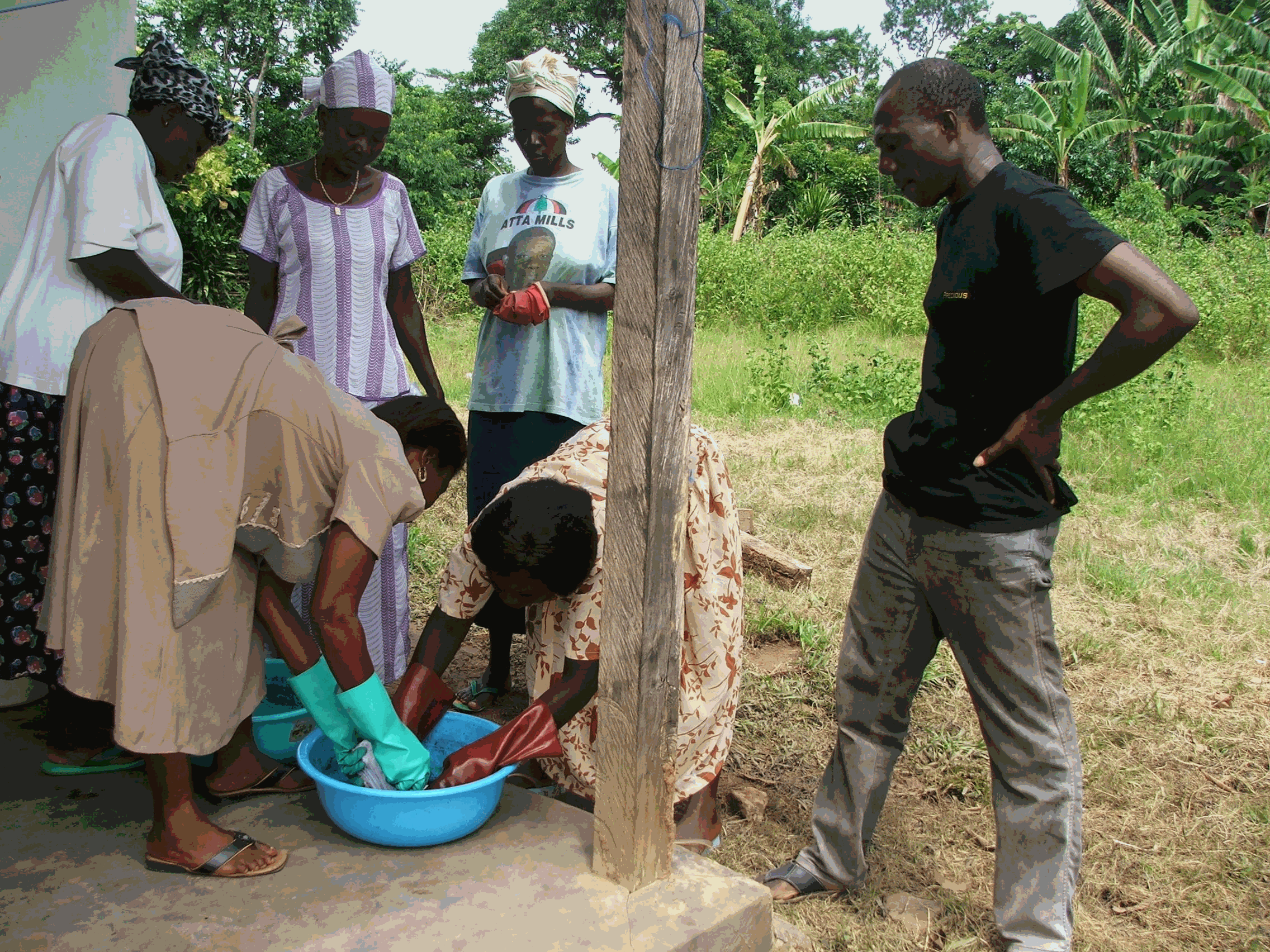 The process of batik
Batik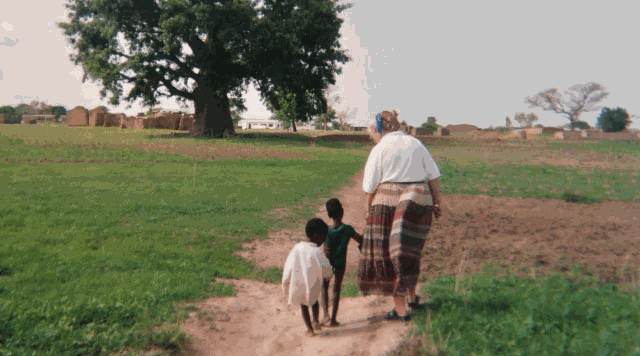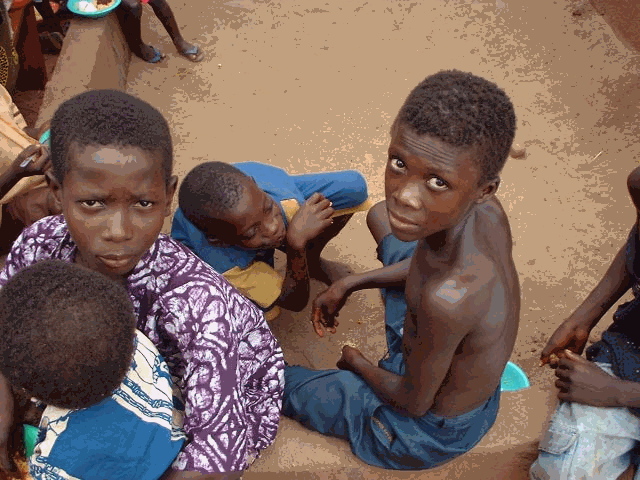 Anita walking with children in Ghana Children being fed at school in Potwabin
Potwabin is one of the towns in which the organizations with which Anita works, when in Ghana, is building a ministry. The children are fed at school through these organizations: Save All Souls & Christ Harvests the Nations.
Educating a 3rd world child costs so little.
Anita & David have an organization, Waters Edge Ministries, through which all of us can contribute to educating the children of Ghana.
Waters Edge Ministries works in cooperation with Save All Souls Foundation, an organization in Tema, Ghana, that helps provide uniforms and school supplies for children in and around Tema.
Donations may be sent via PayPal
To
weministry@gmail.com
or directly to
Anita Tarlton
Anita's e-mail is: silver829@gmail.com - write her for a mailing address.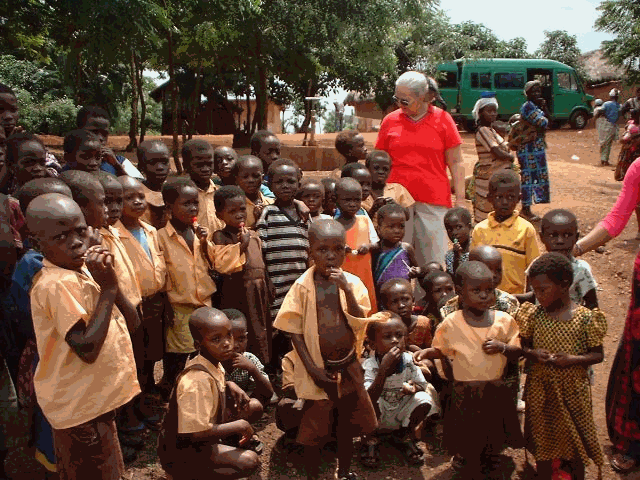 Anita with the children of Potwabin, Ghana
SWAZILAND, AFRICA
David Waters, Sr. – Anita Tarlton's Husband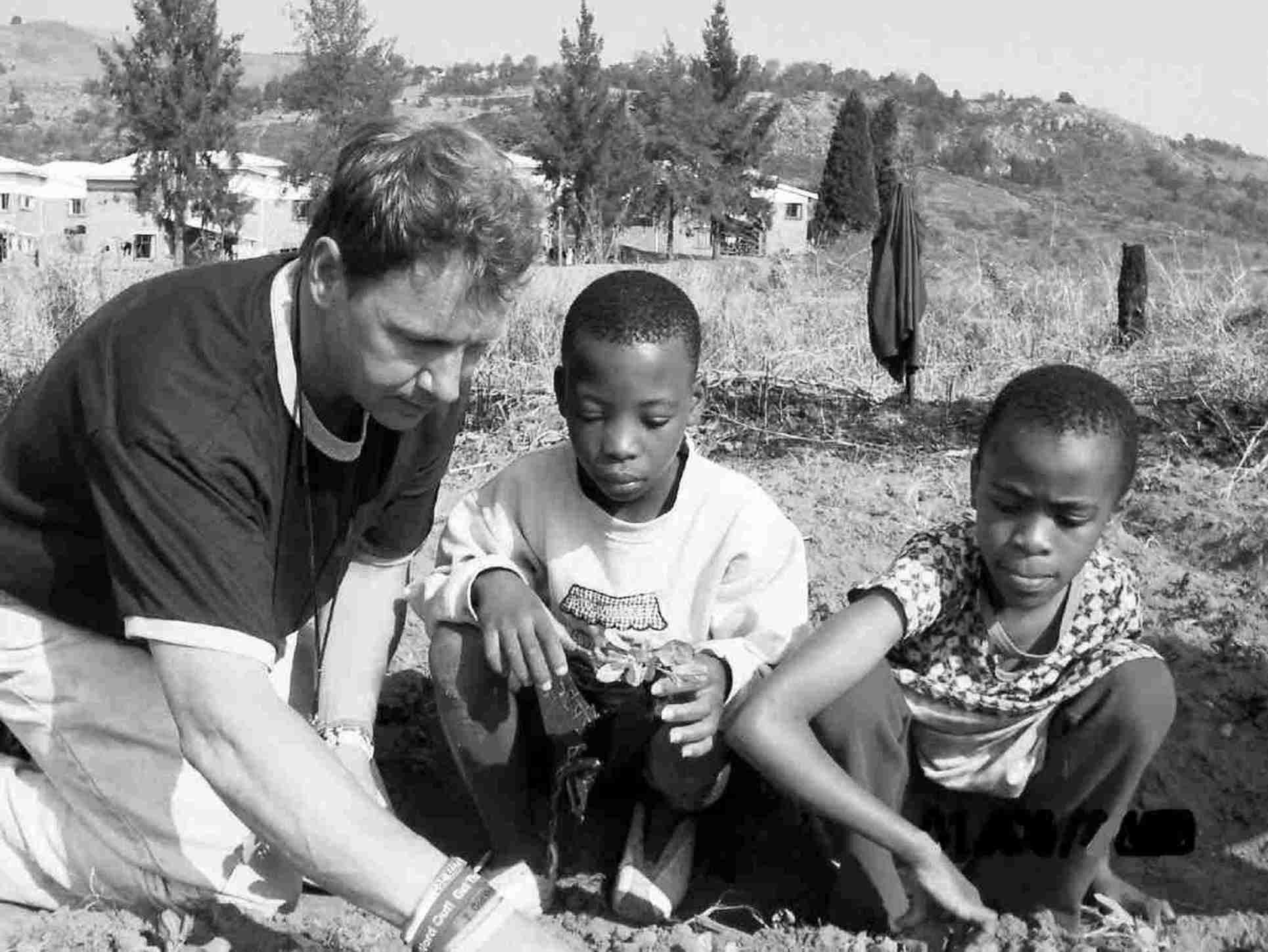 David and children planting a vegetable garden
Swaziland is the country with the highest occurrence of AIDS/HIV in the world. One in three people there are infected. Many children are orphans because their parents have died of the disease. There are households headed by children as young as 6 yrs. old.
The mission trip on which David worked was called "Dream for Africa." The mission team planted gardens and worked at orphanages. The gardens were full of vegetables like spinach, beets, and cabbage—foods rich in vitamins that help fight the HIV virus. David spent most his time in Swaziland at the SOS orphanage in Mbabane.
All Because of Grace
Anita Tarlton
Copyright 2005
The early morning was already hot as we bounced along the dirt road in the van, dust clouds leaving a billowing red haze in our wake. It was our last day of work on this mission trip to Ghana, West Africa, in 2002. We'd spent the previous two weeks holding Bible School sessions in several villages in and around Tema, and we were all tired. The purpose of our visit to the village of Potwabin was to establish a relationship with the chiefs and elders so that our host church, Christ Harvests the Nations Ministry, could begin a feeding program for the school children there.
The villagers gathered under the shade of a large tree in the center of the village, as we Americans and our Ghanaian hosts exchanged greetings with the town's chiefs and elders. Most of the conversation was in their native language of Twi, and we relied heavily on our translators to carry on our conversation. The chiefs and elders were excited and grateful that our ministry wanted to establish this relationship. But I felt troubled when they began asking if we could help them get electricity in their village. Even Paul Dickens Doe, my Ghanaian pastor, seemed dismayed by their request. After all, we were not miracle workers; how could we provide them with electricity? We simply wanted to help feed their children.
When our initial meeting was over, we began to walk through the village. I gazed at the crowd of men, women, and children surrounding our group. It was then that I saw her. She stood apart from the other children, watching us as we walked through the dusty paths in her village of Potwabin. Her eyes never left us; they were deep pools of brown that locked into mine. I guessed that she was about eight years old.
It was a couple of days after I returned to the USA that I realized I didn't know her name. Her eyes had never left mine, yet I had not asked her name. I thought of her often throughout the year, wondering how she was.
I was thrilled to learn that I could go back to Ghana the next summer, and even more delighted to discover we'd return to Potwabin during the trip. While the team's main purpose in the visit was to bring food and clothing to the children and more firmly establish ties between the church and the village, my main purpose was to find out that little girl's name. We drove as close as we could, but had to leave the van and walk the last half-mile because springtime rains had washed out the road. As we approached the town, I saw children clustered on benches beneath a make-shift palm branch shelter that served as their schoolroom. I scanned the crowd of children until I found her.
She was easy to spot. When I knelt by her and asked, "Ye fro we sen?" (What is your name?), her eyes sparkled and then her hands fluttered to her face as a reflex. She replied, "Ye fre me Grace." (They call me Grace.)
You see, Grace was born with a cleft palate. Her nose and mouth combine to create a hole in her face. I wondered how on earth she'd survived, how she'd learned to eat, how she's learned to talk. How she had learned to cope with being "different."
Grace. Her name was Grace.
Grace and I held hands as we walked through her village. We ambled past mud huts topped with palm leaf roofs, and past the goats grazing in the sunshine. We walked among the mothers, fathers, sisters, and brothers who were going through their daily routines in the hot sweltering sunshine of an African midday. I wondered how much—if any—these routines had changed in the past hundred years in this village that had no electricity, running water, or automobiles. I felt both honored and humbled to be guided through this village by this precious little girl named Grace.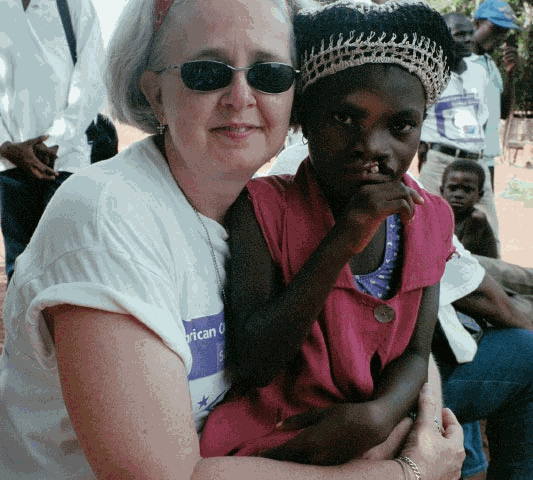 Grace before the surgery
As custom demanded, we sat and visited with the town's chief and elders. Grace sat in my lap, clutching my hand. Her eyes sparkled and smiled into mine. When it was time for us to leave, I felt that all-too-familiar ache in the back of my throat as my eyes stung with tears that blurred my vision. Grace walked with me back to our van, squeezing my hand along the way. I slipped a little money into her hand, instructing her to give it to her mother. As we drove away in the dust, I watched her waving at me until I could no longer see her.
Then I began to wonder. I wondered why I felt so overwhelmed at times. I wondered why God took me to these places and connected me with people the way He did. I knew He was, and is, ultimately in control, and has a plan; yet, still I wondered. I wondered if Grace knew I cared about her. I wondered if Grace knew I had seen her in my thoughts hundreds of times. I wondered if Grace knew that I prayed for her every single night.
Grace. Her name was Grace. What an appropriate name for this precious little girl.
Again, after I returned to my home in North Carolina, I couldn't get Grace off my mind. I felt the need to try to get some help for Grace. I sent her story and photograph to many people and organizations, asking for help. Eventually, after over a year of trying, I received an e-mail from a lady at Operation Blessing. She asked if I could help her to get in contact with Grace; they had a doctor in Ghana that could help her! Praise God!
A quick telephone call overseas to Pastor Doe connected him with the doctor. Within a few weeks, a team of people from Operation Blessing arrived in Potwabin to visit Grace and her village. Grace accompanied them back to Tema where she was further examined. Then, in March 2005, she underwent surgery to repair her face.
But that is not the end of the story. God had a lot more to teach me about His Grace! During the visit, the Operation Blessing team noticed there was no running water in the village. Another part of their ministry efforts included digging wells to provide water. So through God's grace, and because of a little girl named Grace, the village now has a well with clean running water!
I returned to Ghana again in the summer of 2005. Grace joined our team shortly after we arrived. She spoke very little English, and I spoke even less Twi, but we learned that smiles and hugs translated very easily. Her cute, mischievous personality endeared her to everyone on our team. She loved to draw and paint, and she created many pictures for us as we ministered to her country.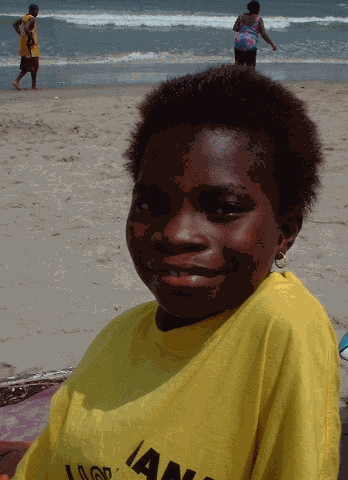 Grace after the surgery
On my last day in Ghana, Grace, my friend Richard, and I went out to eat. She and I shared a plate of rice, chicken, and salad. I'd given her most of the chicken and half of the rice, and was about to divide the salad with her when she said, "Dabi!" Now, "dabi" means "no" in Twi. She said something else to Richard in Twi, he laughed and told me that Grace said that the leaves (salad) were goat food, and she did not eat goat food. I looked at her very seriously, and replied, "Baaaaaaaahhh," in my best goat imitation. She laughed musically, exposing her new bright shine, and I giggled in response. Then I was completely moved to humble adoration of God's plan and purpose for me here.
Later that same day, I started making my preparations to leave Ghana. I get very emotional upon leaving, and the tears were ever-present in my eyes. I took my shower, washed my hair, and put on my "traveling clothes." Then I sat down on the bed and began combing out my hair.
My hair is long, so I usually comb it "upside down" first by putting my head down and combing through to get the tangles out. As I sat on the bed, head between my knees, with my hair all stringy wet, I felt the hot sting of tears prickle in my eyes. I clamped them tightly shut to keep the tears from falling.
Then …. I heard a soft giggle.
I opened my eyes … and looked directly into the face of Grace. She was lying on the floor, letting the water from my hair "rain" down onto her face. It was so comical, I had to giggle back! I gave the comb and she then carefully combed my hair for me. It was a sweet girl-bonding moment that will always be in my heart.
I've been asked to relate the best memories I have from this past year's visit to Ghana. One has to be the image of Grace at the beach, sipping a Coca-Cola with a straw. Just a few months ago, that was an impossible task for her; that cleft palate prohibited her from drinking with a straw at all.
Oh, and one more memory stands out to me. Earlier in our visit, we'd gone to Potwabin to pick Grace up and visit with the people. As we walked through the village, I began to notice that each hut had chalk lettering by the door frame. When I asked Pastor Doe what that meant, he grinned broadly at me. Since the town now has running water, he explained, the government has decided to provide them with electricity!!!!
God's grace is sufficient. He provides all we need. I am so thankful for my friend Grace. And I am very thankful that God has used her in my life to show me that there is no task so large that He can't do it. He can even provide electricity to a remote African village, through Grace!
HONDURAS, CENTRAL AMERICA
Nancy Lee Brooks Detweiler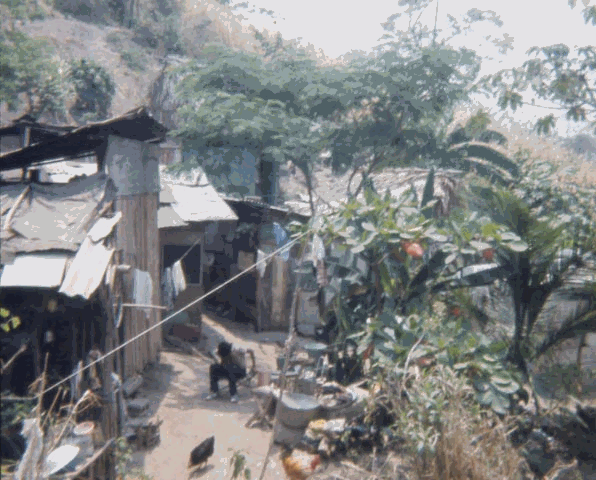 Cluster of shacks on the hillside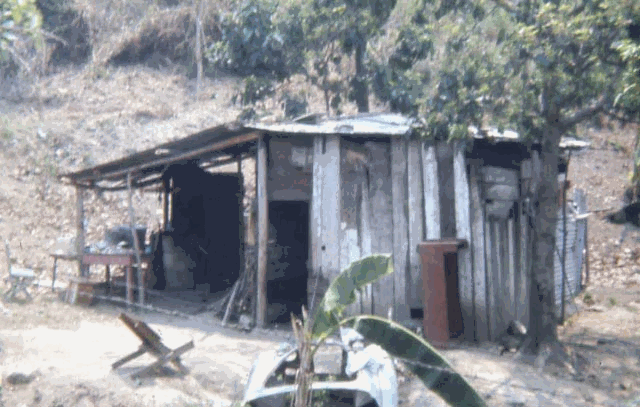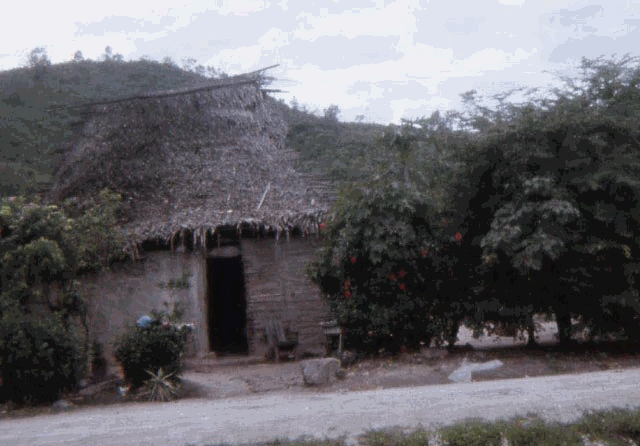 A family with several children may be living in the shack and in the thatch house.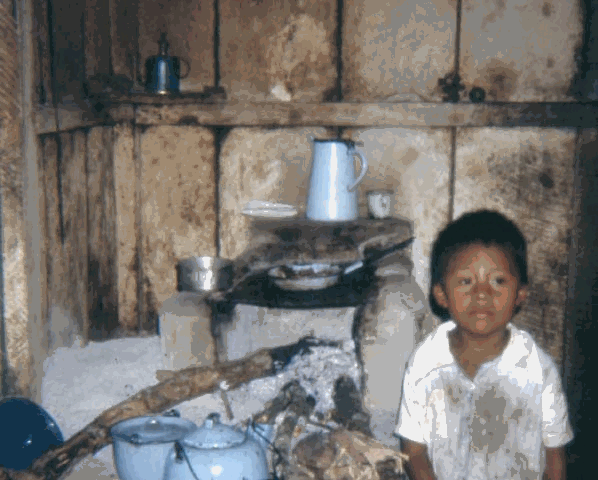 Indoor cooking stove Women carrying water and wood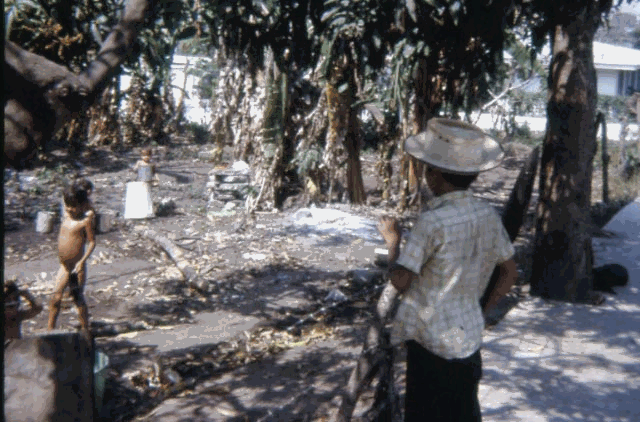 Before it was outlawed, families would squat on any land they could find.
Note the contrast in the photo between the extreme poor and fairly affluent.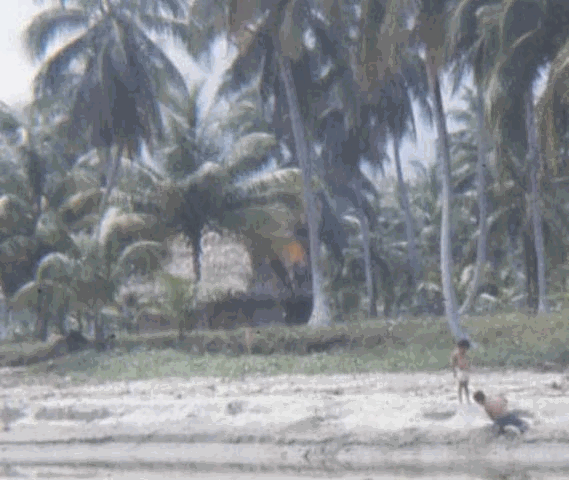 Thatch house on the beach & children
who live there.
EDUCATION IS KEY TO OVERCOMING POVERTY.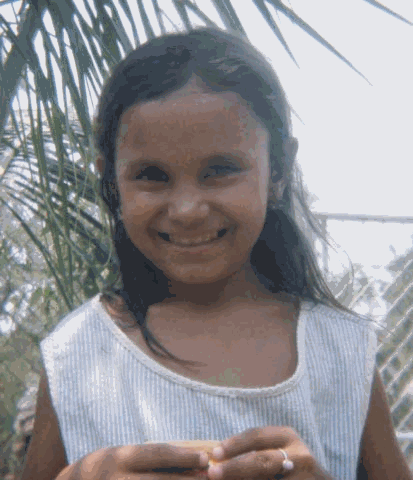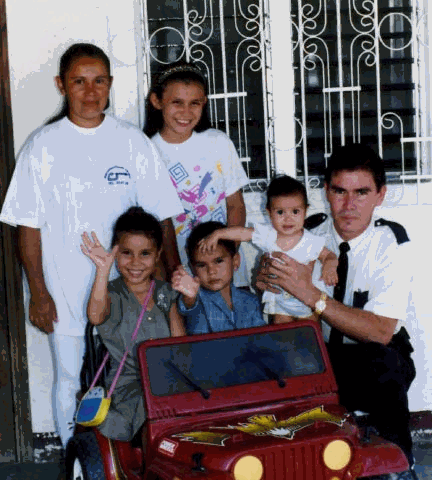 Soledad – age 8 Soledad's family & home
I found Soledad while accompanying my missionary nurse friend (Barbara Nowell) on a house call in San Pedro Sula, Honduras. Soledad and her 6 siblings were living with their parents in a wooden shack very similar to the one above. Soledad had attended school for 2 to 3 years, but had to drop out because she did not have the money to buy paper and pencils. On a previous occasion, Barbara arrived at the home to find Soledad teaching her siblings to read.
Just as Julia and I had a soul connection, so did Soledad and I. Soledad knew that somehow I held the key to her future. She followed me as often as possible and stood at the gate to the mission house each morning waiting for us to come outside. Soledad did not need to come to the States, as Julia did. Both of her parents were alive and caring for her the best they could. I adopted Soledad as my foster daughter and sent her to the public elementary school, then to the Catholic High School. She graduated in clerical studies.
In high school, Soledad met a fine young man to whom she became engaged. He was killed in a car accident. A few years later, she met Melvin and married him. With an education, Soledad and Melvin moved up the economic ladder to the point of winning their home in a lottery, purchasing a car, and providing well for their four children. Then Melvin was robbed and murdered on his way home from work as a Security Guard at the local bank. Life has been a struggle for Soledad and her children ever since. Happily, her oldest daughter is now in college and working. Soledad and her family will make it.
EDUCATION IS THE KEY TO OVERCOMING POVERTY.
Gaining an education placed Soledad within a higher economic group and allowed her to have opportunities she could not otherwise have. She gained knowledge that served her well in finding ways to educate her children. Although she has needed financial help periodically, she will never again have to live in a shack. Thanks to contributions from Julia and some of my friends, Soledad continues in her quest for a good life for her children.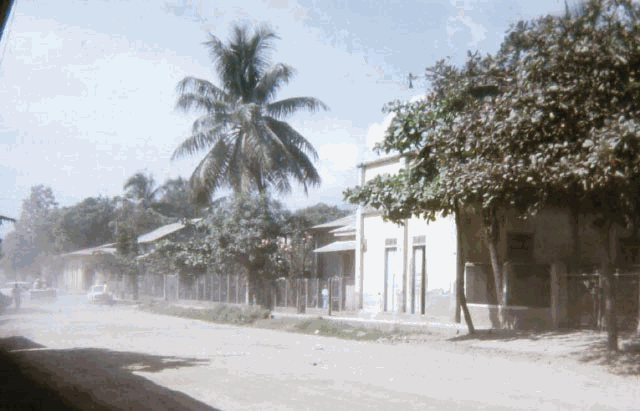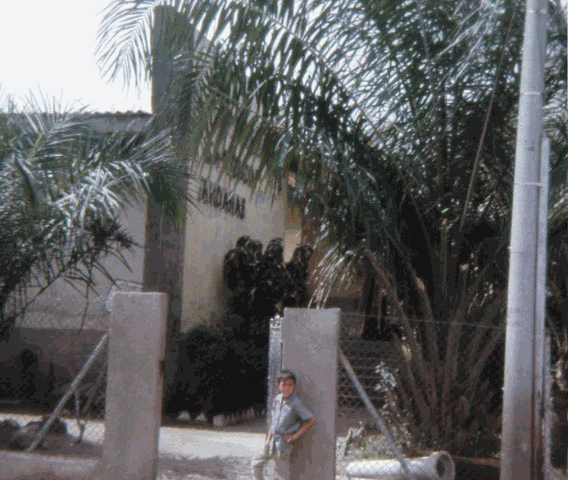 Julia & her family lived in the 2nd The public elementary school Julia
house when I first met her. attended in San Pedro Sula, Honduras.
Comparatively speaking, Julia's family would be considered working class. She lived with her maternal grandmother, aunt & uncle, sister, and two cousins. Her grand-
mother and aunt took in washing, her sister worked in the banana factory, and her uncle worked in a bakery. By the time of our 3rd return visit to Honduras, her family had moved to a larger home. We spent a week with Julia's family, rather than staying in a hotel. My missionary friends had been transferred to Tegucigalpa, the capital city of Honduras.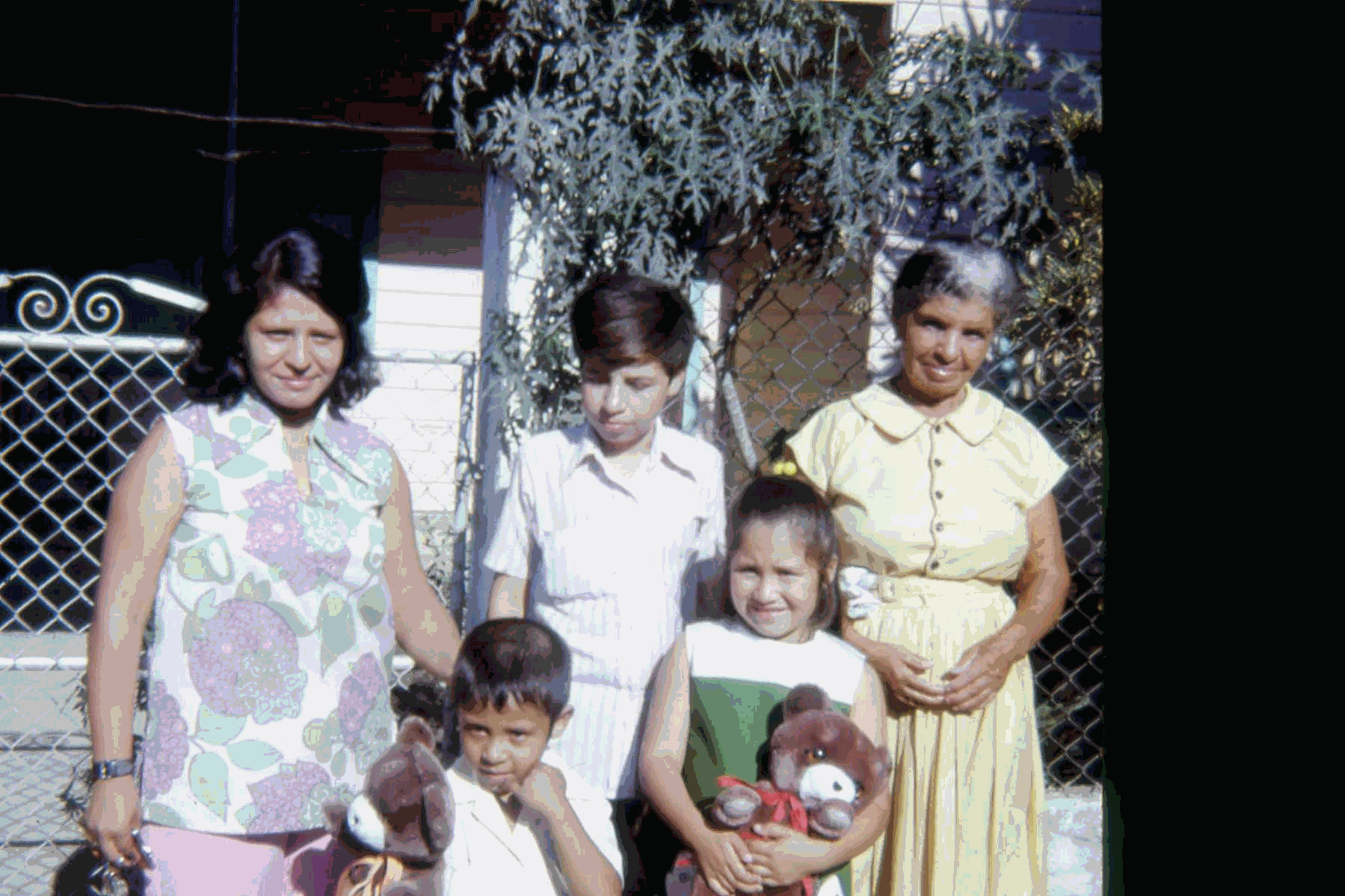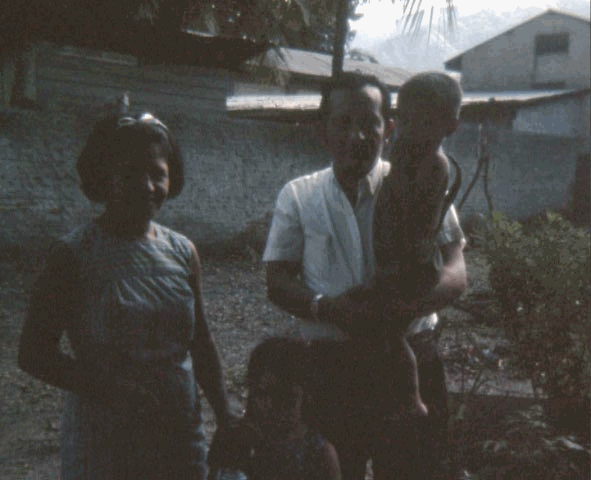 Julia's aunt, three cousins, & grandmother Julia's aunt & uncle, 2 cousins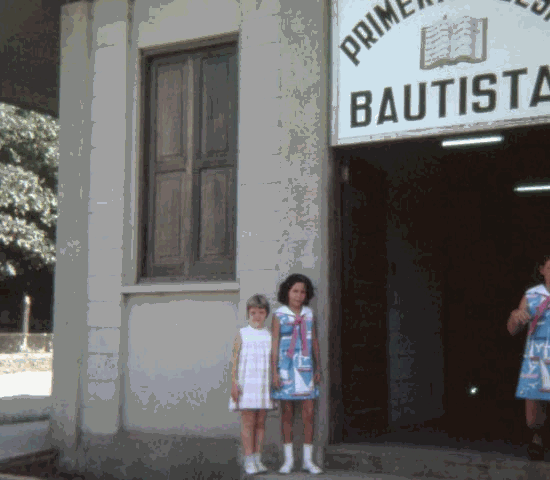 Brenda Nowell, Julia, & Carolyn Nowell
The church where Julia and her grandmother were attending, pastored by my missionary friends, The Rev. Grady & Barbara Nowell.
EDUCATION IS THE KEY TO OVERCOMING POVERTY.
Julia came to the States with me. She earned her Bachelor's degree from Guilford College in Greensboro, N.C., her Master's degree in Economics/International Development at George Washington University in Washington, D.C., and her Master's degree in Library Science from the University of Maryland. She is now in charge of training the research librarians for the international branches of World Bank, based in Washington, D.C. Her latest venture is a seminar for top level personnel in D.C. to learn more about the varieties of slave trafficking taking place all over the world.
HONDURAS/ CUBA/DOMINICA
Dr. William Ashley Caudle & his wife, Suzanne, participated in several mission trips to Honduras, Cuba, and Dominica to help build churches. Ashley also gifted needy families with a goat. Ashley & Suzanne traveled with the North Carolina Baptist Men's organization.
MEXICO
Joyce Elaine Brooks McCollum
Joyce started her international experience by first going to Mexico in 2000 with a missions team from Riverside Baptist Church in Denver, Colorado. She used her skills in Teaching English as a Second Language to run an English camp for all ages. She also participated in Vacation Bible School for kids. Most of the people in Playa del Carmon live in poverty and drug infested neighborhoods.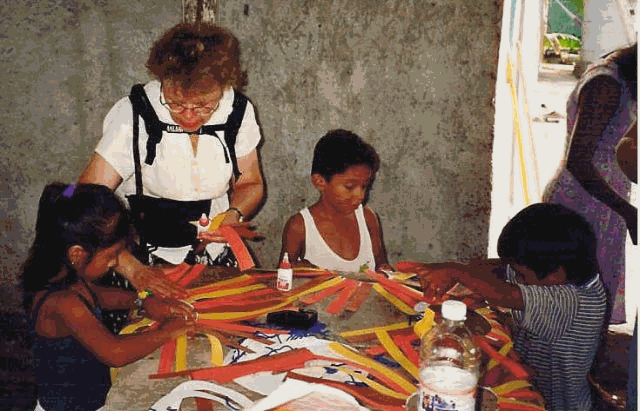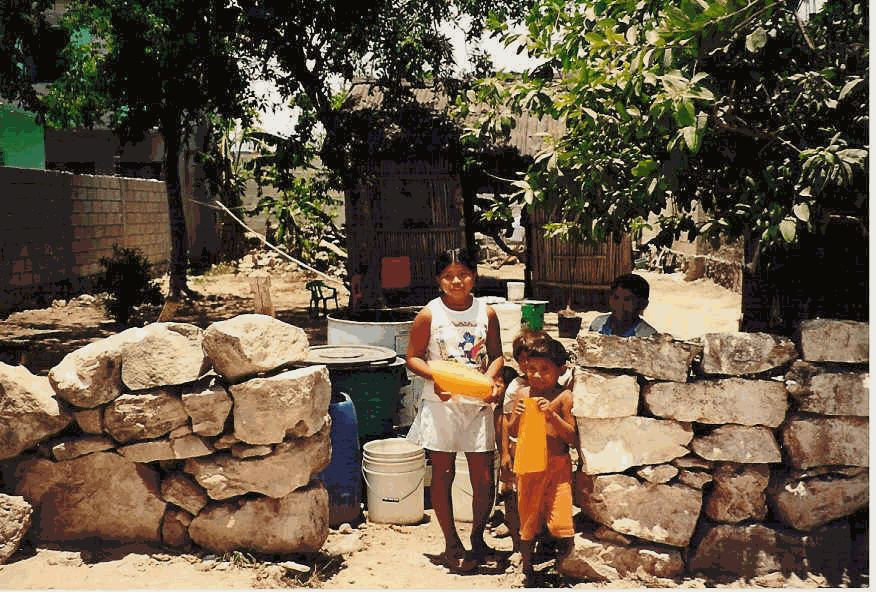 Slums in Mexico Crafts with Children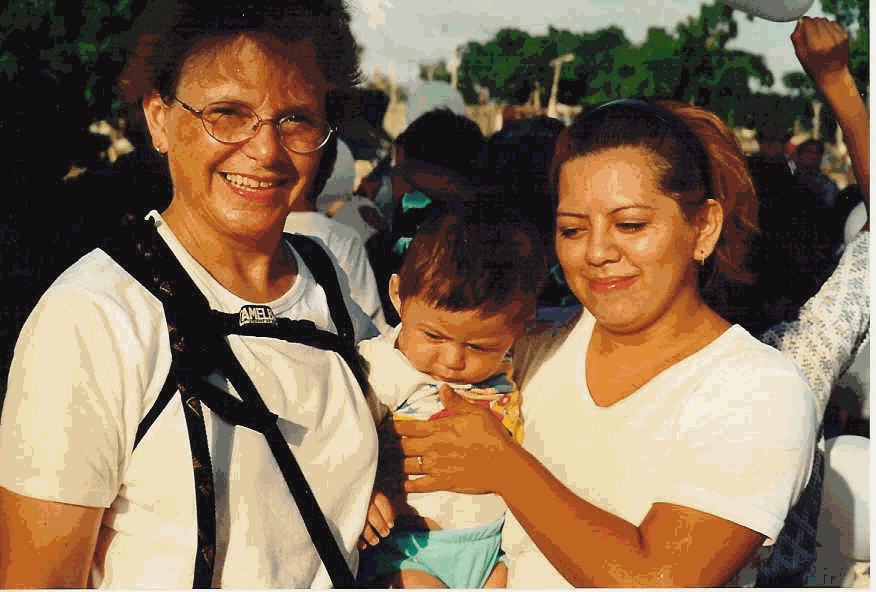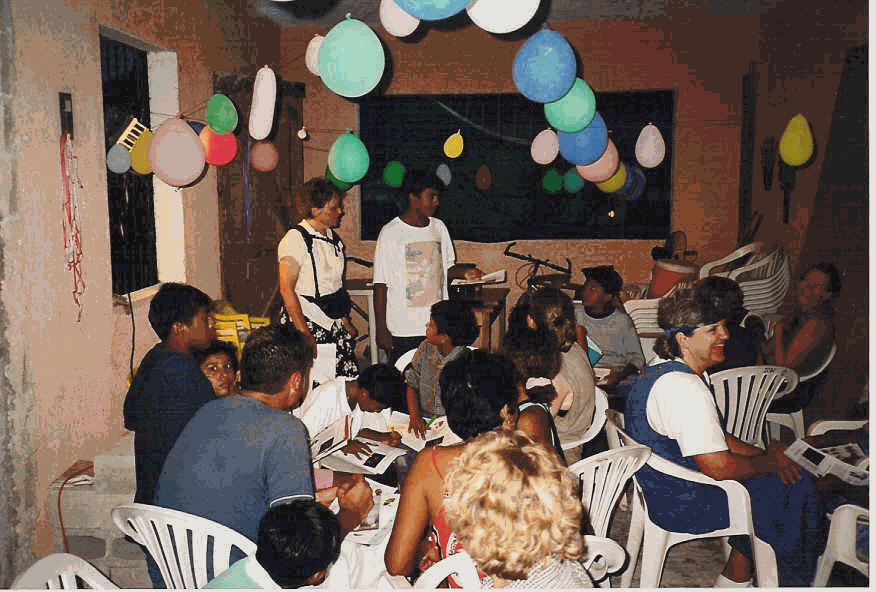 English Classroom A new believer – the fruit of ministry!
Joyce designed English lessons that focused on threshold English learning (numbers, body parts, etc.) which included practice activities, a Bible story, and a testimony of one of the team members. Following one lesson, Joyce gave her testimony through an interpreter and the lady pictured here gave her life to the Lord. This lady is also a single mom and was greatly encouraged by Joyce's testimony of God's faithfulness.
VENEZUELA
Michelle McCollum & Paul Mielke
Paul and Michelle met on a mission trip to Caracas, Venezuela in June 1994. They made at least one more mission trip together—to Venezuela—before their marriage. One of their assignments was to build latrines for the people.