THE CAUDLES OF ANSON COUNTY, NORTH CAROLINA
Nancy Lee Brooks Detweiler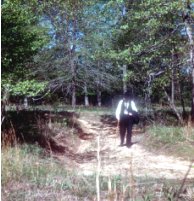 JAMES CARSON CAUDLE
Walking his land along Swanís Branch
Meaning of the surname CAUDLE:
A
Cold Spring or Stream
Letís Walk Along the Stream
Letís take that walk along
The stream of life Ö
Letís stop and look and learn Ö
Our fingers dipping in the water Ö
To retrieve bits of time gone by.
Letís meet the family weíve never met,
Look into their faces Ö
Letís learn of hardships borne and conquered,
Our Grandparents, Aunts, and Cousins.
Letís walk along the widening stream,
Until we come to now Ö
Letís get to know the ones weíve known,
And feel the pride of how weíve grown.
© 2007 Evelyn Smith