MY THANKS TO:

VIDYA ISHAYA Several years ago, Vidya agreed to serve as webmaster for my Bridging the Gap Ministries Internet Church website. After working with him, I now believe that webmasters must be "part saint." The myriad details of constructing and maintaining a site for someone other than self, coping with the unique desires of the customer, and performing these tasks with grace and patience surely fulfill the qualifications for the honor of being "part saint."

Now, in 2006, Vidya has once more agreed to be my webmaster for Pathway to Ascension. He has graciously worked to re-construct my former site and make numerous changes. It is comforting to know that I can depend upon him to maintain my site in good working order and that whatever task I find for him, he is ready and willing to perform.

Thank you, Vidya!

Vidya invites you to visit www.webwisesage.com.

ALLEN BROOKS

My brother, Allen, is the original creator of this website. I have sought to honor the artistic, gentle spirit, with which Allen works, by retaining the background structure of this site. He is an artist at heart.

Thank you, Allen!

BILLIE WILLS

My soul sister, Billie, painted the bridge that I use for the symbol of my Bridging the Gap Ministries, for my Pathway to Ascension website, and on the cover of my 1st book. She intuitively communicated with my soul as she depicted the exact theme I had in mind: treading the path of life from the shadows of darkness into the creative energies of Light.

Thank you, Billie!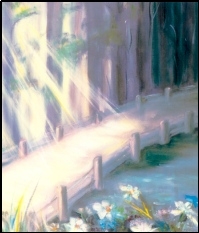 http://pavisnet.com/billiewills

BOB KEETON

My friend, Bob, who gave my segment on integrating a knowledge of reincarnation into an understanding of our own lives—SOUL TALK—its first opportunity to be heard by the general public via airing it on his radio talk show, "Living Successfully."

Thank you, Bob!

http://www.livingsuccessfully.com

DEBORAH SMITH

My soul sister, Deborah, for her loving presence with me. Together, we have shared many adventures.

Thank you, Deborah!

http://www.mindingyourlife.com