Kucinich Re-introduces Dept. of Peace Bill with 62 Co-sponsors
Representative Kucinich has re-introduced this bill each year; however, it has never been allowed outside Committee.

Congressman Dennis Kucinich (D-OH) re-introduced legislation that would authorize a Cabinet-level Department of Peace.
"It is well known that in times of economic difficulty violence increases. When relationships are strained by economic hardship, domestic violence, violent robbery and abuse of children and animals all increase. When the world is facing possibly the largest economic downturn since the Great Depression, now is not the time to ignore social issues and interpersonal relationships. Now is the time to pay special attention to make sure that our relations and health do not suffer along with our pocket books," stated Kucinich.
The Cabinet-level Department authorized in the legislation embodies a broad-based approach to peaceful, non-violent conflict resolution at both domestic and international levels. The Department of Peace would serve to promote non-violence as an organizing principle in our society, and help to create the conditions for a more peaceful world.
"Peace is a foundational principle of this Congress and of this country. This bill gives it a chance to have an animating power in our civic life by addressing the issues of domestic violence, spousal abuse, child abuse, violence in the schools and racial violence," added Kucinich.
******************
Lightworkers, I call to you to support this legislation - House Bill 808 - by writing or calling your House Representative and Senators.
Kucinich originally introduced this bill on 7/11/2001 ... exactly three months before 9/11. He has re-introducted this bill each year since; however, it has never been brought to the House floor for a vote.
We, Americans, must take a powerful stand for peace. The entire fabric of our society has been ripped asunder by violence everywhere we look. To stand silent and idle is no longer an option.
*******************
In addition to contacting your Representative and Senators, I call to you to get involved with the Peace Alliance campaign for the Dept. of Peace.
It is up to "we the people" to transform our world!

DENNIS KUCINICH
The One True Voice for We, the People
A MISSED OPPORTUNITY – WILL WE HAVE ANOTHER?
Nancy, with Twin Flame Uriel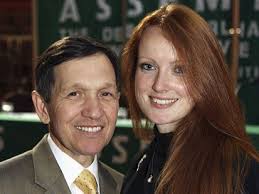 Dennis & Elizabeth Kucinich
Will Americans ever learn to think independently, regardless of what the tightly controlled mainstream media reports? Although Dennis did not marry Elizabeth until 2005, let's look at the opportunity Americans sacrificed and hopefully learn from our mistakes.
Today, 2015, Americans are waking up and beginning to demand our governmental leaders truly represent the people and their needs. But will we recognize them when they appear before us? Have we learned to select leaders who care about the people?
In an effort to learn how to discern capable, caring leaders, let us look at the opportunity we allowed to pass us by. The need for political parties is not mentioned in the Constitution of the American Republic, so let's set aside any consideration of political party affiliation.