THE CAUDLES OF ANSON COUNTY, NORTH CAROLINA
Contributions of photos of downtown Peachland & Polkton in the late 1800s to first half of the 1900s are most welcome. I am especially interested in a photo of the old hotel, Griffin's Drug Store, and the inside of a general store with men sitting around the pot-bellied stove. Click on "Contact Nancy" to e-mail them to me.
CHAPTER 3
WELCOME TO PEACHLAND/ POLKTON, NORTH CAROLINA
The Focal Point for the Caudles of Anson County History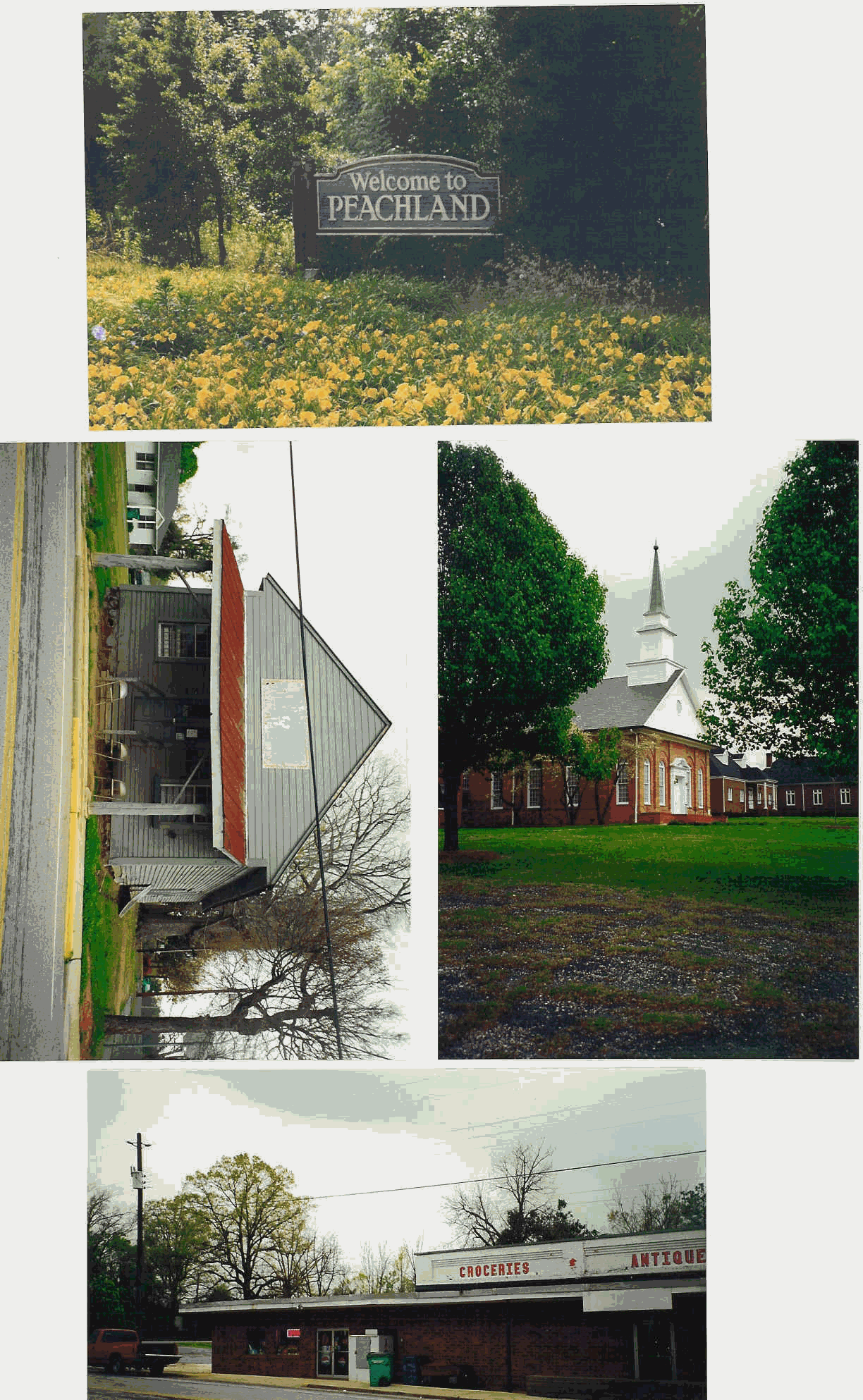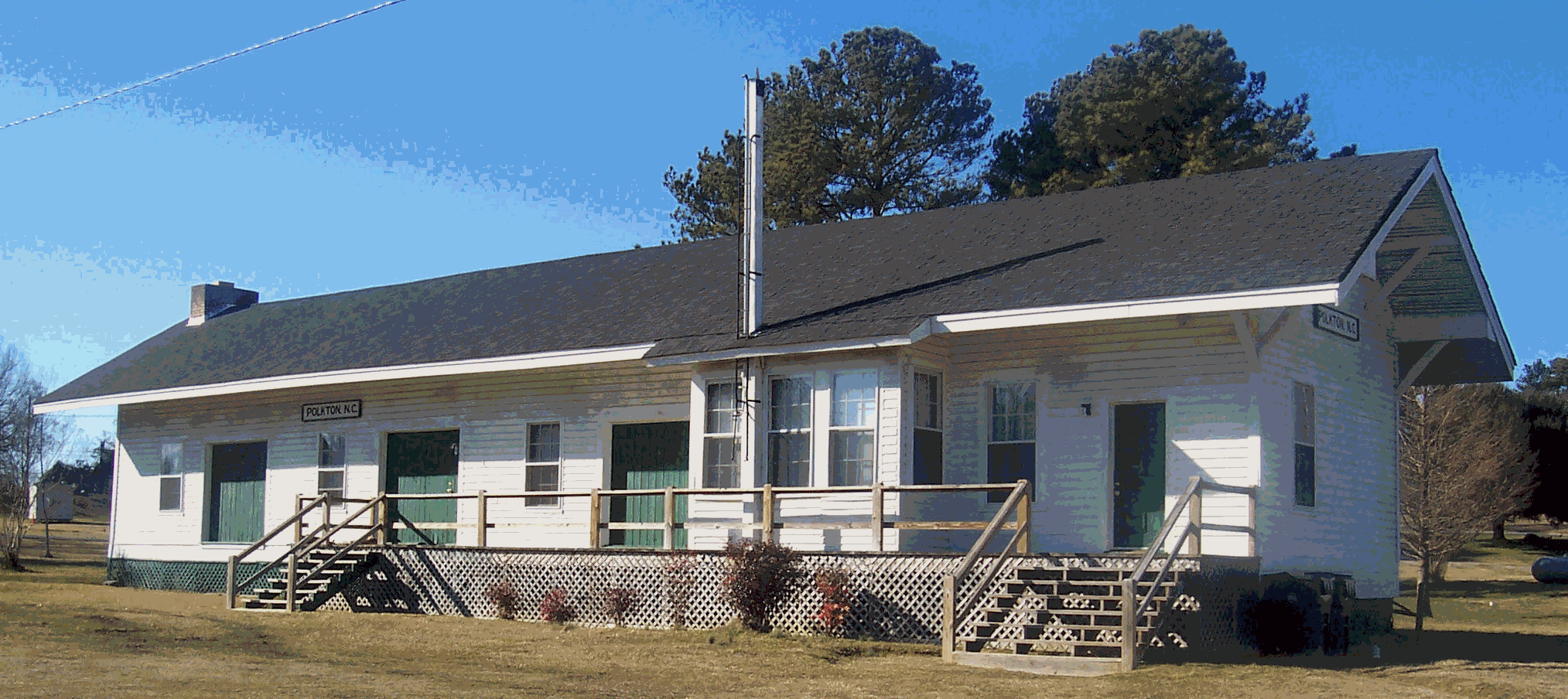 Old train depot at Polkton – now restored

Following the devastation of the Civil War, Anson County chose to focus on building a railroad as opposed to reconstructing the plank roads that required constant repairs. By 1874, the Carolina Central wove its way through Polkton/Peachland side-by-side with what is now Highway #74.

Polkton was incorporated in 1875 and named for its very productive citizen, Leonidas Lafayette Polk. L.L. Polk served as Commander in the 81st N.C. Militia during the Civil War, assisted in the formation of North Carolina State University and Meredith College, served in the N.C. House of Commons, and as President of the N.C. Baptist Convention. His major interest was the farmers. He served as the 1st Commissioner of the new N.C. State Department of Agriculture, aided in the formation of farmers' clubs, became full-time president of the National Farmers' Alliance & Industrial Union. He traveled and spoke on a nation-wide level. As a former journalist for the Raleigh Times, he founded the Progressive Farmer. Polk was inducted into the N.C. Agricultural Hall of Fame. Source: History of Anson County, N.C., Medley

2/27/1895 issue of Plow Boy – "The Peachlandites are getting up a petition to have the town of Peachland incorporated."

Peachland was originally called Mulcahy. In 1888, the name was changed to Peachland for Pad Gray's peach orchards and incorporated in 1895. The citizens of Peachland were served by an innovative physician, Dr. Parks Turner Beeman, who is known for successfully feeding his fever patients. Today, this sounds like common sense, but in Dr. Beeman's day most physicians chose to starve them. Bleeding the patient was another accepted treatment. Dr. Beeman's patients most frequently got well; those patients who were starved or bled often died. Dr. Beeman made sure his technique for healing was recorded in medical history by placing on his tombstone "I Fed Fever."

Source: www.ansoncounty.org

Prior to the Civil War, the area now comprising Polkton and Peachland (Lanesboro township) was populated by large cotton plantations and farmers. Its citizens tended to be at least moderately affluent.

PEACHLAND TOWN IN 1930

As seen through the 1930 U.S. Federal Census

We can reconstruct the town of Peachland as it was in 1930. Using the 1930 Census Report, we learn of each Head of Household and their occupation. It takes only a little imagination to envision the thriving community of downtown Peachland nestled amidst the well-tended farms of Anson County.

Census reports were hand-written. At times they are difficult to read and misspelling occurs.

Names are listed as accurately as possible.

M.P. Redfern – Grocery Store Merchant

Walter Thomas Tice – Physician

Marcus W. Lee – Water Truck Ferryman

S. Traywick – widow

John W. Mercer – Railroad Locomotive Engineer

Edgar M. Brooks – Pastor of Church [Peachland Baptist Church]

Glen A. Little – Bridge Foreman

Ann Thomas – widow

Edwin J. Thomas – Mill Machinist

William P. Horne – House Carpenter

George W. Bowers – Saw Mill Laborer

Ernest T. Horne – Blacksmith

Atlas D. Griffin – Post Master

John P. Griffin (Atlas' son) – Drug Store Merchant

Henry M. Baucoms – Grocery Store Merchant

Phoeniza Brittain (male) – Pastor of Church

Charlie C. Lowery – Department Store Salesman

A.N. Petteway (female) – Pediatric Nurse

Elie Sinclair – Bridge Foreman

Wilton Kiker – Garage Mechanic

Willie Kiker – Lumber Plant Machinist

Fannie S. Duncan – widow

F.D. Walters – Lumber Plant Laborer

John H. Thomas – Dry Goods Store Merchant

Elizabeth Bayette – widow
Jim K. Bayette (Elizabeth's brother) – Lumber Plant Bookkeeper
Baxter McRae (Boarder) – Sign Painter
Arthur Johnson – no occupation listed
Joseph P. Thomas – Dry Goods Store Merchant
William Broom - General Farming
W.T. Newell – Mail Carrier
Fleur F. Brodway – widow
Thomas J. Diggs – Railroad Operator
Troy Sinclair – House Carpenter
Sampson I. Mullis – Lumber Plant
Frank M. Billingsley – Dry Goods Store Salesman
Charley F. Ballard – Bridge Contractor
James T. Brett – Bank Cashier
Clarence Davis – Railroad Operator
Willis Ruskin – Teamster Hauling
Mary Hutcheson – widow
Howard E. Deese – Lumber Plant Fireman
Charley S. Redfern – retired
Colen Biddell – retired
Bastow Allen – General Farming
George Birmingham – House Carpenter
Claude Gaines (Boarder) – House Carpenter
C. Sheppard – House Carpenter
Young H. Allen – General Farming
James T. Baucom – Lumber Plant Machinist
Joe B. Redfern – Telephone Line Builder
Jack S. Bivens – Grocery Store Merchant
Marcus B. Prince – Pastor of Church
James B. Wingard – Filling Station Salesman
Ollie Mae Duncan – widow
William Baucom – Lumber Plant
Hampton C. Walters – Plane Siler Machinist
Thomas R. Alton – Family Grocery Merchant
Cleo E. Horne – widow
While most of the Caudles lived on their farms in the Lanesboro district, the villages of Peachland and Polkton were gathering places where they could take care of business, shop, and stay current with the news. The loss by fire of Griffin's Drug Store was of particular sadness. There neighbors and young people could sit around small tables, drink a coke and chat. General stores (or "country stores" as we call them today) carried a variety of treasures from food … to chicken feed … to bolts of material for clothing … to hammers and nails. Some were heated by pot-bellied stoves around which stood several straight back chairs. This section was the political/religious stage where men came to discuss the affairs of the world. People took time to talk with each other … to sit around the fire … to know each other.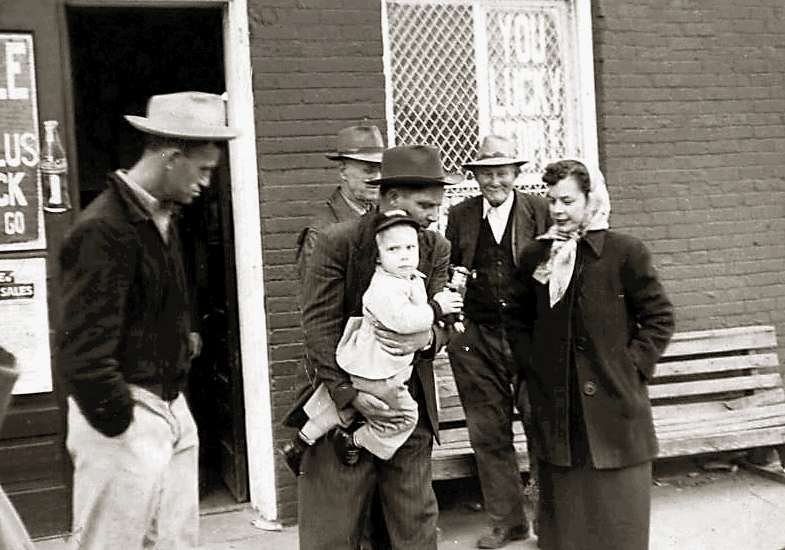 Benches along the walkway in downtown Peachland provided more space for chatting with friends and neighbors.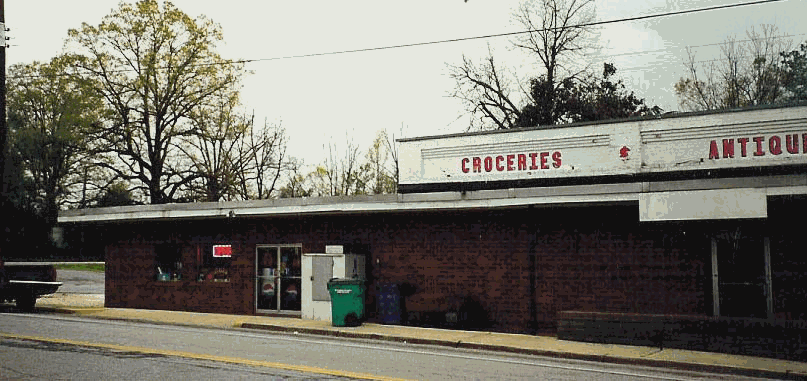 Peachland Grocery Store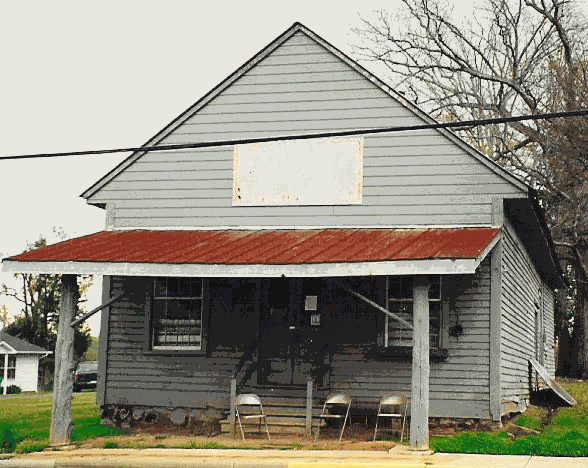 Old Press Thomas Store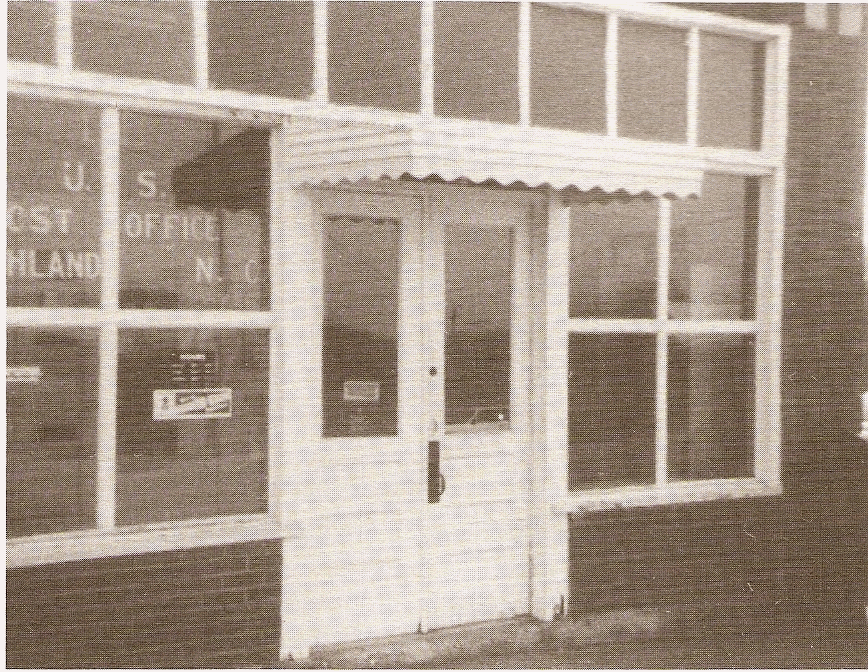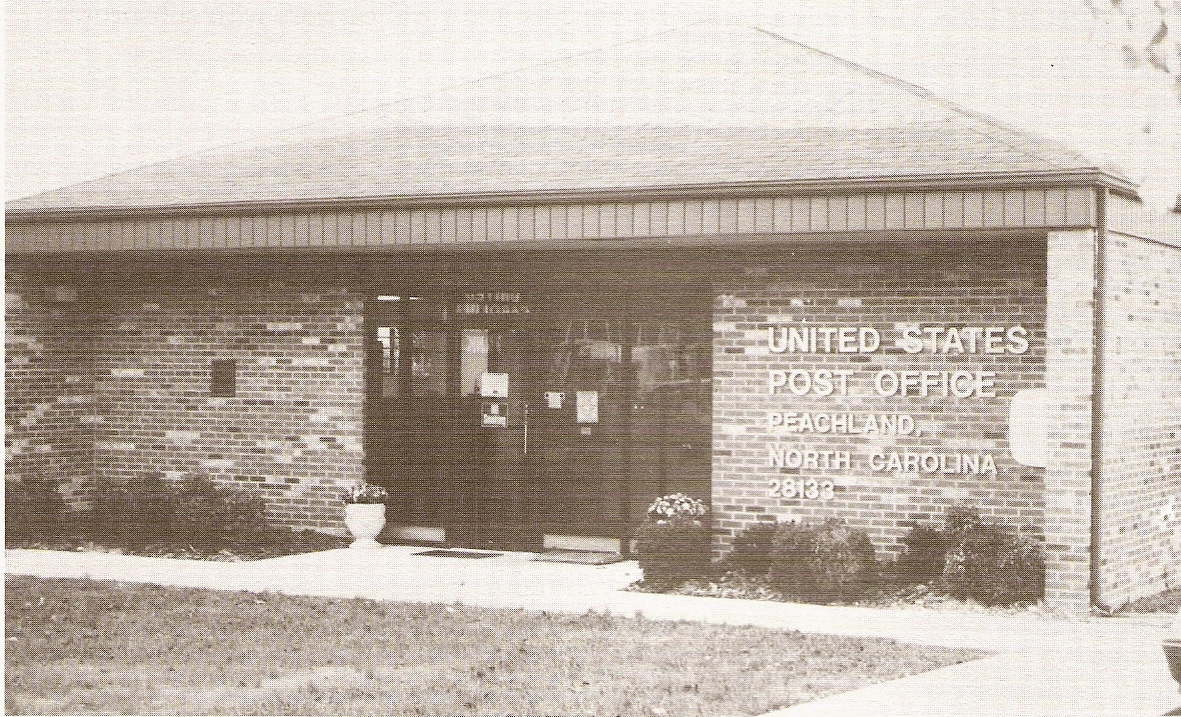 Old Post Office New Post Office
Photos of old and new post offices taken from History of Peachland, N.C.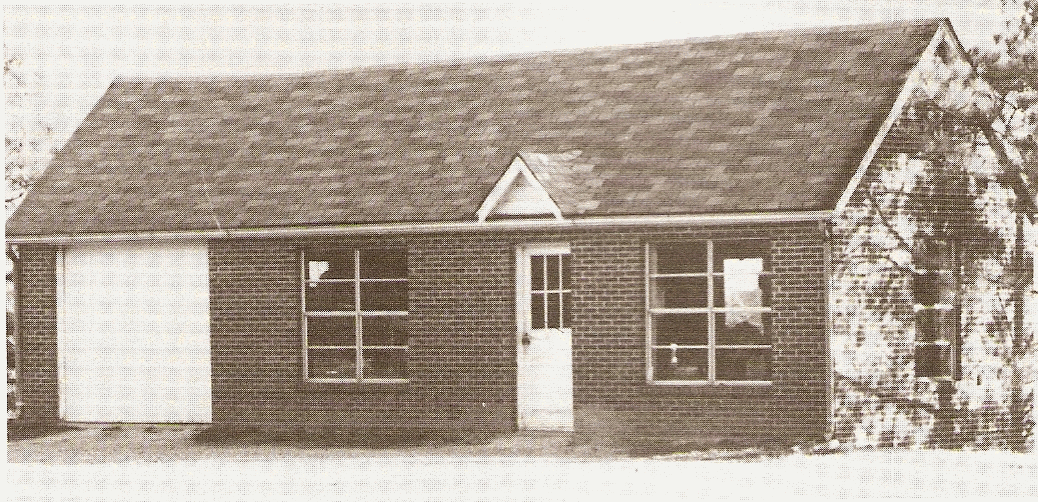 Brown's Garage
Photo taken from History of Peachland, N.C.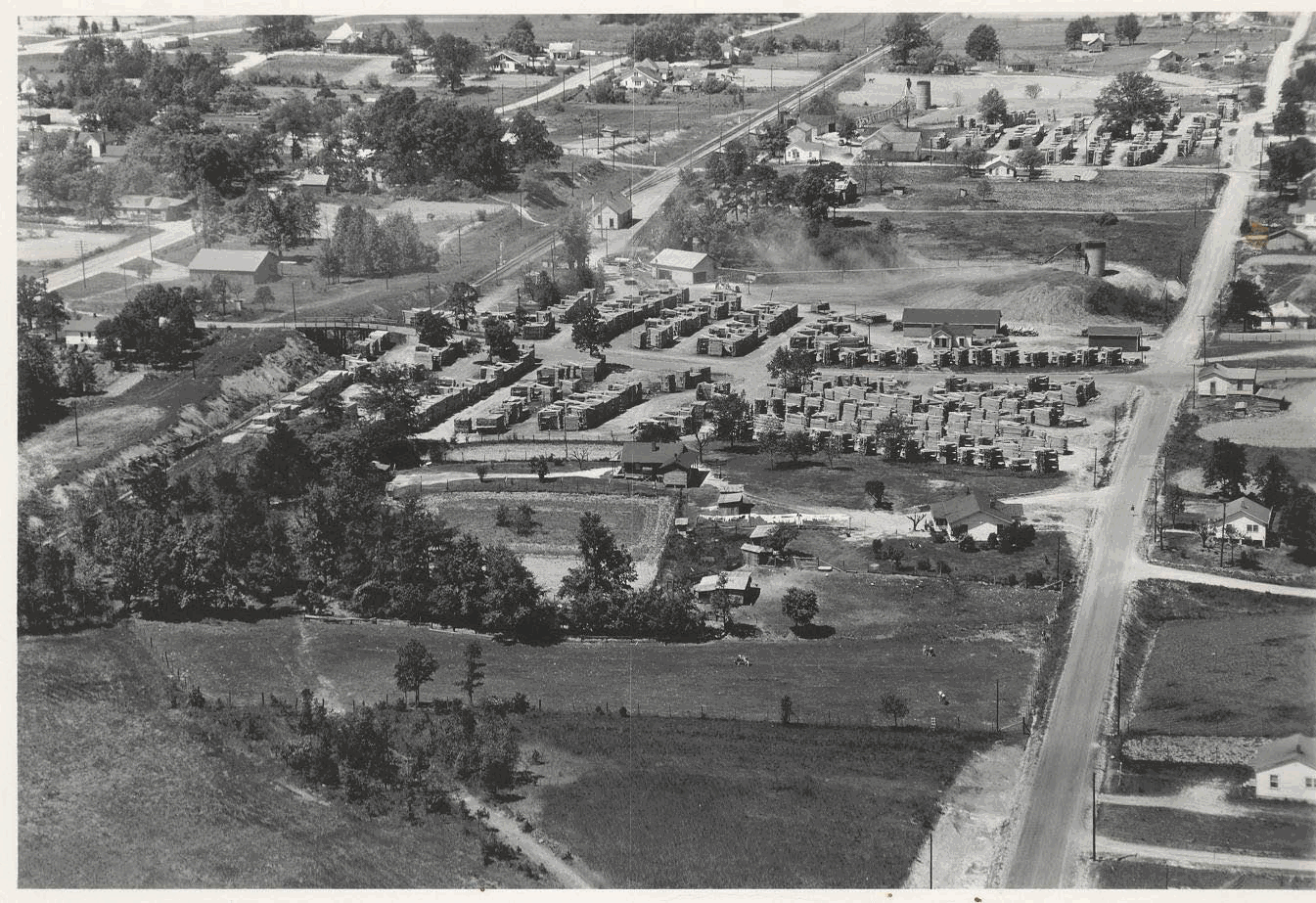 Aerial view of Ashe Caudle's sawmill and lumberyard in Peachland.
It was destroyed by fire.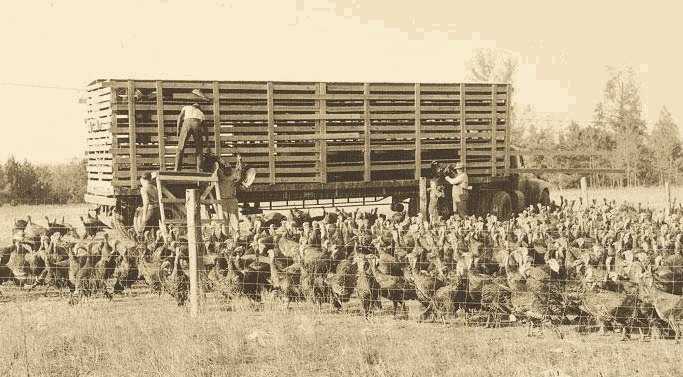 Ashe Caudle's turkey farm
In the latter half of the 20th century, raising turkeys and chickens became the predominant type of farming industry in Anson County.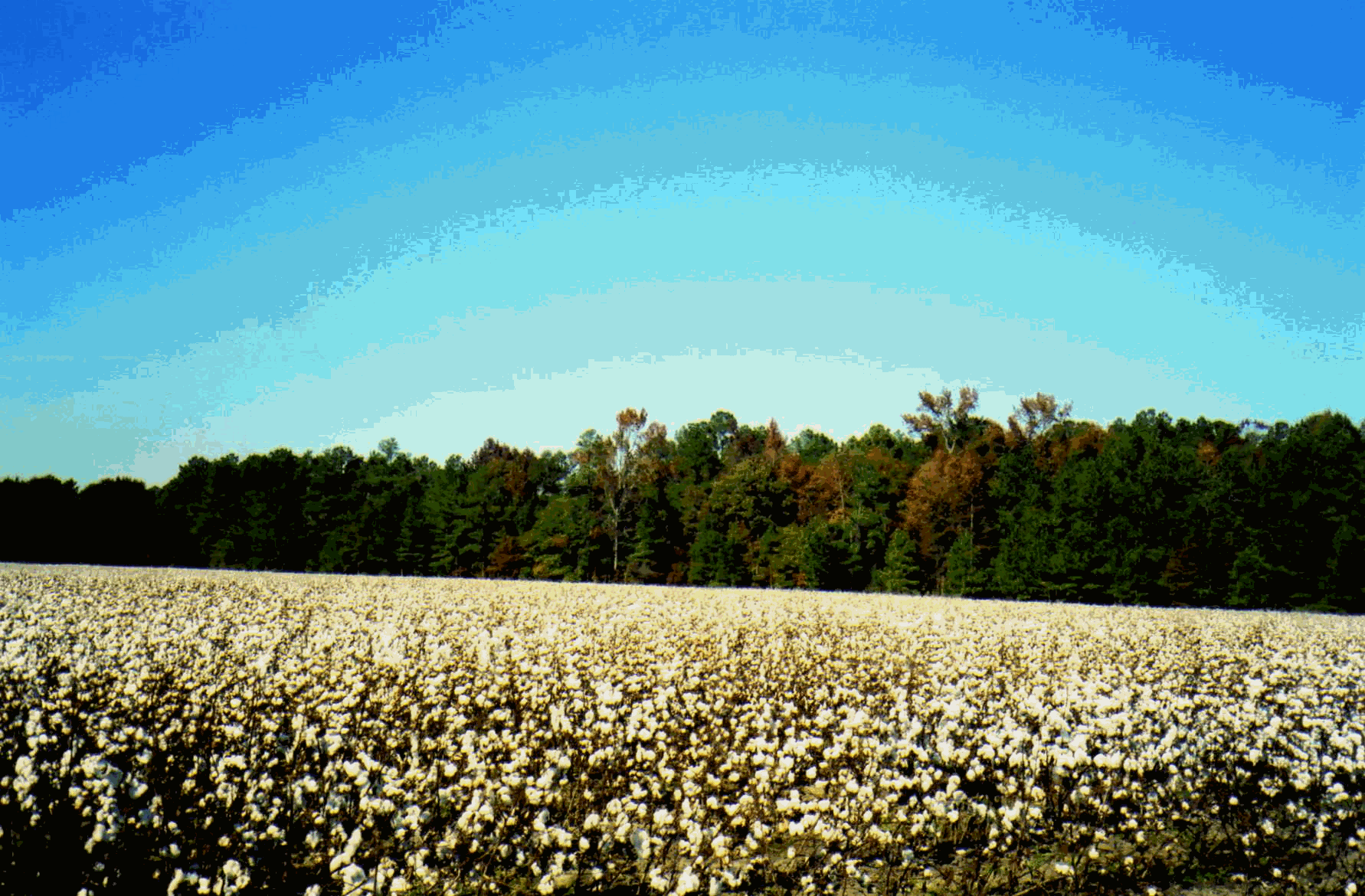 Acreage that could be used to raise cotton was limited by new farming laws and the need to rotate crops. I took this photo of a November cotton field for memory's sake.
Religion played a major role in the lives of the Caudles. Our ancestors immigrated to the colonies from Scotland—where religious persecution was rampant. During the 17th century, Scotland and England were ruled by the same absolute monarchy. There was no separation of church and state. Civil War between Protestants & Catholics and rebellions among various sects of Protestants against a Catholic ruler rocked the United Kingdom. Banishment to the King's plantations in America and Jamaica, for taking part in a Civil War/rebellion, was common. Although, in my limited research, I found no Caudle who was exiled to America, I did find families into which Caudles married that were banished for religious reasons. Further research into our Scottish ancestry would very likely indicate that some Caudles (or Caudills/Cordells) were among those forced to leave their native country in order to escape religious persecution.
As you read our family history, you will come across the following churches mentioned time after time.

Deep Springs Baptist Church
Deep Springs Baptist Church was originally named Piney Grove … then Caudle's Grove … and became Deep Springs in 1887. The first building was one large room, with kerosene lanterns, an organ, and at times a fiddle. There was an "Amen" corner … no choir … and seating for men and women was separate.
Source: History of Peachland, N.C.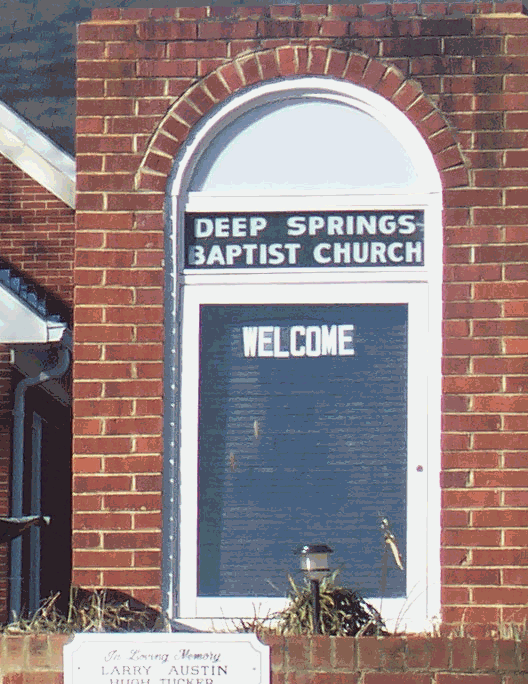 Small sign reads: In Loving Memory … Larry Austin … Hugh Tucker
Deep Springs Baptist Church has a long history with the Caudle family. The July 16, 1857 issue of The N.C. Biblical Recorder describes the ordination as Deacon of Allen Caudle (son of Jesse & Abigail Caudle) during the early days of the church, known then as Piney Grove. Allen's father, Jesse Caudle, donated land for the present church facility … very likely the reason the church was called Caudle's Grove before the name Deep Springs was adopted.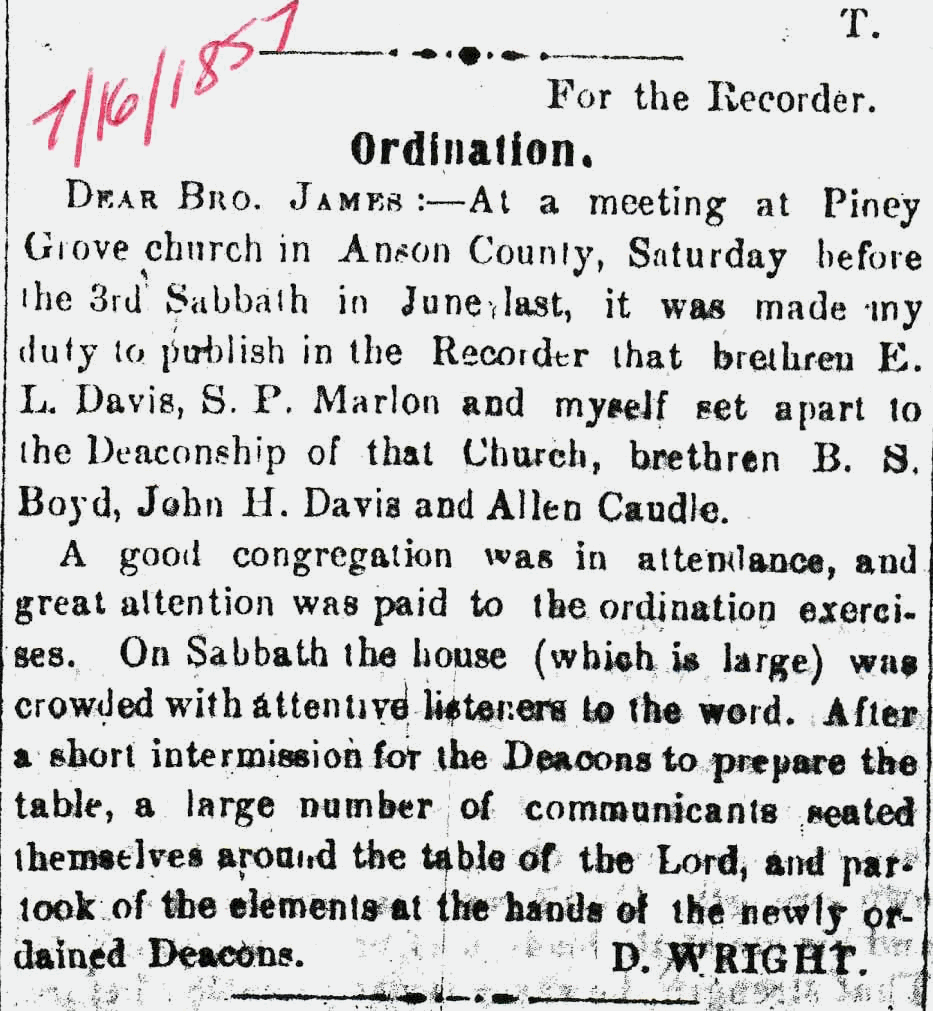 According to the October 30, 1895 issue of Plow Boy (Wadesboro), Allen became a minister. He is referred to in his wife's obituary as Rev. Allen Caudle, deceased.
Jesse and Abigail's grandson, Rev. Rubin Thomas Caudle served Deep Springs Baptist Church as minister.
Jesse and Abigail Caudle had at least one son, Allen, three grandsons—Zebulon Alexander, Rubin Thomas, & Archibald Benjamin—who were ordained ministers. At least one great-grandson, Jesse E. Caudle (Rubin's son), was also ordained.
James Carson Caudle's daughter, Ruby Evelyn, married the son of Rev. Edgar (E.M.) Brooks, who also ministered to Deep Springs during its history. Rev. Edgar Brooks was an itinerant minister for years—serving at some point most of the Baptist churches in Stanly and Anson Counties, plus Lumber Bridge Baptist Church in Robeson County, N.C. The September 12, 1888 issue of The N.C. Biblical Recorder contains a description of a weekend retreat for churches in Anson and Union Counties. Rev. Edgar Brooks was one of several ministers who spoke on "Do Professing Christians Keep the Sabbath Day Holy?" He was 27 years old at the time. (At that point and for decades later, Christians did not work on Sunday. Instead, we visited family and friends and always attended church. City churches usually had morning and evening services. As Mother, Ruby Evelyn Caudle Brooks, use to say, "I go to church every time the doors open." Church was most definitely a huge part of our lives.)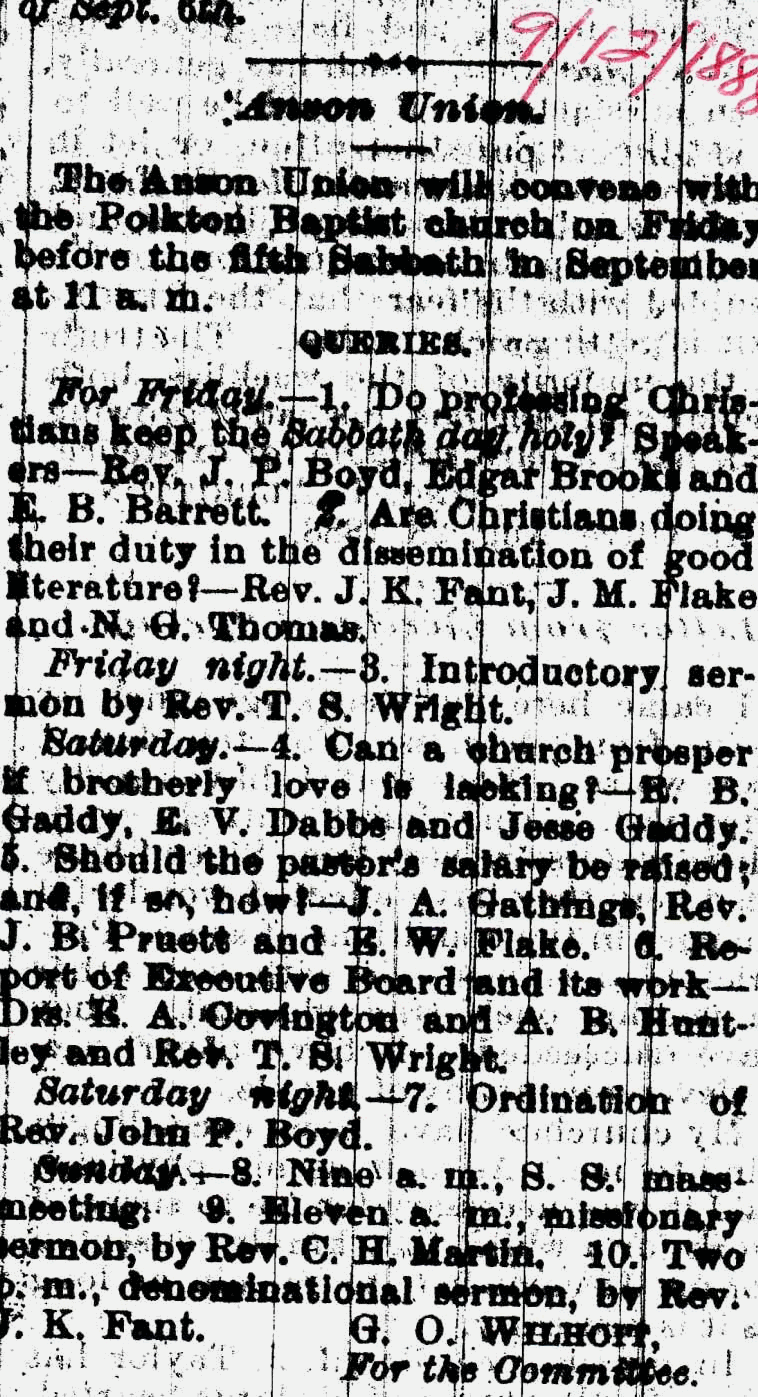 Sadly, The N.C. Biblical Recorder issues between 1888 and 1965 have not yet been computer indexed. To discover Anson County Baptist church history during these intervening years requires conducting research at the University of Wake Forest where the entire collection is archived.
The June 3, 1967 issue of The N.C. Biblical Recorder contains Rev. Zebulon Alexander Caudle's obituary. Zeb Caudle died at the age of 74 after 50 years of ministry.
At one point, he served as Superintendent of the Baptist Home for the Aged in Albemarle, North Carolina. After his retirement in 1959, he served many interim pastorates. In all, Zeb served 29 churches in his long ministry.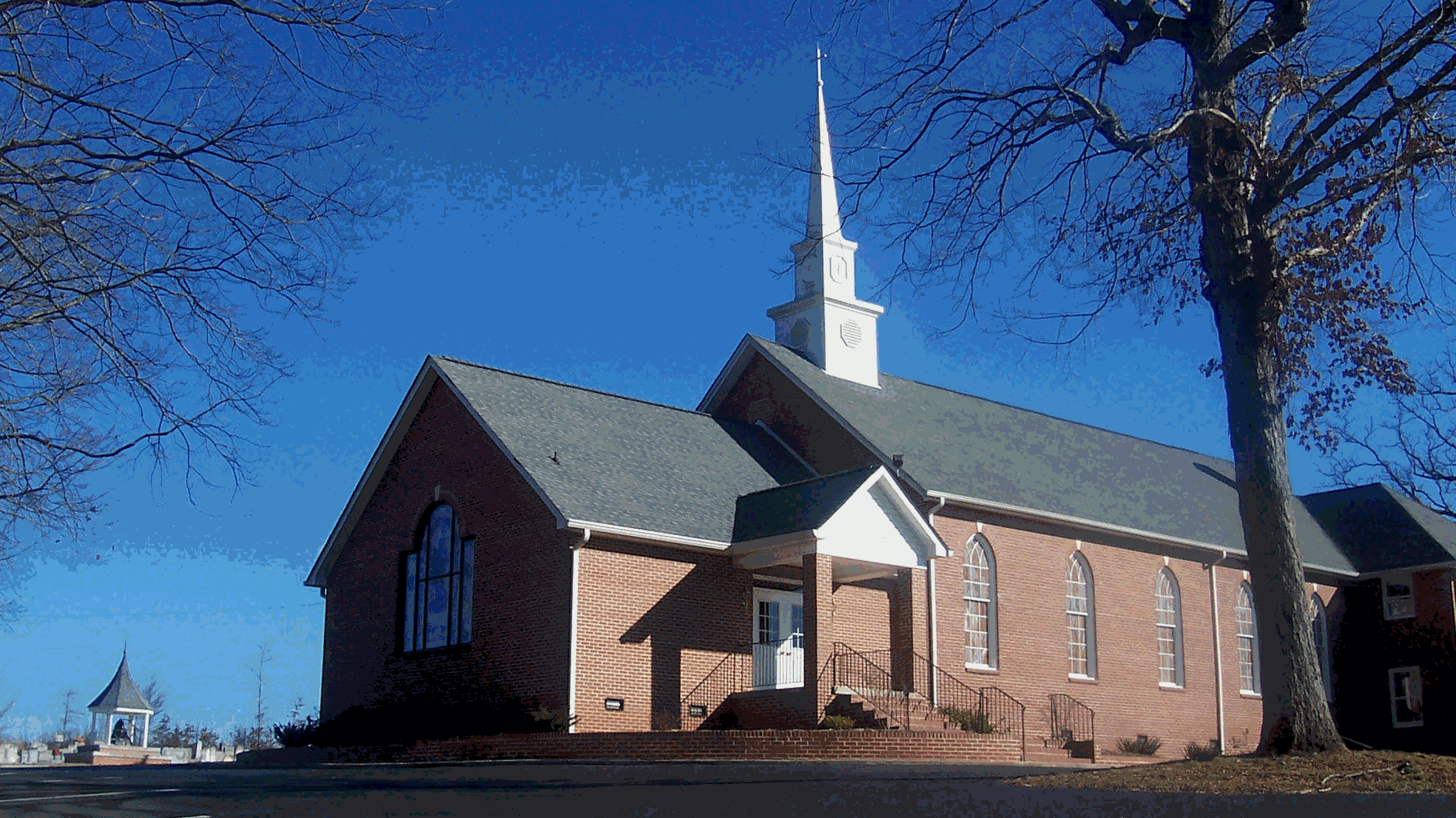 Hopewell United Methodist Church
Organized around 1807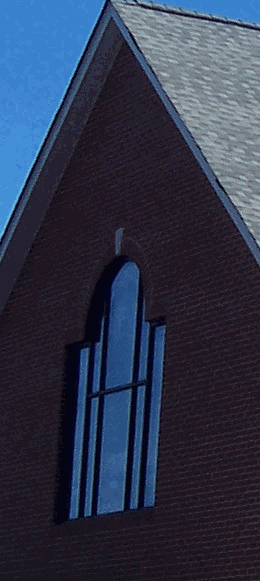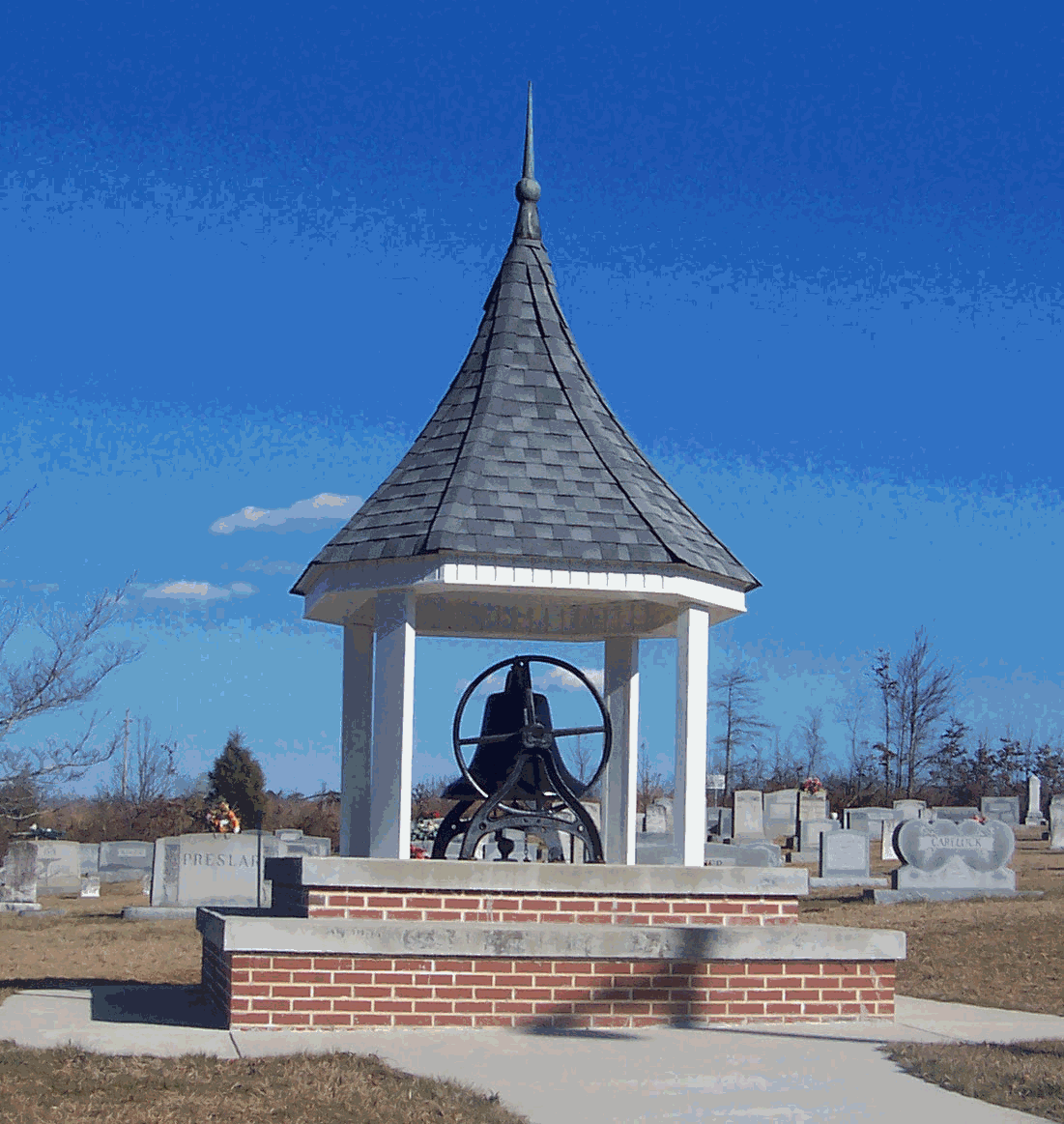 Hopewell Window Hopewell Bell and Cemetery
Hopewell United Methodist Church began in a brush arbor … later a log structure was constructed and named O'Neal's Meeting House, after Benjamin O'Neal on whose land it stood. In 1813, the name was changed to Small Hope, evidently based on the fact of nine members only. By 1817, the membership had doubled and the name was changed to Hopewell. The log cabin burned in 1879 … the church bought two acres of land from Alfred T. Tucker and built a frame structure with a cemetery. A circuit rider minister preached once a month. Hopewell is now the largest of the rural United Methodist churches in Anson County, N.C.
Source: Taken from a brief history written by Randy Harvey Tarlton
******
At the beginning of the 21st century, once or twice monthly Sunday morning worship services continue—allowing the older, smaller churches to remain in existence.
In 1994, while attending Union Theological Seminary in Richmond, Virginia, I (as a licensed Disciples of Christ minister) served a small church in Amelia County for just this reason—its life long members did not want to close their beloved church.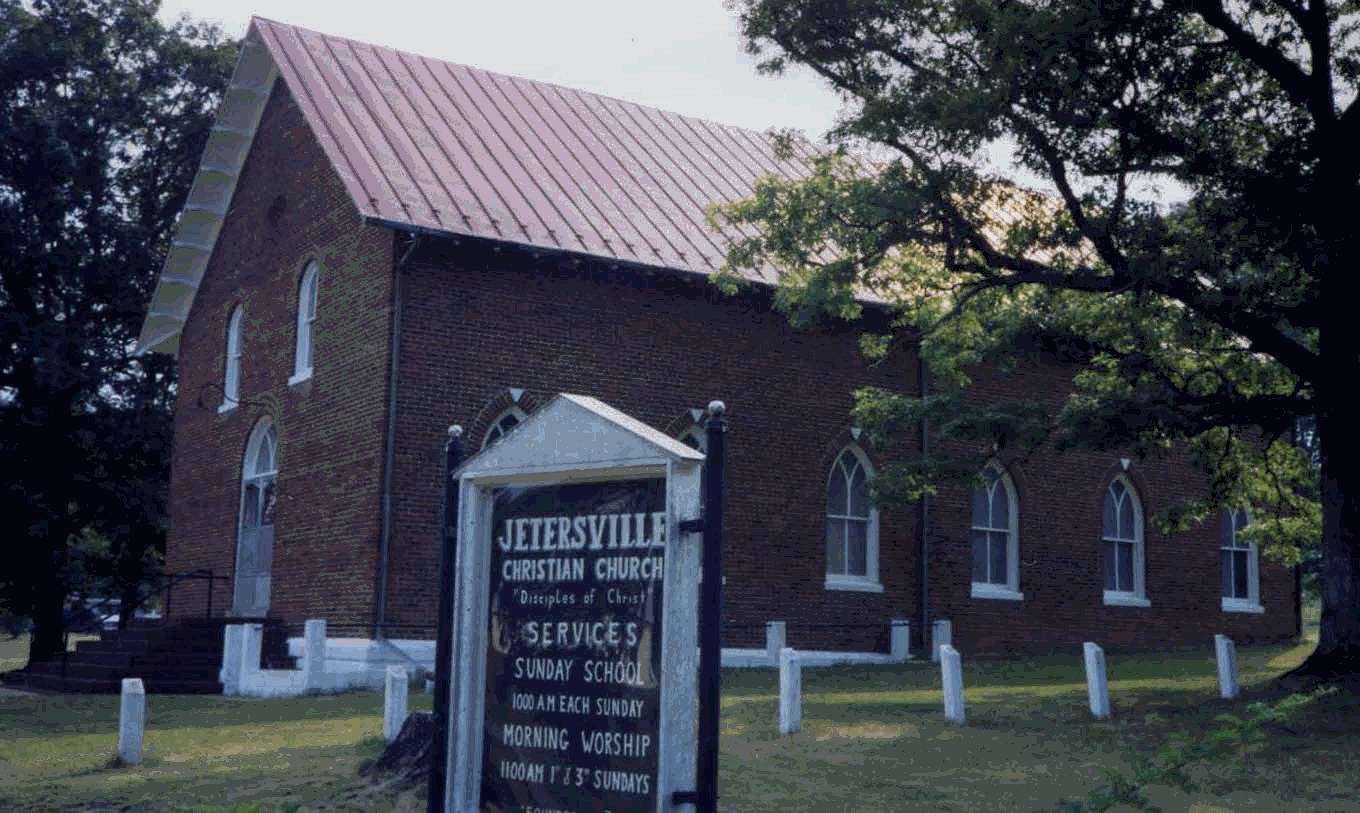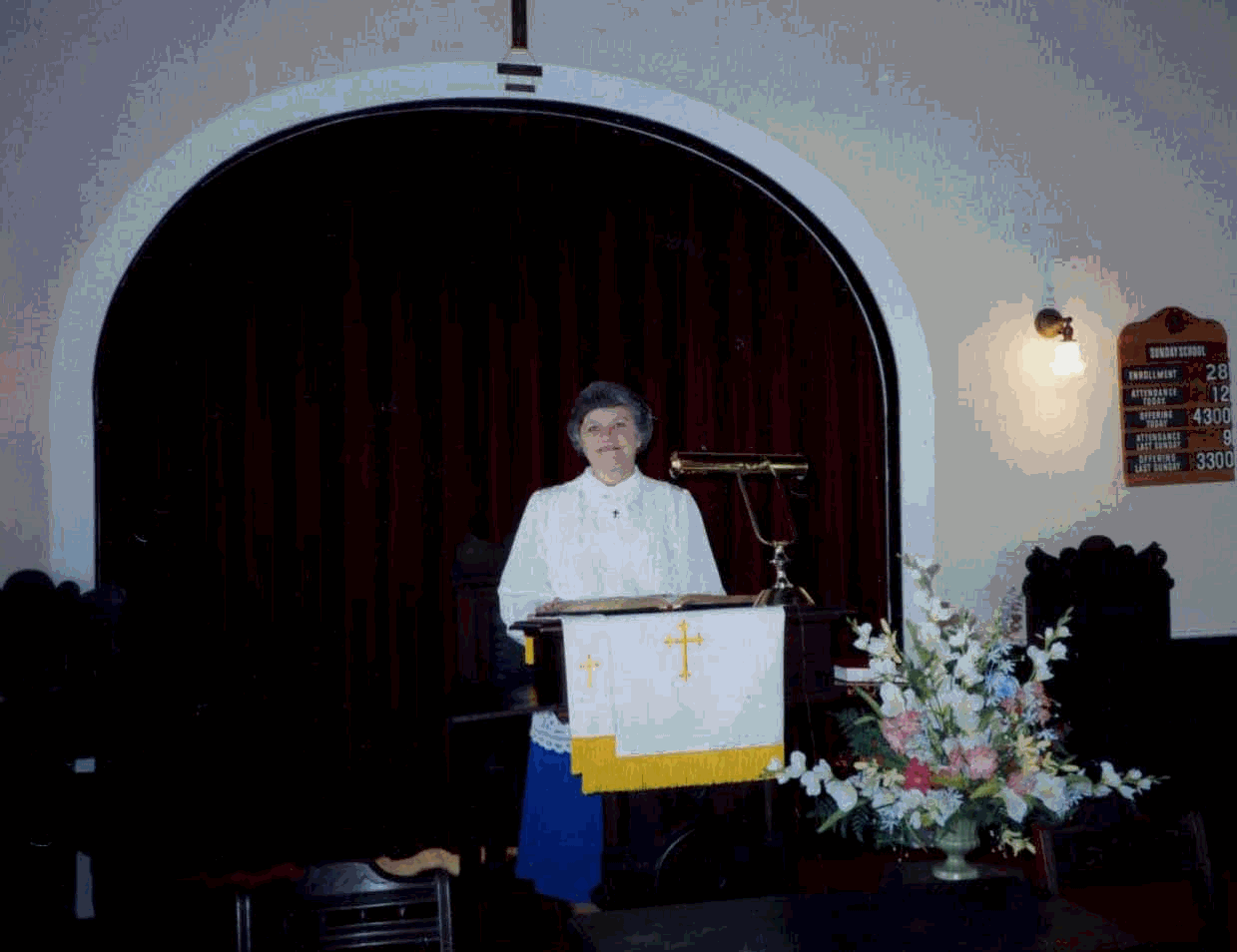 Jetersville Christian (Disciples of Christ) Church – Jetersville, Amelia County, Virginia
Founded in 1827
In 1995, my 4th year at Union Theological Seminary was an internship in which I was solo minister to Springfield Christian (Disciples of Christ) Church located in the small, rural community of Rockville, Virginia—a few miles from Richmond. Founded in 1885, the membership was 236 in 1995. Springfield is a thriving church with lots of young people and an excellent music ministry.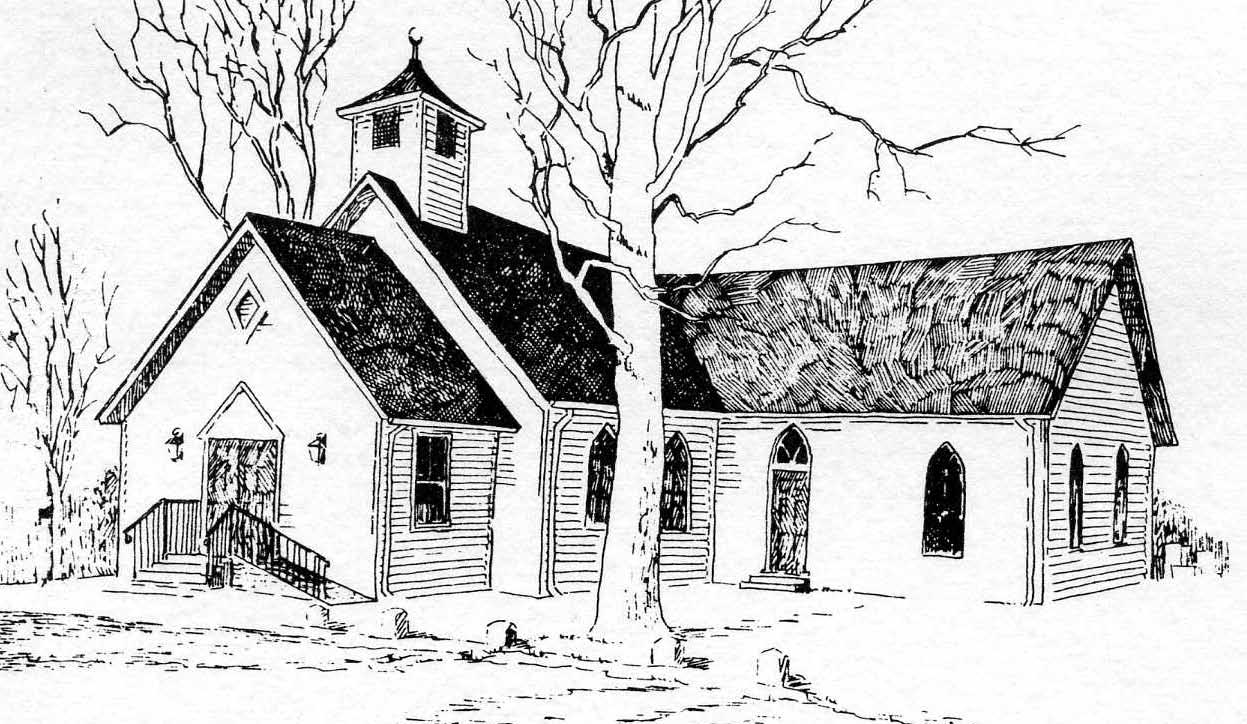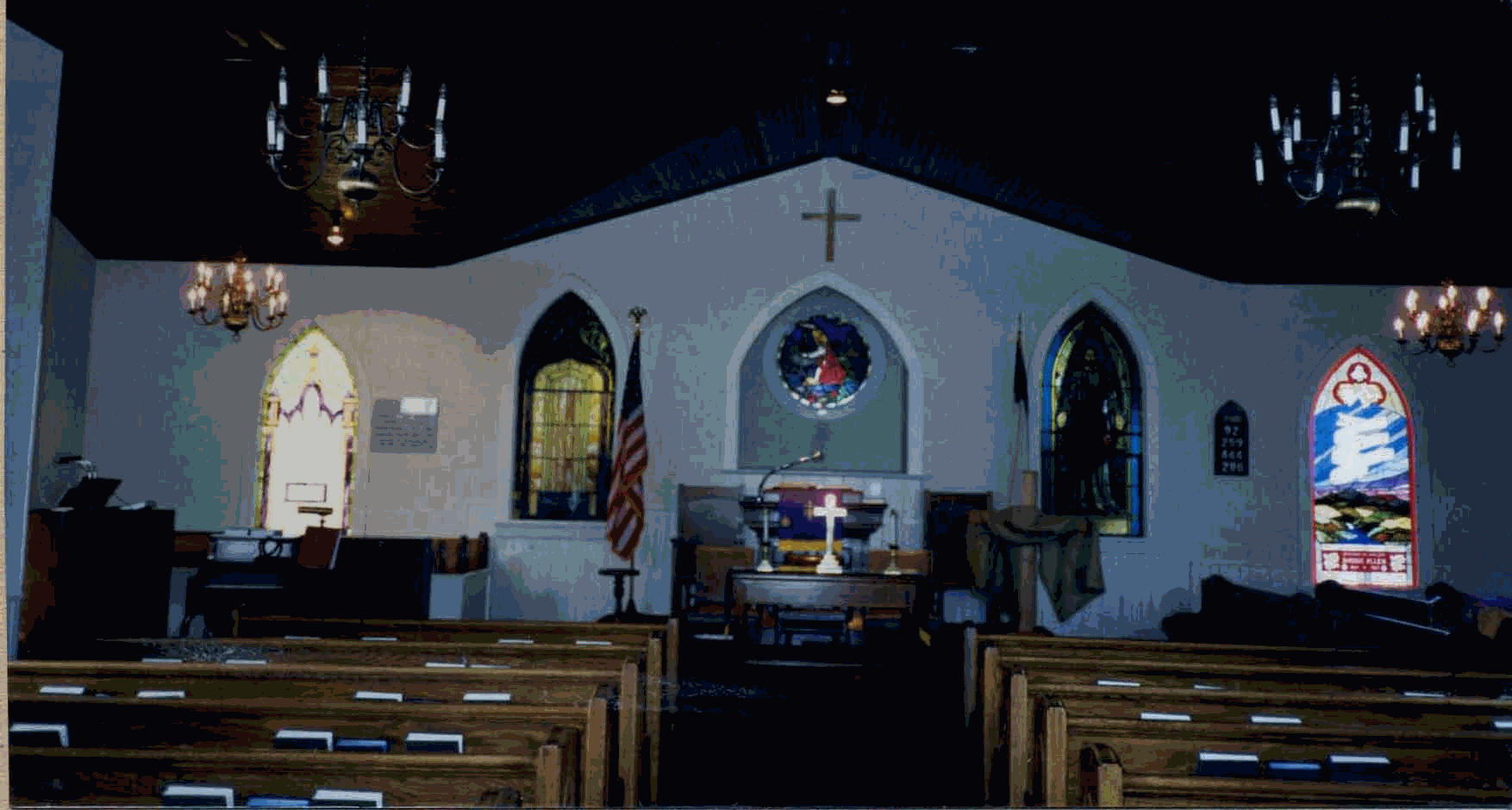 Springfield Christian (Disciples of Christ) Church in Rockville, Virginia

Rev. Nancy Brooks Detweiler, Easter Sunday 1995
Springfield Christian (Disciples of Christ) Church, Rockville, Virginia
Although I love many facets of ministering to a church, I learned that my independent nature requires that I work on my own. As you will see throughout this history, churches are caught in a "catch 22" maze. Some members are searching … others want things to remain exactly the same. Some ministers are acutely aware that there is far more "spiritual meat" to be shared than is allowed by the forced adherence to the traditional teachings of Christianity … others are firm in their insistence that traditional beliefs be upheld. Those members who are searching tend to remain silent or leave the church; those ministers who are searching for continually increasing spiritual depth are fired if they refuse to abide by the established beliefs of the religion called Christianity. This "catch 22" presents the question, "Which is of greater importance and meaning: the religion called Christianity – or - the Truth of unending possibilities in spiritual growth and Christ-like living?" I knew I had to choose a persistent search for Truth … I had to think for myself and follow my own inner guidance.
As I researched this family history, I learned that our Caudle ancestors were a determined, independent group—paving the way for others. May we all cherish our Caudle heritage and continue to build new paths in our search for Truth and to create a better world for all of God's children. May we dare to stand alone—while the world would have us cease independent thought.
******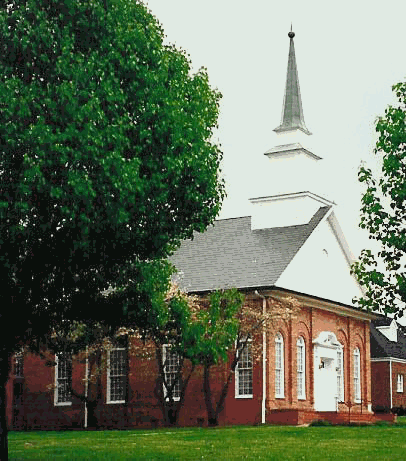 Peachland Baptist Church
Organized in 1890
Peachland Baptist Church was organized in 1890 with five charter members. The first service was held in a log schoolhouse on the grounds of Lawyers Springs Primitive Baptist Church. The first church structure was wooden, built on the present site. The brick facility was completed in 1928 and has been renovated since then.
Source: Taken from a brief history written by Annette Tarlton,
daughter of William Ashe Caudle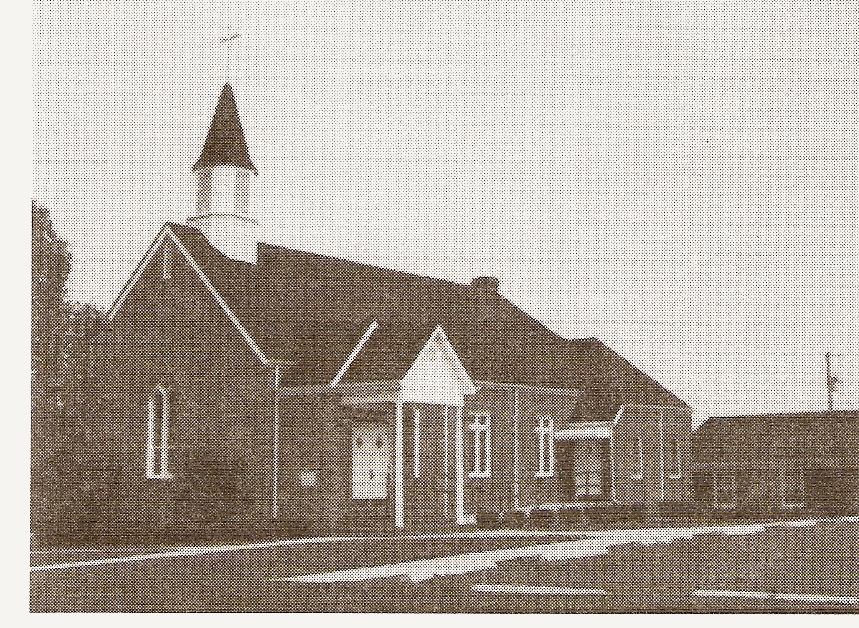 Peachland Methodist Church
Organized in the early 1880's
Peachland Methodist Church was organized in the early 1880's and met in the old Peachland Baptist Church until 1908 when a wooden structure was erected on the present site. In 1920, the church was relocated to be in line with the new brick Baptist Church.
In 1941, the wooden structure was torn down and the brick one completed in 1945. During the interval, church services were held in the Peachland School Auditorium.
Source: Taken from a brief history written by Virginia Caudle,
daughter of Ernest & Mae Caudle
A few years before her death, Virginia Caudle contributed the funds for a new organ. As the membership grows, renovations have continued—even as late as 2006-7.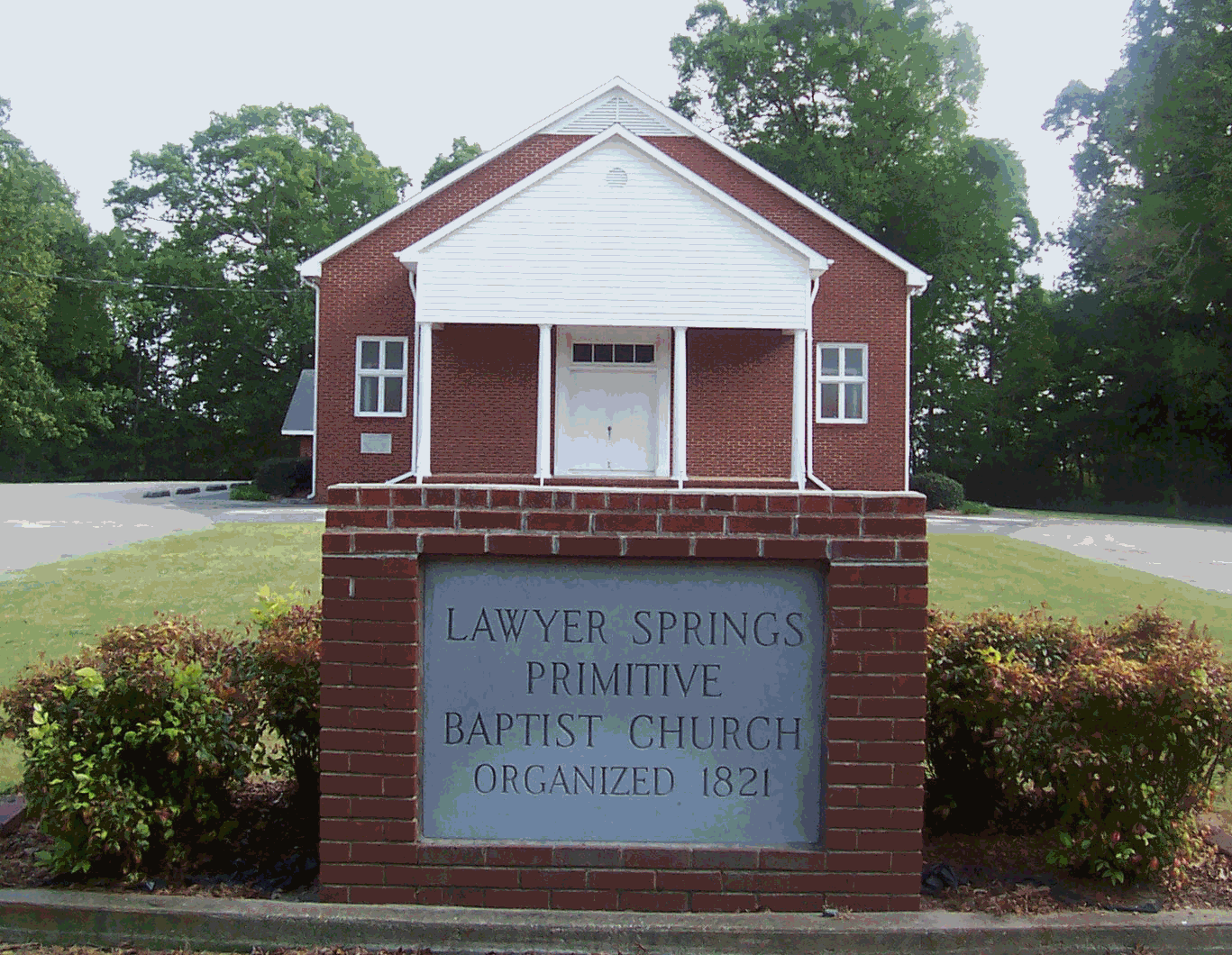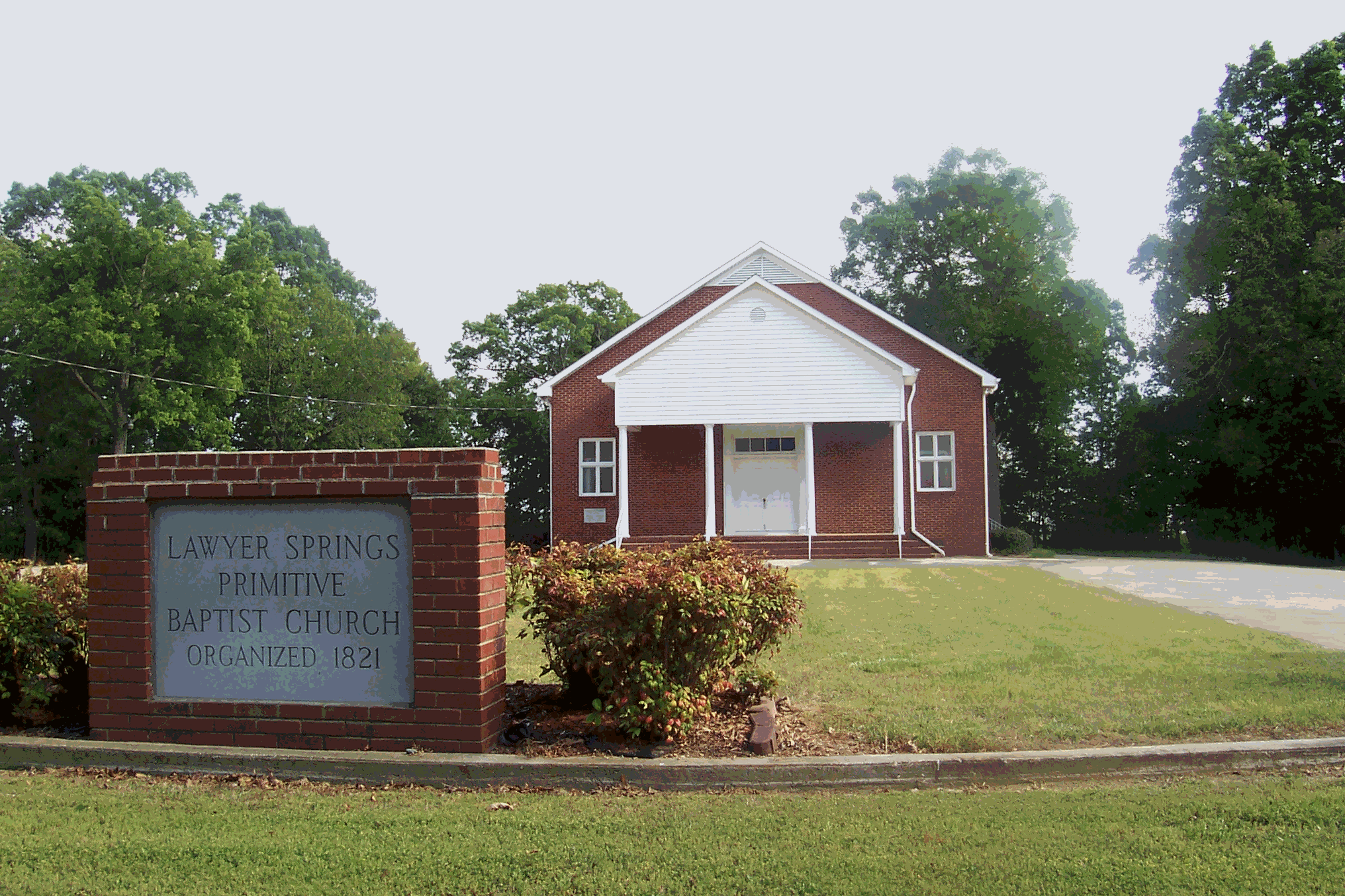 Lawyers Springs Primitive Baptist Church
Organized in 1821

Lawyers Springs Primitive Baptist Church was organized in 1821 as an outgrowth of the old Gourdmine church. It was named for Lawyers Springs, a site containing many springs at which lawyers riding horseback from Charlotte to the Anson County courts in Wadesboro would rest overnight. The church is located on these former campgrounds.

Absalom Caudle and Joseph Smith were the first deacons of Lawyers Spring Primitive Baptist Church. Absalom and his wife, Elizabeth, were charter members. The April 4, 1846 issue of the N.C. Biblical Recorder listed Absalom (misspelled "Abraham") Caudle as having died "in his 80th year—a Revolutionary soldier."