Affirmations
Nancy B. Detweiler
On this 3rd Sunday in Lent, read Luke 7:1-17. Note that one man is healed ... another rises from the dead ... following the spoken word.

Quoting Fillmore: "The science of Spirit is the orderly study of truths formulated in Divine Mind according to the operation of universal law. AN AFFIRMATION IS A POSITIVE AND ORDERLY STATEMENT OF TRUTH. By affirmation we claim and appropriate that which is ours."

Quoting Fillmore: "The Word [meaning the spoken word] is the working power of Divine Mind. One will never go down to defeat if in his hour of need he positively affirms the almightiness of God-Mind through Christ, and invokes its help in his behalf. I declare that as a child of God I am now entering the Christ [or Higher] Consciousness of perfection. This is in itself an affirmation, the highest I can make. Jesus---in the story from Luke and others throughout the 4 gospels---helped Himself into this high state of being by His use of the spoken word. He continually made the very highest affirmations, such as, 'I and the Father are one.' 'All authority hath been given unto me in heaven and on earth.' I [we are] am joint heir with Jesus to the infinite good of the kingdom, and by the faithful use of my spoken word I claim my heavenly good."

Quoting Fillmore: "Faith is the result of many affirmations. Each affirmation helps to build up a substantial, firm, unwavering state of mind, because it establishes Truth in consciousness. As day by day I repeat and courageously live affirmations of Truth, I come to know that I am opening a channel of intelligent communication with the silent forces at the depths of being; thoughts and words therefrom flow forth, and I realize an entirely new source of power developing within me."

It is very helpful to use the illustration of the Divine Self while making affirmations, especially affirmations like "The Father and I are One." Grow accustomed to thinking of yourself as a combination of the 3 figures in the Divine Self.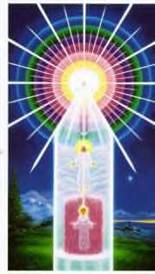 As we learn to think of ourselves in this manner, we can much more effectively affirm:
I live and move and have my being within the energy of God's love.
I am never alone.
Through the example of Jesus, I realize my divine daughter/sonship and I am transformed into God's image and likeness.

When we pray the Lord's Prayer, we are affirming: Our Father, who art in heaven [the 3rd figure of your Divine Self], hallowed be thy name. Thy kingdom come, Thy will be done on earth [the bottom figure or in your physical plane life] as it is in Heaven [the top figure - the God within you]. Give us bread for our needs day to day. And forgive us our offenses [our mistakes] as we have forgiven our offenders [their mistakes]. [Here, we are stating that we "have already" forgiven others]. Do not let us enter into temptation, but deliver us from evil (or error). For thine is the kingdom and the power and the glory for ever and ever. Amen. "Amen" means "So be it"---another affirmation.

Positive affirmations are statements of what we want to manifest in our lives. On the other hand, when we make negative statements, we are invoking them to manifest in our lives. For example: Instead of making the negative statement: "O, no, another Monday" (while you are visualizing the week with dread) ... make a positive affirmation: "Thank you, God, for another Monday and the beginning a wonderful week!" Notice the difference in your thoughts as you affirm the positive. As you drive to work or to class, visualize all the good that you would like to manifest this week. Ask yourself:
'What can I do to bring about the best week ever while I work and/or study?" Visualize the God within you guiding you through the week, revealing first this marvelous event (no matter how small) ... then another ... and another! Try it! It works!

Knowing that we are more than our physical being opens the door to all kinds of exciting truths about who we really are and the mind-blogging power we possess to transform our lives with the spoken word.

As we fast from negative statements and learn to affirm the positive (feast on the positive), we are keeping a true Lent. Hereby, we can transform our lives!

AFFIRMATION: THE FATHER AND I ARE ONE AND ALL IS WELL!