The Power of Zeal
Nancy B. Detweiler
The 10th quality required to achieve higher consciousness is ZEAL.

Quoting Fillmore: "Zeal is the affirmative impulse of existence; its command is, 'Go forward!' Zeal is the mighty force that incites all things to action; the eternal urge behind all things. To be without zeal is to be without the zest of living. Zeal and enthusiasm incite to glorious achievement in every ideal that the mind conceives."

Quoting Fillmore: "ZEAL SHOULD BE TEMPERED WITH WISDOM. Some persons get so fired with zeal when they first tackle a job, that they quickly grow tired, and fail to carry it through to completion. The need is for control, equalization. Watch the pull of a giant locomotive; note how it slowly but steadily moves forward, almost by inches at first but gradually increasing until its mile-long train swiftly disappears in the distance."

Quoting Fillmore: "'The zeal of thy house hath eaten me up' means that the zeal faculty has become so active intellectually that it has consumed the vitality and left nothing for spiritual growth. Excessive zeal in religious forms of worship eats up the purely spiritual. When we become very zealous in observing the rites of the church we are prone to forget the church itself, which is Christ [the energy of Divine Love].

Jesus cleansing the temple of those who were selling animals for sacrifice---a religious rite at the time---is an example of how zeal for the rite itself can cause us to forget that the Christ energy is Love energy. John 2:17 indicates that Jesus' disciples watched his actions and remembered Psalm 69:9---"It is zeal for your house that has consumed me." Read this story in John 2:13-22 and ponder it. Note that the disciples realized Jesus was speaking not only of the physical plane temple, but the temple of his body. Likewise, our bodies are the temple of God indwelling us. Study the Divine Self illustration below --- you are the temple of God!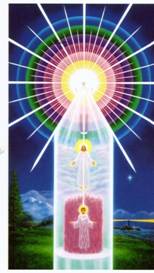 Quoting Fillmore: "The divine command is, 'take time to be holy' ... [or as the Psalmist states in Psalm 46:10 -- "Be still and know that I AM GOD."] I am quick to do the bidding of Spirit and use a portion of my zeal in establishing God's kingdom WITHIN ME. I do not put all my enthusiasm into helping others; my own unfoldment is of great importance to me. I love to aid my brother, but I do not allow that idea to rob me of the power to demonstrate Truth for myself."

Quoting TWELVE POWERS IN YOU: "Enthusiasm or zeal is that power in us that moves us forward, that fires us with energy. It is the fuel that is necessary in our growth and development. It is the urge to stretch, the drive to excel, the desire to improve and contribute. Remember THIS IS A POWER YOU ALREADY HAVE. You have the power of enthusiasm now. You have all you will ever need or use. If you seem to lack the power of enthusiasm in your life, return to the silence, that state of quiet and inner contact with your unlimited Source that supplies you---God within."

To do this, meditate on your Divine Self illustration ........ remembering the channel of light descending from the God within you (the top figure) >>> through your Intuitive Mind (the middle figure) >>> and into your physical body ... close your eyes and open yourself to the influx of enthusiasm from God within you---the real source of zeal permeating the inner you. Visualize this energy flowing into your being. Always give thanks!

Quoting TWELVE POWERS IN YOU: Some people try to pump up or drum up enthusiasm. [This pep rally type enthusiasm may be good for a football game.] However, there is a deeper well of enthusiasm. Even the origin of the word itself indicates that this is a divine attribute that is closely connected to a cosmic energy that burns within us. Enthusiasm comes from the Greek "en" meaning "in" and "theos" meaning "God." "En theos" is being on fire or possessed by God." We need enthusiasm to accomplish anything. Rightly understood and wisely channeled, our enthusiasm brings zest for living, joy, exuberance, and the ability to convert good desires into successful outcomes that make a positive contribution to the world."

Quoting TWELVE POWERS IN YOU: Enthusiasm has to be channeled in an orderly way if we are to do our best work.... Our enthusiasm can get swept up and carried away in egotism, materialism, and ambition, at the expense of our health, family, and spiritual values. Being enthusiastic and enjoying what we have is probably even more important than the enthusiasm to get new things and attain bigger success. For the acquisitive person, more is never enough."

In the words of Williamson, in TWELVE POWERS IN YOU: "Enthusiasm creates a positive consciousness of receptive and welcoming greater good." Instead of "Ugh, it's Monday again........" enthusiasm allows us to respond with "Thank God, it's Monday!" Long term situations, such as marriage and a job, can result in burn-out or rust-out. "Enthusiasm, wisely channeled, can often prevent both conditions. "Enthusiasm can overcome boredom.... Enthusiasm is our power to go forward, to accomplish great things, to be engaged in life, to be involved, to love, to care, to make a positive difference. The lack of zeal or enthusiasm is experienced as apathy, boredom, expecting others to do our work for us, thinking things will change for the better without our help, looking to outer events to entertain us.... We can be enthusiastic about anything: playing with our children, having fun with our dog or cat, finding ways to improve our work, changing our routine, finding ways to be romantic in a long marriage, or being fascinated while peeling an orange.... Our enthusiasm for living engages us not in just the big things, but in the little everyday things as well."

Quoting TWELVE POWERS IN YOU: "Hold the vision of a world that works for all people, and act passionately on that vision. Energetically stay committed and enthused and we will get to the mountaintop of peace and caring for all people and our whole planet."

AFFIRMATION: "My zeal is tempered with wisdom, and I maintain a perfect balance within and without."
----Fillmore, LET'S KEEP A TRUE LENT