The Wound That Cannot Heal

Nancy B. Detweiler
www.pathwaytoascension.com
"O Jerusalem, Jerusalem, murderess of the prophets and stoner of those who are sent to her! How often I wanted to gather your children, just as a hen gathers her chickens under her wings, and yet you would not!" (Matthew 23:37)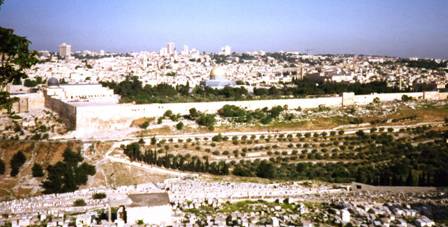 Jerusalem - The Old City Wall
The Hebrew meaning for "Jerusalem" is dwelling place of peace, foundation of peace, vision of peace, abode of prosperity. Yet, never has Jerusalem seen true peace.
The Bible is the story of our spiritual journey as well as that of the historical characters depicted therein. In personal terms, Jerusalem represents the abiding consciousness of peace within us … the peace that is the "result of continuous realizations of spiritual power tempered with spiritual poise and confidence." (Fillmore, Metaphysical Bible Dictionary) Likewise, humanity has never known true peace.
2000 years after Jesus sought to take Jerusalem's children under his loving wings, we are still fighting and killing each other. Have we heard a single word Jesus said? Jerusalem is not about race or religion or dominion. Jerusalem—the Holy City—is about peace! The "peace of God, which passes all understanding."
Jesus yearned for us to comprehend his message: there is a better way—the Way of Love. Not just love for those who are look like us … or think like us … or believe like us. The Way of Love … period! There can be no enemies! Jesus taught "love your enemies." Time after time, we hear of examples of two "supposedly enemies" meeting on the battlefield … looking each other in the eyes … and lowering their weapons. Love is the Way!
Jesus' unhealed wound is a broken heart. His message is a radical one and we understand so little of it. At this very moment a 20 foot cement wall divides sections of the Holy City. Why? Because we don't hear Jesus when he says, "Love your enemies." "Love your neighbor as yourself." We don't abide by the commandments: "You shall not kill." "You shall not steal." You shall not bear false witness against your neighbor." "You shall not covet."
Were we busy loving God with all our heart, with all our mind, with all our soul, and with all our strength, we would have no time to break any of the commandments. Again, it is not about race, religion, and dominion. It is about manifesting UNCONDITIONAL LOVE for every human being on this planet. No excuses … no reasons … no exceptions.
Jesus' heart wound cannot heal. 2000 years later, we show little sign of comprehending his message of Love.
"O that there were such a heart in them, to worship, and to keep all my commandments always, that it might be well with them and with their children for ever." (Deuteronomy 5:29)
"Behold, your house will be left to you desolate." (Matthew 23:38) Not because God is punishing us, but because we refuse to listen … we refuse to follow the Way Of Love.
And Jesus' heart wound remains unhealed.