Jesus Looks To His Mission
Nancy B. Detweiler
www.pathwaytoascension.com
"Now before the feast of the Passover, Jesus knew the hour had come to depart from this world to his Father. He loved his own who were in this world, and he loved them to the end. During supper, Satan put into the heart of Judah, son of Simon of Iscariot, to deliver him. But Jesus, because he knew that the Father had given everything into his hands and that he came from God and was going to God, rose from supper and laid aside his robe; and he took a cloth and tied it around his loins." (John 13:1-4)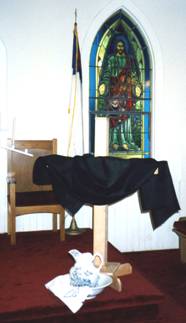 Springfield Christian Church – Maundy Thursday Service
"Then he poured water into a basin, and began to wash the feet of his disciples and to wipe them with the cloth." (John 13:5)
"When he had washed their feet, he put on his robes and sat down; and he said to them, 'Do you know what I have done to you? You call me Teacher and Lord; and what you say is well, for I am. If I then, your Lord and Teacher, have washed your feet, how much more should you wash one another's feet? For I have given you this as an example, so that just as I have done to you, you should also do. Truly, truly, I say to you, There is no servant who is greater than his master; and no apostle who is greater than he who sent him. If you know these things, blessed are you if you do them." (John 12:12-17)
"O holy Father, protect them in thy name, which thou hast given me, that they may be one, even as we are." John 17:11)
"O Father, sanctify them in thy truth, because thy word is truth. Just as thou didst send me into the world, so I have sent them into the world." (John 17:17)
"So that they all may be one; just as thou, my Father, art with me, and I am with thee, that they also may be one with us; so that the world may believe that thou didst send me." (John 17:21)
According to tradition, the gospel of John was written by the "beloved disciple"—the one depicted in John 13:23 – "Now there was one of his disciples who was leaning on his bosom, the one whom Jesus loved…." Tradition also states that this disciple understood Jesus' teachings better than the other disciples. For this reason and because many biblical scholars consider the gospel of John to be a Gnostic gospel, I am using John's account of the events of the day we call "Maundy Thursday." Many scholars believe this Gnostic gospel most closely reflects the teachings of Jesus. There are major differences between the gospel of John's account and that of Matthew, Mark, and Luke's gospels.
1. The gospel of John makes no mention of Jesus instituting new meaning for the ceremony of bread and wine that dates back at least to the time of Melchizedek, king of Salem (early name for Jerusalem). "And Melchizedek king of Salem brought out bread and wine; he was the priest of the Most High God. And he blessed him, saying, 'Blessed be Abram to God Most High, possessor of heaven and earth; and blessed be the Most High God, who has delivered your enemies into your hands. And Abram gave him tithes of everything." (Genesis 14:18-20)
2. The gospel of John is the only gospel record of Jesus washing the feet of his disciples following the Passover Meal.
3. The gospel of John records Jesus presenting some of his most esoteric teachings to the disciples following the Passover Meal. Jesus demonstrates his Servant role by washing the disciples' feet, he teaches them, and he prays for them. He tells his disciples: "I have spoken these things to you so that you may not stumble." (John 16:1) "These things I have said to you that in me you may have peace, in the world you will have tribulation; but have courage, I have conquered the world. Jesus spoke these things, and then he lifted up his eyes to heaven and said, 'O my Father, the hour has come; glorify thy Son, so that thy Son may glorify thee." (John 16:33, 17:1)
"Jesus said these things and went out with his disciples across the brook Kidron, to a place where there was a garden, where he and his disciples entered. Judah the traitor also knew that place, for Jesus and his disciples frequently gathered there." (John 18:1-2)
4. The gospel of John maintains Jesus' integrity as one who knows his mission and is prepared to complete it. Jesus stands within his own inner God-given power. He, in no way, shows fear, second thoughts, or lack of magnificent statue. He stands tall. "Jesus, knowing everything that was to happen, went out and said to them, 'Whom do you want?'" (John 18:4)
In contrast, Matthew, Mark, and Luke depict Jesus asking God to "remove this cup from me" … as depressed and sorrowful … as sweating drops of blood in dread of the forthcoming ordeal.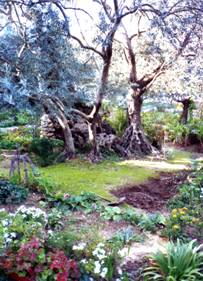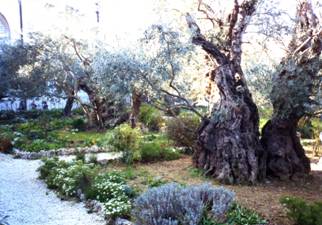 Garden of Gethsemane on the Mount of Olives
Let us spend this Maundy Thursday getting to know Jesus by reading the "beloved disciple's" account of Jesus' approach to fulfilling his destiny. May we follow the example of Jesus in the gospel of John as we strive to fulfill our destiny on this planet.