Space Program News
Global Reset, Reptilian Overlords, Rise of the Resistance & Full Disclosure
By Dr. Michael Salla March 20, 2021
This is an historical overview of how the Earth has been run as a prison planet through secret agreements between the Cabal/Deep State and their Reptilian extraterrestrial overlords. The film introduces modern day plans to engineer wars, poverty, disease and genetic modifications that all contribute to covertly fulfilling these agreements. The recent proposal to create techno-governments in the US State of Nevada is shown to be yet another means by which the Deep State minions of these alien visitors can hide their operations and fulfillment of these agreements.
https://exopolitics.org/short-film-global-reset-reptilian-overlords-rise-of-the-resistance-full-disclosure/
I am posting this LATE because I just found it and you may be able to see the videos of all 3 webinars later.

China's Secret Space Program

3-Part Series on July 11, 18, 25. Sure glad President Trump foresaw the need for the U.S. to have its own Space Force! This is the U.S.'s Space Force Flag: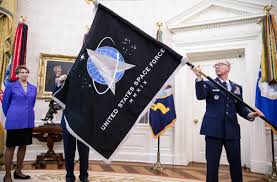 Navy Seal recruited as CIA Assassin guarded flying saucers at S-4 Area 51
By Dr. Michael Salla, OCTOBER 10, 2020
The former Seal claimed that guard duty at S-4 was used as a means of "cooling down" assassins used by the CIA to permanently silence government critics and/or remove national security threats.
The whistleblower, Derek Hennessy, used the pseudonym "Connor O'Ryan" in a set of interviews with Lt Col Wendelle Stevens in 1991 that was recorded on video. Hennessy/O'Ryan provided a number of documents supporting his testimony. This was especially important since the Seal claimed that records of his Navy service had been purged from official records in a similar manner to what had earlier happened with Bob Lazar in 1989.
Col. Stevens spent a decade verifying Hennessy's story and supporting documents before he felt confident enough about thei r authenticity to come forward in 2001 to discuss his investigation at two UFO conferences in Australia and the US (International UFO Congress). He says that prior to the Australia conference he received a phone call warning him not to go too far in releasing the information, but that only convinced him that Hennessy/O'Ryan was telling the truth...
Was Space Force delayed nearly 20 years to facilitate a Space Pearl Harbor?
By Dr. Michael Salla, OCTOBER 1, 2020
The recently established United States Space Force is widely considered to be the brainchild of President Donald Trump, which has subsequently aroused suspicion, if not outright opposition, by those believing it to be a grandiose vanity project with no genuine national security significance. However, the first proposal for a Space Force dates back to a bipartisan "Space Commission" established during the Clinton administration that delivered a detailed report on January 11, 2001, recommending a new military space service to be called "Space Corps". The chief goal of the Space Corps would be to prevent a future "Space Pearl Harbor".
What is even more intriguing in tracking the historical origin of Space Force is that the Space Commission was headed by Donald Rumsfeld, a former Secretary of Defense (1975-1977), who has a mysterious history in UFO investigations, the study and reverse engineering of captured extraterrestrial technologies, and in recruiting individuals for secret space programs. Rumsfeld's leadership of the Space Commission, and his second appointment as Secretary of Defense (2001-2006) under President George Bush, led to Commission members believing that legislation for creating a Space Force was imminent.
What happened eight months later completely derailed any hope for prospective legislation creating a Space Corps, the September 11 attack, which evidence suggests was a false flag attack orchestrated by the Deep State...
Insider Reveals UFO and Secret Space Program Disclosure War
By Dr. Michael Salla, August 17,2020
On August 16, Secret Space Program (SSP) insider Corey Goode released some new intelligence data he received from his sources about competing groups fighting over how, what, and when to disclose information about UFOs and SSPs. What follows is a review of what Goode tweeted and my thoughts on its significance.
For those new to Goode or who question his authenticity as an insider, I recommend this article where I explain my reasoning for why he is the real deal and why his info is worth examining.
This is what Goode wrote about secret arrests and transfers to Gitmo:
Secret MS13 Arrests/Gitmo are giving the Alliance leverage against Cent American/Mexican Corrupt Leaders/Cabal Drug/Human Trafficking Operations. These corrupt leaders are now cooperating w/Alliance.
Goode is here confirming that joint covert operations that involve US special forces are taking part in the arrests and detentions of those involved in human trafficking, including CIA operators. Such operations were made possible by an Executive Order issued by President Donald Trump on December 27, 2017. I discussed Goode's information about US special forces being used in this regard in a January 2018 article.
Space Force Plan to Dominate Earth-Moon orbits destined to clash with rival Space Programs
By Dr. Michael Salla, August 11,2020
On August 10, the newly created U.S. Space Force released its "Spacepower Doctrine," defining its core identity and missions in space. Space Force will consider outer space to be a warfighting domain wherein military force will be projected into the Earth-Moon orbital environments to protect U.S. national interests and security.
In the short term, this means Space Force will compete with the rival aerospace forces established by China and Russia for space superiority. In the long term, Space Force is destined to clash with secret space programs run by a shadowy consortium of transnational corporations, and an even more elusive "Dark Fleet".
The latter is claimed by multiple insiders to belong to a German breakaway colony that transferred from Antarctica to Mars, taking with it, millions of people recruited by false inducements or forced into a life of slave labor.
What was Revealed in Classified UFO Briefings to Congress & Pentagon?
By Dr. Michael Salla, August 1,2020
On July 23, the New York Times released an article describing classified UFO briefings delivered to the US Congress and the Pentagon by Dr. Eric Davis, a prominent astrophysicist, researching "out of the box" scientific phenomena since 1996. The authors of the New York Times story, Leslie Kean and Ralph Blumenthal, provided few details of the briefings other than Davis' sensational claim that UFOs (aka UAPs) involved "off-world vehicles not made on this earth".
The New York Times article was quickly picked up by other major media such as the Huffington Post, Popular Mechanics, and popular news sites that included Yahoo News. More recently, Scientific American called for a resumption of scientific studies on UFOs in a very telling sign that mainstream scientists are finally paying attention.
U.S. Congress & Pentagon briefed that UFOs are not made on this earth
By Dr. Michael Salla, July 24,2020
The New York Times has just released a bombshell article on classified UFO briefings received by members of U.S. Congress and Pentagon officials that the craft involved are "off-world vehicles not made on this earth". The New York Times (NYT) story cites Dr. Eric Davis, a physicist currently working with the Aerospace Corporation, who gave briefings that classified corporate studies were being conducted on the "off-world vehicles" recovered and held in corporate facilities.
The authors of the NYT story, Ralph Blumenthal and Leslie Kean wrote the following about Dr. Davis's groundbreaking briefings:
Mr. Davis, who now works for Aerospace Corporation, a defense contractor, said he gave a classified briefing to a Defense Department agency as recently as March about retrievals from "off-world vehicles not made on this earth."
Mr. Davis said he also gave classified briefings on retrievals of unexplained objects to staff members of the Senate Armed Services Committee on Oct. 21, 2019, and to staff members of the Senate Intelligence Committee two days later.
OUR ANCESTORS LIVED IN COMMUNITY WITH OUR GALACTIC BROTHERS/SISTERS
OUR GALACTIC FAMILY and THE BIBLE
Update by Dr. Salla for June 25, 2020
US Congress asks for UFO Report from Intel Community in 180 days
The US Senate Select Committee for Intelligence has just approved a bill that includes a request for the Intelligence Community to write up a comprehensive report on Unidentified Aerial Phenomena (UAPs, aka UFOs) in 180 days. Most importantly, the report will be unclassified, meaning that its findings are intended to be released to the general public.
The eventual Intelligence Community report is intended to be a comprehensive interagency breakdown and analysis of what's behind the UAP phenomena. Will the report turn out to be the official disclosure announcement that UFO activists have been working towards for decades, or will it become a limited hangout to hide the truth?
READ MORE: CLICK HERE
White Hats Taking Control Of Unacknowledged Programs, Secrets Will Be Revealed
Space Force and Official Disclosure of the USAF Secret Space Program
David Wilcock: The Great Pyramid is an ET Monument, Post-Disclosure
David Wilcock: Human ETs' Full Disclosure in the 1950s: What Did They Say?
The Untold History of America's Reverse Engineering of Alien Spacecraft
Edge of Wonder - A New Years' Special
Trump signs Space Force Act - Stage Set for Secret Space Program Disclosure
December 21, 2019
President Donald Trump signed the Space Force Act into law yesterday night. It was included in the omnibus 2020 National Defense Authorization Act (NDAA) funding Pentagon operations for another year, and officially creates a sixth branch of the military - US Space Force (USSF). Trump's signing sets the stage for some amazing disclosures of what the USAF has secretly deployed in space for decades.